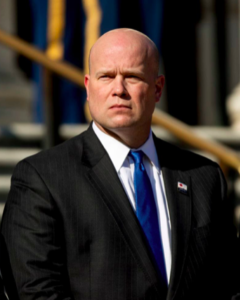 It appears that Assistant Attorney General Steven Engel is willing to sacrifice his integrity and his career in service to King Donald and undermining the independence of the Department of Justice. His Justice Department memorandum, dated Wednesday, attempts to argue that Trump's appointment of Matthew Whitaker (right) as acting Attorney General — who has never been confirmed as a principal officer by the U.S. Senate in his previous position as chief of staff to Jeff Sessions — does not violate the Constitution.
This runs counter to the overwhelming weight of expert legal opinion from lawyers on both the left and right, as I have previously posted. Obstruction of justice in plain sight: appointment of Whitaker is unconstitutional and illegal.
The state of Maryland is taking the lead in filing a lawsuit to challenge Whitaker's unconstitutional and illegal appointment. Whitaker's Appointment as Acting Attorney General Faces Court Challenge:
Now, Mr. Whitaker's appointment is facing a court challenge. The State of Maryland asked a federal judge on Tuesday for an injunction declaring that Mr. Whitaker is not the legitimate acting attorney general as a matter of law, and that the position — and all its powers — instead rightfully belongs to the deputy attorney general, Rod J. Rosenstein.
Mr. Trump may not "bypass the constitutional and statutory requirements for appointing someone to that office," the state said in a court filing.
[Read Maryland's court filings.]
Maryland is asking a judge — Ellen L. Hollander of the Federal District Court for the District of Maryland, a 2010 Obama appointee — to rule on who is the real acting attorney general as part of a lawsuit in which it sued Mr. Sessions in his official capacity. Because Mr. Sessions is no longer the attorney general, the judge must substitute his successor as a defendant in the litigation, so she has to decide who that successor legally is.
Assistant Attorney General Steven Engel's memo is legal sophistry to create cover for Trump's illegal appointment, as Mark Sumner at Daily Kos astutely explains, DOJ justifies appointment of unconfirmed AG by citing 1866 case—that almost destroyed the nation:
The memo cites more than 160 examples of people being appointed to "acting" roles without Senate confirmation so … case closed. Only not so much, because the cases cited are not those of principal officers, or are short-term appointments made during a Senate recess. Neither of which applies in this case. It's also not clear that any of those other appointments took place in conditions where a Senate-confirmed official was next in line and was bypassed in order to drop in a hand-picked, non-confirmed underling.
Actually, the only example in the memo that seemed applicable was one that went back a bit. Then a bit more. Then a whole lot more. To a point where the nation was on the brink of renewing the Civil War.
The official also noted that there was an acting attorney general appointed by President Andrew Johnson in 1866 who had not previously been confirmed by the Senate.
Johnson's appointment would be Henry Stanbery—the man who defended Johnson at his impeachment trial. Johnson appointed Stanberry to attorney general without Senate approval. Which was actually a major factor in his impeachment. After surviving impeachment by a single vote, Johnson reappointed Stanberry to be AG as a way of delivering a final groin kick to his opponents in the Senate. He then put Stanberry up for the Supreme Court. Rather than watch Johnson bypass them again, the Senate moved to reduce the number of seats on the Supreme Court to keep Stanberry out.
A near impeachment. A revolt in the Senate. Three Supreme Court seats sliced away. And that is the precedent that Trump's DOJ is citing to explain why it's okay to make Matt Whitaker acting AG.
So … it's all good now.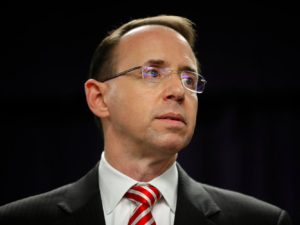 The ball is now in the court of Deputy Attorney General Rod Rosenstein, who is actually next in the line of succession to be the acting Attorney General. Does he agree with this specious memo from Assistant Attorney General Steven Engel? If so, he is complicit in undermining the Department of Justice. If not, he should publicly announce his resignation in protest. It is too late for him alone to "save" the Department of Justice from the abuse of power by King Donald. This constitutional crisis needs to be brought to a climactic confrontation.
Rep. Adam Schiff (D-CA), who will be taking over as chair of the House Intelligence Committee recently wrote Matthew Whitaker, we're watching you:
Instead of elevating Deputy Attorney General Rod J. Rosenstein, the most senior Senate-confirmed officer at the Justice Department, Trump circumvented normal succession by handpicking Matthew G. Whitaker, Sessions's chief of staff and a person who has publicly criticized the special counsel's investigation and has troubling conflicts of interest.
The president and Whitaker should heed this warning: The new Democratic majority will protect the special counsel and the integrity of the Justice Department. Should Whitaker fail to recuse himself — all indications are that he plans not to — and seek to obstruct the investigation, serve as a back channel to the president or his legal team or interfere in the investigations in any way, he will be called to answer. His actions will be exposed.
It is no mystery why the president chose Whitaker, an obscure and ill-qualified official never confirmed by the Senate, which many legal experts believe makes the appointment itself unconstitutional. Trump chose him to protect himself, his family and his close associates from the special counsel's investigation and other investigations within the Justice Department.
"All this demands Whitaker's immediate recusal."
Former Department of Justice official Neal Katyal, who wrote the regulations for the Special Counsel's office, also says The rules are clear: Whitaker can't supervise Mueller's investigation:
The installation of Matthew G. Whitaker as acting attorney general isn't just unconstitutional — although it is unconstitutional. Even if Whitaker's appointment ever survived a court challenge on constitutional grounds for most of his day-to-day duties at the Justice Department, the fact that he'll now be performing the sensitive work of supervising Robert S. Mueller III's investigation raises other deep problems. Putting Whitaker in charge of the inquiry is sharply at odds with the special counsel regulations governing Mueller's work and with the Justice Department's rules about who may oversee an investigation.
* * *
[N]o one — and I mean no one — ever thought the regulations we wrote would permit the president to install some staff member of his choice from the Justice Department to serve as acting attorney general and thereby oversee the special counsel. Such a proposal would have been laughed off Capitol Hill within a nanosecond as fundamentally at odds with the most cardinal principle that no one is above the law.
It simply cannot be that the president can name his own temporary attorney general to supervise an investigation in which he and his family have a direct, concrete interest. The Constitution itself underscores this — even assuming Trump's defenders are right that under the Appointments Clause, an acting attorney general doesn't always need to be Senate-confirmed. Ordinarily, "Principal Officers," which Cabinet secretaries undoubtedly are, must have Senate confirmation under Article II of our Constitution. The most eloquent defenders of Trump's action say that Whitaker is serving in a temporary capacity, as an inferior officer, and therefore he can serve without confirmation. But they cite precedents that do not apply, because they concern emergency situations in which no one else has been confirmed by the Senate in the line of succession. In this case, the Senate has confirmed two officials who could continue to oversee Mueller: Deputy Attorney General Rod J. Rosenstein, who has been supervising the case ever since former attorney general Jeff Sessions recused himself, and Solicitor General Noel Francisco. Notably, Congress's succession statute for the Justice Department lists those people as next in line, not a handpicked mere staff member from the bowels of the department.
But even if the defenders' claims were true, all that would mean is that Whitaker is an inferior officer who doesn't need to be confirmed by the Senate. In that situation, someone else, a principal officer, would still need to be in place to supervise Mueller — who is also an inferior officer. That responsibility would fall once again to Rosenstein under the succession statute Congress authorized.
This is an abuse of power and obstruction of justice in plain sight. We are in a constitutional crisis.
---
Support volunteer citizen journalism at the Blog for Arizona with a donation today. Your secure contribution keeps the Blog online and sustains a free press in Arizona.
---