Axios reports Lawmakers met with Meadows on election schemes, ex-aide testifies:
A former aide to ex-White House chief of staff Mark Meadows testified to the Jan. 6 Select Committee that Meadows met with several right-wing House members in December to discuss efforts to overturn the election, a new court filing reveals.
The committee filed a motion for summary judgment late Friday night that sets out to prove Meadows' centrality to Jan. 6 and former President Trump's efforts to overturn the election – and the relevance of his testimony.
The 248-page filing is aimed at defeating Meadows' lawsuit and forcing him to sit for testimony.
Cassidy Hutchinson, a former executive assistant to Meadows, testified that at least ten lawmakers – mostly members of the GOP House Freedom (sic) Caucus – more accurately the GOP House Fascist Caucus – met with Meadows on Dec. 21, 2020, according to the filing.
She named Reps. Jim Jordan (R-Ohio), Andy Biggs (R-Ariz.), Mo Brooks (R-Mo.), Matt Gaetz (R-Fla.), Marjorie Taylor Greene (R-Ga.), Louie Gohmert (R-Texas), Jody Hice (R-Ga.), Paul Gosar (R-Ariz.), Debbie Lesko (R-Ariz.) and Scott Perry (R-Pa.), but said a "handful" of others were present or dialed in as well.
Some of the members professed belief in a legal theory that then-Vice President Mike Pence could unilaterally reject electoral votes on Jan. 6, Hutchinson said. [The bullshit right-wing Independent State Legislature doctrine which would allow a state legislature to overturn the will of  the voters in a fair nd free election simply by alleging "fraud" in the election without any evidence.]
There were multiple meetings of this kind with lawmakers during that period, Hutchinson testified. Some members, including Perry and Jordan, would "dial into meetings frequently."
* * *
Committee Chair Bennie Thompson (D-Miss.) and Vice Chair Liz Cheney (R-Wyo.) said in a statement, "It's essential that the American people fully understand Mr. Meadows's role in events before, on, and after January 6th."
"The Select Committee's filing today urges the Court to reject Mark Meadows's baseless claims and put an end to his obstruction of our investigation … His attempt to use the courts to cover up that information must come to an end."
Politico expands, GOP lawmakers were deeply involved in Trump plans to overturn election, new evidence suggests:
Republican members of Congress were heavily involved in calls and meetings with former President Donald Trump and his top aides as they devised a strategy — plotted a Coup — to overturn the election in December 2020, according to new evidence filed in federal court late Friday.
Deposition excerpts filed by the Jan 6. select committee — part of an effort to force former White House chief of staff Mark Meadows to appear for an interview — suggest that some of Trump's top allies in Congress were frequently present in meetings where a handful of strategies to prevent then-President-elect Joe Biden from taking office were discussed, including efforts to replace the leadership of the Justice Department with figures who would sow doubts about the legitimacy of the election.
Lawmakers who attended meetings, in person or by phone, included Reps. Scott Perry (R-Pa.), Louie Gohmert (R-Texas), Jim Jordan (R-Ohio), Matt Gaetz (R-Fla.) and numerous members of the House Freedom (sic) Caucus – more accurately the GOP House Fascist Caucus –  according to Cassidy Hutchinson, an aide to Meadows who provided key testimony about the conversations and meetings Meadows had in December 2020.
The new evidence underscores the expansive cast of elected Republicans who had ultimately enlisted themselves in Trump's last-ditch effort to cling to power. Members traded theories about ways to push then-Vice President Mike Pence to single-handedly stop Biden's election, they parried with the White House Counsel's Office on the boundaries of the law regarding presidential electors and they met directly with Pence's staff to encourage him to take direct action on Jan. 6, when Congress convened to count electoral votes.
"They felt that he had the authority to — pardon me if my phrasing isn't correct on this, but — send votes back to the States or the electors back to the States," Hutchinson recalled.
The disclosure came as part of a Friday evening court filing by the select panel asking a federal court to throw out Meadows' lawsuit against the committee. In the filing, the select committee revealed that Meadows turned over 2,319 text messages during a brief period of cooperation but withheld more than 1,000, citing various privileges.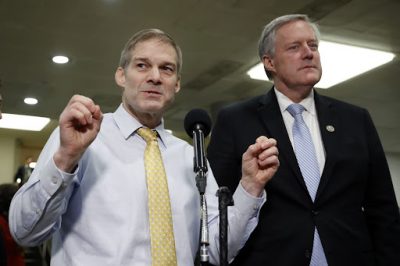 "[H]e was not acting as anything like a typical White House Chief of Staff advising the President on official matters of government policy," House General Counsel Doug Letter wrote. "Mr. Meadows was playing a campaign role, attempting to facilitate a strategy that would have reversed the certified results of the 2020 election."
The committee indicated that Meadows told Jordan in a text message that he supported efforts to convince Pence to send the election back to the states.
"I have pushed for this. Not sure it is going to happen," Meadows texted Jordan early in the morning on Jan. 6.
Some of the GOP lawmakers were present in December meetings, Hutchinson recalled, when members of the White House Counsel's Office raised significant legal doubts about a plan for pro-Trump activists to submit "alternate" [fake] electors in states won by Joe Biden.
Others attended a Dec. 21 meeting where Rudy Giuliani, then the president's personal lawyer, and some associates advocated a plan for Pence to unilaterally refuse to count Biden's electors and instead send the election back to various GOP-controlled state legislatures to replace Biden's electors with Trump's.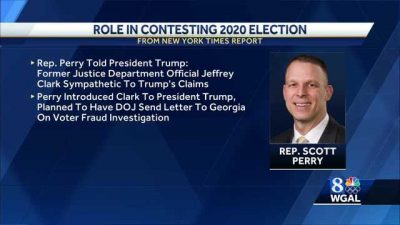 The panel also released text messages between Perry and Meadows about replacing Justice Department leadership before Jan. 6 with officials thought to be more sympathetic to Trump's claims of voter fraud.
."Mark, just checking in as time continues to count down. 11 days to 1/6 and 25 days to inauguration," Perry texted the then-White House chief of staff on Dec. 26, 2020, asking him to get in touch with Justice Department official Jeffrey Clark. "We gotta get going!"
"I got it. I think I understand. Let me work on the deputy position," Meadows responded.
Perry rejected a request from the select panel to testify.
While the January 6 Committee has requested information from Republicans including House Minority Leader Kevin McCarthy and Reps. Scott Perry and Jim Jordan — all of whom swiftly rejected the requests — there have been no follow-up discussions with them about their cooperation, according to sources familiar with the panel's work. WTF? And just what the hell is the Department of Justice doing about prosecuting these Republican Coup Plotters in Congress?
The panel also revealed that it interviewed Steven Engel, the former head of the Justice Department's Office of Legal Counsel. Engel indicated that Jeffrey Clark proposed on Jan. 3, 2021, having DOJ issue a legal advisory opinion regarding "the Vice President with respect to his authority when it comes to opening the votes as the President of the Senate on January 6th."
"And I shot down that idea," Engel recalled. "But I said — I said: 'That's an absurd idea. The — you know, the Vice President is acting as the President of the Senate. It is not the role of the Department of Justice to provide legislative officials with legal advice on the scope of their duties." And — you know, and — not to mention it was 3 days from the date. OLC doesn't tend to provide the legal opinions, you know, in those cases, you know, in that short timeframe."
The committee also homed in on Meadows' role as an unofficial campaign adviser, noting that he routinely straddled the line between his official White House work and his effort to keep Trump in office. Hundreds of documents Meadows claimed were privileged included contacts he had with Trump campaign lawyers, the committee said, citing a privilege log from Meadows himself.
The committee chronicled Meadows' frenetic activity in the final weeks before Jan. 6, with his actions including:
— Helping the campaign craft and distribute talking points about election fraud, in concert with allies like attorney Cleta Mitchell and campaign adviser Jason Miller. "This is what I prepared and sent to Sen. Braun last night to help prepare him for ABC appearance this am," Mitchell wrote on Jan. 6 to Meadows, who forwarded the email to Miller. "Can the WH press office get and start using??"
— Communicating with Raffensperger and his deputy Jason Fuchs around efforts to get Georgia officials to overturn the results in the state.
— Texting often with Perry about plans to install Jeffrey Clark at the Justice Department in order to use DOJ's power to cast doubt on the legitimacy of the election. In one exchange, Perry indicated he had sent separate messages to Meadows via Signal, and the two discussed a potential deputy for Clark.
— Meeting in his office with retired Army Col. Phil Waldron, who was pushing for Trump to invoke national security procedures as part of a plan to seize control of voting machines. Waldron referenced the meeting in an email sent to Meadows' Gmail account.
— Conducting an array of calls on Jan. 6 from a secure "control car" that was part of Trump's motorcade.
"I know that he was on several calls during the rally. And I went over to meet with him at one point, and he had just waved me away, which is out of the ordinary," Hutchinson testified.
The committee also indicated it has come to believe Trump did not attempt to contact any federal law enforcement agency amid the riot, pointing to testimony from former Acting Defense Secretary Chris Miller, Army Secretary Ryan McCarthy, former Acting Attorney General Jeff Rosen and his deputy Richard Donoghue, who indicated he never connected with Trump that day.
"I never spoke to the President that day," Donoghue told the panel. "He was not on any calls that I was on."
The panel concluded: "It is also now clear that Mr. Trump never telephoned his Secretary of Defense that day to order deployment of National Guard, and never contacted any federal law enforcement agency to order security assistance to the Capitol Police."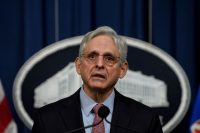 The seditious insurrectionists of the GQP House Fascist Caucus all need to go to prison for their role in the January 6, 2021 MAGA/QAnon violent insurrection to overthrow American democracy and to install Donald Trump as the autocratic leader of a GQP authoritarian tyranny of the minority.
But because Attorney General Merrick Garland and the Department of Justice have failed to prosecute any of these seditious insurrectionist Republican members of Congress, they are only more emboldened in their fascist plots.
This piece of shit insurrectionist traitor Rep. "Gym" Jordan (R-Ohio) has prepared a Memo Which Shows Road Map for Attacking Democrats on Immigration:
House Republicans are planning to use an oversight hearing next week to attack the Biden administration on its immigration policies, according to a memo obtained by The New York Times that offers a road map for how the G.O.P. intends to further weaponize an issue that is already a main thrust of their midterm campaign message against Democrats.
The detailed, 60-page guidance memo includes misleading and provocative talking points that seek to portray migrants and refugees as perpetrators of gruesome crimes, especially those involving sexual assault, echoing the language that former President Donald J. Trump used to denigrate immigrants. It also argues that the Biden administration has been lax on illegal immigration, seeking to put Democrats on the defensive on the issue.
It comes as Democrats are growing increasingly concerned that President Biden's immigration policies, including the recent decision to lift pandemic-era border restrictions next month, could pose a political liability for them ahead of the midterm elections.
The memo — which is marked "CONFIDENTIAL — FOR INTERNAL USE ONLY" — repeatedly insinuates that immigrants could be sex offenders, highlighting a handful of arrests at the southwestern border and of Afghan evacuees. It also misrepresents a Biden administration policy designed to humanely enforce immigration laws as one that would bar law enforcement from surveilling sex offenders near schoolyards.
Studies show that the estimated 40 million immigrants living in the United States commit crimes at rates far lower than native-born Americans. [Like every one of the MAGA/QAnon seditious insurrectionists on January 6, and the traitorous co-conspirators in the GQP House Fascist Caucus.]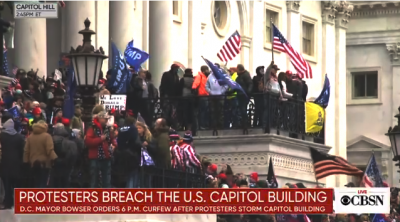 Alejandro N. Mayorkas, the secretary of Homeland Security, is set to testify Thursday for the first time in front of the House Judiciary Committee, just as the administration is bracing itself for a surge of migrants expected to make asylum claims at the border in late May. That is when a public health rule limiting border crossings because of the pandemic, known as Title 42, is scheduled to be lifted, unleashing a two-year backlog of claims on top of the high volume of migrants who typically come to the southwestern border in the spring.
The memo for Republicans, prepared by Representative "Gym" Jordan of Ohio, the ranking member on the committee, details how the right plans to use the hearing to portray Democrats as pushing "far-left policies" that seek to abolish all immigration enforcement and even "encourage" illegal immigration.
While Mr. Jordan's memo was circulated confidentially among Republicans, he posted on Twitter that he planned to grill Mr. Mayorkas on Title 42 and other immigration issues.
A spokeswoman for the Department of Homeland Security did not respond to requests for comment about the upcoming hearing or the outlined lines of attack.
"Republicans continue to use immigration as a political cudgel to scare voters at every turn, knowing they have killed serious immigration reform at every turn," said Kerri Talbot, deputy director for the Immigration Hub, a pro-immigrant organization. She ridiculed Republicans' immigration agenda, charging that "they want to build a $15 billion wall that a $15 handsaw can cut through."
It is all part of their anti-immigrant hysteria "white fright" 2022 midterm campaign strategy, because they've got nothing else.
And she defended Mr. Biden's handling of the issue, saying his administration has a plan to manage the migration spikes "safely and in an orderly fashion."
Many of the attack lines previewed in the memo are not new. Rather, they appear to be pulled from the same political playbook that Republicans have used in recent election cycles. In 2018, Mr. Trump embraced a dark, anti-immigrant message to energize conservative voters ahead of the midterm elections, raising concerns about caravans of migrants he claimed were dangerous making their trek to the southern border. The method yielded mixed results: Democrats retook control of the House that year, while Republicans gained seats in the Senate.
But [racist, nativist, White Nationalist] Republicans have continued to hammer on an issue that not only instills fear but has the added appeal for them of causing a split within the Democratic Party. According to Mr. Jordan's memo, he plans to accuse the administration of prioritizing "illegal aliens over American citizens" by ending Title 42.
Here's a thought bubble: These migrants are seeking asylum in the United States because they believe in America and what it has long represented to oppressed peoples around the world. These fascist Republicans no longer believe in America and democracy. These white Chrisitian Nationalist Republicans are hellbent on destroying American democracy and turning this country into a theocratic Taliban-style authoritarian GQP tyranny of the minority. I am more than happy to take these immigrants who believe in America in trade for the seditious insurrectionist MAGA/QAnon fascists. Ship their sorry asses to Putin's Russia where they would be more at home.
More than 100 mostly progressive Democrats have demanded that Mr. Biden lift the border restrictions, which they say his administration has used to abuse Black migrants, while centrist [corporate] Democrats, including nearly a dozen in the Senate, have called for the restriction to stay in place.
White House officials have noted that ending the restriction simply means reverting to a standard immigration processing system that has been in place across multiple administrations. They have also pointed out that the result will be that more people are deported.
Still, the decision to end the pandemic-era border restrictions has sown worry among many Democratic lawmakers running for re-election in competitive districts. They have warned the administration that a surge in border crossings could feed voter anxiety in their districts about crime and chaos at the border. [GQP propaganda promoted by their Fascist media and shamelessly repeated by the "lame stream media" which should push back and call out these fascist fear mongering lies.]
These cowardly corporate Democrats who piss their pants in fear of GQP propaganda rather than stand up and fight for truth and justice are the most likely to lose their seats with their cowardly strategy, and good riddance to them. No one wants a coward and appeaser of the enemies of democracy in the trenches with them in the defense of American democracy against GQP fascism.
Progressive Democrats counter that any effort to further extend the restrictions could depress turnout among Latino voters. In a recent poll conducted by the Immigration Hub, about 20 percent of Latino respondents said that immigration was the issue that would decide their vote.
Even in a political environment dominated by concerns about inflation and the rising price of gas, immigration remains a potent issue for voters across the board. Forty-one percent of Americans said they worried "a great deal" about illegal immigration, according to a recent Gallup poll. [Because of GQP propaganda promoted by their Fascist media and shamelessly repeated by the "lame stream media."]
At the same time, Mr. Biden and Democrats are dealing with pent-up anger among liberals about Mr. Trump's hard-line immigration policies, and pressure to reverse them at every opportunity.
White House officials said they see no option but to lift the pandemic-era restrictions, unless Congress passes legislation to extend them. But with Democrats divided over whether to do so, it is not clear whether there would be enough support for such a bill to pass, and party leaders are reluctant to bring up a measure that would infuriate their progressive supporters.
Efforts to pass a broad immigration overhaul that would legalize the status of millions of undocumented people have stalled amid Republican opposition, leaving few options for lawmakers to act.
Republicans have no interest in addressing immigration reform. Immigrants are the scapegoats that they rely on for fear mongering to motivate their racist, nativist, white Christian nationalist base every two years. "White replacement theory" is the core belief system of a white supremacy political party.
"There are a range of other ideas of reforming our immigration system," White House press secretary Jen Psaki said Wednesday, conceding that the immigration system in the United States is "broken."
"This would all require congressional action," she said. "We're happy to have that conversation with them."
But Mr. Jordan's document shows why such discussions have gone nowhere in Congress. It suggests that just months after Republicans joined Democrats in pushing for legislation to help rush to the United States thousands of Afghans who were facing retribution for having helped American troops, the G.O.P. is demonizing Afghan refugees [because they are mostly Muslims].
Will Republicans also demonize Ukrainian war refugees, or will they welcome them because they are largely white and Christian (and they won't have to go to Ukraine to pay Ukrainian surrogate mothers to have their white Christian babies for them.)