First, what the hell was this all about?
On Monday, Fox News hyped Donald Trump's Council to Re-Open America. Trump says decision coming 'shortly' on reopening economy, as task force formed:
Sources told Fox News Monday that the second task force, which Trump first teased last Friday and is set to be formally introduced Tuesday, will be chaired by White House Chief of Staff Mark Meadows.
The task force, according to sources, will also include members of President Trump's Cabinet, including:
Treasury Secretary Steven Mnuchin, Commerce Secretary Wilbur Ross, Agriculture Secretary Sonny Purdue, Transportation Secretary Elaine Chao, Energy Secretary Dan Brouillette, Labor Secretary Gene Scalia, Housing and Urban Development Secretary Ben Carson, U.S. Trade Representative Robert Lighthizer, and acting director of the Office of Management and Budget Russ Vought.
The task force is also expected to include acting chair of the Council of Economic Advisors Tom Philipson and White House advisers Larry Kudlow, Peter Navarro, Chris Liddell, Jared Kushner and Ivanka Trump.
A source told Fox News that it is unclear whether there will be people from outside of government "officially" brought into this council, or if they will only be included in the consultation process.
The president first announced the task force on Friday during a coronavirus task force briefing, saying that he understands the gravity of the situation as he prepares to make a decision on whether to ease social distancing guidelines to open the economy, which has been largely shuttered in many states to curb transmission.
"I would say without question it's the biggest decision I've ever had to make," Trump said.
You should take note that there is not one medical expert among the names listed, nor is there one credible economics expert listed.
The most succinct quick take summary I ran across is from Mish at Money Maven. Trump's Council to Re-Open America is a Basket of Buffoonery:
It would be difficult to assemble a more ridiculous team without purposely attempting to do so, but there it is.
Ivanka Trump and Jared Kushner? Had I not seen the list of names, I might have guessed this was straight from The Onion.
Then again, it's always important to keep in mind, we are discussing Donald Trump.
Reporters were waiting with bated breath at Tuesday's Coronavirus Task Force Briefing, aka the "Daily Trump Show," for the big reveal of who would serve on Trump's Council to Re-Open America, when this happened.
Politico reports, Trump promised a big announcement. Then he read off a long list of names.
He spent days hyping it up. He built suspense. And he promised a big announcement.
The man is a grifter and a con man, building up hype and failing to deliver on promises is the very essence of his being. It is what he does, and who he is.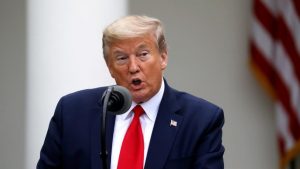 When he finally unveiled his much-heralded new White House economic task force focused on reopening the economy, President Donald Trump read off a list of names. Dozens and dozens and dozens of names.
With little explanation or context about their ultimate purpose, Trump spent roughly 10 minutes in the White House Rose Garden ticking off names of executives and companies from sectors including technology, agriculture, banking, financial services, defense, energy, transportation, sports and health care.
"Now, we have a list of people that I'll be speaking to over the next very short period of time, in many cases, tomorrow," Trump said. "We have a list of different industries that I'll be discussing by, meeting by telephone, because we don't want people traveling right now."
Trump read off names of just about every leading corporation in America — all of whom he said would advise the administration in the coming weeks about how to reopen the economy from its coronavirus-induced shutdown.
After the president concluded his news briefing, the White House released a list of nearly 200 corporate executives, faith leaders and thought leaders broken out by sector in what the announcement called "Great American Economic Revival Industry Groups."
"These bipartisan groups of American leaders will work together with the White House to chart the path forward toward a future of unparalleled American prosperity," the statement said. "The health and wealth of America is the primary goal, and these groups will produce a more independent, self-sufficient, and resilient Nation."
At no point did Trump or the White House explain the way the committees would work, or the types of suggestions they sought or the benchmarks the White House would use to determine whether it was safe to reopen shuttered businesses, send children back to school, reopen stadiums or resume work in offices.
Trump also did not indicate who would lead the effort emanating from the various industry groups from the White House; on Monday, the councils had seemed like a potential new project for chief of staff Mark Meadows. Throughout the past week there were also confusing signals about the involvement of senior advisers Jared Kushner and Ivanka Trump.
The back-and-forth deliberations over the "Opening Our Country Council," as Trump called it at one point last week, laid bare for the American public the way decisions often are made in the Trump White House — through power struggles, the loose and very public airing of possible ideas and then the president making adjustments on the fly with a goal of having a big announcement.
National Economic Council Director Larry Kudlow said Tuesday the president would likely make an announcement later this week on when and how he intended to reopen the economy, a choice Trump has called one of the toughest decisions of his presidency.
Inside the White House, aides have been zeroing in on the estimates from the nonpartisan Institute for Health Metrics and Evaluation at the University of Washington, which show the U.S. is now past its peak outbreak and estimates that hospitalizations related to Covid-19 will start to rapidly decline beginning in late April.
Aides are reluctant to identify May 1 as a target date given how things panned out last time — when Trump identified Easter as his target and then had to walk it back — but the president and vice president do think May is a realistic timeline for some parts of the country to begin reopening.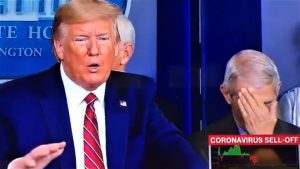 Anthony Fauci, director of the National Institute of Allergy and Infectious Diseases, has said he could see the country re-opening in phases, depending on the infection rates.
In an Associated Press interview, Fauci indicated the U.S. needed stronger and more efficient testing to be in place before parts of the country reopened. That was in sharp contrast to the president's more upbeat, congratulatory messages about the administration's coronavirus response.
Fauci did not speak at the briefing on Tuesday and no government officials spoke apart from the president.
"The Expendables"
A number of conservatives outside of the administration [e.g., Stephen Moore and Arthur Laffer, the "trickle down" twins], along with top officials like Kudlow, Marc Short, the vice president's chief of staff, and Treasury Secretary Steven Mnuchin, have been pushing Trump to relax the administration's guidelines on social distancing as soon as possible to urge businesses to reopen.
GOP lawmakers are also urging a quick restart of some industries and begin to roll back unprecedented closures of vast swaths of the United States. 'Should have happened yesterday': Republicans press Trump to restart economy:
President Donald Trump is itching to reopen the economy amid the coronavirus pandemic. And congressional Republicans are mostly giving him the green light — and in some cases, leaning on him to speed up.
While most Republicans say the country should go slow and take a regional approach, there's an unmistakable demand building in the party for the president to move forward, according to interviews with more than a dozen GOP members of Congress. It's a message they're delivering privately in calls with Trump and his senior advisers, as well as in public op-eds and letters to the administration.
"The president was very unfairly criticized for just [saying] what is indisputably true: 'We need to make sure the cure isn't worse than the disease.' And I am concerned that the cure is worse than the disease," said Sen. Ron Johnson (R-Wis.). "If you're a carpenter, every nail you see, the solution's a hammer. The same may be true for epidemiologists."
It's a message at odds with the public health professionals advising Trump, who have warned against the country dropping its guard. But 16 million people are unemployed, Congress is struggling to respond, and Republicans seem to think the worst is close to over. Reviving the economy is also likely to be critical to GOP fortunes in November.
House Republicans have held weekly conference calls where they've eagerly discussed how and when to restart the economy, according to lawmakers and aides.
Rep. Andy Biggs (R-Ariz.), chairman of the hard-line House Freedom Caucus, is one of the most vocal GOP lawmakers calling for an aggressive exit strategy. He has expressed those views publicly as well as in numerous texts and phone calls to the White House and GOP leadership.
"It should have happened yesterday," Biggs said of lifting the lockdowns. "I'm trying to use every bully pulpit I can to make my case."
Senate Republicans are expected to speak about the economy on Wednesday to top Trump economic adviser Larry Kudlow and Labor Secretary Eugene Scalia, according to two people familiar with the call. While there are differing opinions about how — and when — it should be done, most Republicans agree it's imperative to start thinking about ways to reopen the country, warning there will be dire economic and even mental health consequences if they don't.
"We're extremely unlikely to overwhelm our hospital capacities. In fact, in a matter of days and in some cases the moment may even have passed, that we've reached the peak of the rate of infections," said Sen. Pat Toomey (R-Pa.). "This is a completely unsustainable place we're in."
* * *
[T]he president faces little pushback from a wide range of Republican elected officials. They want the president to be cautious, but also want him to keep economists on equal footing with scientists like Fauci and Dr. Deborah Birx, the White House coronavirus coordinator.
"I'm a big fan of Dr. Fauci and Dr. Birx. I think they've done a great job. But their job is public health," said Sen. John Cornyn (R-Texas). "We also need to realize that we can't continue like this for a long time without there being enormous personal and economic consequences."
* * *
Both Toomey and Johnson have spoken to Trump about how to get the economy moving again. Toomey wants to quickly but cautiously ramp up idled businesses where social distancing is possible. Johnson worries that lockdowns of factories and food producers could leave stores with bare shelves.
Some House Freedom Caucus members wrote a letter to Trump over the Easter weekend voicing concern that virus-related restrictions on public gatherings infringe on Americans' religious freedoms. The conservative group has another letter in the works about restarting the economy. Rep. Denver Riggleman (R-Va.) is crafting his own plan, which he intends to send to the president, and has said a decision must be made this month about reopening.
"We can't do it overnight. There's no magic answer," said Rep. Peter King (R-N.Y.), whose Long Island-area district has been hit hard by the deadly virus. "But we have to be focused on that. Just like we need to be focused on finding a vaccine."
Others have been more aggressive. Rep. Trey Hollingsworth (R-Ind.) told a local radio station that policymakers need to put on their "big boy and big girl pants and say it is the lesser of these two evils."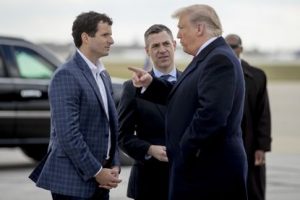 Rep. Trey Hollingsworth (R-Ind.)(on the left in photo) said Tuesday that the country must choose a 'loss of American lives' over 'loss of our way of life as Americans' amid the coronavirus pandemic.
"Both of these decisions will lead to harm for individuals, whether that's dramatic economic harm or whether that's the loss of life," Rep. Hollingsworth told WIBC radio station in Indianapolis, according to the report. "But it is always the American government's position to say, in the choice between the loss of our way of life as Americans and the loss of life of American lives, we have to always choose the latter."
Biggs and Rep. Ken Buck (R-Colo.) penned an op-ed in the Washington Examiner on Saturday titled: "Is Anthony Fauci helping or hurting?"
"You're dealing with a lot of hype about fatalities," Buck said in an interview. "I don't know anybody that wants to be the person who says, '33,000 deaths is okay, but 100,000 is not acceptable.' But that's what officials are elected to do."
So how many American lives are acceptable to you, pray tell? Give us a hard number.
[A]ccording to GOP officials, Trump's guidance will provide important directives to states. National social distancing guidelines will expire on April 24, and few Republicans are clamoring for them to be extended again.
Being more cautious in general will become part of everyday life, Republicans hope, as the country begins to open up.
"I agree with the president," said Sen. John Barrasso (R-Wyo.). "I would love to see things starting to reopen by the end of this month, beginning of May. Gradually."
Oh, we're going to do this in May alright, despite the lack of testing, isolation and tracing to know how many people have actually been infected in order to contain the virus. There will be a second wave of infections, no doubt. How do you think Wall Street is going to respond to a "false start" and another rapid lockdown for renewed social distancing?
Republicans like to call themselves Pro Life, which has always been bullshit, but never more so than today: they are admitting that they are willing to sacrifice hundreds of thousands of American lives on the altar of capitalism in order to reopen for business, because making money is more important to them than your health and safety — and your life. The personality cult of Donald Trump is a death cult.