I made the point in a post last week, Does Martha McSally have a Plan B?
If Arizona voters reject Martha McSally for the senate in today's election, it would be an affront to Arizona voters to reward her with a consolation prize of being appointed to Sen.McCain's seat in December, an appointed term that would run through 2020.
Now, I would expect that resident GOP apologist at the Arizona Republic, Robert Robb, would make the argument that appointing McSally to McCain's seat is perfectly fine, the will of the voters be damned.
But surprisingly this intellectually dishonest argument is being made today by The Republic's Laurie Roberts. 1 million voters can't be wrong. Appoint Martha McSally to the Senate, Gov. Ducey: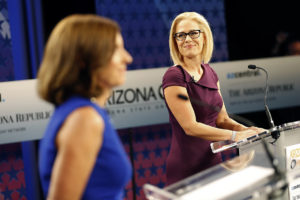 It's Day Seven of election night in Arizona and it's clear that Democrat Kyrsten Sinema soon will be called Sen. Sinema.
While Republican Party leaders try to regain their temporarily (I hope) lost sanity and get over it, consider this:
Republican Martha McSally soon could be called Sen. McSally.
More than one million Arizona voters wanted to see the former fighter-pilot-turned-southern-Arizona congresswoman in the Senate.
Gov. Doug Ducey could grant them their wish.
Ducey could appoint McSally to the late Sen. John McCain's Senate seat, the one that placeholder Jon Kyl is expected to leave by year's end.
Appoint the loser? Sure, why not?
There would have been a time that I would have skewered the governor for appointing the loser of an election to the very job for which that person had run. Ignoring the will of voters and all that.
But we are living in deeply, deeply divided times and it strikes me of late that there are no real winners here.
Oh, battles are won, just as Sinema appears to have won, becoming the first Democrat in 30 years to be elected to the Senate from Arizona. That's no small feat.
But the war continues and we in Arizona – as in America – are at each other's throats.
It'd be nice if Republicans, in their better moments, would acknowledge that Sinema is not going to morph into some wild-eyed, tie-dyed tutu-wearing socialist. She's going to chart a center course, just as she did for the last six years in the House, leaving the folks in MoveOn.org to grind their teeth.
It'd be nice, too, if Democrats, in their better moments, would acknowledge that McSally, if appointed, would be likely to fairly represent what continues to be a red state.
Gov. Ducey could heal open wounds
I was critical of her calculated decision to cuddle up to President Donald Trump, after having sent signals she disapproved of his behavior. But elections are tricky things and had she not done so, she would have had no chance to win. I hope that she, too, would return to her congressional roots as a more moderate voice than the one portrayed during this campaign.
Ducey, with one stroke of a pen, could apply some desperately needed salve to the open, gaping wound that is post-election Arizona.
Appoint McSally, governor.
Here's what I said when McSally entered the race last November:
"She's a retired Air Force colonel – the first woman to fly combat missions, the first to command a fighter squadron. She represents a swing district in Congress yet has been President Donald Trump's most reliable vote in Arizona's delegation, according to FiveThirtyEight.
"She's a fundraising machine and has shown herself willing to work across the political aisle."
One year later, I'm guessing she is still that woman.
We can't dismiss this as just Roberts's personal opinion because she has a jones on for Martha McSally, despite her having run the most vitriolic and dishonest campaign in the history of Arizona elections. Roberts frequently has insight into what GOP leaders are thinking because she has access. Possibly, the fix is in.
It would be an affront to Arizona voters to reward McSally with the consolation prize of being appointed to Sen. McCain's seat after having just been rejected by voters in a fair election.
And if Governor Ducey actually does do it, he rightly should be skewered for appointing the loser of an election. It is a scandal of political corruption, pure and simple.
Make your objections known to the governor now.
UPDATE: Laurie Roberts colleague E.J. Montini responds to her suggestion: Appoint Martha McSally to John McCain's seat? No freakin' way:
To this suggestion I would say to my (genuinely) esteemed colleague:
No freakin' way.
McSally has fully and completely embraced President Donald Trump, not just during the campaign, but by voting with him 97 percent of the time. Essentially, Ducey would be appointing a Sen. McTrump.
And even if that were acceptable, which it shouldn't be, there is that thing McSally did NOT do after Trump signed the John S. McCain National Defense Authorization Act for Fiscal Year 2019.
The president, when he signed the bill, did not mention McCain's name.
A petty snub.
He mentioned McSally, but not McCain, even though the senator's name was on the bill.
Even worse, when McSally was asked about the bill, she did not mention the then-ailing senator's name either. She is a member of Congress from Arizona, which McCain served for more than 30 years, and she didn't mention his name, apparently not wanting to irritate Trump, whose disdain for the senator never wavered.
It may seem like a little thing – not speaking a man's name – but it said a lot about character.
* * *
After the bill signing McSally said in a TV interview, "We're finally turning it around thanks to president Trump's leadership it's been an honor to partner with him …"
In a written statement after the bill was signed McCain said, "I'm humbled that my colleagues in Congress chose to designate this bill in my name, Serving as Chairman of the Senate Armed Services Committee and working on behalf of America's brave service members has been one of the greatest honors of my life. I'm proud that throughout my tenure, the committee has led with a spirit of comity and cooperation to provide for America's Armed Forces."
No need for a presidential mimic
We are accustomed to Trump's venal behavior. We don't expect anything else.
But McSally chose to mimic the president rather than mention McCain, who gave so much of his life to the country. For that she got the vote of Trump supporters – who often and loudly expressed their contempt for McCain – but that does not mean she should inherit McCain's seat.
She could make a run at that seat in two years, when it comes up for election, but it should not be given to her.
McSally had to choose between self-interest and principle, between potentially irritating Trump – whose voters she coveted – or insulting McCain. She chose Trump.
That will never stop being a shame.
---
Support volunteer citizen journalism at the Blog for Arizona with a donation today. Your secure contribution keeps the Blog online and sustains a free press in Arizona.
---