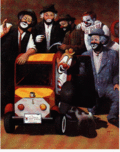 I don't believe it! The media villagers are actually doing something besides reproducing campaign press releases and engaging in "horse race" reporting — they actually showed up at a debate and did some substantive reporting on the GOP candidates for governor.
Unfortunately, we learn that the GOP candidates for governor are lacking in substance. This is a GOP clown car primary for governor.
Gov. Jan Brewer's PR guy Howard Fischer reports, Brewer objects to proposals by gubernatorial candidates to end income tax:
A plan by some Republican gubernatorial hopefuls to eliminate the state income tax is getting a cool reception from the woman they hope to replace.
At a forum of candidates Wednesday, both Secretary of State Ken Bennett and state Sen. Al Melvin said they want to scrap the tax on both individuals and corporations. Together they provide about $4.4 billion of the current $9.2 billion state budget — and close to $4.9 billion if the separate premium tax charged to insurers as an alternative to corporate income taxes is included.
Bennett has said he would make up the difference with sales taxes. In fact, he said he actually could lower the rate from the current 5.6 percent, making up the difference by imposing the levy on services and other transactions not currently taxed.
[See Prop. 108 (1992) regarding "new" taxes and eliminating tax exemptions or credits. Not going to happen.]
But incumbent Jan Brewer, who crafted the basis for the new budget just adopted by lawmakers which includes income and premiums taxes, said she doesn't see that happening.
"It's going to be very difficult," said Brewer who sat through today's joint appearance that featured the top six Republican contenders. Nor does she accept the idea that the revenues can be made up, whether through sales taxes or even some enhanced business climate.
"I don't believe it would work in the state of Arizona," Brewer said.
The campaign promises came at a forum sponsored by the Arizona Manufacturers Council . . . Democrat nominee Fred DuVal also made a pitch for support to the business-friendly audience [but notice how Howie manages not to report any quote from Arizona's next governor.]
* * *
Former Mesa Mayor Scott Smith took advantage of the audience — including Brewer — to point out his support of both the Common Core school curriculum she approved as well as the decision last year by the governor to expand the state's Medicaid program.
Both programs also are back by the council and its parent organization, the Arizona Chamber of Commerce and Industry. More to the point, other Republicans have come out against both.
[More on this in the next post.]
That did not go unnoticed by Brewer who has not seen all the candidates together until now. The governor will have to decide whether to endorse any Republican ahead of the Aug. 26 primary.
"I will look very carefully and cautiously at each and every one of them," she said after the event. But Brewer made it clear the No. 1 prerequisite to getting her blessing is a commitment to continue her policies.
The Arizona Republic earlier reported on the candidates' positions on income taxes. Ariz. governor hopefuls talk income tax :
Arizona has a graduated income tax, with rates beginning at 2.59 percent on income up to $10,000, and topping out at 4.54 percent on income over $150,000. The corporate income tax is 6.98 percent and is scheduled to taper down to 4.9 percent by July 1, 2017.
According to the Joint Legislative Budget Committee, the individual income tax accounts for 40 percent of state's general-fund revenue, while the corporate income tax accounts for 7 percent.
You guessed it, most of the GOP clowns are for eliminating one of two sources of tax revenue (sales tax is the other) in a state that has a structural revenue deficit built in to its budget due to 22 years of GOP tax cuts based upon magical thinking of faith based supply-side "trickle down" economics:
"Cathi's Clown" Doug Ducey: "As governor, I will submit legislation to reduce taxes every year, with the eventual goal of pushing the income tax rates – both personal as well as corporate – as close to zero as possible."
Ken "Birther" Bennett: "I believe Arizona should be the 10th state to eliminate or limit the income tax. … To fund government's essential functions, I would institute a low, broad-based consumption tax, excluding health care, education and food. By eliminating the income and corporate tax, we will position the state for growth and empower taxpayers to keep more of their hard-earned money."
Cap'n "Atomic Al" Melvin: "I support phasing out both the corporate and individual income tax over the eight years that I will be governor of Arizona. Tied to this is implementing Texas-style tort reform as fast as possible." WTF?
Frank "Flat Tax" Riggs: "Taxes should be as low, flat and fair as possible, and tax policy should promote savings and investment and tax consumption. I favor a flat tax on income with an exemption for the first $12,000 of income. I would eliminate the sales tax or 'Transaction Privilege Tax' in favor of a broad-based consumption tax with an exemption for prescription medicine and a low-income refundable tax credit."
And now for the saner candidates —
Scott Smith: "Further cuts to business property and individual income taxes, which I support, must be achieved responsibly to preserve Arizona's financial health and to be fair to all homeowners. It's critical that our state take a broad-based reform approach to taxes as a whole, versus continuing with piecemeal tax cuts. As governor, I will work with the business community, the Legislature and other interested parties to evaluate policies, rates and levies and make recommendations for sweeping reform."
Dear Mr. Smith, please see Prop. 108 (1992), and check your rear-view mirror for the "Kochtopus" Death Star from the Goldwater Institute.
John Molina: "I would not support the elimination of our state's individual income tax, nor would I make any major changes to the corporate tax. I believe our state's current personal income tax, based on a tiered structure, is reasonable compared with most states, and our corporate income tax is competitive. I believe that business taxes and incentives are not the most important factors in companies' locating to a specific state, rather, the quality and availability of a skilled workforce, public safety, societal hygiene (tolerance), robust infrastructure and employee educational opportunities, as well as proximity to universities and research institutions."
Dude, why are you not running as a Democrat?
"GoDaddy Girl" Christine Jones: "I'm running for governor to tell people the truth. The top marginal state income tax rate is 4.54 percent, down from more than 7 percent 20 years ago. Income taxes generate $3.5billion annually to the general fund, nearly one-third of our total net revenues supporting education, law enforcement and other priorities. Even assuming robust growth, there's no way to replace $3.5billion without significant new taxes, so those proposing income-tax elimination must tell the public what those will be. Anything else is just the same old politics as usual coming from the same old political animals."
This is the most succinct and accurate response on taxes I have seen. I am impressed.
Fred DuVal: "Eliminating the state income tax is bad math, bad budgeting and a truly bad deal for our children's education. Simply put, eliminating the state income tax would force us to close schools. Supporters of this radical notion are selling snake oil – 'we can pay no taxes and still have great schools!' What they're not telling you is that they're going to have to make up that lost revenue by raising property taxes on working families, increasing our already sky-high sales tax, and taxing seniors' prescription drugs."
Not as succinct as GoDaddy Girl, but substantively the same, and also accurate.