I told you about this earlier in the month when the Senate voted for this so-called election reform bill from Arizona Secretary of State Michele Reagan. Evil GOP bastards vote to make 'dark money' even easier in Arizona:
The evil GOP bastards in the Arizona Senate are taking their marching orders from the "Kochtopus" the same as Arizona's queen of voter suppression, Secretary of State Michele Reagan, the author of SB 1516 (.pdf) "Campaign Finance Amendments." They voted on Tuesday to make dark money even easier in Arizona.
Yesterday the evil GOP bastards in the House completed the dirty deed.
The bill now goes to Governor Doug Ducey, the ice cream man hired by Koch Industries to run their Southwest subsidiary formerly known as the state of Arizona, who will sign this bill before the ink is dry on it.
The GOP culture of corruption in Arizona has fully embraced its dark side.
The Arizona Republic reports, Arizona 'dark money' bill on its way to Gov. Doug Ducey:
Arizona would cede to the federal government most of its authority to regulate anonymous campaign spending under a sweeping elections overhaul headed to Gov. Doug Ducey's desk.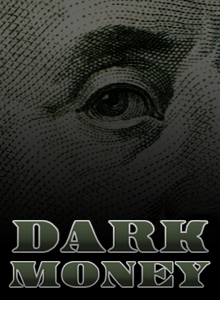 The House of Representatives on Tuesday approved Senate Bill 1516, with no votes to spare after four hours of debate. It passed 31-27 with all GOP  "yes" votes.
Four Republicans — Reps. Jonathan Ackerley, Kate Brophy McGee, Noel Campbell and Michelle Ugenti-Rita — joined with the Democrats to oppose the bill. Two members were absent.  It passed the Senate last month on a party-line vote.
The vote capped emotional debate, mostly from Democratic critics, who said that if Ducey signs the bill, it will usher in greater influence of money in politics while blocking public disclosure.
"This bill makes lawmaking less about merits and more about who can pressure whom with what," said Rep. Ken Clark, D-Phoenix.
Republicans defended the bill, presented by Secretary of State Michele Reagan. Her office sold it as a cleanup of years of jumbled campaign rules but added fuel to the fire last month when she tacked on the "dark money" provisions, which minimize the state's role in regulating anonymous campaign spending.
* * *
Reagan, who as a state senator and later as a secretary of state candidate complained about the influence of dark money, since has concluded there was little the state could do. Her proposal is to leave any enforcement to the Internal Revenue Service, which has authority over the non-profit status of the corporations that have contributed to Arizona candidates and issue campaigns.
Here is how some of the key parts of the 20-page bill would change Arizona elections: 
Less regulation of 'dark money' spending
Now: Arizona law requires any group that is organized for the primary purpose of influencing elections to register with the proper government office (secretary of state, city clerk) and file reports disclosing its donors and spending.
SB 1516: While candidates and political-action committees must continue filing with the state, non-profits such as 501(c)3s and 501(c)4s no longer would have to. This leaves the determination of whether a committee has been involved in influencing elections to the IRS.
The bill does give elections officials the ability to go after non-profit corporations if they are not in good standing with the IRS. This provision was written to crack down on "pop-up" non-profits that tend to proliferate in election years, then close shop.
What it means: Ending a requirement that non-profit corporations, which have proliferated since the U.S. Supreme Court ruling in Citizens United, file with the state removes one layer of transparency about who they are and where they get their money. It would fall to the IRS to determine if a non-profit had spent more than half of its money on influencing an election, which would trigger disclosure of donors.
Campaigns giving to campaigns 
Now: State law prohibits one campaign from transferring money to another campaign. It has been in state law since 1986, when voters outlawed such transfers. [known as "king maker" provisions]
SB 1516: Removes that prohibition.
What it means: Critics say it could empower a candidate who had a healthy war chest to move money to other candidates and therefore influence how they voted. It also could mask the original source of funds because it would be funneled through an intermediary.
Supporters say it makes little difference, because political-action committees already can dole out money to candidates.
Redefining a campaign contribution
Now: Campaigns that receive "in-kind' services from attorneys and accountants must count these as contributions and disclose them.
SB 1516: Removes these services as a campaign contribution.
What it means: Campaigns still need such services in most cases. But without disclosure, it will be impossible to know who paid the bills or how much those bills amounted to.
What to do with excess cash
Now: If a donor gives a candidate or campaign more money than the law allows, the excess money must be refunded to the donor.
SB 1516: Allows the candidate or campaign to refund the excess money or "reattribute" it to another donor. That means the candidate can assign the excess cash to another donor. There are no restrictions on whom a candidate can pick to receive the excess contribution.
Why it matters: It allows a big-pocketed donor to get around contribution limits if a candidate is willing to reassign his excess donations to another donor. But it also saves the recipient the hassle of checking whether a donor who overspent wants to take back the check and resubmit it in two checks, one from himself and one from his spouse. This is the typical situation when a donor gives too much money, the bill's sponsors say.
The 'Tom Horne' provision
Now: Campaign-finance law prohibits coordination between an independent-expenditure committee and a candidate. The standard for proving coordination is to show the candidate had a "view" toward sharing information.
SB 1516: To prove coordination, the standard is changed from a "view" to an "intent" to do so.
Why it matters: Proving intent is a more difficult standard. Critics argue this would have allowed then-Attorney General Tom Horne, who was found to have illegally coordinated with an independent-expenditure committee, to dodge prosecution. Horne's prosecution hinged on finding "reasonable cause" that he illegally coordinated with the outside group spending in his 2010 race.
Criminal provisions
Now: There are various criminal sanctions for violating campaign-finance law.
SB 1516: Removes the criminal enforcement provisions. The bill's author, state Elections Director Eric Spencer, says he ran out of time to work the criminal provisions into the law's rewrite. He intends to introduce those in a bill next year. Meanwhile, the current criminal rules will remain in place, because the bill would not take effect until the end of the 2016 campaign year.
But Democrats cautioned nothing is certain and that passing a bill with assurances that changes will come in a year could create unwelcome consequences.
A petition drive from former Attorney General Terry Goddard to force disclosure of dark money is still collecting signatures weeks after his effort lost its primary financial backer in an unholy alliance with the Top Two Primary initiative.
"Goddard says petitions are still be circulated to put the measure on the fall ballot but that he needs to raise at least an additional  $500,000 to match what he says is a commitment of $500,000 propel the petition drive."
It may be a more practical alternative to force a citizens referendum of SB 1516 — a referendum requires about half the number of signatures as an initiative, 75,321 valid signatures — as voters successfully did for the GOP Voter Suppression Act, HB 2305, just a couple of years ago. AZ Lege seeks to repeal the GOP Voter Suppression Act, HB 2305, to deprive the voters of their 'citizens veto'. It is something that clean elections and voting rights advocates need to consider.
Ultimately, the solution lies in ending the decades old GOP culture of corruption in Arizona. As I said previously:
Face it, citizens. If you ever want to get "dark money" out of politics you must first vote every Tea-Publican out of office to have any chance of making it happen. They are addicts addicted to "dark money," and they do not want to be treated or to come clean.
Here is how they voted in the House:
Here is how they voted in the Senate: