In an interview with Rupert Murdoch's Wall Street Journal last week, Donald Trump attacked Judge Gonzalo Curiel, who is handling the Trump University fraud case, asserting that his ethnic heritage alone creates a "conflict of interest" that disqualifies him from being a fair and impartial jurist. Trump Says Judge's Mexican Heritage Presents 'Absolute Conflict':
In an interview, Mr. Trump said U.S. District Judge Gonzalo Curiel had "an absolute conflict" in presiding over the litigation given that he was "of Mexican heritage" and a member of a Latino lawyers' association. Mr. Trump said the background of the judge, who was born in Indiana to Mexican immigrants, was relevant because of his campaign stance against illegal immigration and his pledge to seal the southern U.S. border. "I'm building a wall. It's an inherent conflict of interest," Mr. Trump said.
Despite some rather tepid criticism from Republican leaders to his racist remarks, Trump doubled down on his attacks on Judge Curiel over the weekend. Trump Doubles-Down on Criticism of Trump U Judge: 'All I'm Trying to Do Is Figure Out Why I'm Being Treated So Unfairly'.
Senate Majority Leader Mitch McConnel could only muster a tepid "I couldn't disagree more" with Trumps comments, refusing three times to respond to the question whether he thought Trump's comments were "racist." McConnell won't say if Trump's judge attack was racist:
Senate Majority Leader Mitch McConnell refused three times to say Sunday whether Donald Trump's attacks on a Latino judge were racist.
Instead, in an appearance on NBC's "Meet the Press," the Kentucky Republican would only say he "couldn't disagree more" with Trump's comments.
A day after his capitulation and endorsement of Donald Trump last week, Speaker of the House Paul Ryan also said he "disagreed with" Trump's comments. Paul Ryan Denounces Trump's Comments About Federal Judge:
A day after announcing his support for Donald Trump's presidential campaign, House Speaker Paul Ryan condemned his party's presumptive presidential nominee for his comments about a federal judge's ability to be objective in a case involving the now-defunct Trump University.
"The comment about the judge the other day was out of left field, for my mind," the Wisconsin congressman said in an interview with Vicki McKenna, a conservative radio host there. "I completely disagree with the thinking behind that."
It took until Tuesday for the GOP's alleged boy genius to finally come around to saying that Trump's comments were "racist." Ryan: Trump's attacks on judge fit 'textbook definition of a racist comment':
House Speaker Paul D. Ryan said Tuesday that Donald Trump's attacks on a federal judge, citing his Mexican heritage, constituted "the textbook definition of a racist comment," but Ryan said he would continue to back the presumptive Republican presidential nominee.
"It's absolutely unacceptable," he said. "But do I think Hillary Clinton is the answer? No, I do not."
So you're good with a racist being the standard-bearer of your party? Good to know.
Trump is demanding that his campaign continue with his racist attacks on Judge Curiel. Bloomberg View reports, Trump Orders Surrogates to Intensify Criticism of Judge and Journalists:
An embattled Donald Trump urgently rallied his most visible supporters to defend his attacks on a federal judge's Mexican ancestry during a conference call on Monday in which he ordered them to question the judge's credibility and impugn reporters as racists.
"We will overcome," Trump said, according to two supporters who were on the call and requested anonymity to share their notes with Bloomberg Politics. "And I've always won and I'm going to continue to win. And that's the way it is."
There was no mention of apologizing or backing away from his widely criticized remarks about U.S. District Judge Gonzalo Curiel, who is overseeing cases against the Trump University real-estate program.
When former Arizona Governor Jan Brewer interrupted the discussion to inform Trump that his own campaign had asked surrogates to stop talking about the lawsuit in an e-mail on Sunday, Trump repeatedly demanded to know who sent the memo, and immediately overruled his staff.
"Take that order and throw it the hell out," Trump said.
Told the memo was sent by Erica Freeman, a staffer who circulates information to surrogates, Trump said he didn't know her. He openly questioned how the campaign could defend itself if supporters weren't allowed to talk.
"Are there any other stupid letters that were sent to you folks?" Trump said. "That's one of the reasons I want to have this call, because you guys are getting sometimes stupid information from people that aren't so smart."
Brewer, who was on the call with prominent Republicans like Florida Attorney General Pam Bondi and former Massachusetts Senator Scott Brown, interjected again. "You all better get on the page," she told him.
In response, Trump said that he aspired to hold regular calls with surrogates in order to coordinate the campaign's message, a role usually reserved for lower ranking staffers than the nominee himself.
When you are taking advice from La Bruja, you know that you are an unrepentant racist.
The Washington Post's Dana Milbank writes today that Republicans finally discover that Trump is an actual racist:
The things Trump is doing now — disparaging the "Mexican" judge, disqualifying Muslim judges, calling somebody claiming Native American blood "Pocahontas" and singling out "my African American" — is very much in line with what he has been doing for the past year, and before.
More than six months ago, I began a column by proposing, "Let's not mince words: Donald Trump is a bigot and a racist." His bigotry went back decades, to the Central Park jogger case, and came to include: his leadership of the "birther" movement suggesting President Obama was a foreign-born Muslim, his vulgar expressions for women, his talk of Mexico sending rapists into America, his call for mass deportation, his spats with Latino news outlets, his mocking Asian accent, his tacit acceptance of the claim that Muslims are a "problem" in America, his agreement that American Muslims should be forced to register themselves, his call to ban Muslim immigration, his false claim about American Muslims celebrating 9/11, his tweeting of statistics from white supremacists, his condoning of violence against black demonstrators and his mocking of a journalist with a physical disability.
Now that Trump has secured the nomination, Republican officeholders are shocked to discover that his racism continues?
The disgusting and frightening part is that many Republicans and independents who support Trump are perfectly fine with his overt racism. Two new studies find racial anxiety is the biggest driver of support for Trump:
[R]ecent data is bringing the drivers of Trumpism into sharper focus, and what we're seeing is striking: Racial attitudes may play a larger role in opinions toward Trump than once thought. Economic concerns, on the other hand, don't seem to have as much of an impact on support for Trump.
* * *
Two recent studies bear this out. In the first, Hamilton College political scientist Philip Klinkner analyzed data from the 2016 American National Election Study (ANES) survey (a representative sample of 1,200 Americans) to compare feelings and attitudes toward Donald Trump and Democratic rival Hillary Clinton. He explored how economic opinions, racial attitudes and demographic variables predicted an individual's feelings toward Trump and Clinton. He found that one factor was much stronger than the other:
"My analysis indicates that economic status and attitudes do little to explain support for Donald Trump," he wrote for Vox last week.
* * *
Klinkner found, racial attitudes were highly determinative:
Moving from the least to the most resentful view of African Americans increases support for Trump by 44 points, those who think Obama is a Muslim (54 percent of all Republicans) are 24 points more favorable to Trump, and those who think the word "violent" describes Muslims extremely well are about 13 points more pro-Trump than those who think it doesn't describe them well at all.
* * *
In Klinkner's analysis, racial attitudes stood completely on their own as powerful drivers of support for Donald Trump.
New data published by the Pew Research Center last week seems to back up Klinkner's conclusion. "An analysis of 'feeling thermometer' ratings of Trump finds that attitudes about immigration, Islam and racial diversity are strongly associated with Republican voters' views of the presumptive GOP presidential nominee," Pew's researchers write. "Other political values — including opinions about whether the U.S. economic system is unfair and whether business profits are excessive — are less closely linked to feelings about Trump."
* * *
The biggest predictor of Trump support among Republican and Republican-leaning voters was a belief that "the growing number of newcomers from other countries threatens U.S. values." Republicans holding this belief felt 18 points more positively toward Trump, on a 100-point scale, than Republicans who didn't feel this way.
Belief that Islam encourages violence, and that it's "bad" for the country that blacks, Latinos and Asians will someday make up the majority of the population, accounted for eight-point jumps in positive feelings toward Trump.
Identifying strongly as Republican, being male, being older than 50, and not having a college degree were also predictors of Trump support.
Pollster and political analyst Stuart Rothenberg analyzes at the Washington Post, Will there be enough white voters to elect Donald Trump? The Post's Greg Sargent explored new analysis of this question last week, Can Trump ride white anger into the White House? A new analysis suggests it's a fantasy. In an earlier column Sargent wrote, Why white voters won't be enough to put Donald Trump in the White House.
I posted about this earlier this year, The secret to Trump's success: the GOP is the party of white identity and white grievances.
I have not seen any statement from Senator John McCain, who says that he will support the nominee of his party, condemning Trump for his racist attacks on Judge Curiel.
In an op-ed at The Arizona Republic, Is Trump a racist of convenience?, the authors pose the appropriate litmus test for all Republican candidates:
Hold Republican leaders who walk with Trump accountable
Knowing what we do about Trump, the American people need to disavow his candidacy by rejecting the way he has used race and ethnicity to divide the electorate. But Trump is not the only opportunist who needs to be called to the mat. Republican leaders could have stopped Trump at the outset of his campaign by declaring that although he has the right to run for president, they had the right to prohibit Trump from pursuing his candidacy as a Republican.
They opted instead to extract Trump's empty promise not to run as an independent candidate. Instead of boldly declaring that "People who behave like you, Mr. Trump, are barred from joining our party," the GOP coddled him (until he started winning primaries).
Then they tried to thwart his campaign (until they realized he had banked enough delegates to win the Republican nomination). Now they're championing Trump's quest for the White House.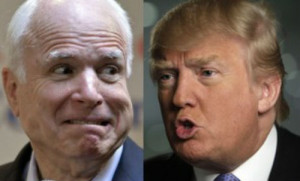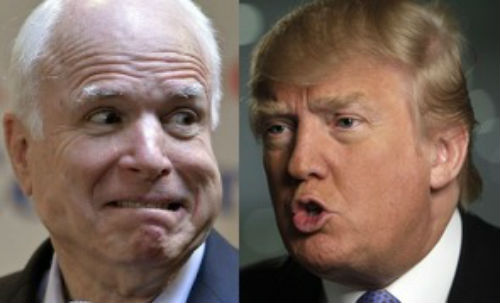 The trouble with this shameless political strategy is that by supporting Trump, people like U.S. Sen. John McCain, Senate Majority Leader Mitch McConnell, House Speaker Paul Ryan and other leading Republican Party leaders and donors are sanctioning not only Trump's candidacy but his reprehensible views on race and ethnicity.
Ultimately, the voters must hold Trump and his supporters accountable for his blatantly bigoted brand of politics — because they chose to walk with Trump.
"Tell me who you walk with, and I'll tell you who you are."
To Mr. Trump and those closing ranks around him in the Republican Party, we have seen "who you walk with," and we know "who you are."
Hold them accountable by kicking them out of office.
UPDATE: John McCain's puppet boy, Little Lindsey Graham, who has not endorsed Trump, is now urging Republicans who have endorsed him to rescind their support. Graham: Time to Rethink Those Trump Endorsements:
[Graham] urged Republicans who have backed Mr. Trump to rescind their endorsements, citing the remarks about Judge Curiel and Mr. Trump's expression of doubt on Sunday that a Muslim judge could remain neutral in the same lawsuit, given Mr. Trump's proposed ban on Muslim noncitizens entering the country.
"This is the most un-American thing from a politician since Joe McCarthy," Mr. Graham said. "If anybody was looking for an off-ramp, this is probably it," Mr. Graham added. "There'll come a time when the love of country will trump hatred of Hillary."
Well pick up the phone and tell your buddy John McCain that!
Arizona's junior senator, Republican Sen. Jeff Flake says he can't support Donald Trump. A better man than John McCain.