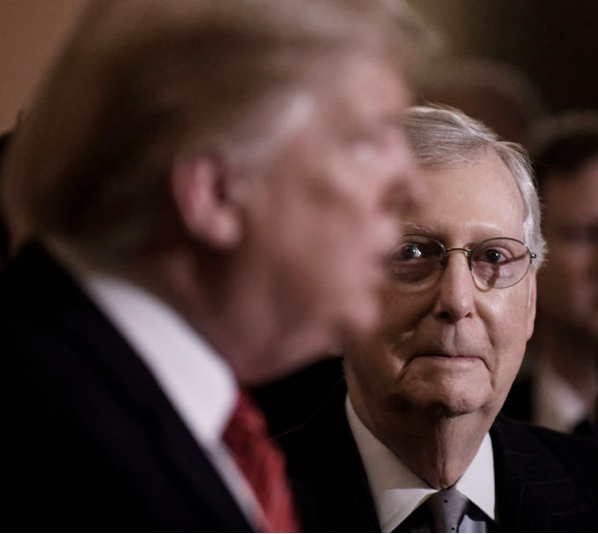 Last week, Senate Republicans rammed through a Senate rules change enabling faster approval of President Donald Trump's unvetted and unqualified judicial nominees. Two advocacy groups released reports showing the far-reaching and long-lasting damage his confirmed federal judges have already inflicted on the nation. New reports detail damage done by Trump's far-right takeover of the judiciary — as McConnell deploys the 'nuclear option':
People for the American Way (PFAW) and Alliance for Justice (AFJ) both published studies about Trump's success in appointing 92 judges to district courts, federal appeals courts, and the U.S. Supreme Court—with PFAW writing that the president's effort to remake the judicial branch in his own image could be disastrous for a number of marginalized groups.
"The record number of judges appointed by Trump and confirmed by the Senate to lifetime posts on the Supreme Court and federal courts of appeals is by far the biggest impact thus far of the Trump presidency." —Elliot Mincberg, PFAW
"In just under two years on the bench, these narrow-minded elitist judges have already harmed workers, consumers, voters, immigrants, reproductive rights, and many more," wrote the group in its report, "Confirmed Judges, Confirmed Fears."
The report was published shortly before the GOP-controlled Senate triggered the so-called "nuclear option" by voting 51-48 to allow the approval of most executive nominations with a simple majority vote. Trump's future judicial nominees will be subject to just two hours of debate instead of an additional 30 hours.
* * *
During his time in office, Trump has rapidly remade the judiciary compared to his predecessor. Due to unprecedented levels of obstruction by the Republicans in the Senate—a minority party at the time—former President Barack Obama was only able to appoint 16 appellate judges to circuit courts two years into his presidency, while Trump and the Republican-controlled Senate have pushed through nearly twice as many.
PFAW and AFJ pointed to judges including Amy Coney Barrett, on the 7th Circuit appeals court, as an example of how Trump's judiciary appointments—which often go largely unnoticed by the public and the corporate media—will have far-reaching effects on marginalized communities.
As detailed in AFJ's report—titled "Trump's Attacks on Our Justice System" (pdf)—Barrett ruled in 2017 that a corporation should be permitted to racially segregate a workplace, has criticized proposed reforms for sentencing guidelines, and voted to overturn a law banning people convicted of felonies from buying firearms.
* * *
AFJ noted that Trump's rapid-fire remaking of the judicial branch of government also has implications for how he is treated by the courts. Trump faces investigations into his charity and business dealings as well as a number of cases regarding his possible violation of the Constitution's Emoluments Clause—and at least one of his Supreme Court appointees has indicated that he believes a sitting president cannot be indicted.
"President Trump sees two purposes for the federal judiciary," said Nan Aron, President of Alliance for Justice. "One is as a tool to accomplish an anti-worker, anti-woman, anti-health care, anti-LGBTQ, anti-racial justice agenda that is too unpopular to pass through the legislative process. The other is to protect himself from legal jeopardy."
"Both are undemocratic and unjust goals for a branch of our government that is supposed to uphold the rights of all Americans," she added.
Shira A Scheindlin, a former U.S. district judge for the southern district of New York, recently wrote, Trump is capturing the judiciary at an alarming rate:
[T]he one promise that the president has kept, and perhaps the one that is of greatest importance to his base, is his selection of judges for the federal bench. The president has vowed to appoint judges who share the views and values of the minority of Americans who voted him into office. And he has succeeded. A look at the growing list of judges now occupying life terms in the federal judiciary shows that, as a general matter, they oppose reproductive rights, gay rights, affirmative action, unions, government regulation, any form of gun control, and immigration.
* * *
These new judges have already shown that they can be counted on to advance the president's agenda. One example is judge James C Ho of the fifth circuit who referred to the "moral tragedy of abortion" in a recent published opinion. Finally, it is worth noting, that of the 92 judges confirmed to date, only 1% are African American, and only 25% are women.
* * *
Why do these appointments matter? Of our three branches of government, two and a half are now squarely in the control of the current conservative Republican party. This is the party that seeks to roll back a hundred years of progress with respect to women's rights, racial justice, equal opportunity, workers' rights, environmental protection and, of course, voting rights. The federal courts will soon be the last place to go to seek justice. We can only hope that our state courts remain up to the task of ensuring justice for all. It is unlikely they will find comfort in the federal courts.
The most stinging criticism came from sitting U.S. District Judge Carlton Reeves, who delivered a speech at the University of Virginia School of Law on Thursday calling the Trump administration a "great assault on our judiciary" and comparing the president's criticism of the judiciary to tactics used by the Ku Klux Klan and segregationists. A Federal Judge Compared Trump's Criticism Of The Courts To The KKK And Segregationists:
According to a copy of the speech obtained by BuzzFeed News, Reeves, who is black and sits in Jackson, Mississippi, extensively quoted Trump's tweets and public comments about judges and the courts (the written version includes footnotes making clear who and what Reeves is referring to) and blasted the lack of diversity among Trump's judicial nominees.
Here is a link to the video of the entire speech.
"When politicians attack courts as 'dangerous,' 'political,' and guilty of 'egregious overreach,' you can hear the Klan's lawyers, assailing officers of the court across the South. When leaders chastise people for merely 'us[ing] the courts,' you can hear the Citizens Council, hammering up the names of black petitioners in Yazoo City, [Mississippi]," Reeves said, quoting Trump. "When the powerful accuse courts of 'open[ing] up our country to potential terrorists,' you can hear the Southern Manifesto's authors, smearing the judiciary for simply upholding the rights of black folk. When lawmakers say 'we should get rid of judges,' you can hear segregationist senators, writing bills to strip courts of their power."
I would add that you can hear U.S. Senator Harry F. Byrd Sr. calling for a strategy of massive resistance to court ordered desegration of the South. See Trump's recent statement that 'We're bucking a court system that never rules for us'.
Reeves spoke at the University of Virginia School of Law, his alma mater, where he received the school's Thomas Jefferson Foundation Medal in Law. He said there was "no excuse" for the "exclusion" of minorities from the courts, pointing to the fact that only a handful of Trump's nominees to date were people of color and that a small proportion were women. He cited examples of three Trump nominees — none of whom were ultimately confirmed — who made inflammatory comments in the past about race, diversity, and transgender children.
"This Administration and a bare majority of the Senate, walking arm-and-arm, are not stumbling unaware towards a homogeneous judiciary," Reeves said.
He called on other judges to "do more to defend our bench."
"Judges, politicians, and citizens alike must denounce attacks that undermine our ability to do justice. It is not enough for judges, seeing race-based attacks on their brethren, to say they are merely 'disheartened,' or to simply affirm their nonpartisan status," Reeves said, citing responses by Supreme Court Justice Neil Gorsuch and Chief Justice John Roberts Jr., respectively, to comments by Trump.
The judge was also critical of Trump nominees who have refused to say at their confirmation hearings that the US Supreme Court's seminal desegregation decision, Brown v. Board of Education, was correctly decided. Democrats have repeatedly raised the question at hearings — they've also asked a similar version of the question about Roe v. Wade — and most nominees have replied either that they did not think it was appropriate to comment on the correctness of any US Supreme Court precedent, or that all current Supreme Court precedent is correct.
"Think of the pattern of judicial nominees refusing to admit, like generations of nominees before them have, that Brown v. Board was correctly decided. That same Brown, which led to Alexander v. Holmes County [Board of Education], which breathed justice into the segregated streets of my Yazoo City," Reeves said. "As if equality was a mere political position."
Reeves, who was confirmed in 2010, is no stranger to the spotlight. He's presided over a number of high-profile cases. In November, he blocked Mississippi's 15-week abortion ban, writing that it was "unequivocally" unconstitutional. He's publicly criticized the lack of diversity on the federal bench before, and issued rulings in other cases that received national attention — for instance, a lengthy speech he delivered at the 2015 sentencing hearing for three white men charged with killing a black man that traced the history of racism in Mississippi.
But while federal judges have routinely blocked the Trump administration's policies in court, none have publicly criticized the president in such a direct way since he took office.
* * *
Reeves's criticism of the president was no off-the-cuff comment. The written version of his speech is 16 pages and features 130 footnotes citing not only Trump's tweets, but also news articles and law review articles. The speech isn't just about Trump — it's a broader exploration of the state of diversity in the courts and a call for more of it. He praised the Obama administration for expanding the number of black, female, Latinx, Asian American and Pacific Islander, Native American, and LGBTQ federal judges.
"For a brief moment, there were so many 'firsts' — each one making our judiciary better reflect the best of America," Reeves wrote, noting that he became the second black federal judge ever in Mississippi when he was confirmed in 2010.
But he went on to say that the "effort to make our judiciary reflect America was as brief as it was remarkable. We are now eyewitnesses to the third great assault on our judiciary."
Judge Reeves is alluding to the Reverend Dr. William J. Barber II, who has articulated The Third Reconstruction: "The first Reconstruction briefly flourished after Emancipation, and the second Reconstruction ushered in meaningful progress in the civil rights era. But both were met by ferocious reactionary measures that severely curtailed, and in many cases rolled back, racial and economic progress. This Third Reconstruction is a profoundly moral awakening of justice-loving people united in a fusion coalition powerful enough to reclaim the possibility of democracy—even in the face of corporate-financed extremism." The white backlash to Rev. Barber's Moral Monday's movement is personified by the white nationalist agenda of "Trumpism."
Reeves focused on Trump's criticism of US District Judge Gonzalo Curiel, who was born and raised in the United States and is of Mexican ancestry. Trump in 2016 repeatedly lashed out at Curiel, who presided over a fraud case against Trump University, claiming he was being unfair because he was "Mexican" and Trump wanted to build a border wall. Reeves said that when he heard Trump's comments about Curiel — for instance, saying that Curiel was "very biased and unfair," a "hater," and questioning if the judge could make "fair rulings" — he was reminded of the late Mississippi senator James Eastland, a staunch segregationist.
"I heard those words and I did not know if it was 1967 or 2017," Reeves said.
Reeves quoted hate mail he'd received, and said it was aimed at "scrubbing the black experience from our nation's courts." He said that it was fair for judges to be scrutinized for the decisions they make, but that was different from what he believed was happening now.
"But the slander and falsehoods thrown at courts today are not those of a critic, seeking to improve the judiciary's search for truth. They are words of an attacker, seeking to distort and twist that search toward falsehood," he said.
The Republican Party embraced the Southern Strategy in 1964, to increase political support among white voters in the South by appealing to racism against African Americans. The "Southern Strategy" refers primarily to "top down" narratives of the political realignment of the South which suggest that Republican leaders consciously appealed to many white Southerners' racial grievances in order to gain their support. Historians such as Matthew Lassiter, Kevin M. Kruse and Joseph Crespino have presented an alternative, "bottom up" narrative, which Lassiter has called the "suburban strategy." This narrative recognizes the centrality of racial backlash to the political realignment of the South, but suggests that this backlash took the form of a defense of de facto segregation in the suburbs rather than overt resistance to racial integration and that the story of this backlash is a national rather than a strictly Southern one.
Donald Trump has doubled-down on this long-standing racist GOP strategy and expanded it to include anyone who is not a white Christian conservative Republican. The Republican Party today is now the party of white grievance, white privilege, and white identity under "Trumpism," the new American fascism. It is a dangerous racist personality cult of Donald Trump.