Since the TanMan, Weeper of the House John Boehner, announced this morning that he is quitting at the end of October, the GOP's "Planned" government shutdown may have been averted, but only temporarily.
The mutineers of the GOP House Freedom Caucus just lost any leverage they held over the Tan Man with Rep. Mark Meadows' resolution to vacate the speakership. Boehner's response was "Oh yeah! You can't fire me, I quit!" Boehner is now a freed man who can negotiate with Nancy Pelosi and the Democrats for a "clean" CR spending bill before he surrenders his gavel, because there is nothing they can do to him.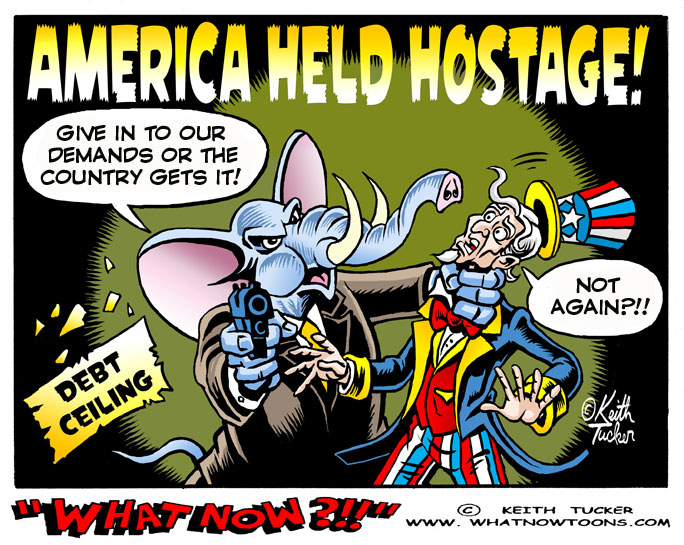 The "clean" CR is only short-term, to December 11. Do you know why this is? Because that is when the Congressional Budget Office estimates that the federal debt ceiling will be reached, CBO: Debt ceiling will be hit by early December, so Tea-Publicans can tie their annual lunacy over the federal debt ceiling together with the next CR to take the country hostage again, and maybe give Americans a government shutdown just in time for Christmas.
Here is the latest developments. On Thursday, the Senate rejected the effort to strip funding from Planned Parenthood as designed:
The Senate on Thursday rejected a short-term spending bill that would defund Planned Parenthood, thwarting the opening move by Republican leaders to avoid a government shutdown on Oct. 1.
Senators voted 47-52 on ending debate on the short-term continuing resolution, well short of the 60 votes needed. The legislation would have funded the government through Dec. 11.
The vote divided Republicans, with eight of them breaking ranks. Sens. Kelly Ayotte (N.H.), Susan Collins (Maine), Tom Cotton (Ark.), Dean Heller (Nev.) Mark Kirk (Ill.), Lisa Murkowski (Alaska), Rand Paul (Ky.) and Ben Sasse (Neb.) all voted against moving forward.
Sen. Joe Manchin (W.Va.) was the only Democrat to vote in favor.
After the vote, the Septuagenarian Ninja Turtle, Senate Majority Leader Mitch McConnell, immediately filed a new short-term spending bill that would fund the government and Planned Parenthood. McConnell tees up vote on spending bill to avoid government shutdown:
Senate Majority Leader Mitch McConnell (R-Ky.) has teed up a procedural vote for Monday on a funding bill, just days before the government could shut down.
The Republican leader filed cloture on a short-term government funding bill that includes money for Planned Parenthood. He said the Senate will take a procedural vote at 5:30 p.m on Monday, sparing lawmakers a rare weekend session.
God forbid Senators should have to work on the weekend and, oh I don't know, actually do their damn job!
The new short-term bill is widely expected to overcome Monday's procedural hurdle and be sent to the House early next week.
Well, we'll see what Sen. Ted "Calgary" Cruz has in his bag of tricks, if anything, to try to derail the Turtle Man's plans. Ted Cruz Dusts Off 2013 Shutdown Standoff Script.
What House Republicans will do with the funding bill still remains to be seen. Boehner, GOP settle on strategy to prevent Oct. 1 shutdown:
Top House Republicans hope to convince their members to keep the government open by using a fast-track process known as reconciliation to try to defund Planned Parenthood. [You will recall that Tea-Publicans scream bloody murder when Democrats use the reconciliation process, but IOKIYAR.]
House Republican leaders are planning to target Planned Parenthood's funding by immediately drafting a fast-track reconciliation bill, according to a senior House GOP aide.
While the plan would mean supporting a short-term bill introduced in the Senate on Thursday to keep the government open through Dec. 11, it could also lead to legislation blocking money for Planned Parenthood hitting President Obama's desk.
In other words,  GOP leaders plan to pass two bills, one a short-term "clean" CR, and the other a reconciliation budget bill that includes defunding Planned Parenthood so that they can feel good about themselves without actually accomplishing their goal. It's Shutdown Kabuki Theater! President Obama will sign the "clean" CR to keep the government running, and veto the reconciliation budget bill, for which there are not the votes to override his veto.
House Ways and Means Committee Chairman Paul Ryan (R-Wis.) defended the strategy in an interview Thursday with CNN, arguing that fighting Planned Parenthood through budget reconciliation was the wiser strategy.
"We intend to put on the president's desk, I believe, legislation," Ryan said.
* * *
It's unclear, however, if the effort will pass muster with House conservatives — particularly with Boehner facing serious threats to his Speakership. [that threat is now removed.]
Many House Republicans voiced support for using reconciliation during "listening sessions" held between GOP leaders and their rank-and-file. The rules would prevent Senate Democrats from filibustering, almost ensuring that a funding bill blocking money for Planned Parenthood would reach the White House. [Where it would be vetoed.]
Implicit in this course, however, is the suggestion that the House would have to vote next week on the Senate bill that includes funding for Planned Parenthood.
That might be a bridge too far for many House conservatives, who have insisted that they will not support any government funding bill that also includes money for Planned Parenthood.
Several House conservatives met with leadership in Boehner's office on Thursday. They included Rep. Mick Mulvaney (R-S.C.), who spearheaded a defunding letter signed by 30 other Republicans; Rep. Jim Jordan (R-Ohio), the chairman of the House Freedom Caucus; Rep. Raúl Labrador (R-Idaho); and Rep. Matt Salmon (R-Ariz.).
Mulvaney indicated after the meeting that the conservatives are not backing down from their opposition to a "clean" spending bill, saying that he thinks such a bill would lose at least 50 Republican votes.
Rep. Bill Flores (R-Texas), chairman of the conservative Republican Study Committee, said that voting on the Senate bill is "not enough" and that his group is preparing amendments, including on imposing sanctions on Iran.
"The Senate's CR [continuing resolution] reads like [Senate Minority Leader] Harry Reid's [D-Nev.] wish list, and the House must amend it to achieve our policy objectives," he said.
* * *
Salmon said last week that Boehner's Speakership was on "thin ice." Asked after the meeting Thursday if he would amend that remark, he said, "I would let my old comments stand."
Boehner may not need every Republican vote, as Democrats are expected to provide more than enough votes to make up the difference — as long as the legislation does not cut Planned Parenthood's money or include other riders attacking Democratic priorities.
Rep. Nita Lowey (D-N.Y.), the top Democrat on the House Appropriations Committee, said Thursday that Democrats would break from tradition and vote for the rule on a clean spending bill, something they rarely do.
"I hope so, yes," she said when asked if they would.
Once a short-term spending bill is passed to avert a shutdown, Democrats want negotiations on raising sequestration spending caps that were put in place in 2011.
"I would say that it's in the interest of Democrats and Republicans to get a clean CR so that we can get to work on an omnibus raising the sequester and raising the caps," Lowey added.
House Republican leaders expressed some confidence that they would avoid a second shutdown on their watch in as many years.
Majority Leader Kevin McCarthy (R-Calif.), asked if he's spoken to House Democratic Whip Steny Hoyer (D-Md.) about needing Democratic votes for the measure, said, "I think we're going to be OK.
"I think conference is going to go very well," McCarthy added.
Sen. John Thune (S.D.), the No. 3 Republican in the Senate, said he thought both chambers would get onboard with a stopgap spending measure. "I think this is going to get done," Thune told reporters. "I don't usually say that."
* * *
Rep. Dennis Ross (R-Fla.) said Thursday that Republicans need to realize that the only way to prevent a shutdown is a "clean" spending bill.
"We all know what it's going to come down to: We're either going to fund the government or we're not," he said. "And the only way we're going to fund the government is if it has a provision in there that continues the funding [for Planned Parenthood]. That's what we have to reconcile in our conference."
The House GOP is adding a going away gift to John Boehner in the reconciliation bill. Oh, you already know what it is. Fast-track bill will include ObamaCare repeal, once more for old times' sake:
House lawmakers will include repealing parts of ObamaCare in the fast-track process known as reconciliation, in addition to defunding Planned Parenthood, according to two lawmakers.
Reps. John Fleming (R-La.) and Phil Roe (R-Tenn.) said that leaders announced in a conference meeting Friday morning that repealing parts of ObamaCare would join defunding Planned Parenthood in the fast-track bill.
Fleming said he did not know which parts of the law would be included, saying it depends on Senate rules requiring that the process only deal with matters affecting spending and revenue, as well as reducing the deficit.
"I don't know, that hasn't been discussed," Fleming said, when asked what parts of the law would be included. "Whatever we can apply to reconciliation; that has to do with parliamentary rules."
Roe said a committee markup on a reconciliation measure would come next week.
President Obama would still be able to veto the repeal and the defunding measures, but they would at least get to his desk using this process, which would bypass a Senate Democratic filibuster because the process allows measures to advance with just 51 votes instead of the usual 60.
* * *
The reconciliation process coincides with a "clean" government funding bill that includes funding for Planned Parenthood and is expected to pass with the help of Democratic votes, given the opposition of some conservative Republicans.
This Shutdown Kabuki Theater because of batshit crazy Tea-Publicans is just insane. No sane government should operate this way.