Update to The GQP Has Become An Increasingly Violent Anti-Democracy Insurgency Harboring Fantasies About Secession And Civil War.
Since the FBI executed a duly authorized search warrant pursuant to an Espionage Act investigation at the former guy's home in exile in Mar-a-Lago last Monday, armed MAGA/QAnon cult members have been showing up outside of local FBI offices across the country. One crazed MAGA/QAnon cult member tried to shoot his way into an FBI office last week and was shot and killed in the attempt. Armed FBI attacker shot dead by police believed to be enraged Trump supporter.
Republican politicians and their right wing propaganda complex have been inciting violence against the FBI, the Department of Justice, and even the IRS.
The Associated Press reports, GOP backs Trump, escalates dark rhetoric after FBI search:
Republicans in Congress who are relying on Donald Trump to excite voters in the fall elections are not only defending the former president against the FBI search of his Mar-a-Lago home but politically capitalizing on it with grave and potentially dangerous rhetoric against the nation's justice system.
The party that once [claimed it] stood staunchly for law-and-order has dramatically reversed course, stirring up opposition to the FBI and tapping into political grievances and far-right conspiracies that fed the deadly Jan. 6, 2021, attack on the U.S. Capitol.
It's all part of the GOP's election year strategy to harness voter outrage over the unprecedented search, quickly and unequivocally set in motion as Trump hosted a dozen Republicans for dinner of steak and scallops at his private Bedminster club the day after the FBI action.
One Republican at the table, Rep. Troy Nehls of Texas, a former sheriff, said he told the former president "loud and clear" that it's time to protect himself politically by declaring his 2024 campaign for the presidency.
"Mr. President, I said, the American people, your supporters, are concerned with this corrupt DOJ and the FBI."
"If I were you, sir, announce you're running for president," Nehls recalled telling Trump. "Take that doubt, take that anxiety away from the people that want you to be our 47th president."
The escalating rhetoric comes amid stark warnings of violence against law enforcement, including the Ohio police shooting Thursday of an armed man clad in body armor who tried to breach the FBI's Cincinnati office and engaged in an hours-long standoff. The day before, FBI Director Christopher Wray had called the threats to agents and DOJ "deplorable." The FBI has warned its agents to take precautions, citing an increase in social media threats to bureau personnel and facilities. In some extreme cases, GOP lawmakers and others are demanding the FBI be dismantled and defunded.
UPDATE:  Politico reports FBI warns of heightened threats as Hill Republicans demand more from Garland on Mar-a-Lago search:
Law enforcement agencies are warning of "an increase in threats and acts of violence" directed at FBI personnel after agents executed a search warrant of former President Donald Trump's home.
Alongside the Department of Homeland Security, the bureau issued a joint intelligence bulletin on Friday describing an "unprecedented" number of such threats posed at government officials, POLITICO confirmed. The bulletin said the threats were "occurring primarily online and across multiple platforms," and that some were specific in identifying proposed targets and tactics, as well as weaponry.
The bulletin comes as Trump and his allies have attacked the FBI for what they say are political motivations and underhandedness in going into his Mar-a-Lago resort, in Florida, to retrieve what they have detailed as documents containing classified information. Among the accusations made, without evidence, have been that FBI agents planted documents and took orders from the Biden administration to smear the former president.
Pro-Trump internet forums have erupted with violent threats in the days after the FBI search. Meanwhile, conservative media published the names of the two agents who signed the paperwork authorizing a search warrant of Trump's estate. And the biographical information of the federal magistrate judge who signed the search warrant had to be wiped from a Florida court's website because of threats.
As Dan Froomkin explains, The phrase you're looking for is "stochastic terrorism".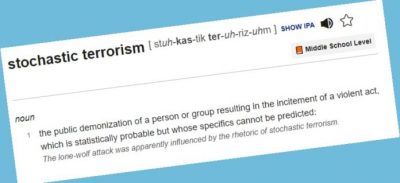 Some members of the Republican Party raised concerns about the incendiary rhetoric coming from others in the GOP and its potential to lead to violence. Reps. Paul Gosar (R-Ariz.), Marjorie Taylor Greene (R-Ga.) and Lauren Boebert (R-Colo.) are among those who spoke of destroying or defunding the FBI.
"It's outrageous rhetoric," Maryland Gov. Larry Hogan said on Sunday on ABC's "This Week."
"It's absurd and it's dangerous. There are threats all over the place, and losing faith in our federal law enforcement officers and our justice system is a really serious problem for the country," said Hogan, whose father was an FBI agent, as were other members of his family.
Hogan's comments were echoed by Gov. Asa Hutchinson of Arkansas, a Republican.
"The GOP is gonna be the party of supporting law enforcement — law enforcement includes the FBI," Hutchinson said on CNN. "We need to pull back on casting judgment on them."
GOP moderates, meanwhile, have offered criticism of their fellow Republicans over harsh rhetoric directed against the FBI and other law enforcement officials.
"I'm not one of the individuals out there that says that, you know, 'Immediately attack the FBI or the Justice Department,'" Sen. Mike Rounds (R-S.D.) said on Sunday on "Meet the Press." "I think this is very important that you provide them with the opportunity to lay out their case. But I think it's very important long-term for the Justice Department — now that they've done this — that they show that this was not just a fishing expedition."
Business Insider adds, Republicans rail against the FBI search of Mar-a-Lago, calling for the FBI to be destroyed and defunded:
Trump ally and [Insurrectionist] Georgia Rep. Marjorie Taylor Greene was one of the first to tweet her disapproval of the search, posting on Twitter: "DEFUND THE FBI!"
She was joined by other GOP lawmakers who came out against law enforcement in support of Trump.
"The FBI raid on Trump's home tells us one thing. Failure is not an option," [insurrectionist] Arizona Rep. Paul Gosar tweeted. "We must destroy the FBI. We must save America."
[Insurrectionist] Colorado lawmaker Lauren Boebert tweeted that she wanted the GOP to "set up a Select Committee to investigate the FBI's politically-motivated raid on Mar-a-Lago and on ALL the fraudulent persecution of President Trump from our government."
"This cannot wait. We are turning into a banana republic at record speed," Boebert wrote.
Speaking on Fox News, [Coup Plotter insurrectionist] Rep. Jim Jordan of Ohio called on Attorney General Merrick Garland and FBI Director Christopher Wray to answer questions at the House Judiciary Committee on Friday.
House Minority Leader [Traitor] Kevin McCarthy tweeted a warning to Garland, signaling that a GOP-controlled Congress would investigate the FBI's search of Trump's property.
"I've seen enough. The Department of Justice has reached an intolerable state of weaponized politicization," McCarthy tweeted. "When Republicans take back the House, we will conduct immediate oversight of this department, follow the facts, and leave no stone unturned," McCarthy wrote. "Attorney General Garland, preserve your documents and clear your calendar."
House Republicans' calls to defund and destroy a law enforcement organization stands in contrast to legislation their party introduced in May 2021 to "back the blue" in opposition to a progressive push to defund the police. As recently as May 2022, top-ranking Republicans like Rep. Elise Stefanik were still pushing the "back the blue" slogan — something that both Greene and Boebert have themselves staunchly supported.
See: Catherine Rampell: The GOP surrenders any claim to being the 'law and order' party. E.J. Dionne, Jr.: The GOP makes its choice: Trump, yes. Rule of law, no.
The congressional lawmakers' posts join a chorus of conservative voices decrying the FBI's execution of a search warrant at Mar-a-Lago on Monday. For one, Trump's 2024 rivals like Florida Gov. Ron DeSantis and Florida Sen. Marco Rubio swooped in to support Trump on Monday.
Trump failed to return classified docs requested by the National Archives. A federal judge issued a search warrant for probable cause of a crime. This is not some rando move by the FBI so you shitforbrains Republicans calling for "defunding the FBI"for once try to be less stupid https://t.co/L9qVLqmwsT

— Michael Steele (@MichaelSteele) August 9, 2022
In the midst of GOP lawmakers' allegations of the investigation being politically motivated, it is worth noting that Wray, the FBI chief, was a Trump appointee nominated in June 2017. At the time, Trump described him as "a man of impeccable credentials."
It is also worth noting that not one of these "shitforbrains" Republicans has any idea what documents were contained in the more than two dozen boxes of classified documents removed from Mar-a-Lago, documents the former guy had no legal right to possess, destroy, sell, or fail to return when initially requested. The documents belong to the government, not to Trump.
Paul Waldman writes, Republicans dream of vengeance — and dismantling the federal government:
That Republicans would be outraged when the FBI searched Donald Trump's Mar-a-Lago Club was no surprise. That they would refuse to even consider the possibility that their dear leader had done anything wrong was likewise predictable. But their effort to defend Trump has taken on a particularly disturbing shape.
For the honor of Trump's sacred Palm Beach redoubt, defiled by the presence of federal agents wielding a search warrant, they demand vengeance. And their focus has quickly turned to what they will do when they next take power: whom they will punish, whom they will purge, which institutions they will tear down and how much destruction they will bring to Washington.
There's no way to know how it will play out whenever they do regain complete control of the government, but the nearly euphoric rage coming from the right suggests they have found an excuse for something they have long desired. And the more they talk about it, the more likely they will act on it when they have the chance.
[At] the other end of the spectrum, the broiling corners of the internet where pro-Trump insurrectionists gather vibrated with calls for violence and civil war. And in what passes for the conservative mainstream, a duly authorized and executed search warrant became a justification for a mass purge.
Former Trump White House official Russell Vought, who runs a pro-Trump think tank planning for the Trump restoration, said Republicans ought to "dismantle the FBI into a thousand bits." Right-wing YouTuber Steven Crowder, who has 5.7 million subscribers, said the next Republican president "needs to prosecute everyone" and insisted on "the dismantling, dismembering, complete restructuring if at all of all of our intelligence agencies."
"When we get power back, it's time to hold everyone accountable," said Fox News host Laura Ingraham. "The military leadership, the civilian leadership, the civil service, those in Congress who have abused their power, all of them have to be held accountable."
Republican politicians and pundits repeatedly used phrases such as "banana republic," asserting not merely that the decision to search Trump's club and retrieve documents was wrong, but that the entire U.S. government had taken an illegitimate form.
This comes just a few weeks after reports that Trump loyalists have been preparing what I called Turnkey Authoritarianism, a plan to change existing rules that protect the federal civil service from political meddling, purge as many as 50,000 nonpartisan federal employees and replace them with Trump loyalists.
This is an impulse that has been growing on the right as Republicans consider how to turn Trump's haphazard antidemocratic impulses into a genuine strategy to reimagine how government works and for whom.
[So], as conservatives now spin out fantasies of power and revenge, the same theme keeps emerging: We've been too timid, too nice and too respectful of the system. Next time, they insist, we're not going to mess around. We're coming for the entire government, not just the inner circle.
Is some of this just playacting for the crowd? Perhaps. But even if it's turned up to 11 to reach the cheap seats, it creates expectations among the rank-and-file Republicans in the audience who are being told how they should understand what just happened and what ought to be done in response.
Republicans will have to deal with those expectations when they do take power, which will happen sooner or later, perhaps as soon as January 2025. If the base has been told that the Republican agenda is not merely to cut taxes and outlaw abortion but to dismantle the government piece by piece and replace it with a system in which nonpartisanship is treasonous and only conservatives are allowed to serve, then that's what they'll demand.
And it's increasingly clear that within the GOP's leadership, more and more people dream of nothing less. We don't know if they can pull it off, but they sure will try.
Max Boot writes, Republicans went crazy over the Trump search. Now they look idiotic.
The more we learn about the FBI's search of Mar-a-Lago, the sillier — and more sinister — the overcaffeinated Republican defenses of former president Donald Trump look.
[Trump's] followers — which means pretty much the whole of the Republican Party — took up the cry based on no more information than that. Fox News host Mark Levin called the search "the worst attack on this republic in modern history, period." Sen. Ted Cruz (R-Tex.) called it "corrupt & an abuse of power." Sen. Rick Scott (R-Fla.) compared the FBI to "the Gestapo." Not to be outdone, former House speaker Newt Gingrich (R-Whackadoodle) said the FBI was the "American Stasi," and compared its agents to wolves "who want to eat you." "Today is war," declared Steven Crowder, a podcaster with a YouTube audience of 5.6 million people. Rep. Marjorie Taylor Greene (R-Ga.) tweeted "DEFUND THE FBI!" Former Trump aide Stephen K. Bannon, among many others, suggested that the FBI and the Justice Department ("essentially lawless criminal organizations") might have planted evidence.
Only now, as Paul Harvey used to say, are we hearing the rest of the story — and what has been reported so far bears no relation to the persecution fantasies of Trump and his cult followers. On Thursday evening, The Post reported that FBI agents were searching for highly classified documents relating to nuclear weapons and signals intelligence — two of the most sensitive areas in the entire U.S. government. Months ago, Trump received a subpoena for documents, and the Justice Department was not convinced that he had complied with it.
[T]his new information turns the Trump narrative — that he is being treated worse than anyone ever in all of U.S. history — on its head. Imagine what would have happened to a lower-level government employee who was suspected of taking highly classified documents without authorization. I very much doubt that the FBI would have dealt with such a person as gently as they dealt with Trump. Anyone else caught with top-secret documents — and suspected of obstructing justice and violating the Espionage Act — would probably be in federal custody by now. Reality Winner, a former National Security Agency contractor, was sentenced to more than five years in prison for leaking documents relating to Russian interference in the 2016 election a whole lot less sensitive than the ones Trump is suspected of taking.
The right now appears to be in disarray. The ex-president's old story has been rendered "inoperative," as Nixon press secretary Ron Ziegler used to say, and they need a new one.
But the damage has been done. The right's hysterical, hyperbolic reaction has weaponized their unhinged followers.
[T]his should be a gut check moment for responsible Republicans — if any are left — to step back and take a deep breath before more violence erupts. But sadly, most Republicans don't seem to care what furies they have unleashed in their devotion to the principle that their supreme leader must remain above the law.
Finally,  Jennifer Rubin writes, The GOP's crazed reaction to the search at Trump's home shows its true colors:
On Tuesday, Republicans on the House Judiciary Committee tweetedout this brilliant (sic) response to the search at Donald Trump's Mar-a-Lago residence: "If they can do it to a former President, imagine what they can do to you."
Well, yes, that is how the rule of law works. If you had committed acts that would persuade a judge to sign off on a search warrant, you, too, would be visited by law enforcement.
This should be obvious, yet it was not just a stray Republican staffer on the Judiciary Committee who was outraged to find that the defeated former president was subjected to a search warrant. The entire Republican Party went to Defcon 1. What followed was a barrage of attacks on law enforcement, pledges of fidelity to a cult leader undergoing multiple federal and state investigations, and vows of revenge. Oh, and now it's Republicans who want to defund law enforcement.
Sen. Marco Rubio (R-Fla.) cooked up arguably the most ludicrous non-sequitur in a tweet: "After todays raid on Mar A Lago what do you think the left plans to use those 87,000 new IRS agents for?" For enforcing tax laws, perhaps?
Wait! The 89 year old senile senator from Iowa topped the Teabagger Senator from Florida.
"Are they going to have a strike force that goes in with AK-15s … ready to shoot some small business person in Iowa?"

— Sen. Chuck Grassley (R-IA) speculates on what the IRS will do with their increase in funding from the Inflation Reduction Act pic.twitter.com/XcAY18zmVm

— The Recount (@therecount) August 11, 2022
See More: From GOP chair to militias, the right issues baseless warnings about armed IRS thugs, and Hyperbolic GOP claims about IRS agents and audits, and Lock Your Doors! Fox News Host Says Tax Collectors Will Hunt And Kill You
More screeching came from possible 2024 contenders (including Florida Gov. Ron DeSantis, even though he has the most to gain from Trump's political demise), rabid MAGA lawmakers and hapless House Minority Leader Kevin McCarthy (R-Calif.), who all characterized the search as an outrageous weaponization of the FBI. How far we've come from the "lock her up" chants aimed at Hillary Clinton for her comparatively minor offense of mishandling emails.
Just as McCarthy fumbled his last chance to be speaker by confessing that the Benghazi hearings were all about lowering then-future presidential candidate Hillary Clinton's approval ratings, the Republican leader has given away the game here. He made clear that Republicans will be out for revenge, using and abusing whatever power they have to cripple law enforcement in defense of the besieged leader of the coup attempt. If one needed any more reason to keep Republicans out of power (beyond their propagation of the "big lie," whitewashing of Jan. 6, attempts to undermine the sanctity of elections, etc.), their willingness to deploy congressional power against political enemies should certainly qualify.
[T]he warrant's execution tells us more about the Trump and MAGA mind-set than it does the particulars of any alleged crimes. This is a party that automatically delegitimizes and attacks law enforcement when it is under scrutiny. When in power, it weaponizes law enforcement to attack political enemies invoking crazed conspiracy theories.
This is how fascist movements operate. They use violence and the threat of violence to achieve their goals. They deploy state power to debilitate opposition. They demonize an independent judiciary and utilize captive media to keep supporters in a state of fury. Voters should use extreme care as they make their midterm decisions.
No voter in good conscience and loyalty to their country can vote for any Republican for office. As Republican strategist Steve Schmidt warned in 2018, 'The Party of Trump Must Be Obliterated. Annihilated. Destroyed':
If the party of Lincoln and Eisenhower and Teddy Roosevelt and Reagan is to be redeemed and resurrected, then the party of Trump must be obliterated. Annihilated. Destroyed. And all of the collaborators, the complicit enablers, the school of cowards, need to go down. Maybe something can regenerate from that.

I don't view it so much differently than I view a forest fire. A forest fire is part of a natural cycle of the forest. The forest burns, and through its burning and destruction, it is regenerated and made healthy again. For the Republican Party and the conservative movement, with its rot, its corruption, its indecency … before there can be any talk of restoration, there must be a season of burning.
The fascist Party of Trump must suffer a devastating defeat over several election cycles to purge this country of the cancer which Trump has metasticized within the former Republican Party.