Today is the Ides of March primaries (March 15) with the first winner-take-all primaries for the GOP in Florida and Ohio.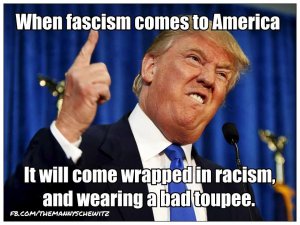 Donald Trump is hoping for a sweep of today's GOP primaries — he has already won the Northern Mariana Islands Republican caucuses with all 9 delegates — defeating Marco Rubio Roboto in Florida, and John Kasich in Ohio, both of whom would "suspend" their campaign if that happened, setting up a one-on-one duel with Ted "Calgary" Cruz the rest of the way.
Only the polling out of Ohio shows Governor John Kasich still has a chance of winning his home state tonight — "so you're telling me there's a chance?" — which may keep him in the race for awhile. Just one problem: if Kasich had to work this hard just to hold onto his home state, where else does he go for a win?
No such luck for the Beltway media villagers' Boy Wonder, Senator Marco Rubio, who was trailing badly in the polls and fading in the most recent Florida polls. Rubio must make a home state last stand to prove he is still relevant. Don't bet on it. His media villager enablers have already been writing his campaign obituary for the past week.
Nate Silver at FiveThirtyEight projects "The Donald" has a 97% chance of winning Florida; an 89 percent chance of winning in North Carolina; and a 63 percent chance of winning in Illinois. John Kasich has an 87 percent chance of winning in Ohio.
Now I have seen all kinds of speculative scenarios published in the past couple of weeks about how it is possible for the GOP establishment to prevent "The Donald" from gaining enough delegates going into the RNC National Convention in Cleveland and forcing a brokered convention, but that's all it is, speculation.
The math wizard I would rely on is Sam Wang, who says John Kasich winning Ohio today and splitting the anti-Trump vote the rest of the way only increases the chances of "The Donald" winning enough delegates to win the nomination on the first ballot. Losing Ohio Improves Trump's Chances to Win the Nomination:
We are therefore left with an odd situation. Many Republicans who oppose Trump and Cruz are desperately hoping for Kasich to win Ohio, an outcome that Kasich himself certainly wants so that he can stay in the race. But Trump also should hope Kasich wins Ohio, since a decision by Kasich to keep fighting keeps the field divided, offering Trump himself the best chance of getting a majority of delegates and ultimately winning the nomination. The only candidate who should not want Kasich to win Ohio is Ted Cruz.
On to the Democrats. Last week's surprising win for Bernie Sanders in Michigan defied all of the polling models, including Nate Silver. Why The Polls Missed Bernie Sanders's Michigan Upset: "If Bernie Sanders were to defeat Hillary Clinton in Michigan's Democratic primary, it would be "among the greatest polling errors in primary history," our editor in chief, Nate Silver, wrote Tuesday evening when results started to come in. Sanders pulled it off, and now we're left wondering how it happened. "
Hint: pollsters project results from polling based upon models of previous voter turnout in elections. If turnout is substantially higher than projected in the model (which has not been the case in most of the Democratic primaries thus far), the projection model can fall apart. It's the old adage, voter turnout is everything.
Nevertheless, Nate Silver projects Hillary Clinton has a greater than 99 percent chance of winning Florida and North Carolina, a 96 percent chance of winning in Ohio, and a 90 percent chance in Illinois. However, there is some anecdotal evidence that the polling models may wrong for Ohio and Illinois. (Silver now projects Clinton has an 88% chance of winning Illinois).
We'll know sometime later tonight. Whatever happens, it should be interesting to see what comes next. This has been a most unpredictable election year.