FAUX News aka Trump TV was engulfed by sexual harassment scandals over the past couple of years. The pervasiveness of the complaints targeted not only the network's powerful founder, Roger Ailes, but also primetime host Bill O'Reilly and former Fox News Latino executive Francisco Cortes. Fox News still hounded by sexual harassment allegations:
[It] suggests a culture of misogyny and sexual objectification that extended beyond Ailes' office.
Current and former employees have described the Fox News environment as archaic, stuck in a 1950s view of male-female relations.
An internal investigation last year led the company to pledge zero-tolerance for "behavior that disrespects women."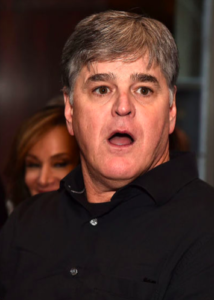 Michael Cohen is Donald Trump's "fixer" to clean up his sexcapades with nondisclosure agreements (NDAs). Cohen did the same for Elliot Brady, the former RNC deputy finance chair. Cohen's only other client, revealed in court on Monday, is Donald Trump's Minister of Propaganda at FAUX News aka Trump TV,  Sean Hannity.
Given Cohen's legal practice of NDAs to clean up sexual indiscretions, shall we say, it begs the obvious question whether he was hired to do the same for Sean Hannity.
It turns out that Michael Cohen is not the only lawyer that Donald Trump shares with Sean Hannity.
Sean Hannity also employed Jay Sekulow, currently Trump's personal attorney on the Russia investigation, and Victoria Toensing, a frequent guest on Hannity's program. She and her husband Joseph E. diGenova, the members of diGenova and Toensing LLP, were recently hired by Donald Trump in the Russia investigation, until they suddenly were not (asserting a unidentifed conflict of interest).
The Atlantic reports that Jay Sekulow and Victoria Toensing were also hired by Sean Hannity to send a cease and desist letter to a radio station that aired a guest's claims of sexual harassment against him. Sean Hannity's Ties to Two More Trump-Connected Lawyers:
In court on Monday, Sean Hannity's name was disclosed as the third "mystery client" of Donald Trump's personal lawyer Michael Cohen. Though Hannity says he was never actually Cohen's client, he does appear to have used the legal services of other well-connected Trump-world lawyers in a different matter a year ago.
On May 25, 2017, KFAQ, a radio station based in Tulsa, Oklahoma, received a cease-and-desist letter signed by two lawyers for Hannity: Victoria Toensing and Jay Alan Sekulow. Toensing's signature sits above her name and that of her husband Joseph E. diGenova, the members of diGenova and Toensing LLP, who are identified as "Counsel for Sean Hannity," according to a copy of the letter obtained by The Atlantic. Sekulow is also identified in the letter page as a "Counsel for Sean Hannity."
Sekulow is now the only known personal attorney for President Trump working full-time on the response to Special Counsel Robert Mueller's inquiry. Sekulow recently announced that diGenova and Toensing had been hired to join him, before reversing course. The letter to the radio station was sent before Sekulow joined Trump's team.
The letter was sent in response to accusations against Hannity made by the controversial conservative activist Debbie Schlussel. During an appearance on the Pat Campbell show on KFAQ last April, Schlussel said Hannity had been "creepy" towards her and had invited her to his hotel room. See, Debbie Schlussel says Sean Hannity was 'creepy,' but did not sexually harass her.
Hannity responded at the time by calling the allegations "100 percent false and a complete fabrication," and said that he had hired lawyers to plan a response. "This letter provides notice that Ms. Schlussel's statements are false and defamatory," the letter read. "Continued publication will result in further exposure to liability because of continued harm to Mr. Hannity's impeccable reputation."
Try to contain your laughter.
On Monday, Schlussel said she remembered that the radio station where she made the remarks had received a legal letter afterwards, but she didn't know who the lawyer was. Reached by phone on Tuesday, Toensing acknowledged that "at that time" she was acting as Hannity's lawyer but wouldn't comment on whether she still represents him.
* * *
Sekulow, diGenova, and Toensing have frequently appeared on Hannity's program; diGenova appeared on the show as recently as Monday night. Asked for comment, Hannity sent a text consisting of NewsBusters and Daily Caller links to stories about ethical misconduct in the mainstream media and declined to offer further comment. "I don't have time for these silly questions," he said.
Sekulow didn't immediately respond to a request for comment. After publication of this story, a Fox News spokesperson sent an example of Hannity mentioning Sekulow as his lawyer. On May 23, 2017, two days before the letter was sent, he said on his show that Sekulow had "done legal work for me in the past."
The addition of Toensing and diGenova to Trump's legal team was recently announced, but then swiftly reversed. "The President is disappointed that conflicts prevent Joe diGenova and Victoria Toensing from joining the President's Special Counsel legal team," Sekulow said in a statement at the time. "However, those conflicts do not prevent them from assisting the President in other legal matters. The President looks forward to working with them."
When the Cohen news came out, Hannity insisted that Cohen had not really been his lawyer and that he had only asked him for advice regarding real estate. "I never retained his services, I never received an invoice, I never paid Michael Cohen for legal fees," Hannity said on his show on Monday night. "I did have occasional brief conversations with Michael Cohen—he's a great attorney—about legal questions I had where I was looking for input and perspective.
Note: One does not have to pay an attorney or enter into a retainer agreement to have an attorney-client relationship. If Hannity sought legal advice from Michael Cohen in a confidential matter, that creates an attorney-client relationship in which the attorney-client privilege attaches.  Which is why Cohen's attorney was asserting the privilege in court on Monday.
My discussions with Michael Cohen never rose to any level that I needed to tell anyone that I was asking him questions and to be absolutely clear, they never involved any matter, any—sorry to disappoint so many—matter between me, a third party, a third group, at all."
Ah, there it is … because of Cohen's legal practice of NDAs to clean up sexual indiscretions, Sean Hannity is concerned about suspicion that he also has an NDA for a sexual indiscretion. Perhaps not, but there is the allegation from Debbie Schlussel that he was "creepy" towards her for which he shared Trump lawyers to try to silence her.
On Monday night's show, Hannity was criticized by the retired Harvard Law professor Alan Dershowitz, who told him he should have disclosed the relationship to his viewers when discussing Cohen-related matters.
* * *
[I]t's unclear whether Fox News, which gives Hannity broad autonomy, cares about these conflicts. It's already well-known that Hannity champions the president publicly and advises him privately, although the breadth of his relationships with attorneys linked to the president wasn't known before this week. "I think he's totally fine," one Fox source who was not authorized to speak publicly said on Monday. "I take Sean at his word that nothing's there" in the relationship with Cohen, a former Hannity employee who also spoke on the condition of anonymity said, adding that Hannity normally uses David Limbaugh as his lawyer and agent for "absolutely everything."
"While Fox News was unaware of Sean Hannity's informal relationship with Michael Cohen and was surprised by the announcement in court yesterday, we have reviewed the matter and spoken to Sean and he continues to have our full support," the network said in a statement on Tuesday.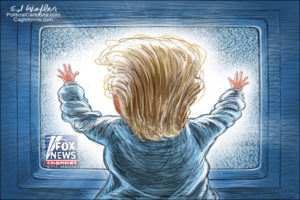 But of course he does. The GOPropaganda network owns this president. It lives in his head rent free.
Nancy Le Tourneau of the Political Animal Blog sums up this FAUX News presidency nicely, No Wonder Trump Needs so Much 'Executive Time':
After learning that Donald Trump and Sean Hannity share the same lawyer, Robert Costa, Sarah Ellison and Josh Dawsey took a deeper look at the relationship between the president and his number one propagandist.
The phone calls between President Trump and Sean Hannity come early in the morning or late at night, after the Fox News host goes off the air. They discuss ideas for Hannity's show, Trump's frustration with the ongoing special counsel probe and even, at times, what the president should tweet, according to people familiar with the conversations. When he's off the phone, Trump is known to cite Hannity when he talks with White House advisers.

The revelation this week that the two men share an attorney is just the latest sign of how Hannity is intertwined with Trump's world — an increasingly powerful confidant who offers the media-driven president a sympathetic ear and shared grievances. The conservative commentator is so close to Trump that some White House aides have dubbed him the unofficial chief of staff.
* * *
Putting all of this together, it becomes clear why Trump requires so much "executive time."
President Trump is starting his official day much later than he did in the early days of his presidency, often around 11am, and holding far fewer meetings, according to copies of his private schedule shown to Axios. This is largely to meet Trump's demands for more "Executive Time," which almost always means TV and Twitter time alone in the residence, officials tell us.
The president has to set aside time to watch Fox News and talk on the phone with Fox News personalities. Contrary to previous administrations, it is not the people working in the White House or running federal agencies that the president turns to for advice and counsel. That is precisely why the ongoing turnover in this administration doesn't pose much of a problem. Instead, Trump needs to hear from Sean Hannity, Lou Hobbs, Jeanine Pirro and the hosts of Fox and Friends to set his agenda and craft his response to the issues of the day.
In the interests of time management, it might be best to simply do away with the pretense of assuming that the White House and Fox News are two separate entities. Trump should just make Sean Hannity his chief of staff, Lou Dobbs his secretary of homeland security, Jeanine Pirro his attorney general and the Fox and Friends hosts his council of economic advisers. He has already made Fox News contributor John Bolton his national security adviser. Tucker Carlson has done yeoman's work in pretending like there is some kind of thoughtful grounding to this presidency. So I'm sure he'd feel left out if there wasn't a spot for him. Perhaps he could just cover everything else.
Of course I'm kidding…sort of.
This country really needs to get to the point when FAUX News has been reduced to total irrelevancy, dismissed and disgraced as merely a state-run propaganda network for the GOP, like RT (formerly Russia Today) is for the Putin regime.