National Security Advisor and former commentator for Russia Today (RT), retired Lt. Gen. Michael Flynn, resigned on Monday evening. Michael Flynn Resigns as National Security Adviser: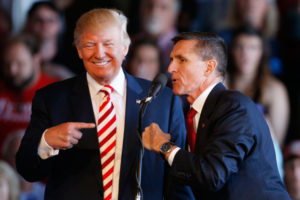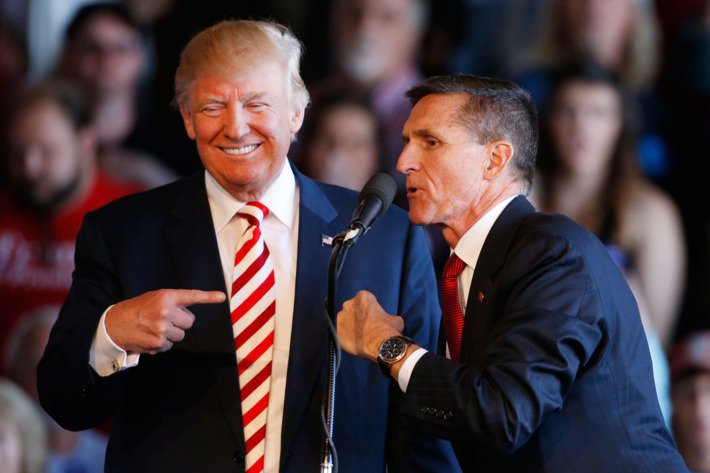 Michael T. Flynn, the national security adviser, resigned on Monday night after it was revealed that he had misled Vice President Mike Pence and other top White House officials about his conversations with the Russian ambassador to the United States.
Mr. Flynn, who served in the job for less than a month, said he had given "incomplete information" regarding a telephone call he had with the ambassador in late December about American sanctions against Russia, weeks before President Trump's inauguration. Mr. Flynn previously had denied that he had any substantive conversations with Ambassador Sergey I. Kislyak, and Mr. Pence repeated that claim in television interviews as recently as this month.
But on Monday, a former administration official said the Justice Department warned the White House last month that Mr. Flynn had not been fully forthright about his conversations with the ambassador. As a result, the Justice Department feared that Mr. Flynn could be vulnerable to blackmail by Moscow.
Wait, the White House sat on this hoping that no one would notice until someone leaked the information to the media last week? "It's not the crime, it's the coverup."
In his resignation letter, which the White House emailed to reporters, Mr. Flynn said he had held numerous calls with foreign officials during the transition. "Unfortunately, because of the fast pace of events, I inadvertently briefed the vice president-elect and others with incomplete information regarding my phone calls with the Russian ambassador," he wrote. "I have sincerely apologized to the president and the vice president, and they have accepted my apology."
"I am tendering my resignation, honored to have served our nation and the American people in such a distinguished way," Mr. Flynn wrote.
Earlier in the day, Kellyanne "alternative facts" Conway, fresh out of her weekend "time out," said Trump has 'full confidence' in Flynn. Hours later, White House press secretary "Baghdad Sean" Spicer said Trump was "evaluating the situation." Oops! Embattled Flynn was in 'fluid' situation Monday night leading up to resignation:
The situation around embattled national security adviser Michael Flynn remained "fluid" Monday night — right up until his resignation.
* * *
The Justice Department concern was raised after Flynn claimed he did not discuss with the Russian ambassador the sanctions being imposed by the Obama administration in retaliation for Russia's interference in the election. Flynn was not yet in government.
The message was delivered by then-Acting Attorney General Sally Yates. Other top intelligence officials, including James Clapper and John Brennan, were in agreement the White House should be alerted about the concerns.
Whoa! Hold on, Sally Yates was then-Acting Attorney General that Trump fired for not enforcing his Muslim travel ban executive order about the same time that she was advising him that the Justice Department had the goods on Michael Flynn's conversations with the Russian ambassador. There is suddenly more to the story of Yate's firing, and a possible ulterior motive. Reporters need to start asking probing questions about this.
The New York Times reported on Sunday that a transcript of Flynn's telephone conversations, based on a U.S. wiretap of Russian Ambassador Sergei Kislyak, exists. Today's Times report adds:
The White House had examined a transcript of a wiretapped conversation that Mr. Flynn had with Mr. Kislyak in December, according to administration officials. Mr. Flynn originally told Mr. Pence and others that the call was limited to small talk and holiday pleasantries.
But the conversation, according to officials who saw the transcript of the wiretap, also included a discussion about sanctions imposed on Russia after intelligence agencies determined that President Vladimir V. Putin's government tried to interfere with the 2016 election on Mr. Trump's behalf.
Still, current and former administration officials familiar with the call said the transcript was ambiguous enough that Mr. Trump could have justified either firing or retaining Mr. Flynn.
Again, the White House has had this information since last month and Flynn was permitted to retain his security clearance after Trump was informed? Reporters need to start asking probing questions about this. The timeline of Michael Flynn's resignation is troubling for the Trump White House:
As The Washington Post reported late Monday, just hours before Flynn resigned, the White House was told weeks ago that Flynn had apparently misled them about his talks with Russia's ambassador to the United States.
Yet the situation didn't come to a head until the public disclosures last week of Flynn's faulty recollection of the call — and specifically, the fact that it included talk about sanctions, which Flynn and Vice President Pence had both denied.
Which leads to the question: Was the White House concerned that Flynn had apparently lied to them — or at least done something he shouldn't have and failed to disclose it? Would it ever have taken corrective action if the situation hadn't been made public?
It's a fair question, especially since the administration had, until late Monday, given no indication that Flynn's job was in jeopardy. Appearing on MSNBC early Monday evening, Trump counselor Kellyanne Conway even said the administration had "full confidence" in Flynn. Yet just minutes later, White House press secretary Sean Spicer said Trump was "evaluating the situation." Hours later, Flynn resigned.
This scandal is part of a broader scandal, the intelligence agencies are withholding information from the Trump administration out of concern for US national security.  John Schindler, a security expert and former National Security Agency analyst and counterintelligence officer, writes at the Observer, The Spy Revolt Against Trump Begins: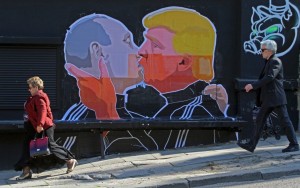 [The] Intelligence Community is so worried by the unprecedented problems of the Trump administration—not only do senior officials possess troubling ties to the Kremlin, there are nagging questions about basic competence regarding Team Trump—that it is beginning to withhold intelligence from a White House which our spies do not trust.
That the IC has ample grounds for concern is demonstrated by almost daily revelations of major problems inside the White House, a mere three weeks after the inauguration. The president has repeatedly gone out of his way to antagonize our spies, mocking them and demeaning their work, and Trump's personal national security guru can't seem to keep his story straight on vital issues.
That's Mike Flynn, the retired Army three-star general who now heads the National Security Council. Widely disliked in Washington for his brash personality and preference for conspiracy-theorizing over intelligence facts, Flynn was fired as head of the Defense Intelligence Agency for managerial incompetence and poor judgment—flaws he has brought to the far more powerful and political NSC.
Flynn's problems with the truth have been laid bare by the growing scandal about his dealings with Moscow. Strange ties to the Kremlin, including Vladimir Putin himself, have dogged Flynn since he left DIA, and concerns about his judgment have risen considerably since it was revealed that after the November 8 election, Flynn repeatedly called the Russian embassy in Washington to discuss the transition. The White House has denied that anything substantive came up in conversations between Flynn and Sergei Kislyak, the Russian ambassador.
That was a lie, as confirmed by an extensively sourced bombshell report in The Washington Post, which makes clear that Flynn grossly misrepresented his numerous conversations with Kislyak—which turn out to have happened before the election too, part of a regular dialogue with the Russian embassy. To call such an arrangement highly unusual in American politics would be very charitable.
In particular, Flynn and Kislyak discussed the possible lifting of the sanctions President Obama placed on Russia and its intelligence services late last year in retaliation for the Kremlin's meddling in our 2016 election.
* * *
Ambassador Kislyak surely knew his conversations with Flynn were being intercepted, and it's incomprehensible that a career military intelligence officer who once headed a major intelligence agency didn't realize the same. Whether Flynn is monumentally stupid or monumentally arrogant is the big question that hangs over this increasingly strange affair.
Prominent Democrats in Congress are already calling for Flynn to be relieved over this scandal, which at best shows him to be dishonest about important issues. Adam Schiff, the top Democrat on the House Intelligence Committee, has bluntly asked for the national security adviser's ouster. Republicans on the Hill who would prefer that the White House stop lying to the public about its Kremlin links ought to get behind Schiff's initiative before the scandal gets worse.
In truth, it may already be too late. A new report by CNN indicates that important parts of the infamous spy dossier that professed to shed light on President Trump's shady Moscow ties have been corroborated by communications intercepts. In other words, SIGINT strikes again, providing key evidence that backs up some of the claims made in that 35-page report compiled by Christopher Steele, a former British intelligence official with extensive Russia experience.
* * *
SIGINT confirms that some of the non-salacious parts of what Steele reported, in particular how senior Russian officials conspired to assist Trump in last year's election, are substantially based in fact. This is bad news for the White House, which has already lashed out in angry panic, with Press Secretary Sean Spicer stating, "We continue to be disgusted by CNN's fake news reporting."
That is hardly a denial, of course, and I can confirm from my friends still serving in the IC that the SIGINT, which corroborates some of the Steele dossier, is damning for the administration. Our spies have had enough of these shady Russian connections—and they are starting to push back.
How things are heating up between the White House and the spooks is evidenced by a new report that the CIA has denied a security clearance to one of Flynn's acolytes. Rob Townley, a former Marine intelligence officer selected to head up the NSC's Africa desk, was denied a clearance to see Sensitive Compartmented Information (which is required to have access to SIGINT in particular). Why Townley's SCI was turned down isn't clear—it could be over personal problems or foreign ties—but the CIA's stand has been privately denounced by the White House, which views this as a vendetta against Flynn. That the Townley SCI denial was reportedly endorsed by Mike Pompeo, the new CIA director selected by Trump himself, only adds to the pain.
There is more consequential IC pushback happening, too. Our spies have never liked Trump's lackadaisical attitude toward the President's Daily Brief, the most sensitive of all IC documents, which the new commander-in-chief has received haphazardly. The president has frequently blown off the PDB altogether, tasking Flynn with condensing it into a one-page summary with no more than nine bullet-points. Some in the IC are relieved by this, but there are pervasive concerns that the president simply isn't paying attention to intelligence.
In light of this, and out of worries about the White House's ability to keep secrets, some of our spy agencies have begun withholding intelligence from the Oval Office. Why risk your most sensitive information if the president may ignore it anyway? A senior National Security Agency official explained that NSA was systematically holding back some of the "good stuff" from the White House, in an unprecedented move. For decades, NSA has prepared special reports for the president's eyes only, containing enormously sensitive intelligence. In the last three weeks, however, NSA has ceased doing this, fearing Trump and his staff cannot keep their best SIGINT secrets.
Since NSA provides something like 80 percent of the actionable intelligence in our government, what's being kept from the White House may be very significant indeed. However, such concerns are widely shared across the IC, and NSA doesn't appear to be the only agency withholding intelligence from the administration out of security fears.
What's going on was explained lucidly by a senior Pentagon intelligence official, who stated that "since January 20, we've assumed that the Kremlin has ears inside the SITROOM," meaning the White House Situation Room, the 5,500 square-foot conference room in the West Wing where the president and his top staffers get intelligence briefings. "There's not much the Russians don't know at this point," the official added in wry frustration.
None of this has happened in Washington before. A White House with unsettling links to Moscow wasn't something anybody in the Pentagon or the Intelligence Community even considered a possibility until a few months ago. Until Team Trump clarifies its strange relationship with the Kremlin, and starts working on its professional honesty, the IC will approach the administration with caution and concern.
Trump hasn't been president for even a month and already we have a major scandal involving the national security of the United States.  Americans were warned about the ties that Trump and several of his advisors have to Vladimir Putin and the Kremlin, and they ignored these warnings and put the "The Kremlin Candidate" in the White House anyway.  Damned fools!