Last week, Mike Allen of Axios.com reported a Scoop: Mueller obtains "tens of thousands" of Trump transition emails: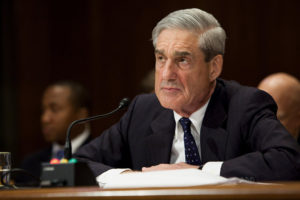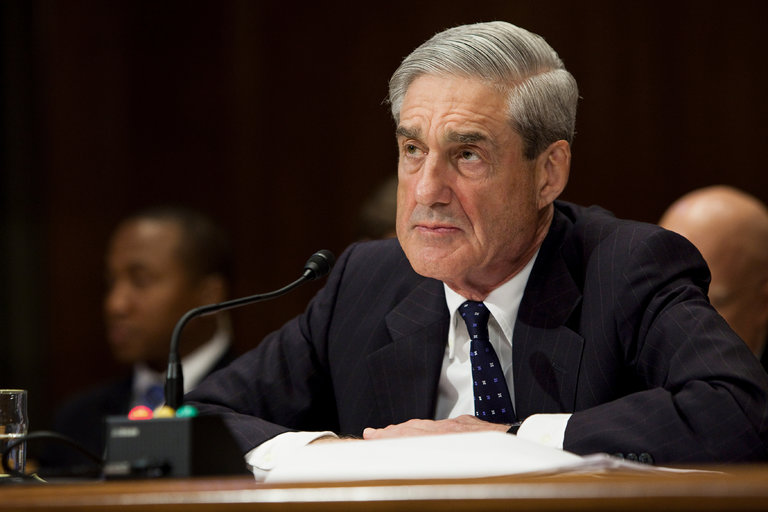 Special Counsel Robert Mueller has obtained "many tens of thousands" of Trump transition emails, including emails of Jared Kushner, transition team sources tell Axios.
Trump officials discovered Mueller had the emails when his prosecutors used them as the basis for questions to witnesses, the sources said.
The emails include 12 accounts, one of which contains about 7,000 emails, the sources said.
The accounts include the team's political leadership and the foreign-policy team, the sources said.
Why it matters: The transition emails are said to include sensitive exchanges on matters that include potential appointments, gossip about the views of particular senators involved in the confirmation process, speculation about vulnerabilities of Trump nominees, strategizing about press statements, and policy planning on everything from war to taxes.
"Mueller is using the emails to confirm things, and get new leads," a transition source told me.
How it happened: The sources say Mueller obtained the emails from the General Services Administration, the government agency that hosted the transition email system, which had addresses ending in "ptt.gov," for Presidential Transition Team.
Taking fight public: Charging "unlawful conduct," Kory Langhofer, counsel for the transition team, wrote in a letter to congressional committees Saturday that "career staff at the General Services Administration … have unlawfully produced [transition team] private materials, including privileged communications, to the Special Counsel's Office."
The seven-page letter, obtained by Axios, says: "We understand that the Special Counsel's Office has subsequently made extensive use of the materials it obtained from the GSA, including materials that are susceptible to privilege claims."
The letter says this was a violation of Fourth Amendment protections against unreasonable search and seizure.
"Additionally, certain portions of the [transition] materials the Special Counsel's Office obtained from the GSA, including materials that are susceptible to privilege claims, have been leaked to the press by unknown persons."
The Special Counsel's office said: "We will decline to comment."
UPDATE: In a later post, Mike Allen reports: Peter Carr, spokesman for the Special Counsel's Office, told Axios early this morning: "When we have obtained emails in the course of our ongoing criminal investigation, we have secured either the account owner's consent or appropriate criminal process."
In fact, GSA Deputy Counsel Lenny Loewentritt told BuzzFeed that "in using our devices," Trump's transition team was informed that materials "would not be held back in any law enforcement" actions. The counsel read to BuzzFeed agreements from the transition period that spelled out "no expectation of privacy can be assumed," including monitoring and auditing of devices.
He said GSA initially "suggested a warrant or subpoena" for Mueller's team, which requested the materials from GSA in two August letters to the agency — and said any disagreement over that request method, which Mueller's team found legally sound, is "between the special counsel and the transition team."
 The transition sources said they were surprised about the emails because they have been in touch with Mueller's team and have cooperated.
The twist: The sources say that transition officials assumed that Mueller would come calling, and had sifted through the emails and separated the ones they considered privileged. But the sources said that was for naught, since Mueller has the complete cache from the dozen accounts.
Kory Langhofer, the Trump transition lawyer with his panties in a bunch here, is also the Arizona GOP's lawyer who frequently makes legal arguments that fall flat in court. See, for example, U.S. Supreme Court upholds Tucson's council election system.
It is important to note that this GOP political hack is not complaining to the court overseeing the Special Prosector's investigation about Mueller's discovery requests, because there is no legal basis for his pearl-clutching objections, but rather to Tea-Publican committees in Congress who are systematically engaged in a deliberate campaign to smear the credibility and integrity of the Special Counsel's investigation to give the Trump White House cover. The real reason Trump allies are attacking Mueller: sowing public doubt about the special counsel's Russia investigation can give the president cover for pardons, even if the investigation is allowed to proceed.
This smear campaign is being orchestrated by President Trump himself: "President Trump, returning to the White House on Sunday, said when asked about the emails: "Not looking good. It's not looking good. It's quite sad to see that. My people are very upset about it. I can't imagine there's anything on 'em, frankly, because as we said, there's no collusion. There's no collusion whatsoever. A lot of lawyers thought that was pretty sad."
"Dear Leader's" words gets amplified in the conservative media entertainment complex, in particular by FAUX News (aka Trump TV) with its unhinged propagandists selling Trump's alternate reality. A 'Coup' Against Trump? Fox News Suggests FBI Trying To Overthrow President.
The Washington Post editorializes today, Yet another baseless attack on Mueller's team:
"My people were very upset about it," President Trump said Sunday of emails obtained by special counsel Robert S. Mueller III belonging to the presidential transition team. Yet despite much arm-waving, Mr. Trump's "people" have provided no evidence supporting their claims of misconduct by Mr. Mueller. This feigned outrage over the special counsel's search of transition-team emails is just one more attempt by Mr. Trump's allies to kick up dust around Mr. Mueller's investigation.
The latest diversion began with a letter to Congress from Mr. Trump's transition team alleging that Mr. Mueller had improperly obtained emails belonging to transition members. According to the letter, Mr. Mueller's investigators requested transition emails and devices from the General Services Administration (GSA), the agency that provided the transition team with laptops and cellphones and hosted their government emails. Even though the transition used .gov email accounts, the letter argues, GSA General Counsel Richard Beckler agreed after the inauguration to treat the accounts as private. Yet the GSA handed the documents over to Mr. Mueller at his request.
This might be concerning — if it were the full story. But GSA Deputy General Counsel Lenny Loewentritt, who the transition claims was present when Mr. Beckler agreed that the emails would be treated as private, says that Mr. Beckler made no such promise. Mr. Loewentritt points instead to documents in which transition officials signed away their expectation of privacy in order to use GSA systems and devices. (Mr. Beckler has since died.) So the transition team likely had no basis to expect that the GSA would shield correspondence from the special counsel. In a rare public statement, Mr. Mueller's spokesman Peter Carr declared, "When we have obtained emails in the course of our ongoing criminal investigation, we have secured either the account owner's consent or appropriate criminal process."
The transition team also argues that Mr. Mueller should have filtered out emails protected by executive privilege and attorney-client privilege, both of which can shield communications from being used against a defendant. But the former privilege applies only to the executive branch — and the transition team is claiming it should be treated as a private entity. And while some emails could conceivably contain privileged advice from lawyer to client, the letter describes no improper behavior by the special counsel. If Mr. Mueller seeks to use privileged materials in legal proceedings, transition members can always challenge him in court. Or they could act now by bringing the matter before the federal judge overseeing Mr. Mueller's grand jury.
The fact that the Trump team has chosen instead to air its grievances before two congressional committees with no jurisdiction over Mr. Mueller suggests this letter is little more than a political stunt. As with last week's release of anti-Trump text messages by an FBI agent who had been detailed to the special counsel, Mr. Trump's allies are desperate for any shred of an excuse to cast doubt on Mr. Mueller's investigation. Their wisest course would be to trust in the special counsel's integrity and let him do his work.
President Trump has denied a rumor voiced by Congresswoman Jackie Speier (D-CA) that he intends to fire Special Counsel Robert Mueller before Christmas. Trump Denies 'Rumor on the Hill' of Plan to Fire Mueller:
Speier told KQED Newsroom on Friday that she believes Republicans are trying to shut down the House Intelligence Committee's probe into alleged Russian interference in the 2016 elections.
"I believe the president wants all of this shutdown," Speier said when asked if she believed House Republicans were bowing to pressure from the White House. "The rumor on the Hill when I left yesterday was that the president was going to make a significant speech at the end of next week. And on Dec. 22, when we are out of D.C., he was going to fire Robert Mueller."
Speier said if the president did fire Mueller, it would cause a constitutional crisis.
"That is Saturday massacre 2.0," she said, referring to President Richard Nixon ordering the firing of Archibald Cox, the special prosecutor investigating the Watergate scandal. (Trump cannot fire Mueller directly but could instruct Deputy Attorney General Rod Rosenstein who oversees Mueller's investigation to do so.) "Without a doubt there would be an impeachment effort."
A spokeswoman for Speier said the congresswoman shared the rumor to put pressure on Trump not to fire Mueller.
* * *
Fellow California representative, Adam Schiff (D-Los Angeles), voiced concerns similar to Speier's about the Russia investigation on Twitter on Friday.
Schiff, who also sits on the House Intelligence Committee, says that no witnesses have been scheduled after next Friday, and that dozens of outstanding witnesses have not been contacted. He tweeted that there will be interviews next week, but they will be held out of state while important votes will be keeping members of Congress in Washington D.C.
White House lawyers are expected to meet with Special Counsel Robert S. Mueller's office late this week. Trump team's meeting with Mueller's office poised to ratchet up tensions:
People with knowledge of the investigation said it could last at least another year — pointing to ongoing cooperation from witnesses such as former Trump campaign adviser George Papadopoulos and former national security adviser Michael Flynn, as well as a possible trial of two former Trump campaign officials. The special counsel's office has continued to request new documents related to the campaign, and members of Mueller's team have told others they expect to be working through much of 2018, at a minimum.
* * *
The meeting's outcome could deepen tensions as many Trump supporters question Mueller's credibility and Democrats express fear that the president will seek to fire the special counsel.
Trump's lawyers have been telling him lies that this will all be over by the end of the year. Not going to happen. You can't believe anything that this pathological liar says. We are on Mueller firing watch.