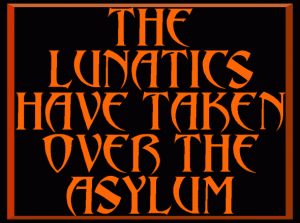 Tea-Publicans cried "tyranny!" when Democrats used the reconciliation process to pass necessary budget bills over GOP obstruction when they controlled the House and Senate.
But now that Tea-Publicans want to repeal "ObamaCare" and defund Planned Parenthood, and they are in control of the House and Senate, these hypocrites suddenly loves them some reconciliation.
President Obama has promised a veto, and Tea-Publicans have no hope of overriding his veto. The lunatics have taken over the aylum and are acting out in a partisan temper tantrum — a looming government shutdown be damned.
The budget package moving in the House this week is creating a headache for Senate Republicans. House's Planned Parenthood fight is problem for GOP senators:
The budget package, which under budget reconciliation rules cannot be filibustered in the Senate, will block money for Planned Parenthood and gut ObamaCare.
The problem: It's unclear whether Senate Republicans can gather the 51 votes needed to approve it.
Three Senate Republicans are on record as opposing an end to federal funding for Planned Parenthood.
Sen. Mark Kirk (Ill.), one of the most vulnerable Republicans in next year's elections, twice voted against procedural motions on legislation to block the healthcare group's funding.
Sen. Susan Collins (Maine) has spoken on the Senate floor against defunding the group, though she did back a procedural motion in August that could have led to an up-or-down vote on defunding. She said she only did so on assurances from leadership that it would lead to another measure to maintain funding for Planned Parenthood's other healthcare services.
Sen. Lisa Murkowski (Alaska) has also backed funding for Planned Parenthood, though she made the same vote in August as Collins based on the same argument.
Murkowski, Collins and Sen. Kelly Ayotte (N.H.) in September all voted against proceeding to a short-term government funding measure that would have cut off Planned Parenthood, further muddying the issue.
Republicans can only afford to lose three votes in the Senate if Democrats are unified against the budget package, giving them little room for error.
Ayotte, Collins, Kirk and Murkowski declined to say Tuesday whether they would vote for the House package.
"We're not making news today," said Kirk.
"I have not supported the defunding [of Planned Parenthood]. I've supported the repeal of ObamaCare. I've got to look at it as a whole," said Murkowski, who faces reelection next year but is favored to win.
"I'm not going to prejudge what's sent over by the House until I've seen all the components," said Collins.
"I have to look at it," said Ayotte, who on Monday learned Democrats had recruited Gov. Maggie Hassan to challenge her next year. The Ayotte-Hassan race is expected to be one of the most hotly contested Senate races in the cycle.
Democrats say Ayotte, Kirk and other endangered incumbents will pay a political price for supporting the House package, pointing to polls showing that only a minority of voters want to repeal ObamaCare.
"Their base is demanding bills to defend Planned Parenthood and the Affordable Care Act. It's a terrible position to put purple-state Republicans in. It's a very easy example of the base pulling the party to the right at the expense of their 2016ers," said a Democratic leadership aide.
Senate Majority Leader Mitch McConnell (R-Ky.) signaled Tuesday that he supports Speaker John Boehner's (R-Ohio) strategy for aiming at both ObamaCare and Planned Parenthood in one package.
"We'll take up reconciliation when it comes over from the House. And it's my hope and expectation that it would have in it as much of ObamaCare as we can repeal. And I hope that it will also include provisions to de-fund Planned Parenthood," he told reporters.
Democrats are expected to oppose the package unanimously. Sen. Joe Manchin (D-W.Va.) has twice voted in recent months to defund Planned Parenthood, but he said he would vote against similar language if combined with an ObamaCare repeal.
"That's bullshit. Pure, unadulterated bullshit," he said.
* * *
GOP strategists say centrists will incur relatively less pain by voting for the House-originated reconciliation package.
"The politics of defunding Planned Parenthood and repealing ObamaCare is not great for Republican senators in swing states, but it's hard to see how a vote for a such a bill in the budget process would be a real game changer, as it's a long time between now and November 2016," said John Ullyot, a GOP strategist and former Senate aide.
Other Republicans facing tough races indicated they would vote for the House package.
"Absolutely," said Sen. Ron Johnson (R-Wis.), who faces former Sen. Russ Feingold (D) in a rematch of his 2010 victory. "I think it clarifies the positions of the parties."
A handful of vulnerable Senate Tea-Publicans can stop the insanity, or hop aboard the GOP crazy train to a government shutdown in December.