There is a glimmer of hope today that The Republican tax plan,  the most unpopular bill in 30 years, is not a done deal. The math is getting tricky in the Senate.
Roll Call reports that Marco Rubio, Mike Lee Support for Tax Bill in Jeopardy: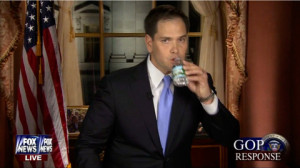 Sens. Marco Rubio, R-Fla., and Mike Lee, R-Utah, are withholding their support for the GOP tax bill in an attempt to bolster the child tax credit, a change that may be difficult amidst opposition from House Republicans.
The duo is hoping to make the credit fully refundable. The two senators, backed by top White House adviser Ivanka Trump, had previously succeeded in increasing the credit to $2,000 per child in the Senate-passed bill.
It was reduced to $1,100, only a $100 increase, by GOP conferees on their tax bill.
Should Lee and Rubio join Corker in opposing it, the bill would fail. The GOP can only afford to lose the support of two members in the event of a tie-breaking vote from Vice President Mike Pence.
"I understand this is a process of give and take, especially when there are only a couple of us fighting for it. Your leverage is lessened," Rubio said. "But given all of the other changes they made in the tax code leading in to it, I can't in good conscience support it unless we are able to increase the refundable portion of it. And there are ways to do it," he continued.
A spokesman for Lee said the Utah Republican is now "undecided" on the legislation.
* * *
A Republican lawmaker, speaking on background to discuss internal negotiations, said it was unlikely the changes sought by Rubio and Lee could be made given opposition in the House.
The Hill adds: "Making the Child Tax Credit fully refundable would cost $87 billion over 10 years — a significant amount that won't be easy to pay for. Negotiators are already straining to cover the costs of other fixes, such as lowering the top individual tax rate to 37 percent and allowing people to deduct up to $10,000 for state and local taxes.
"The House pushed back hard on that," the member said of the revised child tax credit in the Senate bill. "We're pretty much done with that."
So is Sen. Rubio a "no" vote then? As Chris Hayes cautions, "If your life depends on Marco Rubio having a spine, you are already dead." I have to agree: Trump predicts Rubio will vote for tax plan.
UPDATE: For as little as $300, you too can buy Marco Rubio. CNBC reports, Marco Rubio will support GOP tax bill after child tax credit tweaks, sources say:
Marco Rubio will support the final Republican tax bill after the GOP made changes to win his vote, two sources told CNBC on Friday.
On Friday, Rep. Kristi Noem, R-S.D., told reporters that the GOP would increase the refundable part of the proposed $2,000 credit to $1,400 from $1,100. Doing so effectively expands it to more families.
A Lee spokesman did not immediately respond to a request to comment on whether he will support the bill after the child tax credit changes.
Oh, "little Marco." You have a spine as limp as overcooked spaghetti.
Sen. Lee also does not impress me as someone who is willing to take a principled stand and be the last vote responsible for defeating a GOP tax bill.
So what about the mythical moderate from Maine, Susan Collins, who was played for a fool by the Septuagenarian Ninja Turtle Mitch McConnell, giving her a worthless promise to include her side deal in the spending bill to stabilize the "Obamacare" health insurance market? (Her bill will NOT accomplish this by the way).
The Boston Globe editorializes, One last chance for Collins to reject bad GOP tax bill: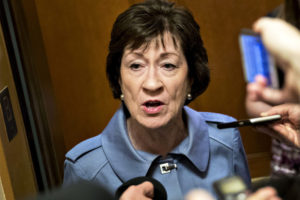 It's becoming clear that Republican leaders in Congress won't meet the conditions that Senator Susan Collins of Maine set out in the tax legislation. So now what?
The final version of the GOP's tax bill, whose framework was unveiled in principle on Wednesday, ignores several of the senator's stated principles.
Yet Collins, who defended her controversial vote to advance the tax bill on grounds she had "ironclad" assurances that her concerns would be addressed, is waffling. "I'm going to wait and look at the entire conference report and see what all the provisions are," she said on Wednesday, as details emerged.
That sounds alarmingly like the first contortions of an epic flip-flop.
For Collins, the upcoming vote is no longer just about technical policy details. The way she handles the next week is shaping up as a test of her political independence, and to a certain extent even her credibility.
If she really meant what she has been telling the public, Collins should vote against the conference report.
Tax fairness. "I do not believe that the top rate should be lowered for individuals who are making more than $1 million a year," Collins said in October.
The conference report drops income taxes on those top earners to 37 percent, a big windfall for the rich.
Health spending. Collins claimed that the legislation would not cause health spending cuts.
"I also got an ironclad commitment that we're not going to see cuts in the Medicaid/Medicare program as a result of this bill," she said.
But since the passage of the Senate bill, Collins's fellow Republicans have explicitly rejected that deal. House Speaker Paul Ryan, said he wants to curtail spending on the programs.
Collins may find some wiggle room in the words "as a result." The bill may not literally spell out Medicaid/Medicare cuts, but it takes a willful blindness not to see how it sets the stage for them by reducing tax revenues.
Insurance. The GOP plan would eliminate the individual mandate. Collins has called for two bills that would soften the resulting spike in insurance premiums.
"I am pushing to make sure they are passed and signed into law prior to the conference report coming back on the tax bill so that I would know for certain we're going to be able to mitigate the impact of the repeal of the individual mandate," Collins said.
The conference report is coming back, and neither bill has been signed into law.
Now, it's true that politicians have to compromise. But they shouldn't walk away from core priorities like the ones that Collins outlined during the tax debate.
The truth is that Collins made a huge blunder by voting for the Senate bill. She's not the only one to miscalculate: Republican Jeff Flake of Arizona cast his vote for the bill on assurances that Congress would protect undocumented children. There has been no action there, either.
ABC 15 in Phoenix reported, Senator Jeff Flake won't make an ultimatum on DACA and tax bill: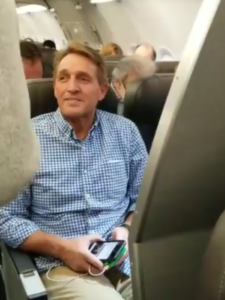 In a video posted to Twitter, Arizona Senator Jeff Flake appears on an airplane discussing the controversial tax reform bill with Ady Barkan, who has ALS and works with the Center for Popular Democracy, and explains why he won't force an ultimatum on a program for immigrant youth (DACA).
"I need you to make your votes match your principles, Senator," Barkan said, "and for the rest of your life, you will be proud if you vote this bill down."
Barkan asked Flake about reports indicating he exchanged the tax reform bill vote for the promise of a legislative fix to reinstate DACA, Deferred Action for Childhood Arrivals. DACA gave young immigrants a legal right to work and live in the United State, and recipients will start losing their legal status in March.
"Whatever we do, we have to protect those kids," Flake said.
"You have to withhold your vote," Barkan replied.
Flake said he's been talking to the White House and a bipartisan group in Congress about DACA, but he stopped short of making any promises.
"I am not going to say publicly this is my ultimatum on this or that," Flake said. The senator made several indications that he was aware he was being recorded.
As the conversation winds down, Barkan urges Flake, "This is your moment to be an American hero."
The Boston Globe concludes, "Those senators are left with two choices now: to insist on the deal they had, or back down. And that would expose them as bad negotiators, unprincipled, or both."
Then there are two senators who are ill and being treated for cancer, including our own Sen. John McCain. The Hill reports that this will affect the timing of the vote in the Senate next week. Obstacles emerge as GOP races to tax finish: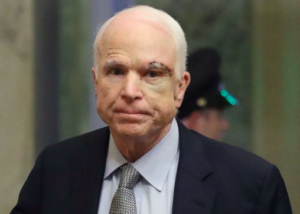 [The] Senate-first approach was thrown into doubt Thursday because of the debate over the Child Tax Credit and the prolonged absence of two senior lawmakers, Sens. John McCain (R-Ariz.) and Thad Cochran (R-Miss.).
McCain is at Walter Reed Medical Center receiving treatments from the side effects of cancer therapy, while Cochran is recovering from an operation to remove a lesion from his nose. Both of them missed every Senate vote this week.
A senior GOP aide said leaders can't be completely sure that McCain will be back, given the severity of his illness, calling his possible absence next week, "a serious problem.
An aide to Cochran said his boss "is in Washington and expects to vote for the tax plan when it comes to the Senate next week."
Speaker Paul Ryan (R-Wis.) told reporters Thursday that he now doesn't know which chamber will move first on the tax bill, which means it may take Senate Majority Leader Mitch McConnell (R-Ky.) more time than expected to line up the votes.
Senate Republican Whip John Cornyn (Texas) confirmed Thursday evening that the timing of the bill is up in the air.
"That's in some flux," he said, but added, "in all likelihood, we'll be voting on Tuesday."
Cornyn voiced confidence in McCain's return.
"My expectation is he'll be here. He's resting up and so we hope to see him then," he said.
Is John McCain really going to get out of his hospital bed to be wheeled into the Senate just to vote for The Republican tax plan,  the most unpopular bill in 30 years,  a bill oppose by a majority of his own constituents? Is this really how this self-styled "maverick" wants to be remembered? Not exactly a "Profiles in Courage" moment . . . it would be sadly pathetic.
McCain should vote no on the tax bill as a bookend to his no vote against "Obamacare" repeal. Now that would be the "Profiles in Courage" moment for which he should be remembered.
Vice President Mike Pence would break a 50-50 tie.
Pence announced Thursday that he would delay a trip to Israel and Egypt next week in case his vote is needed.
The only definite Tea-Publican no vote is Sen. Bob Corker of Tennessee.
Get on the phone and start calling the senators who may be the votes to kill this terrible GOP tax bill. Time is of the essence.