I first posted about this pending lawsuit back in February 2015 and I have occasionally posted updates about its status.  Background: Update) Our lawless Tea-Publican legislature faces another lawsuit for its failure to fund public education: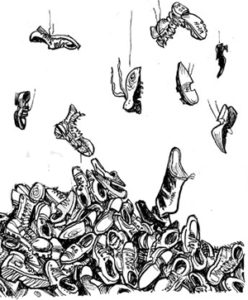 Meanwhile, an earlier case in which our lawless Arizona legislature shortchanged our public schools, in which the Arizona Supreme Court held that the statutory financing scheme for public education violated the Arizona Constitution, Article XI, § 1, Roosevelt Elem. School Dist. No. 66  v. Bishop (No. CV-93-0168 1994), is now the basis for yet another lawsuit against our lawless Tea-Publican legislature.
A public interest advocacy group is planning a lawsuit alleging that the state has unconstitutionally underfunded building maintenance and soft capital for school districts, which could force the state restore hundreds of millions of dollars of budget cuts made in recent years.
The Arizona Center for Law in the Public Interest plans to sue on behalf of several school districts and taxpayers, said attorney Tim Hogan. The Glendale Elementary School District's governing board in December [2014] voted to join the lawsuit as a plaintiff, and Hogan said he plans to bring in several other school districts, along with property taxpayers from districts that have approved bonds to make up for funding shortfalls.
"It will allege that the current system is unconstitutional because it doesn't provide any dedicated capital funding to school districts sufficient to ensure that they meet the state's minimum standards," Hogan said of the lawsuit. "School buildings have to be renovated. They have to be repaired. They have to be maintained. And all of that requires significant dollars."
In its landmark ruling in Roosevelt Elementary School District No. 66 v. Bishop, the Arizona Supreme Court concluded that the state had violated a provision in the Arizona Constitution requiring the state to establish and maintain a "general and uniform" public school system. As part of its settlement in the case, which led to the creation of the Arizona School Facilities Board, the state agreed to provide funding for building renewal, which covers all aspects of building upkeep and maintenance, and soft capital expenditures such as textbooks and computers.
But that funding has dried up since the budget crises that were triggered by the Great Recession. Hogan said the SFB now provides $15 million to $20 million for building renewal, as opposed to the $250 million it would provide if the state's Building Renewal Fund hadn't been eliminated in 2013. Meanwhile, Hogan said school districts issue $300 million to $500 million in bonds each year, some of which is used to cover unfunded building renewal costs.
And soft capital funding from the state used to top $200 million per year, Hogan said. But that funding was cut in half when it was combined with capital outlay funding under the District Additional Assistance program, which was created in 2013. And Gov. Doug Ducey has proposed cutting an additional $113 million in District Additional Assistance funding for fiscal year 2016.
Hogan said the lawsuit will not seek a specific dollar amount from the state. Instead, it will ask for "sufficient funding" to cover building renewal and soft capital costs, which he noted could exceed $400 million, based on previous funding levels.
For more background on this lawsuit, see School funding lawsuit pending against state – Raising Arizona Kids (January 14, 2015).
This case was withheld during Cave Creek Unified School District, et al. v. Ducey, the school district funding inflation adjustment lawsuit that Arizona's school districts also won against our lawless Tea-Publican legislature, that was being negotiated and wound up being settled in the raw deal that was Prop. 123. Hopefully the plaintiffs in this case have now learned their lesson and won't make the same mistake again.
The Arizona Capitol Times (subscription reports) reports today, Lawsuit to force state to fund schools' capital needs to be filed Monday:
A long-awaited lawsuit over school maintenance and construction funding will be filed on Monday, the Arizona School Boards Association announced today.
The suit, which is being pursued by a coalition of school districts and education groups, will revolve around an Arizona Supreme Court ruling they contend has been ignored by lawmakers.
The plaintiffs will be represented by Tim Hogan, an attorney from the Arizona Center for Law in the Public Interest who has fought a similar battle more than two decades ago.
In 1994, Hogan successfully argued that relying on districts' taxpayer dollars to cover school-maintenance costs, particularly in low-income areas, was unconstitutional. A settlement in 1998 included a one-time payout of $1.3 billion to get buildings to state standards, with an additional $200 million a year earmarked for soft capital expenses, like textbooks and buses.
But since that agreement, the Legislature has gradually cut back on the program, particularly after the Great Recession.
Hogan has been teasing the lawsuit since 2015 as he worked to line up additional plaintiffs.
"[The lawsuit] will allege the current system is unconstitutional because it doesn't provide any dedicated capital funding to school districts sufficient to ensure that they meet the state's minimum standards," Hogan told the Arizona Capitol Times in January 2015, when he announced his intention to sue. "School buildings have to be renovated. They have to be repaired. They have to be maintained. And all of that requires significant dollars."
The lawsuit will not include a dollar figure, and will instead ask for "sufficient funding" to cover building renewal and soft capital, Hogan said.
Heidi Vega, spokeswoman for the Arizona School Boards Association, put the missing dollars at more than $4.5 billion since 2009.
"Those cuts have never been restored," she said in a news release.
"State leaders have ignored this obligation far too long," Vega continued. "They have lost this fight once and it is time to step up and adequately fund public schools according to the law."
The result, according to school officials, has been to throw the financial burden back on local districts whose voters have had to borrow money for what should be a state responsibility, precisely the situation the Supreme Court found unconstitutional in 1994.
* * *
Gov. Ducey's own budget in prior years has never fully funded the formula that is supposed to pay for construction and repairs. And even with an improving economy, the governor proposes to earmark just $17 million for the coming budget year for school capital needs.
* * *
The justices in Roosevelt Elem. School Dist. No. 66  v. Bishop declared the funding system illegal but refused to impose their own solution, directing lawmakers to come up with a cure.
In 1996, the Legislature agreed to put $100 million into a special fund that could be tapped by poor districts for construction needs. Lawmakers also agreed to provide another $30 million a year for nine more years.
The Supreme Court found that plan flawed, too, saying it still did not meet the constitutional requirement for a "general and uniform" school system.
A 1997 alteration provided more cash. But here, too, the justices said that was not enough.
"Districts… would still need to issue general obligation bonds in order to fund major capital projects, bonds that are backed by property values within a district," wrote Martone. He said the net effect was that some districts had to impose large tax hikes to meet basic needs, while others, relying on the district's property wealth, could get the same net cash with a smaller tax increase.
Lawmakers eventually created the School Facilities Board, which was supposed to pick up every district's construction needs.
Only thing is, they never came up with a new source of revenue to fund the potential $300 million annual price tag, instead absorbing the cost into the general fund.
That, however, worked only when the economy was good and revenues were increasing. When the Great Recession hit and state tax collections tanked, one of the casualties was money for the board.
The result has been that local districts that need schools or major repairs but can't wait for a state grant once again have to turn to their local voters for bond approval. And that brings the funding system back to what the Supreme Court previously found illegal.
The schools and groups that are filing suit are not the only ones who have noticed the lack of funding.
Earlier this week, Superintendent of Public Instruction Diane Douglas proposed boosting the current 0.6-cent state sales tax for education to a full penny. While $300 million of that would go each year to teacher salaries, Douglas said $100 million annually would help address the unmet capital needs.
Among the plaintiffs is the Arizona Education Association. President Joe Thomas said it would be nice if lawmakers agreed to a settlement rather than drag the case through the courts, as what happened decades ago.
"We've got district schools that need this money," he said, adding this is about more than new buildings.
"We want to have kids in safe schools, where the air conditioners work and the buses work," he said, aside from classrooms for teaching. "And that requires an investment by the state."
Thomas also took a slap at lawmakers and the governor who, he said, have been focused more on funding for vouchers and charter schools than in maintaining the public school system.
"There is a real philosophy that it's OK to educate some kids and neglect others," he said.
This is a potential $4.5 billion liability hole blown in the state budget, plus the attorneys fees and costs that will be awarded to Tim Hogan and his clients, all because this gang of thieves,  our lawless Tea-Publican legislature, has an unconstitutional aversion to raising taxes to pay for a general and uniform system of public education in Arizona.
It appears that we have now come full circle back to earlier Republican legislatures that also unconstitutionally shortchanged the state's school districts in Roosevelt Elementary School District No. 66 v. Bishop. The one constant remains the lawless behavior of Tea-Publicans in pursuit of their anti-public education agenda.