Doctor Steven Jonas correctly noted in his 2015 essay, Fascism in the 21st Century: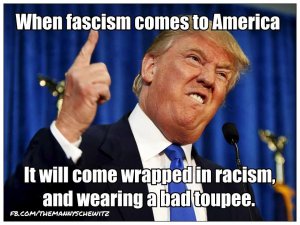 When we are looking at 21st century fascism, in the context of what is happening in certain of the capitalist states, at the present particularly in the United States, it should be noted that it is entirely possible that wholesale violence will not be required for its introduction. Nor will a maximum leader necessarily be required. Like the fog in the famous, ultra-short poem by the U.S. person Carl Sandburg, it may well come in "on little cat feet."
Fascism can gradually creep in over time little noticed, until it is too late.
But in the 21st Century, strong cults of personality were carefully built by large propaganda media apparatuses.
The personality cult of Donald Trump appears to be following this more established model for its "Trump TV" propaganda network at FOX News, and at Sinclair Broadcasting.
David Atkins reports at the Political Animal Blog, Sinclair Is Bad for Democracy. So Are Other Media Monopolies.
Remember when right-wing media company Sinclair Broadcast Group took over 40 percent of local TV news stations? [Sinclair owns more television stations than any other broadcaster in the country. ] The results are beginning to speak for themselves:
This is only the most chilling and most recent example of the company enforcing its Trumpist ideological views on its local subsidiaries:
The broadcaster has aligned itself with the Trump administration: In addition to the "one-sided news" script featured last week, Sinclair stations are also required to run political commentary from the network's chief political analyst, Boris Epshteyn. Epshteyn previously worked for the Trump White House and Trump's 2016 campaign.

The Post-Intelligencer noted that another must-run segment aired on KOMO last week featured former Trump White House official Sebastian Gorka. (During a panel on Sinclair-owned WJLA in October, Gorka lamented "black Africans" killing each other "by the bushel" in Chicago.)

Gorka, Post-Intelligencer reported, spoke about an alleged "deep state" attempting to undermine the Trump presidency. The segment's producer, according to the report, was Kristine Frazao, who before working for Sinclair was a reporter and anchor for the Russian state-owned network RT.
Sinclair doesn't dare push too far too fast for fear of backlash, but make no mistake that these are merely the beginning trial balloons. Sinclair began insisting on these segments, and local stations would come up with ways around it, including by airing the segments in the wee hours of the mornings. Sinclair has gotten wise to that and is demanding prime newstime spots. The intrusions will become ever more propagandistic and severe as time goes on.
What's all the more galling about this is the decades-long conservative complaint about a liberal media cabal, when back on planet Earth the only media cabals are explicitly conservative. Fox News exists as a fact-free conservative talking point organ, and sits much further to the right than MSNBC does to the left (let me know when Fox News devotes three hours of daytime programming to a Democratic Congressmember turned insufferable talking head.) The New York Times and Washington Post opinion sections are far more equitably balanced ideologically than the Wall Street Journal's. You would have to look at alt weeklies to see anything even approaching a left-leaning equivalent of the numerous explicitly right-wing tabloid and conservative publications like National Enquirer and Washington Times. Clear Channel Communications have gone out of their way to suffocate progressive voices while elevating an army of Rush Limbaughs, Laura Ingrahams and all of their clones. The farthest left station you can find outside of a few large urban enclaves is NPR and, well, NPR stations don't actually devote much airtime devote to actual politics, the content is painfully he-said she-said, and if you value progressive viewpoints you should probably tune out when Marketplace comes on.
The real threats to consolidated control of the media come from the right, not from the left.
Conservatives have always painted themselves as the poor benighted victims of the very same tactics they use most often. Media control is no different.
Preserving democracy will require breaking up the monopolistic corporate control of media across all media platforms. Facebook and Google must control far less of our news. Sinclair must be broken up and local news content remanded back to local control. Clear Channel must be broken apart, and a greater variety of voices must be allowed to flourish while AM/FM radio is still a part of people's media diets. The very few corporations that control the vast majority of our news and programming must forced to break apart as well.
Only then will a true diversity of voices be born, and only then will both the right and left be comfortable in the knowledge that no media cabal is exerting control over our democracy.
The object of the personality cult of Donald Trump came to the defense of Sinclair's "Trump TV" propaganda, naturally.
Journalists in local US television markets are chafing at Sinclair's requirements, including a new promotional campaign that echoes President Donald Trump's anti-media rhetoric. Sinclair tells stations to air media-bashing promos – and the criticism goes viral:
Journalists in local US markets are chafing at the company's requirements, including a new promotional campaign that echoes President Donald Trump's anti-media rhetoric.
The promos, first reported by CNNMoney last month, went viral over the weekend after Deadspin edited dozens of them together to show how anchors across the country were told to read the same script.
"It sickens me the way this company is encroaching upon trusted news brands in rural markets," an investigative reporter at Sinclair told CNNMoney on condition of anonymity.
The reporter and other Sinclair employees in several different markets described tense conversations in their newsrooms and anger directed at the company's Hunt Valley, Maryland, headquarters.
Sinclair (SBGI) is the biggest owner of local television stations in the United States, owning or operating 173 of them.
A person in Sinclair management confirmed that tensions are on the rise.
The company's conservative-leaning politics have come down to Sinclair's stations through "must runs" — stories local producers are told to air during their newscasts. The "Terrorism Alert Desk" is a recurring segment. Pro-Trump commentaries by former Trump campaign adviser Boris Epshteyn are another "must-run" feature.
The new promo campaign took it to another level, causing even more consternation in local newsrooms.
Sinclair's political bent has been a factor in its pending acquisition of Tribune Media, which is under review by federal regulators. The deal would add dozens more stations to its portfolio.
Hell no! Break up this media conglomerate.
After CNN's initial story in early March, others expressed concern and frustration.
"I try everyday to do fair, local stories, some Trump-related, but it's always washed out by this stuff they do at a national level," one local reporter said.
Another employee came forward and told CNN that "as a producer who finds it unethical, I will refuse to run it."
The promos started airing in late March. It is unclear if any stations have refused to broadcast them.
An all-newsroom email from one station news director read: "Let me be absolutely clear here… These MUST Run. If they do not, my job is on the line. I don't say that to scare you by any means but I do say this so you understand how serious SBG is about this project."
* * *
In a sign of Sinclair's controversial stature, Deadspin's compilation of the promos — making the anchors in various markets sound like robots — went viral on Saturday. It has been picked up by political activists, journalists and comedians, among others.
"This is extremely dangerous to our democracy," late night host Jimmy Kimmel tweeted Sunday.
Media investor Peter Chernin, who held high-ranking positions at Rupert Murdoch's News Corporation for two decades, tweeted, "This is insidious. The first key to stopping it is to call on advertisers who support this propaganda and express your objections."
Some of the concerned Sinclair staffers said they appreciated the national attention, but they're more worried about how local viewers are reacting. They pointed out that station Facebook pages and Twitter feeds are receiving criticism about the promos. As well they should!
"I feel bad because they're seeing these people they've trusted for decades tell them things they know are essentially propaganda," one local anchor said.
The person, who has been in touch with counterparts in other markets, said anchors are especially bothered "because they have all this experience in news, and now they're being degraded like this."
Bill Melugin, a former reporter for Sinclair Broadcast Group, said the company is promoting "ridiculous propaganda" into millions of homes around the country. FORMER SINCLAIR REPORTER CALLS MEDIA GROUP 'RIDICULOUS PROPAGANDA,' 'EMBARRASSMENT TO THE PROFESSION':
Bill Melugin tweeted Saturday about his experience while working for Sinclair in El Paso, Texas.
"They were awful & I would never work for them again," said Melugin, now a reporter for KTTV, Fox's Los Angeles, California, station. "What they're doing now is ridiculous propaganda and it's an embarrassment to the profession. I feel for my former colleagues being forced to read this garbage."
Melugin's comments come after reports that Sinclair is requiring its local news anchors around the country to read a script the broadcasting company wrote that laments the dangers of fake news—while Sinclair also sends stations "must-run" segments it produced, some of which contain questionable reporting.
* * *
Among the "must runs" Sinclair forces on its stations are commentary from Russian–born former adviser to President Donald Trump, Boris Epshteyn. Some of Epshteyn's latest "Bottom Line with Boris" segments include a story that criticizes the March For Our Lives demonstrations against gun violence and a piece on why the White House's high turnover rate "isn't necessarily a bad thing."
In March, the broadcast group also aired a must-run segment produced by a former reporter for RT, a Russian government-funded international news outlet that the Columbia Journalism Review called "the Kremlin's propaganda outlet." That segment featured former Trump adviser Sebastian Gorka detailing a popular conspiracy theory over the so-called "Deep State," or the notion that longtime government employees are secretly pulling the levers of government to subvert elected officials.
A study conducted by two Emory University professors—which published the day after the "Deep State" segment ran—found that, on average, Sinclair-owned stations have shifted their coverage to the right while also airing about a third less local politics coverage and a quarter more national politics. Emory professors Gregory Martin and Josh McCrain determined the shift in coverage was driven by Sinclair, not the interests of respective local audiences. The study examined 7.5 million transcript segments from 743 local news stations, according to the report.
What's with all the Russian propaganda at Sinclair Broadcasting? It sounds as if they are merely an extension of RT Russian state propaganda television. How is this possible?
Stop this fog of fascism "on little cat feet," before it is too late. This is a threat to American democracy.