There has been much reporting this past week about a GOP civil war. But this is really a civil war between the wealthy Plutocrat donors of the GOP over which one of them will control the party. It is a case study in how money — especially dark money — has corrupted our political system. This is what the Supreme Court decision in Citizens United and its progeny have wrought.
Stephen Bannon of Breibart News,and two of his longtime benefactors, Robert and Rebekah Mercer, are putting together a political coalition designed to ensure that the victory of a Republican insurgent in the Alabama senate primary this past week was just the beginning of the surprises that await the party establishment. The New York Times reports,  Alabama Victory Provides Blueprint for New Bannon Alliance: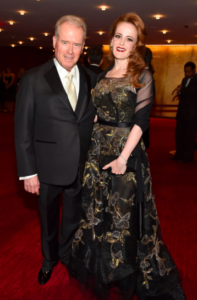 Mr. Bannon brings to the effort the political and promotional skills he showed as President Trump's chief strategist and advocate for populist stances on issues like immigration and trade. His benefactors, the billionaire hedge fund investor Robert Mercer and his daughter Rebekah Mercer, bring wealth and their own proven anti-establishment streak.
The obstacles Mr. Bannon and the Mercers face are formidable: the well-funded resistance of mainstream Republicans; a shortage of viable anti-establishment candidates like Roy Moore, the victor in Tuesday's Alabama Republican Senate primary; an absence of political infrastructure for supporting them; and their own reputations for not always following through on big political plans.
But the Bannon-Mercer alliance is likely to be a potent factor in widening the divisions laid bare by the Alabama race and the intraparty battles that have crippled the Republican agenda in Congress. It could put Mr. Bannon and the Mercers on a collision course with not just the Republican establishment but with other donor-driven political organizations, including the one built by the billionaire brothers Charles G. and David H. Koch — and potentially with Mr. Trump.
At Mr. Moore's victory party, Mr. Bannon promised that "you're going to see in state after state after state, people that follow the model of Judge Moore, that do not need to raise money from the elites, from the crony capitalists, from the fat cats in Washington, D.C., New York City, Silicon Valley."
But Mr. Bannon acknowledges that the disruption he and the Mercers hope to foment will not be easy.
"We've got a long haul in front of us," Mr. Bannon said in an interview at the Capitol Hill townhouse that doubles as his part-time residence and as the Washington headquarters of Breitbart News, the website owned in part by the Mercers and run by Mr. Bannon.
In particular, he singled out what he called the lack of "a deep bench" of polished candidates who could carry the [white nationalist] "America First" banner into battle in Republican primaries against establishment favorites as effectively as Mr. Moore, who did not need any outside help to defeat Luther Strange.
Mr. Bannon and Mr. Mercer began hashing out a rough outline for a "shadow party" that would advance Mr. Trump's America First agenda — even if Mr. Trump himself strayed from it — during a five-hour meeting last month at the family's Long Island estate a couple of days before Mr. Bannon's resignation from the White House.
Early plans call for the creation of a sort of think tank to articulate the animating issues of the coalition, according to donors and operatives who have talked to Mr. Bannon, the Mercers or their allies. They say the coalition will ally with existing groups on specific issues and will support vetted candidates and causes.
Mr. Bannon has already forged an alliance with a "super PAC" and a nonprofit group — the Great America PAC and the Great America Alliance — which were among the biggest spenders on behalf of Mr. Moore in Alabama.
The goal is for approved groups and candidates to be funded by not only the Mercers, but by other donors recruited by the family and Mr. Bannon — a funding model similar to the one used by the Kochs and other major donor operations. After the Alabama primary, Mr. Bannon flew to Colorado Springs to recruit donors and candidates at a conference of conservatives.
But the Bannon-Mercer coalition is much less organized at this stage compared with other major donor operations, particularly the Kochs' network, which resembles a privatized political party with offices in most states and which has spent more than $1.5 billion over the past dozen years trying to reshape American politics around the brothers' free-enterprise ideals.
Mr. Bannon and the Mercers also stand out as more pugilistic in their tactics and ideology, bonding less over a shared cohesive political ideology than over a desire to disrupt the political establishment — the Republican establishment in particular.
* * *
To the extent that there is any ideological overlap among candidates the new coalition will support, it will probably be that they favor limiting immigration, making trade policies more advantageous to American manufacturers and disentangling the United States from sweeping international agreements — and destroying the establishment.
* * *
The alliance between Mr. Bannon and the Mercers began six years ago when they were introduced by Andrew Breitbart, the founder of Breitbart News who died in 2012. The timing was fortuitous. Mr. Mercer had recently been elevated to become a chief executive of Renaissance Technologies, one of the highest-grossing hedge funds in the world.
And under the stewardship of Ms. Mercer, the Mercer family was beginning to expand its political involvement. The family invested in a variety of groups across the conservative spectrum, hinting at a less defined political ideology than the Kochs' libertarian-infused conservatism.
Nonetheless, Mr. Bannon arranged for an invitation to the Koch network's January 2012 gathering, where Ms. Mercer pledged $10.2 million to the network's efforts — $200,000 from her and $10 million from her father — and was effusively thanked by Charles Koch, according to attendees.
But Ms. Mercer soon began expressing dissatisfaction with the network's strategy and leadership, and the family began striking out on its own politically.
In 2013, the Mercers started a small-government advocacy group with Mr. Bannon called Reclaim New York that in some ways mimicked the Kochs' lead group, Americans for Prosperity. And the Mercers steered candidates and groups they funded to a data firm in which they are major investors, Cambridge Analytica, which competes with the Koch-backed data firm i360.
Cambridge Analytica is suspected of providing the targeting data to "weaponize" the DNC files hacked by the Russians, and of providing the targeting data for the social media "fake news" disinformation campaign by the Russians. If Special Counsel Robert Mueller has the evidence to prove this, the Mercers are in serious legal jeopardy.
The Mercers had largely withdrawn from the Koch network by the beginning of the 2016 presidential campaign, donating $13.5 million to a super PAC supporting Senator Ted Cruz of Texas in his primary race battle against Mr. Trump, while the Kochs sat out the presidential campaign. When Mr. Cruz dropped out, the Mercers quickly threw their support — and $2 million in super PAC money — to Mr. Trump.
After Mr. Trump's victory, Ms. Mercer joined his transition team and the pro-Trump nonprofit group America First Policies, but she clashed with the group's operatives and left it to create her own nonprofit group called Making America Great.
But after starting a $1 million television advertising campaign urging support for Mr. Trump after the failure of his initial health care overhaul push, the group has shown few signs of activity.
Among the donors who have been briefed on — or expressed interest in — the coalition being assembled by Mr. Bannon and the Mercers are several who have given to the Kochs' efforts over the years, including the high-frequency trading pioneer W. E. "Ed" Bosarge of Houston, as well as the Oklahoma oilman Harold Hamm and the Dallas businessman Thomas O. Hicks Jr.
Mr. Bosarge said that Mr. Bannon "has the capacity, the knowledge" to lead his own donor network, "and he certainly has a wide following of people."
Also expected to play a key role in the new coalition, according to people involved in it, is the Silicon Valley entrepreneur Peter Thiel, a significant donor to Mr. Trump's campaign and an informal White House adviser, who is close to both the Mercers and Mr. Bannon.
In the meantime, the new coalition will not be afraid to call out Mr. Trump when he wavers on campaign promises like building a wall along the southern border with Mexico, said people familiar with the plans.
"We want to be supportive of him, and we believe the agenda he ran on was correct," said Chris Buskirk, the publisher of the online journal American Greatness, who has been recruited to help articulate and defend the policy positions espoused by the coalition. "We also want to lay the foundation for political change that both outlives this administration and expands upon it."
Eric Beach, who started Great America PAC and Great America Alliance, said that "enforcing" Mr. Trump's vision was only part of the goal.
"Our efforts are about replacing the G.O.P. establishment," he said.
Already, Mr. Bannon, the Mercers or their deputies have had talks with at least seven Republicans who are eyeing Senate campaigns, and the Mercers have donated $500,000 to super PACs that could support three of the candidates.
Mr. Mercer also donated $50,000 to a super PAC called Remember Mississippi that is affiliated with an aide to Chris McDaniel, a Mississippi state lawmaker who is considering challenging Senator Roger Wicker in a primary next year.
Mr. McDaniel, who was accused of racism during an unsuccessful 2014 primary campaign, met with Mr. Bannon after a rally for Mr. Moore in Fairhope, Ala., where he was asked if he was invited by Mr. Moore's campaign or by Mr. Bannon.
"Aren't they one in the same?" Mr. McDaniel responded, according to a reporter on the scene.
The Washington Post adds, With or without Trump, GOP insurgency plans for a civil war in 2018 midterms:
[U]nlike previous Republican revolutionaries, the hard-line figures who stepped out to cheers did not want to yank the party to the right on age-old issues such as taxes or spending. They wanted to gut it and leave its establishment smashed.
Fury infused these insurgents' raw remarks as did a common theme: The Republican Party has failed its voters, and a national cleansing is needed in the coming year, regardless of whether President Trump is on board.
Longtime Republicans see a charged civil war on the horizon.
"There is an emotional component," former House speaker Newt Gingrich (R) said of the frustrations of Trump's core backers, who have grown increasingly vocal. "They want someone to kick over the table. And my advice to every Republican is: You better have an edge, or you become the problem."
That populist (sic) rage in the base as Trump struggles to enact his priorities — which lifted former judge Roy Moore to victory on Tuesday against Trump's ally, Sen. Luther Strange (R-Ala.) — now threatens to upend GOP incumbents in 2018 as the latest incarnation of Republican grievance takes hold.
Stoked by former White House chief strategist Stephen K. Bannon and his incendiary media platform, Breitbart News, a new wave of anti-establishment activists and contenders is emerging to plot a political insurrection that is with Trump in spirit but entirely out of his — or anyone's — control.
Central command is the "Breitbart Embassy," a Capitol Hill townhouse where Bannon has recently huddled with candidates, from House prospects to Senate primary recruits. Hedge fund executive Robert Mercer and his daughter Rebekah — Bannon's wealthy allies — have already pledged millions to the cause, said people briefed on their plans.
In the last seven years, the Mercers have emerged as some of the biggest political donors on the right, plowing tens of millions into GOP committees and super PACs. Their money has gone both to shore up the national Republican Party and to finance outside groups taking on the Washington establishment.
So far this year, the Mercers have contributed $2.7 million to federal political committees and campaigns, finance filings show.
Beyond cash, Mercer and Bannon also offer GOP rebels a vast media and advocacy ecosystem that generates attention on social media as well as small-dollar donations. Run by Rebekah, the Mercer family foundation has given $50 million to conservative and free-market think tanks and policy groups from 2009 to 2015, according to tax records compiled by The Washington Post and GuideStar USA, which reports on nonprofit companies.
* * *
Many players from the tea party era have returned to the breach: Sarah Palin, Bannon, Fox News personality Sean Hannity, talk-radio host Laura Ingraham and a cast of familiar foils who have long haunted House Speaker Paul D. Ryan (R-Wis.) and Senate Majority Leader Mitch McConnell (R-Ky.).
Their enemies, however, go beyond those Republican leaders — anyone remotely linked to them is at risk of attack.
"You are going to see, in state after state after state, people that follow the model of Judge Moore, that do not have to raise money from the elites, the crony capitalists, from the fat cats in Washington, D.C., New York City and Silicon Valley," Bannon told Moore's supporters on Tuesday.
Bannon added that Moore's upset of Strange was "starting a revolution" that would either topple GOP incumbents or prod them to not seek reelection in 2018, as Sen. Bob Corker (R-Tenn.) announced on Tuesday.
Seven Senate Republicans are expected to run in next year's midterm elections: Wicker, Jeff Flake (Ariz.), Dean Heller (Nev.), Ted Cruz (Tex.), Deb Fischer (Neb.), Orrin G. Hatch (Utah) and John Barrasso (Wyo.).
Wicker, Heller and Flake, in particular, are seen as vulnerable to the coming war because of their ties to McConnell — Wicker is on his leadership team — or because they have clashed with Trump (Heller, Flake).
The early pitch from the challengers overlaps in part with the outcry of previous election cycles, but it is far more about wresting power away from traditional Republicans than Democrats.
* * *
In contrast to past anti-establishment efforts in the Republican Party, going back to Barry Goldwater's 1964 presidential bid and, more recently, the tea party movement, this crusade is not an ideological project motivated by a desire for smaller government — it's about destroying the party's political class in Washington, even if it jeopardizes the GOP's congressional majorities.
The hawkish stances on foreign policy and federal spending and moral values that have defined the Republican Party since Ronald Reagan's presidency have been shoved to the background, replaced by a blazing strain of nationalism that is driven by anti-trade and anti-immigration views — views that were heralded by Trump in 2016 but that agitators fret have been ignored in Congress.
* * *
Democrats see an opening to possibly pick up seats if the chaos builds, even in Alabama. Moore, who has made controversial statements on race and sexuality, is facing off against former U.S. attorney Doug Jones, who will soon be joined on the trail by former vice president Joe Biden.
A Decision Desk HQ poll released Friday showed Jones only a few points behind Moore among likely voters — Moore 50.2 percent, Jones 44.5 percent.
McConnell's former chief of staff Josh Holmes tweeted about the poll: "In a surprise to nobody, looks like the Bannon crowd created a new problem" for Trump and the GOP.
The Democratic Senatorial Campaign Committee issued a statement declaring that the result in Alabama had poured "gasoline over already raging primaries" and "throws into question how Republicans can confront the insurgent candidates who now feel even more emboldened to run. Reminder: Republicans now own Roy Moore and the uncomfortable questions he'll provoke in races across the country."
On the House side, there is also fear of GOP retirements, should challengers and the Bannon-Mercer partnership gain steam. But allies are waiting to see if the threats from those antagonists actually materialize.
"Are they going to primary House Republicans? You can huff and puff all you want, but until you file, it's not a real race" said Scott W. Reed, senior strategist for the U.S. Chamber of Commerce, which opposed Moore.
Our Rep. Martha McSally is the GOP establishment candidate financially backed by House Speaker Paul Ryan's PAC and the "Kochtopus" PACs.  At the same time, Nine months in, Rep. Martha McSally is Arizona's most reliable vote for Trump agenda. Will someone step up to emerge as the Bannon/Mercer challenger to the establishment's Martha McSally? Or will McSally consistently standing by her man Donald Trump protect her from the Bannon/Mercer rebellion?