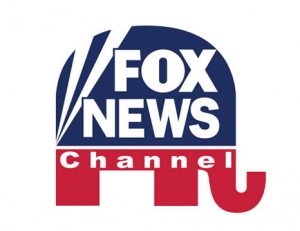 I have explained the "Foxification" of the news for years.
The concept of "fair and balanced" reporting requires that when someone says the Earth is round and revolves around the sun (a demonstrably provable fact), a counter argument that the world is flat and the sun revolves around the Earth must be presented, and both positions be treated equally and "fairly," even though one is factual and one is utter nonsense.
"We report, you decide" simply means that facts no longer matter, everything is mere opinion, and whatever you believe — despite all factual evidence to the contrary –is equally valid. "Don't bother me with the facts, I know what I believe!"
This is the very foundation of the post-truth politics "fake news" propaganda of  FOX News and the conservative media entertainment complex.
This explains what the editors of the Washington Post complain about today. The GOP's mind-blowing hypocrisy on the CBO:
As House Republicans began work on their Obamacare replacement plan last week, they avoided addressing the likelihood that it would significantly increase the ranks of the uninsured and dodged questions about its fiscal responsibility by plowing ahead before Congress's staff experts at the CBO had a chance to estimate the proposal's effects. In the absence of sober-minded analysis, Republicans offered tricky rhetoric about expanding choice and freeing the market.
But they can avoid facing up to the negative consequences of their plan for only so long: The CBO will soon issue a report on their proposal, probably this week. So Republicans preemptively attacked the country's designated budget scorekeepers. "If you're looking to the CBO for accuracy, you're looking in the wrong place," White House spokesman Sean Spicer inveighed. House Majority Whip Steve Scalise (R-La.) sneered at the office's "unelected bureaucrats." Rep. Dave Brat (R-Va.) declared that "CBO has scored everything wrong forever, so they're a minor concern."
These attacks are beyond galling.
The CBO is run by an economist Republicans hand-selected after Tom Price — then the Budget Committee chairman, now Mr. Trump's health and human services secretary — called for replacing the well-respected previous director. Their choice, Keith Hall, has overseen the move toward "dynamic scoring," which makes Republican tax cuts seem less costly. But not toward rank reality-denial, which is what it would take to swallow some of the claims Republicans have made about repealing and replacing Obamacare.
The GOP hypocrisy is mind-blowing. Over the past two decades, CBO is perhaps best known for analyses that put a stamp of budgetary responsibility on Obamacare, but also papers that enabled Republicans to cut taxes during the George W. Bush years and, later, to slam President Obama on the long-term debt picture. Time after time, Republicans had nothing but praise for the office's "nonpartisan" work. They were quick to cite the CBO when it concluded that some people would willingly work less under Obamacare.
Republicans' latest volleys would hardly be the first partisan attacks the CBO has sustained. But, in the midst of Mr. Trump's wide assault on institutions that arbitrate factual disputes and provide unbiased information, their condemnation is not just odious, but dangerous, too.
The Post's Greg Sargent explains the larger context of this last point. Republicans are trying to destroy the very idea of neutral judgment:
We need to talk about the Congressional Budget Office. But before you click away from what you assume will be a dreadfully boring discussion of arcane legislative procedures, let me assure you that there's something larger going on in this argument, one that gets to the heart of where the Trump administration and Republicans are taking our entire political system. So stick with me.
In their weirdly accelerated effort to pass a repeal and replacement for the Affordable Care Act, Republicans bypassed normal procedures by not waiting for the CBO to "score" their bill before passing it through its first committee vote, which happened after 4 a.m. Thursday. There isn't any mystery about why they're in such a rush: They're scared that the CBO score will say that their bill will lead to massive numbers of Americans losing their health coverage, increases in premiums and out-of-pocket costs, an earlier date at which the Medicare trust fund will be depleted and who knows what else. Once the score is issued, it will probably become a weapon Democrats can use against the bill.
The CBO is a nonpartisan office of professional analysts whose job it is to provide Congress with information and research on budgetary matters. They're not always right when they're called on to make predictions of the future, because many of the questions they deal with are inherently complex and uncertain. So it's perfectly legitimate to take issue with any particular report they produce, to say, "Their analysis is problematic for the following reasons."
But that's not what Republicans are doing right now. Before the CBO even releases its score (which is expected to happen next week), they've launched a preemptive strike on the agency. "If you're looking at the CBO for accuracy, you're looking in the wrong place," said Sean Spicer. House Majority Whip Steve Scalise called the CBO "unelected bureaucrats in Washington."
"If you have sound economic logic in place then that's more important" than what the CBO says, said Rep. Dave Brat. [in other words, ideological beliefs trump facts, i.e., Foxification.] "CBO has scored everything wrong forever so they're a minor concern." In case you're wondering, "sound economic logic" is code for free-market orthodoxy.
We should note that the CBO's original assessment of the ACA was indeed off in some ways — but not just in ways that were too optimistic. It overestimated the number of people who would sign up for coverage on the ACA's exchanges, in part because at the time it wasn't clear how successful Republican efforts to sabotage the law would eventually be. But it underestimated the positive impact the law would have on the budget deficit.
So while the CBO is hardly perfect, there's no reason to think that its score of the GOP health-care bill will be incorrectly pessimistic. The reason Republicans are launching this attack is that they're sure the score will paint a bleak picture of their bill, and they want to inoculate themselves against it. Griping about a CBO score that puts your proposed legislation in a bad light is a long-standing and bipartisan tradition. But Republicans give the game away when they start complaining before the score is even released.
It's also important to keep in mind that the director of the CBO, Keith Hall, is a Republican economist and former George W. Bush administration official who was chosen for his position by the Republican Congress in 2015. So it isn't as though the agency is a bunch of leftist hacks who are out to undermine the GOP.
What's the larger context here? This is straight out of President Trump's playbook, one that tries to convince everyone that there's no such thing as a neutral authority on anything [i.e., Foxification.]. If the CBO might say your bill will have problematic effects, then the answer is not to rebut its particular critique, but to attack the institution itself as fundamentally illegitimate. If the news media report things that don't reflect well on you, then they're "the enemy of the American People." If polls show you with a low approval rating, then "any negative polls are fake news." If a court issues a ruling you don't like, then it's a "so-called judge" who has no right to constrain you.
To Trump and increasingly to his Republican allies, there are only two kinds of people in the world: the ones who agree with them (who are the best people, fantastic, believe me) and the ones who don't (who are losers and haters). There is no in-between and no such thing as neutrality.
You might recall that in his 2010 State of the Union speech, Barack Obama criticized the Supreme Court's Citizens United ruling, saying it would "open the floodgates for special interests" to influence elections. He didn't attack the justices personally or question the legitimacy of the court. Nevertheless, Republicans were terribly offended that Obama would offer such a criticism with members of the court in attendance.
It's a different time now. When the CBO score of the Republican health-care bill finally arrives, Republicans will turn up the volume on their attack, barely bothering to deal with the score's specifics but just saying that the CBO is a bunch of dishonest Washington bureaucrats who can't be trusted. The message will be reinforced on Fox News, conservative talk radio and right-wing websites. The GOP's base will adopt that position as its own.
Republicans might not persuade most people to go along with them. But they'll probably have some measure of success in their larger project of undermining the basic idea that there is such a thing as nonpartisan information we as a country can use when we decide what direction we want to move in.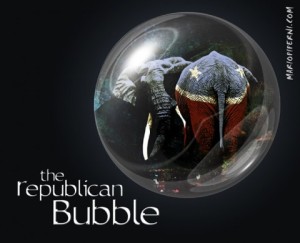 Donald Trump wants to convince Americans that the news media and other sources of factual evidence cannot be believed, that only he — the world's greatest liar — is telling them the truth, and that they should only believe him. He has said as much. This is a hallmark of authoritarian autocratic leaders
Unfortunately, a large number of Americans live in the Epistemic closure and the 'conservative misinformation feedback loop' media bubble and will willingly follow "dear leader" Donald Trump into this dark night of authoritarianism.
It is up to you to resist.
UPDATE: The Time's Paul Krugman takes up this topic on Monday. Facts Are Enemies of the People (excerpts):
America is now governed by a president and party that fundamentally don't accept the idea that there are objective facts. Instead, they want everyone to accept that reality is whatever they say it is.
* * *
Republicans rammed Trumpcare through key committees, literally in the dead of night, without waiting for the C.B.O. score — and they have been pre-emptively denouncing the budget office, which is likely to find that the bill would cause millions to lose health coverage.
* * *
But this isn't really about whose analyses of health policy are most likely to get it right. It's about Trump and company attacking the legitimacy of anyone who might question their assertions.
The C.B.O., in other words, is in the same position as the news media, which Mr. Trump has declared "enemies of the people" — not, whatever he may say, because they get things wrong, but because they dare to challenge him on anything.
"Enemy of the people" is, of course, a phrase historically associated with Stalin and other tyrants. This is no accident. Mr. Trump isn't a dictator — not yet, anyway — but he clearly has totalitarian instincts.
* * *
And much, perhaps most, of his party is happy to go along, accepting even the most bizarre conspiracy theories. For example, a huge majority of Republicans believe Mr. Trump's basically insane charges about being wiretapped by President Obama.
So don't make the mistake of dismissing the assault on the Congressional Budget Office as some kind of technical dispute. It's part of a much bigger struggle, in which what's really at stake is whether ignorance is strength, whether the man in the White House is the sole arbiter of truth.