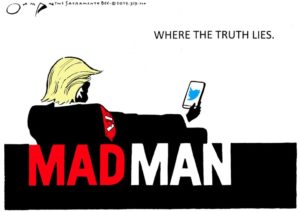 Last week, Sean Spicer Resigned as White House Press Secretary, after he vehemently disagreed with the appointment of Anthony "Mooch" Scaramucci, a New York financier, as his new communications director.
Spicer expressed his belief that Scaramucci's hiring would add to the confusion and uncertainty already engulfing the White House.
Spicer's concerns were prescient and proved accurate on Thursday. Mark Sumner at Daily Kos has a good summary of a most unusual day:
Overnight, White House communications director Tony "Mooch" Scaramucci threatened to sic the FBI on chief of staff Reince Priebus for supposedly stealing documents that turned out to be available in the public domain. That kind of royal screw up might be expected to produce a bit of contrition, but that would be back in the world where people still have some modicum of dignity or some scrap of humility.
Instead, when Scaramucci learned that Donald Trump's dining arrangements had appeared on the internet, he went … insane seems too kind. As told by Ryan Lizza at the New Yorker, Scaramucci called him up to demand the scalp of whoever leaked this vital information.
"Who leaked that to you?" he asked. I said I couldn't give him that information. He responded by threatening to fire the entire White House communications staff. "What I'm going to do is, I will eliminate everyone in the comms team and we'll start over," he said. … "I ask these guys not to leak anything and they can't help themselves," he said. "You're an American citizen, this is a major catastrophe for the American country. So I'm asking you as an American patriot to give me a sense of who leaked it."
Again, the contents of this "major catastrophe" were the names of Trump's dinner companions.
But Scaramucci wasn't done. Not by a long shot.
"They'll all be fired by me," he said. "I fired one guy the other day. I have three to four people I'll fire tomorrow. I'll get to the person who leaked that to you. Reince Priebus—if you want to leak something—he'll be asked to resign very shortly." The issue, he said, was that he believed Priebus had been worried about the dinner because he hadn't been invited. "Reince is a fucking paranoid schizophrenic, a paranoiac," Scaramucci said.
Scaramucci still wasn't done. And his attack on Priebus came with Donald Trump's approval.
Daily Beast: "White House officials and outside allies say the president is revelling in Scaramucci's campaign against Priebus—undertaken through cable news appearances and a billow of tweets, some of which were subsequently deleted—and is thrilled to see a top staffer placing a publicly bombastic emphasis on White House leaks to the press, which consistently infuriate the president."
Both Kellyanne Conway and Scaramucci have described Priebus as "gone" with Conway saying that both Priebus and everyone who came into the White House from the RNC are headed for the door.
* * *
But if the idea is to clear out the RNC riff-raff and bring things back to Team Trump, that doesn't seem to offer any guarantee that the drama is going to diminish.
Scaramucci also told me that, unlike other senior officials, he had no interest in media attention. "I'm not Steve Bannon, I'm not trying to suck my own cock," he said, speaking of Trump's chief strategist. "I'm not trying to build my own brand off the fucking strength of the President. I'm here to serve the country." (Bannon declined to comment.)
There might be some who wondered about Donald Trump replacing Sean Spicer with Anthony Scaramucci. Those doubts have clearly lifted. No one—no one—could do a better job of channeling all the grace, restraint, and sheer class that is the Trump White House.
I have represented employers and employees in employment law cases for over 25 years. I guarantee you that the insane rants that Scaramucci went on yesterday will get you fired immediately by any employer. He should have been out the door by the end of the day (technically, he does not yet have the job as the sale of his business to Chinese investors has yet to be approved by a committee made up of cabinet officials; they could prevent his hiring by rejecting the sale, a decision which then could be overturned by the president).
But nooo … not in Trump world. Today Trump fired the other guy. Reince Priebus ousted as White House chief of staff:
President Trump on Friday ousted his White House chief of staff Reince Priebus and named his homeland security secretary, retired Marine Corps Gen. John Kelly, to replace him in a major shake-up for a West Wing beset by chaos and infighting.
With his legislative agenda stalled six months into his presidency, Trump became convinced that Priebus was a "weak" leader and had been lobbied intensely by rival advisers to remove Priebus, an establishment-aligned Republican who has long had friction with Trump's inner-circle loyalists, according to White House officials.
"I am pleased to inform you that I have just named General/Secretary John F Kelly as White House Chief of Staff," Trump tweeted on Friday afternoon. "He is a Great American and a Great Leader. John has also done a spectacular job at Homeland Security. He has been a true star of my Administration."
The president added, "I would like to thank Reince Priebus for his service and dedication to his country. We accomplished a lot together and I am proud of him!"
Riiight, after Trump approved of Scaramucci's insane rants against Priebus yesterday.
Allies to Priebus said he told them he had resigned on Thursday, concluding that the internal chaos would only escalate. One Priebus friend said the chief of staff had described the situation as "unsustainable," saying he felt demeaned by the president's treatment of him and was frustrated that he could not assert control over basic White House functions, such as policy development, communications and even White House announcements — which sometimes were made impulsively by the president, such as this week's announcement to ban transgender people from serving in the military.
But some White House officials said the decision for Priebus to depart was made by Trump — a decision that had been a couple weeks in the making — and that the president forced him on Friday. These officials noted that Priebus presided over the morning senior staff meeting and accompanied Trump to a law enforcement event in New York.
Regardless, his final departure was a humiliating coda for what had been a largely demeaning tenure during which Priebus endured regular belittling and emasculation from rival advisers — and even, at times, the president himself.
* * *
Trump has long been drawn to military leaders — "my generals," he calls them — and by appointing Kelly, the president hopes to bring military discipline to his often-unruly West Wing. Kelly is expected to be sworn into the job on Monday morning and convene a Cabinet meeting.
Kelly, who is widely admired by Trump family members and loyalists, has formed a bond with the president over recent months that was fortified when he aggressively defended the travel ban policy. Their relationship has only grown stronger since, with Trump telling aides that he sees Kelly as someone who dutifully follows through on his agenda — including a border security crackdown and sharp reduction in illegal immigration — and does not cause him problems.
* * *
Kelly has a warm rapport with White House chief strategist Stephen K. Bannon, who has worked closely with him on shaping the administration's border enforcement policy. They have built a connection over their families' military service. Bannon, a former Navy officer, has a daughter who graduated from the U.S. Military Academy at West Point.
Kelly is also well liked by Trump's son-in-law and senior adviser Jared Kushner, who sees him as a stable presence with a low key personality. Kushner has described him to associates as the kind of figure he'd like to see have more say in the administration.
* * *
Rumors of Priebus' firing have circulated for months now. As one senior White House official put it, there was a "phony death march for six months." But the dynamic changed over the past 10 days or so.
"It reached a fever pitch of the president complaining about Reince to all of us," said this official, who requested anonymity to speak candidly. "If we heard it once, we heard it 20 times in the last week — this erosion of confidence. The word was 'weak' — 'weak,' 'weak,' 'weak.' 'Can't get it done.'"
Trump's own family had soured on Priebus at least several weeks prior. Jared Kushner, the president's son-in-law and senior adviser, had been telling associates he believed Priebus was doing a poor job and running the White House ineffectively — a view that both Ivanka Trump, the president's daughter and adviser, and first lady Melania Trump also privately conveyed to the president.
Both Kushner and Ivanka Trump were supportive of Priebus's departure Friday, but also expressed admiration for him, according to an administration official.
The madness of King Donald Trump and his fake-royal family are spinning out of control. We have a White House consumed by chaos.