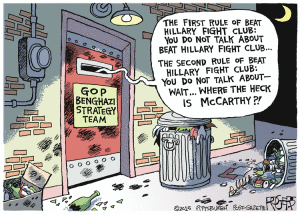 It all began when House Majority Leader Kevin McCarthy made a "Kinsley gaffe" —   journalist Michael Kinsley defined  "A gaffe as when a politician tells the truth – some obvious truth he isn't supposed to say" —  on Sean Hannity's show that the House Select Committee on Benghazi! is just what we always knew it was, a partisan political device to attack Hillary Clinton and to attempt to undermine her campaign with a never ending investigation into something that has already been investigated to death:
"Everybody thought Hillary Clinton was unbeatable, right?" McCarthy asked. "But we put together a Benghazi special committee, a select committee. What are her numbers today? Her numbers are dropping. Why? Because she's untrustable. But no one would have known any of that had happened, had we not fought." "I give you credit for that," said Hannity. "I'll give you credit where credit is due."
And now there is more evidence to support this obvious truth. Major Bradley Podliska, a staffer on the House Select Committee on Benghazi!, claims his superiors opposed a comprehensive investigation, preferring instead to focus on Hillary Rodham Clinton. Suit Over Firing Exposes Strife Within Benghazi Panel:
A former investigator for the Republicans on the House Select Committee on Benghazi plans to file a complaint in federal court next month alleging that he was fired unlawfully in part because his superiors opposed his efforts to conduct a comprehensive investigation into the 2012 attack on the American diplomatic mission in the Libyan city. Instead, they focused primarily on the role of the State Department and former Secretary of State Hillary Rodham Clinton, he said.
When confronted with such an allegation, the GOP does what it always does: deny everything, attack the messenger, and distract the media — Look! Squirrel!
The committee firmly disputed Major Podliska's allegations, saying Saturday that he had been "terminated for cause."
In a statement, the committee cited Major Podliska's "repeated efforts, of his own volition, to develop and direct committee resources to a PowerPoint 'hit piece' on members of the Obama administration, including Secretary Clinton, that bore no relationship whatsoever to the committee's current investigative tone, focus or investigative plan."
"Thus, directly contrary to his brand-new assertion, the employee actually was terminated, in part, because he himself manifested improper partiality and animus in his investigative work," the statement said. "The committee vigorously denies all of his allegations. Moreover, once legally permitted to do, the committee stands ready to prove his termination was legal, justified and warranted — on multiple levels."
In countering the complaints, the statement said Major Podliska had "never previously raised any allegation with respect to his work involving Secretary Clinton (other than that he was not allowed to do it) throughout."
In his complaint, Major Podliska, 41, acknowledges that he was told that he was being fired for three infractions, the most serious of which was mishandling classified information, although he disputes the charge.
How does Major Podliska respond?
Major Podliska, a lifelong Republican, holds a doctorate in political science from Texas A & M University and spent more than 15 years working at a federal defense agency, as an intelligence analyst for much of that time.
In September 2014, he began working for the Benghazi committee, on which his role was to investigate the way that various federal agencies in Washington responded to the attack, in which four Americans, including Ambassador J. Christopher Stevens, were killed.
But two things changed in March, Major Podliska said. First, after revelations that Mrs. Clinton relied exclusively on a private email server for her State Department correspondence, the committee became preoccupied with the State Department's role in the controversy surrounding the Benghazi attack and less interested in a comprehensive investigation.
Second, Major Podliska informed his superiors around the same time that he would need to perform 39 days of active duty for the Air Force in Germany in a handful of intervals, beginning with the middle of that month. (The length of the leave later rose slightly.)
Major Podliska said in an interview that he believed other staffers were skeptical of his obligations as a reservist and annoyed that he would take time off just as the committee had received its biggest break since being formed in May 2014 — the Clinton email revelations.
So we have ourselves a pissing match between the House Select Committee on Benghazi! and a former staffer. Major Podliska is going to be able to conduct discovery in his lawsuit. Documents must be produced and witnesses will be subpoenaed to testify under oath. My, how the worm has turned.
The Washington Post's Paul Waldman writes today, The tide turns against the Benghazi committee:
Could this be the time when Benghazi finally turned from a liability to an asset for Hillary Clinton? If so, it'll be because the issue has now become less about what the select committee Republicans set up to investigate the matter has found, and more about the committee itself.
Perhaps this would have happened even if House Majority Leader Rep. Kevin McCarthy (R-Calif.) hadn't admitted two weeks ago what everyone already knew, that the driving purpose of the select committee was to harm Hillary Clinton's political prospects.
* * *
No news outlet in America has been more fervent in its pursuit of Hillary Clinton than the New York Times, but take a look at this article on their front page today, about how the select committee has all but abandoned Benghazi to focus almost entirely on trying to find something damaging on Hillary Clinton:
The committee has conducted only one of a dozen interviews that [committee chairman Rep. Trey] Gowdy said in February that he planned to hold with prominent intelligence, Defense Department and White House officials, and it has held none of the nine public hearings — with titles such as "Why Were We in Libya?" — that internal documents show have been proposed.

At the same time, the committee has added at least 18 current and former State Department officials to its roster of witnesses, including three speechwriters and an information technology specialist who maintained Mrs. Clinton's private email server.
Add to that the story of Bradley Podliska, the former committee staffer who is suing the committee, saying he was unjustifiably fired for, among other things, serving his Air Force reserve duty and seeking to continue investigating Benghazi when the committee turned all its attention to Clinton's emails. (Gowdy denies Podliska's claims.)
When John Boehner created this committee a year and a half ago, he was insistent that there was nothing partisan about it, and pointed to the appointment of Gowdy, a former prosecutor, as proof that the investigation would be serious and substantive. I was skeptical at the time about how much sober professionalism Gowdy would bring to the proceedings — his principal qualification seemed to be an eagerness to shout angrily at witnesses during hearings — and nothing that has happened since has proved me wrong. The Times story is full of juicy details about the committee's work, or lack thereof ("Wine Wednesdays" sounds like fun), and contains this interesting tidbit:
Mr. Gowdy said in the interview last week that he had pressed Mr. Boehner to have another House committee examine the matter of Mrs. Clinton's emails, but that Mr. Boehner had rejected the request.

"I would have liked nothing more than for the speaker to find another committee," Mr. Gowdy said.

Senior Republican officials, who spoke on the condition of anonymity because they were discussing confidential conversations, said that Mr. Boehner had long been suspicious of the administration's handling of the attacks and that Mrs. Clinton's emails gave him a way to keep the issue alive and to cause political problems for her campaign. But he thought that the task was too delicate to entrust to others and that it should remain with Mr. Gowdy, the former prosecutor.

Senior Republican officials, who spoke on the condition of anonymity because they were discussing confidential conversations, said that Mr. Boehner had long been suspicious of the administration's handling of the attacks and that Mrs. Clinton's emails gave him a way to keep the issue alive and to cause political problems for her campaign. But he thought that the task was too delicate to entrust to others and that it should remain with Mr. Gowdy, the former prosecutor.
That's significant because not only are Democrats talking to reporters about why this committee is a mess, Republicans are too. Any time you see a passage like this, with competing interpretations of what's going on behind the scenes, it's a good bet that people are maneuvering to shape public perception to their advantage, and it can become a little hard to know for certain where the truth lies. But it looks like Gowdy, perhaps with the help of allies, is trying to say, Look, this mess isn't my fault, it's Boehner's.
Maybe it was inevitable that this committee would become either a joke or a scandal in its own right, given the fact that it was established after seven separate investigations had already examined the events of September 11, 2012 in Benghazi and failed to find any administration wrongdoing or support for all the outlandish conspiracy theories conservatives had clung to. In the future, when asked about what the select committee accomplished, Republicans will probably say, "They discovered Clinton's emails!" And that's true. But what does that represent, substantively speaking?
Was there something in those emails that told America what really happened in Benghazi? No. Was there something in those emails that finally proved the scope of Hillary Clinton's villainy? No. I'm not trying to defend Clinton's use of a private email account, but about the most shocking thing we've learned from the actual emails is that Clinton, like every other person on the planet with an email address, got phishing spam, a revelation that when leaked to the press was passed along with lots of "Clinton Email Targeted By Russian Hackers!" headlines.
[See Steve Benen on the media's hyping of spam emails with ominous headlines, Hillary Clinton's spam becomes a major national story, and Latest Clinton email story fits a familiar pattern. The AP is still doing this.]
But what we haven't learned is anything new that the committee has discovered about — now see if you can follow me here — Benghazi. That was, you may recall, the whole point of this exercise. So what has Gowdy's committee found that all the previous investigations didn't? Anything at all? What do we now know about what happened on that night that we didn't know before?
The answer so far is: nothing.
Ed Kilgore at the Political Animal Blog adds, The Benghazi! Dominoes:
This change of perspective could have a more pervasive effect, I think, than the debunking of Benghazi! conspiracy theories: it could create a backlash to the deliberate stimulation of the email "scandal" by the same committee fronting for the same GOP. The dominoes that Republicans expected to fall from multiple negative "stories" about HRC could wind up falling in the opposite direction.