As I said yesterday, "The Republic editors have always supported Republicans for political office and have been devoted believers in faith based supply-side "trickle down" GOP economics. [The budget crisis] is a problem of which The Republic and its editors share much of the blame for influencing the public to support such fantasy nonsense."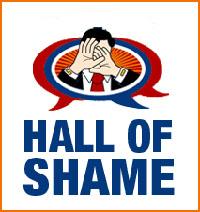 Today the editors of The Arizona Republic proved once again that it is still The Arizona Republican, the voice of the Arizona Republican Party, despite its name-change.
In an unconscionable opinion, the editors of The Republic endorse "Cathi's Clown" Doug Ducey, the candidate from Koch, for governor — and thereby endorse another round of punitive budget cuts to balance the state budget while at the same time implicitly endorsing Ducey's pledge to eliminate the state income tax, further reducing tax revenues by 40% of the state budget and perpetuating this budget crisis. That these shameless editors would do so was never seriously in doubt. Doug Ducey, Arizona's governor for tough times:
An exceedingly slow recovery and the lingering effects of the recession have opened an estimated $520 million deficit for this fiscal year, and a $1 billion shortfall for fiscal 2016.
Once again, Arizona faces a struggle to make ends meet.
Once again, we face daunting challenges — not just in mopping up the red ink, but in setting the state on a course of real economic recovery. Arizona needs leadership that can guide the state through the difficult terrain of budget deficits while helping foster real, lasting economic growth.
The best candidate for the job facing Arizona's next governor is Republican Doug Ducey.
Ducey's business acumen is well known. In 12 years with Cold Stone Creamery, Ducey and his business partner expanded the franchise from a single Arizona storefront to an international operation with more than 1,400 franchises and $500 million in annual revenues. He has a keen understanding of how to set out a plan for growth — and the determination to stick to it.
Arizona's fiscal train wreck occurred on Dicey Ducey's watch as the state Treasurer. Apparently The Republic editors believe that he is to be held harmless for his dereliction of duty in office, rather than to be held accountable by the voters for his abject failure.
Just as impressive has been Ducey's carefully planned and organized march toward the Arizona Governor's Office. In the four years since he was elected state treasurer, Ducey has constructed a campaign operation that left nothing to chance.
He studied the office, seeking out and learning from conservative-minded governors and other leaders, such as retired U.S. Sen. Jon Kyl, about what it means — and what it takes — to guide a ship of state in troubled economic times.
Conservative faith based supply-side "trickle down" GOP economics is what ran the ship of state aground on the rocks. Continuing to do the same thing over and over again expecting a different result is the very definition of insanity. By the way, a well run campaign is not an indication of how one will govern, as the editors are all to quick to assert about President Barack Obama.
He knows what national business leaders look for, and that's why we have no fears that a Ducey administration would usher in anything like SB 1062, the right to refuse service bill. For one, when Ducey led Cold Stone, the company provided insurance for the unmarried partners of its employees. "The things that are the right thing to do are good for business," he says. "That's how you attract good people."
This is simply blind delusion. The Republic's own Linda Valdez warned Look for return of SB 1062 if Doug Ducey wins, and as I previously posted, the Phoenix New Times documented that Ducey is a social conservative who supports the agenda of Cathi Herrod and the Center for Arizona Policy. 'Cathi's Clown' Doug Ducey will do the bidding of CAP. All but three Tea-Publicans in the Arizona legislature voted in favor of SB 1062, and Ducey told the Arizona Republic that he would bring the parties together to write another bill:
For another, he knows when SB 1062 did the most damage to Arizona's image: after it was passed but before Gov. Jan Brewer vetoed it. "I'd rather it not get to my desk than have it get there and have to veto it," he says.
This is not what Dicey Ducey said at the time. There is no good reason anyone should believe him now.
Ducey would likely shake up K-12 education. But, despite the fiscal challenges ahead, he promises not to cut education funding. That vow sets 40 percent of the Arizona budget off limits for trimming. He should be held to it.
Snap quiz, kids: what's missing from this statement? Dicey Ducey proposes to continue endless appeals and delays of Cave Creek Unified School District et al. v Ducey, in which the Superior Court has ordered our lawless legislature to reset funding for each public school student in fiscal-year 2015 as if the amount for the previous year were $3,559.62. And Judge Cooper will decide later this month whether to order reimbursements for schools for unfunded inflation adjustments in fiscal years 2009 to 2014, estimated at $1.4 billion. Judge Cooper orders our lawless legislature to pay restitution to public school districts now.
This theft from Arizona's public school districts occurred during Dicey Ducey's term of office as state Treasurer, and he proposes to continue this theft through endless appeals, so he is already cutting funding to public education, thereby breaking this meaningless pledge.
The Republic does have good things to say about Democrat Fred DuVal:
Two credible, strong-minded and articulate major-party candidates are running for governor. In an economic environment with room for growth and experimentation, Democrat Fred DuVal would be an excellent leader.
A former chairman of the state Board of Regents, DuVal is a zealous advocate for improving public education at all levels. He vowed to use the state's rainy-day fund to send $336 million to school districts, the amount a court said is owed under a constitutional mandate that education funding match inflation.
Laudable as that promise may be, it leaves unanswered how to pay the bill the year after. And the year after that. And this is just one of many DuVal promises that carry price tags at a time when money is far from plentiful.
And here it comes, The Republic editors' endorsement of another round of punitive budget cuts to balance the state budget while at the same time implicitly endorsing Ducey's pledge to eliminate the state income tax, further reducing tax revenues by 40% of the state budget and perpetuating the budget crisis:
Which brings us back to the candidate best equipped to tackle a budget bleeding red.
The Arizona economy of the foreseeable future requires a governor with the tools that Doug Ducey would bring to the job. We recommend his election.
Voters can only hold politicians accountable for their actions through voting. Voters can hold Dicey Ducey accountable for his failures as state Treasurer and his ludicrous promises as a gubernatorial candidate by voting for his opponent, Fred DuVal.
Newspaper editors, however, are accountable to no one. They spew their nonsense and cause substantial harm to this state by promoting faith based supply-side "trickle down" GOP economics and the damn fool GOP politicians who religiously believe in it. The editors of The Republic should not be heard to complain about the sorry state of the state when they refuse to accept any responsibility or accountability for their own complicity in creating these conditions.