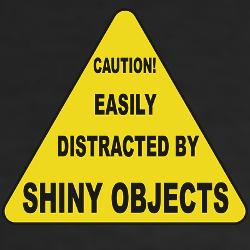 The media villagers are once again distracted by the bright shiny objects, failing to report what is really going on behind this story.
The latest distraction is the annual election "silly season" campaign sign theft story. This time it's allegedly Rep. Bob Robson (R-Chandler). The Arizona Republic reports, Chandler lawmaker accused of swiping political signs:
State Rep. Bob Robson, R-Chandler, has been cited with two misdemeanor charges of tampering with political signs.
The sign scrum is yet another indication of the high tensions swirling around the Legislature's vote in 2013 to expand the state's Medicaid program to cover 300,000 low-income Arizonans. Robson, along with 13 other Republicans, joined Democrats to approve the expansion proposed by Gov. Jan Brewer. Opponents vowed to seek retribution at the polls, working to defeat what they called "legis-traitors." [This is the key to this story, read below.]
As part of that opposition, the Arizona Taxpayer Action Committee installed signs stating "voted for Obamacare" with an arrow pointing at the campaign sign of certain Republicans. These signs, which the committee calls the "arrow of truth," were reportedly removed by Robson Monday as Maricopa County Sheriff's Office deputies witnessed the act. (h/t Photo: Sonoran Alliance).
However, the citation [incorrectly] notes the sign tampering occurred on Robson's own property, and state law exempts property owners from the tampering charges if they alter signs put on their own property without the owner's permission.
Note: The Arizona Capitol Times (subscription required) has the surveillance video from the Circle K store located at Dobson and Warner roads in Chandler,  released by the MSCO. Store video sheds new light on Robson sign case. "A Maricopa County Sheriff's report says the Chandler lawmaker … refused to tell detectives who got into his truck." So Robson was driving his vehicle, but another individual removed the sign. "Chandler police decided not to pursue the case after determining there was no evidence to prove a crime was committed."
(Corrected) Funny thing, Maricopa County Sheriff Joe Arpaio has endorsed Tom Morrissey, the Tea-Publican primary opponent of Rep. Jeff Dial who is running for state Senate, who like Robson is targeted by Tea-Publicans. Hmmm, sounds like Crazy Uncle Joe Arpaio is back to his old ways of abusing the powers of his office to engage in political  witch hunts against his political opponents again.
Back to The Republic story:
Robson's attorney, Tom Ryan, said his client is not guilty.
"He has not touched a sign," Ryan said of the veteran lawmaker. "He has not tampered with a sign."
The citation is for tampering with a candidate's sign, but Ryan said the "arrow" signs Robson is alleged to have removed do not meet the state law's requirement of being a candidate sign. There is no candidate named "arrow," he argued.
Mr. Ryan, as usual, is correct: Arizona Revised Statutes § 16-1019 (A) provides "It is a class 2 misdemeanor for any person to knowingly remove, alter, deface or cover any political sign of any candidate for public office or knowingly remove, alter or deface any political mailers, handouts, flyers or other printed materials of a candidate that are delivered by hand to a residence for the period commencing forty-five days before a primary election and ending seven days after the general election." The statute does not apply to the "nasty-grams" that have proliferated in recent years.
So here is the back story of which the "rail birds" at the Capitol who report on political goings on are aware, but are selectively not reporting. Rep. Robson, a member of the "Brew Crew" as they are called by far-right Tea-Publicans, has been in discussions with the Democratic Caucus about the "Brew Crew" teaming up with the Democrats for the purpose of electing House leadership and committee chairmen, including a "bipartisan" power sharing with Democrats chairing some House committees in the next legislature. This would effectively freeze out the far-right Tea-Publicans who hope to take over these leadership and committee chair positions to pursue their radical extremist agenda.
This election "silly season" campaign sign theft story is an attempt to discredit Rep. Robson, if not defeat him in the primary next Tuesday, and Crazy Uncle Joe Arpaio and his MCSO are providing an assist to these far-right Tea-Publicans.  It is an attempt to chill discussions between the Democratic Caucus and the "Brew Crew" about a power sharing arrangement in the next Arizona legislature.
Now you know why your vote in this primary election matters so much. Now get out there and vote to restore sanity to this State!