"To every thing there is a season, and a time to every purpose under the heaven" – Ecclesiastes 3:1
The season for protests is over. The season for get out the vote (GOTV) is now. Early voting starts in mid-September in several states.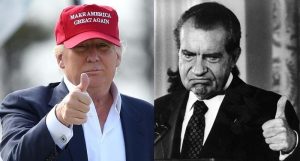 Donald Trump is running Richard Nixon's and George Wallace's racist 1968 "law and order" campaign against anti-war protestors and movements for civil rights and social justice. Now it is a racist campaign against Gen-X protestors who are supporting the Black Lives Matter movement and other social justice movements, in the largest civil rights movement since the 1960s.
I know Gen-Xers, like every generation before them, do not want advice from their elders ("OK, Boomer"), but there really is nothing new under the sun. We have seen this all before, and there is an historical parallel to 1968.
There were riots in America's cities after Martin Luther King, Jr. was assassinated in April. American's cities were burning, and National Guard troops were called out to restore order in many cities. Senator Robert Kennedy was assassinated in June, adding another shock to the conscience of America. The Democratic National Convention in Chicago drew tens of thousands of anti-war protestors who were met by the brutality of Mayor Daley's Chicago police, who rioted against protestors and convention delegates before a television audience. For many Americans, it did appear as if America was spinning out of control.
Richard Nixon was able to use those riots and anti-war protests to eek out a narrow 812,415 popular vote win over Hubert Humphrey, which translated into a larger electoral college vote win 301-191.
Richard Nixon's election victory marked the end of the Second Reconstruction era for civil rights and social justice in America. The promise of Lyndon Johnson's Great Society domestic programs were entirely subsumed by his obsession with Vietnam. America has been suffering the consequences of Nixon's Southern strategy of "white backlash" politics ever since. Progress has been postponed for over 50 years.
Donald Trump lost the popular vote in 2016 by almost 3 million votes, but Trump won the Electoral College vote by about 77,000 votes out of more than 136 million ballots cast. According to the final tallies, Trump won Pennsylvania by 0.7 percentage points (44,292 votes), Wisconsin by 0.7 points (22,748 votes), Michigan by 0.2 points (10,704 votes). The Election Came Down to 77,744 Votes in Pennsylvania, Wisconsin, and Michigan. Donald Trump needs to draw an inside straight again in 2020. He can.
The massive protests this summer over the murder of George Floyd by Minneapolis police officers on Memorial Day, and the public polling demonstrating strong public support for racial justice even among whites, indicated the country was ready for The Third Reconstruction era that the Reverend Dr. William J. Barber II from Moral Mondays has been preaching about.
But the criminality of a few can deny the promise of progress for the many at the hands of an unscrupulous and evil opponent.
The rioting and looting that occurred in cities after the murder of George Floyd pales by any historical comparison to the riots in 1968. And some of that rioting and looting was attributable to "accelerators" and "provocateurs" from right-wing white nationalist groups who embedded themselves into the Black Lives Matter protests. Riots, White Supremacy and Accelerationism. Minnesota Officials Link Arrested Looters to 'White Supremacist' Groups.
The recent rioting and looting that occurred after the police shooting of Jacob Blake in Kenosha, Wisconsin, again attracted "accelerators" and "provocateurs" from right-wing white nationalist groups and militias. A teenage vigilante, Kyle Rittenhouse, shot three white protestors killing two.
White nationalist provocateurs like Ann Coulter and Tucker Carlson are trying to make this domestic terrorist a "hero." But as Mary Mitchell explains at the Chicago Sun Times, Don't make 17-year-old Kenosha shooter a hero.
And then there is Portland, Oregon, where there have been nightly protests since the murder of George Floyd. While this was initially a Black Lives Matter protest, the vast majority of protestors are young, white, and middle-class. E.D. Mondainé, president of the Portland branch of the NAACP, wrote in a July 24 op-ed at the Washington Post, "Portland's protests were supposed to be about black lives. Now, they're white spectacle. (excerpt):
Unfortunately, "spectacle" is now the best way to describe Portland's protests. Vandalizing government buildings and hurling projectiles at law enforcement draw attention — but how do these actions stop police from killing black people? What are antifa and other leftist agitators achieving for the cause of black equality? The "Wall of Moms," while perhaps well-intentioned, ends up redirecting attention away from the urgent issue of murdered black bodies. This might ease the consciences of white, affluent women who have previously been silent in the face of black oppression, but it's fair to ask: Are they really furthering the cause of justice, or is this another example of white co-optation?
* * *
We cannot settle for spectacles that endanger us all. This is a moment for serious action — to once again take up the mantle of the civil rights era by summoning the same conviction and determination our forebears did. We welcome our white brothers and sisters in this struggle. In fact, we need them. But I must ask them to remain humbly attuned to the opportunity of this moment — and to reflect on whether any actions they take will truly help establish justice, or whether they are simply for show.
Last night, not just "accelerators" and "provocateurs" from right-wing white nationalist groups were present in Portland, but Donald Trump's very own MAGA red caps, his version of Italian black shirts and German brown shirts fascist militias, showed up looking for a fight. One person shot dead in Portland following clashes between pro-Trump supporters, counter-protesters:
One person was shot dead on a Portland street Saturday night during a series of confrontations between members of a 600-vehicle caravan in support of President Trump and counterprotesters who met them on their route.
The man who [was] shot fell motionless on the ground in the downtown district near where the opposing groups had clashed throughout the evening. He was wearing a hat with the insignia of Patriot Prayer, a far-right group based in the Portland area.
In a video recording of the scene, which captures the gunfire from across the street, the sound of men shouting can be heard before a thick cloud of what appears to be mace surrounds them. Shots are fired. Several people run, before others crowd around the man who had stumbled and collapsed on the pavement.
"I heard the yelling, and I turned, and the first thing I saw was the bear mace being sprayed, and then right on the heels of that were the gunshots," said Justin Dunlap, a lighting technician from nearby Vancouver, Wash., who recorded the widely circulated video and broadcast it live on Facebook.
Initial accounts from law enforcement depicted a similar scene.
The stated aim of Patriot Prayer, organized in 2016 to bring pro-Trump rallies to liberal bastions, is to "liberate the conservatives on the West Coast." Its leader, Joey Gibson, was swarmed later Saturday night as he ran through the streets, following the fatal episode involving the man wearing his organization's logo.
"All I can do is verify that he was a good friend and a supporter of Patriot Prayer," Gibson wrote in an email to The Washington Post. He said he would be making an additional statement later Sunday or on Monday.
Trump, in a barrage of tweets early Sunday, seized on the killing as a cudgel against the Democratic mayor of Portland, Ted Wheeler, and as a case for his reelection pitch of "law and order." He also heaped praise on the pro-Trump activists who had descended on Portland, calling them "GREAT PATRIOTS!"
These white protestors in Portland who have co-opted the Black Lives Matter movement in their city do not appear to have any strategic plan other than putting on the spectacle of nightly protests. Whatever it is these young, white, and middle-class protestors think they are accomplishing, they are only serving to provide the fuel for the fire of Donald Trump's racist campaign. It will be African-Americans who pay the price.
This week, The White House makes it clear that it sees chaos in the streets as politically useful:
Because eruptions of violence can be blamed on Democrats, the White House throws up its hands. That's not only because it allows Trump to shunt away criticism but also because it allows him to make the point he wants to make: Democrats, like his general election opponent, former vice president Joe Biden, allow violence to happen. In an out-of-character move, Trump is happy to present himself as powerless here specifically because he thinks it reinforces weakness on the part of his opponents.
Don't believe me? Allow Conway to make that point.
"There was a quote today from a restaurateur in Wisconsin, saying, 'Are you protesters trying to get Donald Trump reelected?' " Conway said. "He knows, full stop, that the more chaos and anarchy and vandalism and violence reigns, the better it is for the very clear choice on who's best on public safety and law and order."
The racist provocateur-in-chief intends to go to Kenosha, Wisconsin to meet with local police and to survey damage from the rioting and looting on Tuesday. Per the AP, Trump's trip is "certain to exacerbate tensions in the city, where a crowd of about 1,000 demonstrators gathered outside a courthouse Saturday to denounce police violence."
Trump is not going to Kenosha to heal the community. Trump is going there to pour gasoline on the fire.
As I said at the start of this post, the season for protests is over. The season for get out the vote (GOTV) is now.
At this point, protests no longer serve any useful purpose. They can only be used by Trump and his provocateurs to produce images of conflict and violence. Don't take the bait! Don't provide the fuel for the fire of his racist campaign. Deprive him of the oxygen he needs! Think and act strategically, use your head.
Protests are not going to defeat Donald Trump. Only ballots cast at the ballot box can achieve this.
If you want to defeat Trump, your time, energy and commitment are needed right now for get out the vote efforts. An army of volunteers is needed for phone banking and knocking on doors to get people to vote. Volunteers are needed to take people to the polls to vote early. Volunteers are needed as poll observers to protect against Trump's voter intimidation plans at the polls. Do everything you can to turn out the vote, and leave it all on the field.