House GOP leaders found enough votes to pass a short-term CR over Democratic opposition after a deal was reached with conservatives in the House Freedom Caucus, who had threatened to oppose the bill throughout Thursday. House approves spending bill, shifting shutdown drama to Senate: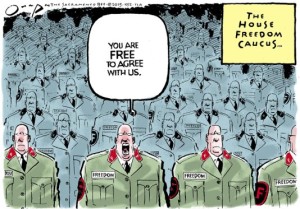 The group's chairman, Rep. Mark Meadows (R-N.C.), secured an agreement with GOP leaders to consider military spending within 10 legislative days.
Most GOP defense hawks said they would vote to avert a shutdown, despite their frustration with repeated short-term bills to fund the military.
Nearly all Democrats refused to support the legislation, which would extend funding through Feb. 16, in the absence of a solution to protect young immigrants known as "Dreamers."
* * *
The final vote was 230-197, with six Democrats voting for the measure and 11 Republicans voting against it.
The 11 Republicans who voted against the stopgap were mostly members of the Freedom Caucus, but included two Florida centrists — Reps. Carlos Curbelo and Ileana Ros-Lehtinen — who, like Democrats, are demanding a solution for immigrants brought to country as children.
Six Democrats defected to support the bill: Reps. Salud Carbajal (Calif.), Jim Costa (Calif.), Henry Cuellar (Texas), Vicente González (Texas), Josh Gottheimer (N.J.) and Collin Peterson (Minn.).
The Senate is expected to vote on a procedural motion Thursday to take up the House bill. The procedural vote is expected to be approved, but a follow-up procedural motion to move the bill to a final up-or-down vote is expected to fail and may not even clinch a simple majority as several Republicans have already voiced opposition.
Senate Democrats say they have the votes to block the short-term CR measure passed by the House on Thursday evening. Dem shutdown strategy: Force McConnell to deal:
Senate Democratic Leader Charles Schumer (N.Y.) wants to force GOP leaders to the negotiating table to work out a deal to protect "Dreamers" from deportation, reauthorize the Children's Health Insurance Program (CHIP) and increase discretionary spending caps.
A senior Democratic aide said Senate Majority Leader Mitch McConnell (R-Ky.) won't have "near enough" votes to pass the four-week stopgap under consideration in the House that would extend funding for CHIP by six years and delay three unpopular ObamaCare taxes.
"We want Republicans to need to negotiate," said the aide, who added that Democrats wouldn't be blamed for a possible government shutdown because the temporary funding measure expected from the House will fail in the face of bipartisan opposition.
Democrats would like to add an immigration reform bill to the spending package that would protect from deportation an estimated 800,000 immigrants who came to the country at a young age.
They also want to fund CHIP for another decade, instead of the six-year span favored by the House, and raise spending levels for defense and nondefense programs by roughly equal amounts.
Republican Sens. Lindsey Graham (S.C.), Mike Rounds (S.D.) and Rand Paul (Ky.) have said they will vote against the House spending stopgap bill, and Sen. John McCain (R-Ariz.) is expected to miss the vote because he is recovering from cancer treatment. [Update: Sen. Rounds has since reversed his position based upon the side deal to consider military spending within 10 legislative days].
McConnell needs 60 votes to advance the House bill past a Democratic filibuster. Down four three votes in his own conference, he would need at least 13 12 Democrats to move forward — and he doesn't appear anywhere close to having that number.
So far, Sen. Joe Manchin (D-W.Va.), who is running for reelection in a state President Trump won by 42 points, is the only Democrat who has said definitively he will vote for the House stopgap if it makes it to the Senate, according to The Hill's whip list.
The Democratic strategy is to force GOP leaders to admit they need to negotiate with Schumer and Senate Democratic Whip Dick Durbin (Ill.), who is leading the negotiations to replace the Obama-era Deferred Action for Childhood Arrivals (DACA) program, which Trump rescinded in September.
Democrats want McConnell to agree to a short-term government funding bill that would give them more time to negotiate an immigration solution, along with a longer-term CHIP extension and higher discretionary spending caps.
They have support from a handful of Republicans, including Sens. Jerry Moran (R-Kan.) and Lindsey Graham, who are calling for passage of a multiday spending bill to avoid a shutdown and give leaders more time to reach a broader deal.
Democrats believe a bipartisan Senate bill co-sponsored by Durbin, Graham, Sen. Michael Bennet (D-Colo.), Sen. Jeff Flake (R-Ariz.), Sen. Bob Menendez (D-N.J.) and Sen. Cory Gardner (R-Colo.) could serve as the basis of an immigration deal that can win broader Republican support.
* * *
McConnell, however, has made it clear that he does not support attaching an immigration bill to spending legislation, something he reiterated in a news conference Wednesday.
"Let me tell you again how it's going to be handled in the Senate: separately from the spending negotiation, and a bill the president is willing to sign," he said, referring to immigration legislation.
The immigration talks have been thrown into confusion by conflicting messages from Trump.
At a bipartisan meeting on immigration last week, the president indicated he would sign into law whatever Congress passed.
But then later in the week and again this week, he panned the bipartisan Durbin-Flake-Graham proposal.
Trump said Wednesday the bill is "horrible" on border security and "very, very weak" on reforming the immigration system overall.
But Durbin, a lead Democratic negotiator, insisted Thursday that immigration should be addressed as part of the spending bill. He said a mere promise to vote on the bipartisan bill would not be enough to smooth the path for the government funding stopgap.
* * *
Sen. Cornyn told reporters during the day that the GOP leadership had no intention of passing a shorter-term funding bill.
"No, we're not going to do it," he said.
So there is going to be a government shutdown this weekend one year to the day after Donald Trump was inaugurated president. It is the first time in American history that a political party which has one-party control over the presidency and both houses of Congress has shut down the government because they cannot govern responsibly by passing appropriations bills (before the September 30 deadline).
Greg Sargent of the Washington Post explains, If the government shuts down, Trump and the GOP will fully own it: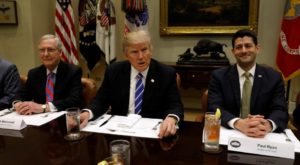 If Democrats vote in insufficient numbers for the short-term funding bill, and the government shuts down, the culprit will be easy to identify. It will lie in the bottomless bad faith coming from President Trump, his hard-line anti-immigration advisers and some Republicans — and with Trump's openly advertised racism and white nationalism.
In the Senate, Republicans probably will need around a dozen Democrats to pass it, and it's unclear whether Democrats will supply those votes.
Republicans are already losing their own: Lindsey O. Graham (S.C.) and Mike Rounds (S.D.) [since reversed] have announced they will vote against the funding bill. [Sen. Rand Paul now says he is a no vote, but he is the most unreliable vote in the Senate.] A Senate Democratic aide tells me that there is broad recognition among Democrats that the way to maintain their leverage is to refrain from bailing Republicans out of this predicament, though individual Senate Democrats will be making their own decisions.
And let's be clear: This predicament is the creation of Trump and Republicans. There is no reasonable way to read the available facts and the narrative leading up to this point and conclude otherwise. Any other rendering of them basically borders on disinformation.
Those facts are plain. The dispute is not over whether to protect the "dreamers" — which Trump himself and leading Republicans have said they want to see happen; it is over what Trump will gain in return for signing a bill doing that. Thus, the question is whether Trump has been offered reasonable concessions in exchange for that — or whether his motives in rejecting them are unreasonable or unacceptable, or demonstrate undeniable bad faith.
To understand why the latter conclusion is inescapable, let's return to the genesis of this whole situation. Back in August, before Trump ended the Obama-era executive action protecting the dreamers, the White House hatched a scheme to use them as a bargaining chip to pressure Congress into passing a raft of hard-line immigration proposals, including cuts to legal immigration. In other words, while he'd temporarily end their legal protections, Trump had decided he wanted the dreamers to stay but would use their uncertain fate to pressure Democrats into accepting things they would otherwise reject.
Trump has since confirmed that he agrees that failing to protect the dreamers is crazy as a matter of policy, but has continued to demand concessions in exchange for it. This month, Trump publicly asked bipartisan lawmakers to "come up with a solution" that protects the dreamers but also secures the border (in part by adding to the border wall), ends family-based immigration and the diversity visa lottery system. Trump said: "If you do, I'm going to sign that solution."
Republicans and Democrats then negotiated a good-faith deal that did what Trump asked them to do. True, it does not give Trump everything he wants. In exchange for legalizing the dreamers, it only nixes family-based migration for their parents, and only cuts the visas awarded through the diversity program by half, reorienting them to people with Temporary Protected Status. But this might disqualify as many as half a million parents of dreamers who might otherwise have achieved legalization. It diverts visas away from new immigrants to TPS-protected people who would stay anyway if Trump were not rolling that program back. And it gives Trump billions in border security. The deal does give Trump some of what he wants — in exchange, again, for doing what Trump himself wants to see happen, i.e., protecting the dreamers.
We now know why Trump rejected this deal. Thanks to his leaked comment that he wants more people from countries such as Norway rather than from "shithole countries," it's clear he rejected it because it does not sufficiently conform to his white nationalist agenda. Though he denied the comment, The Post reported that Trump did, in fact, privately reject the compromise because it would result in more people coming "from countries he deemed undesirable."
Republicans who defend Trump's position in this standoff, then, are also defending Trump's rejection of the deal on those grounds. What's more, The Post also reported that hard-liners such as Stephen Miller, as well as Rep. Bob Goodlatte (R-Va.) and Sen. Tom Cotton (R-Ark.), cynically talked Trump into believing that the deal would sell out his base, a laughable argument that Trump has now adopted as his own motive. And Trump is now tweeting that "if there is no Wall, there is no Deal!" Trump is not only rejecting a deal that gives him some of what he wants; he's also saying the government should shut down if he doesn't get his wall.
To be fair, there are plenty of Republicans who would like Trump to accept this deal. But GOP leaders are adopting a strategy of passing a short-term bill premised on the gamble that Democrats will prove too skittish about a shutdown to stand up for the dreamers. And if Democrats don't stand up for them now, why would their leverage increase later? Republicans are banking on Dems capitulating in the face of Team Trump's bottomless bad faith in addressing the fates of hundreds of thousands of blameless people facing the prospect of uprooted lives, a stance that is rooted in openly advertised white nationalism. So Democrats have to stand firm — because that's what they'll be standing firm against.
Morality and basic human decency, something Donald Trump lacks entirely, is what is at stake in this fight. Resist Trump's racist and white nationalist agenda. Senate Democrats should stand firm and force GOP leadership to negotiate a favorable compromise.
UPDATE: A new poll from The Washington Post shows that the public overwhelmingly blames Trump and the GOP for what seems to be an imminent government shutdown. 48% blame Trump and Republicans, 28% blame Democrats. A key indicator: independents fault the GOP 46% to 25%. None of this is a surprise. Shutdowns Are Part of the GOP Brand. Of Course They Get the Blame.