I guess that fishing license finally paid off for her. Liz Cheney pays $220 on fishing license ticket.
The spawn of Satan, Dick Cheney's daughter Liz Cheney, won an eight-way primary in Wyoming on Tuesday, a state with more cows than voters.
Unofficial results from the Wyoming Secretary of State shows Cheney leading the GOP primary with 35,668 votes. Wyoming Secretary of State Ed Murray said "I hope we beat the 2014 primary election total which was only 27 percent and that's nothing that I'm particularly proud to beep, but I think we will beat that." Voter Turnout Consistent With Past Years.
The AP reports, Liz Cheney Wins Wyoming Republican Primary for U.S. House Seat: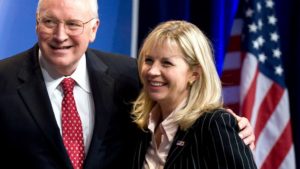 Liz Cheney has won Wyoming's Republican primary for U.S. House.
Cheney beat seven challengers for a chance at the job her father, former Vice President Dick Cheney, first won 40 years ago.
Her campaign focused on national security and rolling back federal regulations affecting Wyoming's beleaguered coal industry.
She was by far the best-funded candidate and brought in more than $1.5 million through July. Weeks before the primary, Cheney had almost 10 times more money than her next three opponents combined.
Her competitors included state Rep. Tim Stubson and state Sen. Leland Christensen.
Rep. Cynthia Lummis isn't seeking a fifth term after serving four terms.
Cheney, of course, also has top name recognition. She has used her contacts to raise money from prominent Republicans nationwide.
Registered Republicans outnumber registered Democrats in Wyoming more than 3-to-1, so the eight-way GOP primary likely will prove the most important vote in determining who will fill the state's U.S. House seat. As of Aug. 1, there were roughly 143,000 GOP voters registered compared to some 42,000 Democrats, according to the state Bureau of Elections.
In the last election cycle, Cheney mounted an audacious challenge to incumbent U.S. Sen. Mike Enzi. Many prominent Wyoming Republicans accused her of being a "carpetbagger" for running against the state's senior senator when she had only recently moved to Wyoming from Virginia. She quickly dropped out of the race.
* * *
Cheney, a former Fox News commentator and State Department official, is emphasizing in her current campaign that she wants to represent Wyoming to fight against Washington overreach, particularly against federal regulation of the state's sagging coal industry. And echoing her father's criticism, she's been vocal in attacking President Barack Obama for actions she says have undermined national security.
Although Cheney emphasizes her family has deep roots in the "Cowboy State," those roots still aren't deep enough for Jason Gilbert, a Cheyenne insurance agent.
"I think she should have run from Virginia," Gilbert said Tuesday outside a polling place. "I know that she's got a name and she's got some recognition, but I don't know that there's much she's done for the state of Wyoming."
Gilbert said he voted instead for Darin Smith, an attorney and Christian Broadcasting Network executive from Cheyenne.
Dick Cheney was elected five times to the U.S. House seat for Wyoming that his daughter is now seeking. But his legacy cuts both ways. Many Democrats have decried Cheney's orchestration of the 2003 U.S. invasion of Iraq, calling it a disastrous foreign policy decision.
Tony Henry of Cheyenne said Tuesday he switched his party registration from Democrat to Republican specifically so he could vote against Liz Cheney. Henry said he voted for State Sen. Leland Christensen, of Alta, a former sheriff, county commissioner and U.S. Army special operations forces soldier.
"I don't like Dick Cheney, he did some terrible things, he and George Bush did, and I don't support him," Henry said. "And if Liz Cheney is anything like her father, I'm glad I voted against her."
The Democratic primary nominee is Ryan Greene, an oilfield services executive from Rock Springs, a political newcomer.
There is also a Libertarian Party candidate and Constitution Party candidate on the general election ballot.
Thanks for nothing, Wyoming.