Back in June, Donald Trump told ABC's George Stephanopoulos that he would listen if foreigners offered dirt on opponents (it's not like he hasn't already done this before):
Asked by ABC News Chief Anchor George Stephanopoulos in the Oval Office on Wednesday whether his campaign would accept such information from foreigners — such as China or Russia — or hand it over the FBI, Trump said, "I think maybe you do both."
"I think you might want to listen, there isn't anything wrong with listening," Trump continued. "If somebody called from a country, Norway, [and said] 'we have information on your opponent' — oh, I think I'd want to hear it."
"It's not an interference, they have information — I think I'd take it," Trump said. "If I thought there was something wrong, I'd go maybe to the FBI — if I thought there was something wrong. But when somebody comes up with oppo research, right, they come up with oppo research, 'oh let's call the FBI.' The FBI doesn't have enough agents to take care of it. When you go and talk, honestly, to congressman, they all do it, they always have, and that's the way it is. It's called oppo research."
"Somebody comes up and says, 'hey, I have information on your opponent,' do you call the FBI?" Trump responded.
"I'll tell you what, I've seen a lot of things over my life. I don't think in my whole life I've ever called the FBI. In my whole life. You don't call the FBI. You throw somebody out of your office, you do whatever you do," Trump continued. "Oh, give me a break – life doesn't work that way."
For the record, the Special Counsel's investigation found that no one with the Trump campaign ever contacted the FBI about their numerous contacts with Russian operatives.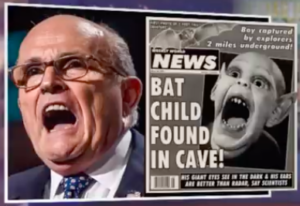 Even before this interview, Trump's vampire "Bat Boy," Rudy Giuliani Asked Ukraine To Interfere In U.S. Election To Help Re-elect Trump: "At the center of the effort to make Bidengate the next Benghazi is Rudy Giuliani, who sees nothing wrong with pressuring the Ukrainian government to reopen the investigation into Burisma. "We're not meddling in an election, we're meddling in an investigation, which we have a right to do," he told The New York Times in a story published Thursday, on the eve of a trip to Kiev to launch his charm offensive." Ukraine Isn't Having Rudy Giuliani's Biden Conspiracies: "In an interview on Thursday, Ukraine's current prosecutor general Yuriy Lutsenko distanced himself from Giuliani, and emphasized that the Ukrainian government had no plans to investigate Biden's son."
The Washington Post editorialized that, while the Biden story is clearly nonsense, there is a genuine attempt by the Trump administration to extort a political favor from Ukraine.
Bat Boy's illegal solicitation of a foreign power to interfere in the U.S. election has earned him a congressional oversight investigation. House Dems to probe Giuliani's efforts to get Ukraine to investigate Trump opponents:
House Democrats announced Monday that they will investigate the role of President Donald Trump's personal lawyer, Rudy Giuliani, in what they characterized as efforts to influence the government of Ukraine to help the Trump re-election campaign.
The chairmen of the Foreign Affairs, Intelligence and Oversight committees sent letters to the White House and State Department seeking documents in connection to what they called a scheme by Giuliani "to coerce the Ukrainian government into pursuing two politically motivated investigations under the guise of anti-corruption activity."
"As the 2020 election draws closer, President Trump and his personal attorney appear to have increased pressure on the Ukrainian government and its justice system in service of President Trump's re-election campaign, and the White House and the State Department may be abetting this scheme," Reps. Eliot Engel of New York, Adam Schiff of California and Elijah Cummings of Maryland, wrote, noting that one of the targets of this alleged activity appears to be "former Vice President Joe Biden and his family."
More importantly, this effort to coerce Ukraine into providing "dirt" on Trump's political opponents now involves state-sanctioned extortion:
The chairman cited a recent CNN report that the Trump administration is threatening to withhold security assistance to Ukraine, which they said was "only the latest in a series of actions in which President Trump appears to undermine U.S. foreign policy to placate Russia and place his personal interests above the national interest."
The House Democrats cited a July 25 call between Trump and Ukrainian President Volodymyr Zelensky, in which they said Trump apparently focused on the investigations, telling Zelensky that he is "convinced the new Ukrainian government will be able to quickly improve [the] image of Ukraine, [and] complete [the] investigation of corruption cases, which inhibited the interaction between Ukraine and the USA."
The next day, Kurt Volker, the U.S. special representative for Ukraine, was dispatched to meet with Zelensky, the Democrats say. Days later, they say, Giuliani met Andriy Yermak, an aide to Zelensky, in Spain, where the Ukrainian president's personal attorney, who has no official administration or diplomatic position, reportedly suggested a "possible heads of state meeting" between Trump and Zelensky.
The State Department subsequently acknowledged that Volker used his office to facilitate the meeting between the two, the Democrats say. Although officials say Giuliani "does not speak on behalf of the U.S. Government," Yermak "publicly stated that 'it was not clear to him whether Mr. Giuliani was representing Mr. Trump in their talks,'" the Democrats wrote.
"If the President is trying to pressure Ukraine into choosing between defending itself from Russian aggression without U.S. assistance or leveraging its judicial system to serve the ends of the Trump campaign, this would represent a staggering abuse of power, a boon to Moscow, and a betrayal of the public trust," the chairmen wrote.
"That the State Department has apparently acted as a broker between President Trump's personal attorney and Ukrainian officials raises serious concerns that the Department is complicit in a corrupt scheme that undercuts U.S. foreign policy and national security interests in favor of the President's personal agenda.
Mark Sumner adds at Daily Kos: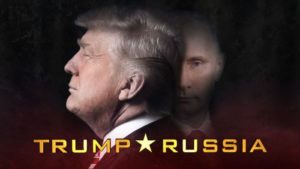 While this may just be seen as another sign of Trump's refusal to do anything that might possibly anger Russian leader Vladimir Putin, there is, almost unbelievably, and even worse reason why Trump is placing the fate of a democratic nation at risk. He is, according to sources that The Post deems reliable, attempting to extort Zelensky into framing Biden.
Even though Russia is already all-in to support Trump in 2020, just as they were in 2016, Trump apparently doesn't feel that's enough to see him through. He's directly interfering in the security of an allied nation in an attempt to force that country to involve itself in a U.S. election.
It's the kind of thing that, all on it's own, would be more than worthy of impeachment. If we still did impeachment.
* * *
In fact, the same prosecutor Giuliani was touting as his source, had looked into the Biden matter years ago and determined that the story was baseless and there was nothing to investigate.
Offering to provide Trump with some Biden bashing did not earn the prosecutor a new role. In fact, incoming president Zelensky, who had run on an anti-corruption platform, made it a point to sack the man.
Then Trump made it a point to cut off aid to an entire nation, in what seems to be an obvious effort to force President Zelensky into joining in the smear of Biden.
All of this, from beginning to end, is an incredible example of misuse of power. Exactly the sort of thing that the threat of impeachment is supposed to protect against.
Giuliani has claimed to be traveling to Ukraine openly, on the pretense that is going as "a private citizen." However, he has been briefed by, and is working with, officials in the Trump State Department to get inside information on Ukrainian officials and approaches to getting what he wants. And, of course, Giuliani is employed by Trump.
Not only has Giuliani made promises to Ukrainian officials in exchange for cooperating in framing Biden with a false story, he set up a direct phone call between Donald Trump and the prosecutor who offered to tell such a story Giuliani so Trump could express his gratitude.
When Giuliani's efforts to meet with other officials in Ukraine were cut off by the election of a new, anti-corruption government, Giuliani met with an Ukranian official in Madrid to warn that an investigation into Biden needed to be reopened.
Giuliani has also been attempting to find someone in Ukraine to say that Paul Manafort was innocent and that the investigation into Trump's campaign manager initiated in that country was done to help Hillary Clinton. To do this, Giuliani has been talking to former officials of the pro-Russian government that Manafort helped to install.
Trump suspended aid to Ukraine "for review" even though that review is already complete.
Donald Trump is directly, blatantly holding the defense of an allied nation hostage to his effort to get what he wants against Biden. Trump knows there is no real story there. Giuliani knows it very well. They don't care about the fire, smoke will do.
But in his effort to create a story that Joe Biden placed undue pressure on a U.S. ally, Trump and Giuliani are doing far worse than anything that Biden might have done in the wildest versions of their fantasies. And the whole thing does help Putin … bonus points for that.
There is more than enough in the Ukraine story to bring Giuliani up on charges of extorting and bribing foreign officials. And there's more than enough on this story alone, to justify an impeachment inquiry against Donald Trump.
One final note: It's astounding the lengths to which Trump and Giuliani are going to plant a false story against Biden when Biden is far from assured the Democratic nomination. It's almost as if they can't conceive of anyone winning but the older white man.
Nothing would bring me more satisfaction than seeing that evil sonuvabitch Rudy Giuliani convicted to prison for the rest of his life. Put him in the general population with the convicts that he sent to prison. Watch your back, Rudy.