The Trump campaign's closing argument for the last three weeks of the campaign is a "spread the pandemic tour" of rallies in swing states. The Trump death cult is quite literally trying to spread COVID-19 to as many Americans as possible in pursuit of what our "Dear Leader" called "herd mentality."
Well, his sycophant MAGA cult followers are certainly demonstrating "herd mentality" at these "spread the pandemic tour" rallies. They are like sheep being led to slaughter.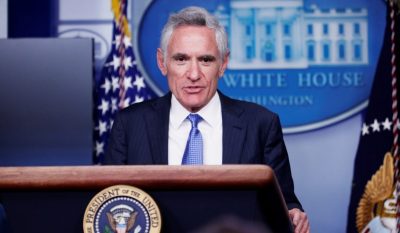 What Donald Trump meant to say was "herd immunity," promoted by his Fox News quack doctor, Dr. Scott Atlas from the Hoover Institution at Stanford, a neuroradiologist who specializes in MRI's and CT-scans. He has zero expertise in epidemiology or immunology. But he tells Donald Trump what he wants to hear. Which makes him the second most dangerous man in America right now.
This week the World Health Organization warned, Trying to reach herd immunity is 'unethical' and unprecedented:
The head of the World Health Organization said Monday that allowing the novel coronavirus to spread in an attempt to reach herd immunity was "simply unethical."
"Never in the history of public health has herd immunity been used as a strategy for responding to an outbreak, let alone a pandemic," WHO Director-General Tedros Adhanom Ghebreyesus said at a Monday media briefing. "It is scientifically and ethically problematic."
In a public health context, herd immunity typically describes a scenario in which a large enough share of the population is vaccinated against a disease to prevent it from spreading widely, thereby providing default protection to a minority of people who have not been vaccinated.
But as there is still no vaccine for the coronavirus, achieving herd immunity in the current environment would require a large number of people to contract the virus, survive covid-19, and then produce sufficient antibodies to provide long-term protection.
The scientific community has roundly rejected herd immunity the approach.
Tedros, noting that there had been "some discussion" about the concept recently, told reporters Monday that allowing people to be exposed to a deadly virus whose effects are still not fully known was "not an option."
"Most people who are infected with the virus that causes covid-19 develop an immune response within the first few weeks, but we don't know how strong or lasting that immune response is, or how it differs for different people," he said.
Though rare, there are multiple documented instances of people being infected for a second time after recovering from covid-19. An 89-year-old woman in the Netherlands died after being infected with the coronavirus for a second time, Dutch news reported Monday.
Update: A 25-year-old man in Nevada has been identified as the first person in the U.S. to get COVID-19 twice, according to a study published in the medical journal The Lancet on Monday. Nevada Man Had COVID Twice—and Second Case Was Worse: Study.
Antibody studies suggest that less than 10 percent of people in most countries have contracted covid-19, Tedros said, which is nowhere near the majority that would be needed for herd immunity.
With the "vast majority" of the world's population susceptible, letting the virus spread "means allowing unnecessary infections, suffering and death," he said.
"Fun" Fact: Using the WHO (65%) and CDC (0.65%) figures, 213 million people in the U.S. would need to be infected to achieve herd immunity, leaving 1,385,800 Americans dead.
So naturally, the Trump Death cult says "Yeah, let's do that!"
The Daily Beast reports:
The White House has reportedly embraced a declaration by a group of scientists arguing for a "herd immunity" strategy to deal with America's coronavirus pandemic—days after the validity of the declaration came under question due to a number of apparently fake names among its expert signatories … The declaration's website claims the petition has been signed by more than 15,000 scientists, but, last week, Sky News found dozens of fake names on the list of medical signatories, including Dr. I.P. Freely, Dr. Person Fakename, and Dr. Johnny Bananas.
Ha! Ha! This is like Bart Simpson making prank calls to Moe's Tavern.
The New York Times reports, White House embraces a declaration from scientists that opposes lockdowns and relies on 'herd immunity.'
The White House has embraced a declaration by a group of scientists arguing that authorities should allow the coronavirus to spread among young healthy people while protecting the elderly and the vulnerable — an approach that would rely on arriving at "herd immunity" through infections rather than a vaccine.
Many experts say "herd immunity" — the point at which a disease stops spreading because nearly everyone in a population has contracted it — is still very far-off. Leading experts have concluded, using different scientific methods, that about 85 to 90 percent of the American population is still susceptible to the coronavirus.
On a call convened Monday by the White House, two senior administration officials, both speaking anonymously because they were not authorized to give their names, cited an October 4 petition titled The Great Barrington Declaration, which argues against lockdowns and calls for a reopening of businesses and schools.
"Current lockdown policies are producing devastating effects on short and long-term public health," the declaration states, adding, "The most compassionate approach that balances the risks and benefits of reaching herd immunity, is to allow those who are at minimal risk of death to live their lives normally to build up immunity to the virus through natural infection, while better protecting those who are at highest risk. We call this Focused Protection."
The declaration has more than 9,000 signatories from all over the world, its website says, though most of the names are not public. The document grew out of a meeting hosted by the American Institute for Economic Research, a libertarian-leaning research organization.
Its lead authors include Dr. Jay Bhattacharya, an economist at Stanford University, the academic home of Dr. Scott Atlas, President Trump's science adviser. Dr. Atlas has also espoused herd immunity.
The declaration's architects include Sunetra Gupta and Gabriela Gomes, two scientists who have proposed that societies may achieve herd immunity when only 10 to 20 percent of their populations have been infected with the virus, a position most epidemiologists disagree with.
Last month, at the request of The New York Times, three epidemiological teams calculated the percentage of the country that is infected. What they found runs strongly counter to the theory being promoted in influential circles that the United States has either already achieved herd immunity or is close to doing so, and that the pandemic is all but over. That conclusion would imply that businesses, schools and restaurants could safely reopen, and that masks and other distancing measures could be abandoned.
"The idea that herd immunity will happen at 10 or 20 percent is just nonsense," said Dr. Christopher J.L. Murray, director of the University of Washington's Institute for Health Metrics and Evaluation, which produced the epidemic model frequently cited during White House news briefings as the epidemic hit hard in the spring.
The move comes amid a coronavirussuper-spreader event at the White House that has now grown to more than 20 people, as evidence mounts that the administration did little to prevent or contain the virus's spread.
The Washington Post adds, Proposal to hasten herd immunity to the coronavirus grabs White House attention but appalls top scientists:
Maverick scientists who call for allowing the coronavirus to spread freely at "natural" rates among healthy young people while keeping most aspects of the economy up and running have found an audience inside the White House and at least one state capitol.
The scientists met last week with Health and Human Services Secretary Alex Azar and Scott Atlas, a neuroradiologist who has emerged as an influential adviser to President Trump on the pandemic.
When asked for comment, HHS referred a reporter to Azar's subsequent Twitter statement about the meeting: "We heard strong reinforcement of the Trump Administration's strategy of aggressively protecting the vulnerable while opening schools and the workplace."
A senior administration official told reporters in a background briefing call Monday that the proposed strategy — which has been denounced by other infectious-disease experts and has been called "fringe" and "dangerous" by National Institutes of Health Director Francis Collins — supports what has been Trump's policy for months.
Here's some 1984 double-speak for you:
"We're not endorsing a plan. The plan is endorsing what the president's policy has been for months. The president's policy — protect the vulnerable, prevent hospital overcrowding, and open schools and businesses — and he's been very clear on that," the official said.
"Everybody knows that 200,000 people died. That's extremely serious and tragic. But on the other hand, I don't think society has to be paralyzed, and we know the harms of confining people to their homes," the official added.
Trump has long chafed at the economic damage from shutdowns imposed to control the pandemic, and has repeatedly pushed states to reopen, at one point threatening to withhold federal funding from states that did not open schools. After he contracted the virus and developed symptoms of covid-19 serious enough to require hospitalization, Trump still urged the public, "Don't be afraid of Covid."
I'm surprised the Trump death cult's "spread the pandemic tour" rallies in swing states are not playing Blue Oyster Cult's Don't Fear The Reaper as Trump's theme music when he takes the stage.
In pushing his agenda, Trump has steadily drifted away from the counsel of his own government's top doctors, such as White House coronavirus task force coordinator Deborah Birx and Anthony S. Fauci, director of the National Institute of Allergy and Infectious Diseases.
Into that void has stepped Atlas, who has relied on the maverick scientists to bolster his in-house arguments. At a recent White House news briefing, he cited them by name.
* * *
It is unclear to what extent the maverick plan has changed policies on the ground, given that Trump has not implemented a national strategy, deferring to the states, where governors, mayors and other local officials are making most of the tricky decisions about restrictions and lockdowns. But the Focused Protection idea already has found a purchase in Florida: Kulldorff, Gupta and Bhattacharya participated in late September in a virtual roundtable discussion with Florida Gov. Ron DeSantis (R).
The Great Barrington Declaration is not a scientific document. As critics readily point out, it presents no data. It has no footnotes, few specific suggestions for how to implement the societal segregation and, unlike most scientific arguments, does not discuss potential objections to the proposal.
"What I worry about with this is it's being presented as if it's a major alternative view that's held by large numbers of experts in the scientific community. That is not true," Collins, the NIH director, said in an interview.
"This is a fringe component of epidemiology. This is not mainstream science. It's dangerous. It fits into the political views of certain parts of our confused political establishment," he said. "I'm sure it will be an idea that someone can wrap themselves in as a justification for skipping wearing masks or social distancing and just doing whatever they damn well please."
Critics of Focused Protection say the idea is impractical, unethical and potentially deadly. There is no way, they say, to segregate society neatly by levels of vulnerability. Many vulnerable people live in multigenerational households. And although it is true that younger people are unlikely to die of covid-19, they can still become sick, potentially with chronic lung damage or other long-duration symptoms known as "long covid."
Allowing the virus to spread more rapidly among younger and healthier populations will increase the threat to people who are already vulnerable, noted Natalie Dean, a University of Florida biostatistics expert.
"Is the solution then that we hide away the old people until society can safely resume for them? The solution is not very appealing to the elderly," she said.
William Hanage, an epidemiologist at the Harvard T.H. Chan School of Public Health, raised the question of how younger people who are sick would be kept separate from older patients: "What do you do for the sort of younger populations who need health care themselves? Are you going to have separate hospitals for young people and older people?"
Gregg Gonsalves, an epidemiologist at the Yale School of Public Health, posted a Twitter thread Monday excoriating the Focused Protection strategy as a recipe for "carnage," writing, "Walking with these pied pipers into the arms of [the virus] because you think you're not at risk or your elders are taken care of is not a plan. It's a massacre."
This sums it up nicely: after nine months, the Trump-Pence administration still does not have a national plan to deal with the coronavirus pandemic; it is opting instead for a massacre of American lives. Let them die!
This reckless endangerment of human life is criminal negligence. These criminals need to be charged with criminally negligent homicide.