This is why Donald Trump should be removed from office TODAY. Trump and his White House minimize pandemic surge as he focuses on denying election loss. This is a total dereliction of duty.
The U.S. surpassed 100,000 daily COVID infections the day after election day, just as Dr. Anthony Fauci had predicted. We are now approaching 200,000 daily COVID infections on a near vertical spike in infection rates. U.S. Adds 184,000 Coronavirus Cases In 1 Day, With No End In Sight:
The U.S. added more than 184,000 confirmed COVID-19 cases on Friday, the fourth day in a row that the country has set a record for daily infections, according to data from the Johns Hopkins University Coronavirus Resource Center.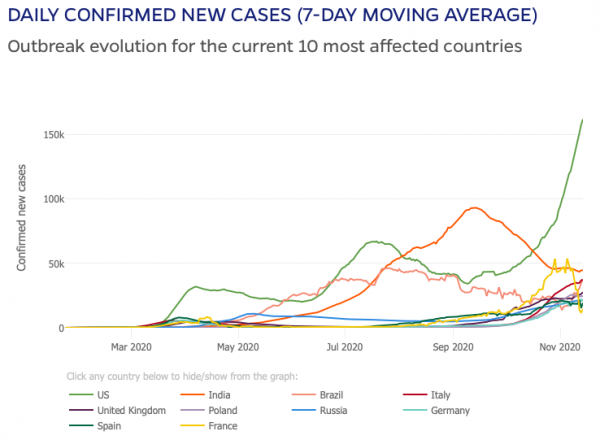 Cases in the U.S. continue to surge. For the first time, the country's seven-day moving average of new cases has surpassed 150,000.
America is also the world leader in coronavirus fatalities, with over 244,000 COVID-19 related deaths. More than 1,400 people died from the virus in the U.S. on Friday — the most deaths that day of any country.
"It's getting bad, and it's potentially going to get a lot worse," Jennifer Nuzzo, an epidemiologist and senior scholar at the Johns Hopkins Center for Health Security, told The New York Times. "The months ahead are looking quite horrifying."
Coronavirus hospitalizations are rising throughout the country, with more than 68,000 people in the hospital Friday. It's the highest number seen throughout the entire pandemic, surpassing the last peak, in July.
Facing a potentially punishing winter, several states have begun reimplementing curfews and various restrictions.
In a statement late Friday, President-elect Joe Biden expressed his alarm at the surge in infections, hospitalizations and fatalities. "This crisis demands a robust and immediate federal response which has been woefully lacking," Biden said. "I am the president-elect, but will not be president until next year. COVID-19 does not respect dates on the calendar, it is accelerating right now. Urgent action is needed today, now, by the current administration."
Richard Danzig, who served as secretary of the Navy under President Bill Clinton, James Lawler, who is an infectious disease physician and co-director of the Global Center for Health Security at the University of Nebraska Medical Center, and Thomas P. Bossert, who served as homeland security adviser under President Trump inan op-ed at the Washington Post agreed with President-elect Joe Biden, A fall coronavirus disaster is already here. We can't wait until Inauguration Day to act (excerpt):
On the present course, by Inauguration Day we can expect to see 400,000 Americans infected each day, a rate equal to that recently experienced in Belgium and the Czech Republic. Even with the lower fatality rates witnessed over the summer, such increases could result in deaths on a scale not seen since the 1918 influenza pandemic.
The United States cannot afford to repeat the slow and ill-coordinated response we saw in the spring. Delay will result in unnecessary sickness and death now and financial loss later, when the spread will inevitably trigger panic, hobble the economy and strain hospitals beyond capacity. Without course correction, over the coming months health-care workers, themselves vulnerable, will face stresses beyond any they have experienced since the pandemic began. Our ability to care for covid-19 patients will deteriorate, as will treatments for heart attacks, appendicitis, injuries and the other maladies that compete for limited hospital beds.
The key words in this dire prognosis are "on the present course." We must disrupt this momentum now. Interventions delayed until 2021 will come too late.
A key passage:
What must be urgently targeted are the conditions that are most conducive to super-spreading events — the most important force driving the epidemic wave. Multiple epidemiological studies have shown that gatherings of more than 10 persons, close contact in confined spaces, prolonged contact and contact without face masks pose the highest risk.
So what did Donald Trump and his White House do? They staged a COVID super-spreader event, a pity party in Washington, D.C. over his election defeat, laughably dubbed the "Million MAGA March" – they came up about 999,000 short – to support his false claims of election fraud.
The Washington Post reports, After thousands of Trump supporters rally in D.C., violence erupts when night falls:
President Trump's supporters had celebrated for hours on Saturday, waving their MAGA flags and blaring "God Bless the U.S.A." as they gathered in Washington to falsely claim that the election had been stolen from the man they adore.
* * *
Speakers who addressed the aggrieved legions included Alex Jones, a discredited conspiracy theorist most famous for tormenting the families of school shooting victims, and Marjorie Taylor Greene, a recently elected congresswoman from Georgia who has promoted QAnon, which falsely alleges that famous Democrats belong to a cabal of Satan-worshiping pedophiles.
GOP strategist Stuart Stevens, author of "It Was All a Lie: How the Republican Party Became Donald Trump," commented on Twitter:
Among the rallygoers were members of the Proud Boys, an extremist group known for their black-and-yellow garb and endorsements of violence. Some wore flak jackets and helmets. "Stand Back, Stand By," read several of their shirts, referencing the president's directive to them during a September debate.
As conservative speakers at Freedom Plaza derided the news media, including Fox News, the Proud Boys marched down Pennsylvania Avenue, leading hundreds in chants of "F— antifa!" and shouting down stray opponents who yelled "Black lives matter!"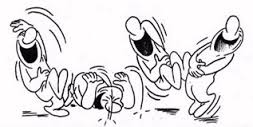 "All lives matter!" they screamed back.
"Who's antifa?" one Trump supporter wondered.
"I don't know," another responded. "But they don't like her!"
Marching with them was D.C. resident Justin Anthony, who waved a satirical sign that read, "Sue anyone who did not vote for this great American."
He led chants to the tune of "Count only Trump votes" and danced around in a large mock police uniform with the name "Officer Pudge" on its badge.
Almost no one got it, he said. They joined in, asked for pictures, cheered.
"It's crazy," he said. "Like, they really don't see how insane this is."
* * *
The daytime demonstrations were urged on by Trump, who refuses to concede to Joe Biden or allow a formal transition to begin. On Saturday morning, as the president's devotees remained in D.C. to fight for him, he headed to Trump National Golf Club in the Virginia suburbs for a round.
The crowd reveled in a personal visit from Trump, who passed by in his motorcade, smiling and waving.
"He drove right past me. I saw him. He waved right past me," one man said as he tried to collect himself.
"OMG! OMG! I think I peed myself just a little. I'm so excited!"
But that was before the people who oppose their hero showed up and the mood shifted, growing angrier as 300 or so counterprotesters delivered a message the president's most ardent backers were unwilling to hear: The election is over. Trump lost.
* * *
[T]he appearance of counterprotesters sparked bursts of conflict, though they could have become far more violent had police not worked to keep the feuding sides separate. When a small group holding bright orange "Refuse Fascism" posters arrived at the edge of Freedom Plaza, they were almost immediately surrounded by Trump fans shouting "U.S.A.! U.S.A.!" into their faces.
Millions of Americans fought in World War II and more than 400,000 died in a war to free the world from fascism. You people disgust me.
The women leading the tiny march fought their way up 14th Street, repeatedly breaking out of the crowd, only to be engulfed again.
"Trump, pack your s—! You're illegitimate!" they yelled into their megaphone.
One pro-Trump man attempted to gouge the opposition with a flag bearing the president's name. Another grabbed a woman's neon orange poster and hit her with it.
When the women made it to the barrier set up by police across the street, Trump supporters filled the entire intersection, blocking them. Police arrived on bikes and, after several minutes, moved the crowd back. Shortly after, the group began singing the national anthem.
Nearby, on the street beside inscriptions from Abraham Lincoln recognizing the District as a place of freedom, people piled atop a U-Haul truck with a flag of a gun and the words "Come and take it."
* * *
On stark display in the nation's capital were two irreconcilable versions of America, each refusing to accept what the other considered to be undeniable fact.
While much of the day unfolded peacefully, brief but intense clashes erupted throughout. Activists spewed profanity and shouted threats, threw punches and launched bottles. On both sides, people were bloodied, and at least 20 were arrested, including four whose allegiances remain unknown on gun charges. The chaos also left two officers injured.
This is what happens when white nationalists hold a pity party in a predominantly African-American city: they came looking to incite conflict, and they got what they came looking for. Congratulations, assholes.
A Fox News anchor briefly paused mid-segment on Saturday after a sign carried by a demonstrator at the so-called "Million MAGA March" in Washington, D.C. appeared on the screen bearing a racist threat. Fox Anchor Pauses Mid-Segment Over 'Very Disturbing' Sign at MAGA Rally: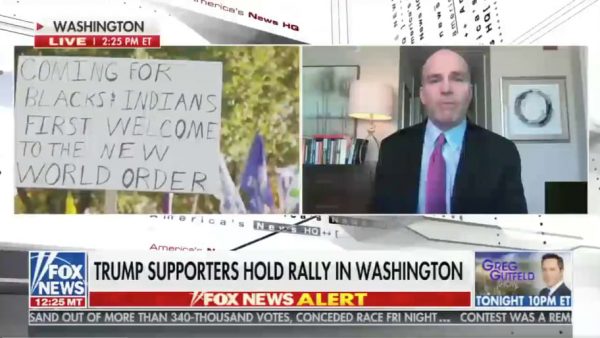 Fox anchor Eric Shawn broke from his conversation with a Republican strategist to say, "We've just seen a very disturbing sign. It said, 'Coming for Blacks and Indians first welcome to the New World Order.' Who the hell knows, you know, what people have and what they say on these things?" The march, intended to show support for President Donald Trump and his false claims that he won the presidential election, drew a significantly smaller crowd than a million people, with attendees numbering in the thousands.
The Post continues:
At 8 p.m., violence broke out five blocks east of the White House between the president's supporters, who wielded batons, and his black-clad detractors, many of whom had participated in racial justice rallies throughout the summer. As the groups approached the same intersection, they charged each other, brawling for several minutes before police arrived and cleared the area.
In the melee, a D.C. fire official said, a man in his 20s was stabbed in the back and taken to the hospital with serious injuries.
Hours later, with midnight approaching, a group of marchers unfurled a massive "TRUMP LAW AND ORDER" banner and laid it atop Black Lives Matter Plaza. Afterward, they carried it as close as they could get to a White House barricaded behind rows of high steel fencing.
And Donald Trump, the super-spreader-in-chief and leader of the Trump death cult, could not have been more pleased with his cult followers:
After a week in which more than 750,000 Americans were diagnosed with the novel coronavirus, almost none of his backers wore masks. Among their ranks were white nationalists, conspiracy theorists and far-right activists carrying signs demanding action that was already being taken: "Count the legal votes."
They will be among the 400,000 daily COVID infections coming over the coming weeks, and many of them will die.
The Trump White House continued to feed the delusions of Trump's cult followers:
On a day when the president's supporters touted a vast array of falsehoods, his spokeswoman, Kayleigh McEnany, offered perhaps the most ludicrous.
"More than one MILLION marchers for President @realDonaldTrump descend on the swamp in support," she tweeted, vastly exaggerating the crowd size.
Hours before the official rally began, the Trump believers had started gathering Saturday morning at Freedom Plaza.
"They think we're stupid," a young White man with a microphone told the crowd. "They're underestimating The Donald. They're underestimating The Donald's supporters."
"They're stupid!" a young White woman replied.
"Officer Pudge" proved you all wrong.
It's like this country is living in some bizarro-world episode of the Twilight Zone that just cannot end soon enough.