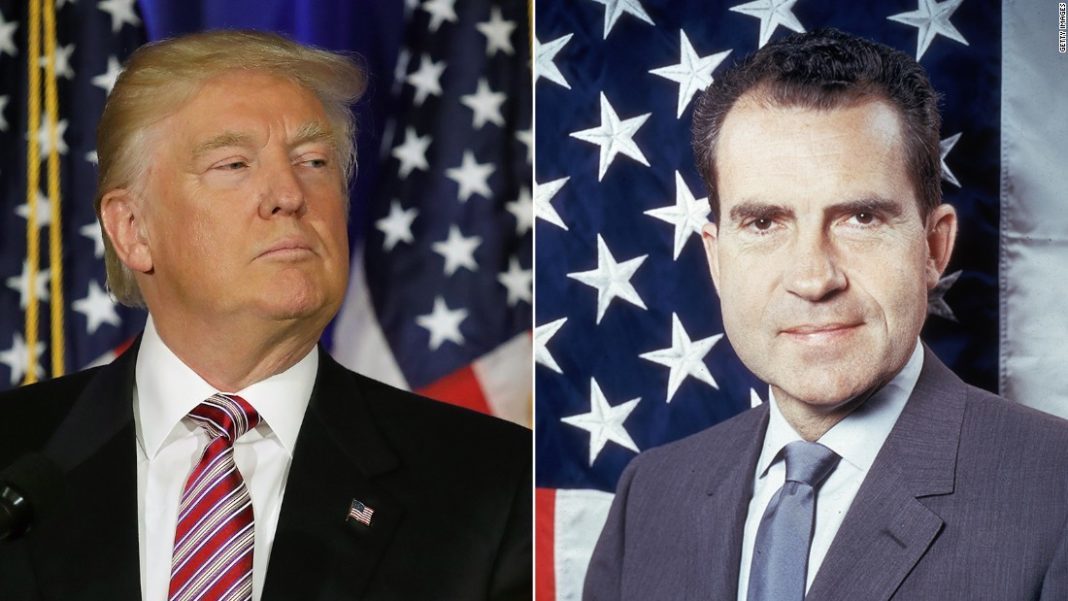 Monday was the deadline for some 81 individuals and organizations to comply with a request for documents from the House Judiciary Committee. Rep. Jerrold Nadler (D-NY), the Judiciary Committee chairman says he has received tens of thousands of documents in Trump investigation:
Judiciary Committee Chairman Jerrold Nadler (D-N.Y.) said in a statement that he was encouraged by the responses he has received in his investigation into whether Trump abused his power, obstructed justice or engaged in public corruption.
"I am encouraged by the responses we have received since sending these initial letters two weeks ago," Nadler said. "It is my hope that we will receive cooperation from the remainder of the list, and will be working to find an appropriate accommodation with any individual who may be reluctant to cooperate with our investigation."
House Judiciary investigators remain in contact with some of the individuals who said they would only comply with the document requests if the committee issues a subpoena. Last week, Nadler referred to such actions as "friendly subpoenas." He also said his staff had already heard from some who were "defiant" and would refuse to comply.
The committee said "many" of the individuals and entities who received letters from the panel earlier this month "have either sent or agreed to send documents" — which "already number in the tens of thousands."
Most of the documents the committee asked for have already been turned over to special counsel Robert Mueller and to federal prosecutors in the U.S. Attorney's Office for the Southern District of New York, both of which are investigating similar allegations involving the president and his associates.
[I]n an appearance on MSNBC's Rachel Maddow, Nadler said Stephen Bannon, a former Trump campaign adviser and White House strategist, turned over "a few thousand" documents to the committee.
One entity in glaringly refusing to comply with the request for documents: the Trump White House. POLITICO reports, Trump officials prepared to stonewall Democratic oversight demands:
In their early response to an onslaught of Democratic requests, Trump officials are breaking from norms set by previous administrations of both parties, according to people who worked in the White House or Capitol Hill during the presidencies of Bill Clinton, George W. Bush and Barack Obama.
Over the last two months, Trump's intent has become clear: He doesn't plan to negotiate with Congress over their demands for information and witnesses the way his predecessors did. Instead, House Democrats are going to have to fight him for everything.
UPDATE: Elijah E. Cummings, chairman of the House Committee on Oversight and Government Reform, writes in an op-ed, The White House hasn't turned over a single piece of paper to my committee.
Not even Richard "Stonewall" Nixon was this openly contemptuous and defiant of Congress and the courts. When his legal options were exhausted, Nixon eventually complied. But the Trump crime family more closely resembles the mafia. They have no intentions of ever complying.
                   DOONESBURY
The famous Doonesbury "stonewall" comic strip.
POLITICO contacted the 17 House committees that unsuccessfully requested records or witnesses from the Trump administration over the last two months. In most cases involving the White House itself, as opposed to agencies and departments, the request was ignored altogether. In at least one instance, White House Counsel Pat Cipollone responded with an aggressive letter questioning the committee's authority to even ask for information.
Another deadline came and went on Monday. The White House ignored Nadler's latest request for a slew of documents about fired administration officials, Russian nationals and Trump businesses, according to a person familiar with the situation. The White House and Committee declined to comment.
As a result — despite high hopes among Democrats that they would quickly be in possession of troves of internal Trump administration documents, and grilling a succession of administration witnesses — a long and frustrating fight with Trump lawyers lies ahead, a fight that could end up in court. Splashy demands of the White House made in the early days of the new House Democratic majority, could take many months, possibly stretching well into 2020, to produce results.
Democrats are already furious over what they call the brazen stonewalling. But David Bossie (of Citizens United fame), a Trump confidant and adviser who served as the House GOP's lead investigator into the Clinton White House in the 1990s, predicted that Trump officials will face no serious legal consequences for ignoring the requests — and said they are justified in doing so because Democrats are waging what they call nakedly partisan inquiries.
Remember, like Richard Nixon before him, Donald Trump campaigned on a theme of "law and order" — for everyone else it seems, except him and his crime family.
"The White House is taking the exact right tactic to ignore the requests and see what comes of it," Bossie said. "I wouldn't respect [the Democrats'] process."
"The White House and the executive branch generally has been stonewalling the Judiciary Committee…" Nadler told MSNBC Monday night. "They've been doing everything they can to have witnesses say 'I won't talk to you about conversations with the president, I won't talk to you about this, I won't talk to you about that,' without asserting executive privilege. And they have no right to do that."
One would expect this evil GOP bastard to say exactly that.
Trump White House lawyers expect to have an opportunity to review whatever version of Robert Mueller's report Attorney General Bill Barr submits to Congress before it reaches lawmakers and the public.
Remember, Donald Trump (and likely his family members) are likely "targets" of the Mueller probe. This is the equivalent of saying that a criminal defendant has the right to review the prosecutor's proposed indictment before it is filed against him to redact anything with which he disagrees. This is simply not how our criminal justice system works.
CNN reports, White House expects to see Mueller findings before they go to Congress:
The attorneys want the White House to have an opportunity to claim executive privilege over information drawn from documents and interviews with White House officials, the sources said.
The White House's review of executive privilege claims are within its legal purview, but could set up a political battle over the perception President Donald Trump is trying to shield certain information from the public about an investigation that has swirled around him since the first day of his presidency.
Justice Department lawyers could advise him against certain assertions if they don't feel it's legally defensible. If Trump does assert executive privilege, the decision could be litigated in court if it's challenged, which Democrats would almost certainly do.
* * *
A source close to the President's legal team said the White House allowed interviews with White House officials with the understanding that claims of executive privilege could later be raised. The White House produced more than a million documents to the special counsel's office, but not all of that material would be subject to executive privilege, nor would documents from the campaign.
"The White House shouldn't advise the attorney general on what it should share and not share. That's up the attorney general and he's independent on this one," said Mark Tuohey, a former prosecutor who has been involved in past special counsel investigations.
"The report by the special counsel, which could be the subject of a summary by the AG, focuses on potential conduct of the President of the United States and his aides and staff. That is not a matter to be discussed with the White House before the matter is sent to Congress," he said.
But Tuohey said it would be appropriate for the Justice Department to give the White House counsel's office the opportunity to weigh in on specific pieces of information that could be subject to executive privilege protections.
Roll Call reports, Rep. Nadler: White House can't claim executive privilege on Mueller report:
The top House Democrat in the impending fight between the executive branch and Congress over the release of special counsel Robert S. Mueller's report to the public indicated Tuesday that he will strongly oppose White House lawyers' efforts to redact some information.
House Judiciary Committee Chairman Jerrold Nadler claimed Tuesday that the Trump administration waived any claims of executive privilege over Mueller's eventual findings "long ago" when it agreed to cooperate with the probe.
White House lawyers have reportedly indicated they expect to review Mueller's report and request redactions based on claims of executive privilege for conversations between President Donald Trump and his advisers. The administration would have to prove that those conversations needed to be withheld because of sensitive content like national security. It wouldn't cover any aspects of the 2016 campaign.
Nadler pushed back on the White House's notion in a Twitter thread Tuesday.
"There is no provision in the regulations for White House review, and it would be unacceptable for President Trump — the subject, if not the target of the Special Counsel's work — to edit the report before it goes public," Nadler tweeted.
* * *
Congress' crusade for the public release of Mueller's full report — whenever he decides to issue it — could enter a drawn-out legal phase if Trump's White House lawyers assert sweeping executive privilege.
The House unanimously passed a resolution last week calling for Attorney General William Barr to deliver Mueller's full report to the House so that the chamber can publish it.
Nadler and his Democratic colleagues on the Senate Judiciary Committee have repeatedly said that they will subpoena the full Mueller report if Barr only provides a summary.
"If necessary, our committee will subpoena the report. If necessary, we'll get Mueller to testify," Nadler told CNN in January. "The American people need the information here."
If Barr denies lawmakers' request to publicize the report and resists any subsequent subpoenas, that could set up a drawn-out court battle between Congress and the executive branch over the document's disclosure.
The House committees investigating the Trump crime family will eventually uncover the evidence and provide the transparency the American public deserves, just as the Watergate Committee did. "Sunlight is said to be the best of disinfectants" — Justice Louis D. Brandeis.
The somewhat less famous Doonesbury "sunshine" comic strip.