Back in 2015 I warned you about The Hunting of The President: The Sequel (excerpt):
History is about to repeat itself. POLITICO Tiger Beat on the Potomac reports today New York Times, Washington Post, Fox News strike deals for anti-Clinton research:
The New York Times, The Washington Post and Fox News have made exclusive agreements with a conservative author for early access to his opposition research on Hillary Clinton, a move that has confounded members of the Clinton campaign and some reporters, the On Media blog has confirmed.
"Clinton Cash: The Untold Story of How and Why Foreign Governments and Businesses Helped Make Bill and Hillary Rich" will debut on May 5. But the Times, the Post and Fox have already made arrangements with author Peter Schweizer to pursue some of the material included in his book, which seeks to draw connections between Clinton Foundation donations and speaking fees and Hillary Clinton's actions as secretary of state. Schweizer is the president of the Government Accountability Institute, a conservative research group, [and senior editor-at-large at Breitbart News], and previously served as an adviser to Republican vice presidential nominee Sarah Palin.
Fox News' use of Schweizer's book has surprised no one. The bulk of the network's programming is conservative, and the book's publisher, HarperCollins, is owned by News Corporation. But the Times and Post's decision to partner with a partisan researcher has raised a few eyebrows. Some Times reporters view the agreement as unusual, sources there said. Still others defended the agreement, noting that it was no different from using a campaign's opposition research to inform one's reporting — so long as that research is fact-checked and vetted. A spokesperson for the Times did not provide comment by press time.
In an article about the book on Monday, the Times said "Clinton Cash" was "potentially more unsettling" than other conservative books about Clinton "both because of its focused reporting and because major news organizations including The Times, The Washington Post and Fox News have exclusive agreements with the author to pursue the story lines found in the book."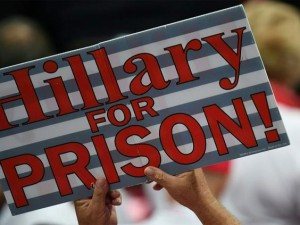 The Trump campaign relentlessly harped on the "Clinton Foundation" and "Uranium One" reporting by Peter Schweizer to accuse Hillary Clinton of criminal misconduct and profiting from her time in office. It was the foundation for the "crooked Hillary" and "lock her up" chants at Trump rallies, and Trump's repeated threats that he would have a special prosecutor investigate Hillary Clinton and to jail her.
While the conservative media entertainment complex, amplified by Russian trolls and bots, daily pushed this message, the so-called gatekeepers of the mainstream media, the Washington Post and in particular the New York Times, more than did their part to amplify this right-wing smear campaign from Peter Schweitzer against Hillary Clinton.
There can be no doubt that the mainstreaming of this smear campaign with the imprimatur of the Times and Post had a substantial negative impact upon voters and influenced just enough voters to give Donald Trump an Electoral College win. The Election Came Down to 77,744 Votes in Pennsylvania, Wisconsin, and Michigan.
Trump followed up on his threats against Clinton. His Attorney General Jeff Sessions "directed senior federal prosecutors to evaluate certain issues" the (Republican controlled) House Judiciary Committee raised, which included Clinton's role in approving the sale of Uranium One, and alleged illegal Clinton foundation dealings.
The investigation was conducted by U.S. Attorney John Huber. The Washington Post reports today, Justice Dept. winds down Clinton-related inquiry once championed by Trump. It found nothing of consequence.
A Justice Department inquiry launched more than two years ago to mollify conservatives clamoring for more investigations of Hillary Clinton has effectively ended with no tangible results, and current and former law enforcement officials said they never expected the effort to produce much of anything.
John Huber, the U.S. attorney in Utah, was tapped in November 2017 by then-Attorney General Jeff Sessions to look into concerns raised by President Trump and his allies in Congress that the FBI had not fully pursued cases of possible corruption at the Clinton Foundation and during Clinton's time as secretary of state, when the U.S. government decided not to block the sale of a company called Uranium One.
As a part of his review, Huber examined documents and conferred with federal law enforcement officials in Little Rock who were handling a meandering probe into the Clinton Foundation, people familiar with the matter said. Current and former officials said that Huber has largely finished and found nothing worth pursuing — though the assignment has not formally ended and no official notice has been sent to the Justice Department or to lawmakers, these people said.
The effective conclusion of his investigation, with no criminal charges or other known impacts, is likely to roil [conspiracy theorists] in the GOP who had hoped the prosecutor would vindicate their long-held suspicions about a political rival. Trump, though, has largely shifted his focus to a different federal prosecutor tapped to do a separate, special investigation: U.S. attorney in Connecticut John Durham, who Attorney General William P. Barr assigned last year to explore the origins of the FBI's 2016 probe into possible coordination between the Trump campaign and Russia [i.e., to "investigate the investigators" in retaliation].
That FBI investigation was being supervised by special counsel Robert S. Mueller III in late 2017, when Trump and his supporters were pressuring senior law enforcement officials to appoint a second special counsel to pursue Clinton.
"Everybody is asking why the Justice Department (and FBI) isn't looking into all of the dishonesty going on with Crooked Hillary and the Dems," the president tweeted at the time.
Sessions did not appoint a second special counsel, but weeks later sent a letter to Huber telling him to "review" a wide array of issues related to Clinton. They included the Clinton Foundation and Uranium One matters, along with the FBI's handling of the investigation into Hillary Clinton's use of a private email server while she was secretary of state and alleged leaks by former FBI director James B. Comey. At the time, Sessions was facing persistent public and private criticism from Trump, who was upset over his recusal from the Russia probe.
"Your recommendations should include whether any matters not currently under investigation warrants the opening of an investigation, whether any matters currently under investigation require further resources or further investigation, and whether any matters would merit the appointment of a Special Counsel," Sessions wrote.
Conservative lawmakers, particularly then-Rep. Bob Goodlatte (R-Va.), who was chairman of the House Judiciary Committee, and members of the Freedom Caucus, were initially encouraged by Huber's assignment, seeing it as a sign that Clinton faced new legal jeopardy. Huber was a prosecutor with bipartisan credentials — having been named the U.S. attorney first by President Barack Obama before he was retained in the Trump administration.
But from the start, senior officials inside the Justice Department viewed Huber's task as unlikely to lead to anything of significance beyond appeasing those angry lawmakers and the president.
"We didn't expect much of it, and neither did he," said one person familiar with the matter, who like others spoke on the condition of anonymity because of persistent political sensitivities connected to the 2016 election. "And as time went on, a lot of people just forgot about it."
A spokesman for Sessions declined to comment.
Clinton and her family have been subjected to significant law enforcement and other scrutiny over the years — though the various probes have mostly delivered reputational blows, rather than legal ones. When she ran against Trump in 2016, the FBI investigated her use of a private email server to determine whether she had mishandled classified information when she was secretary of state. Officials ultimately determined the case should be closed without charges. The State Department more recently concluded a multiyear probe of its own into the matter, and concluded there was no systemic or deliberate mishandling of classified information by employees.
The Clinton family foundation has separately faced investigation over the years on vague corruption allegations, though so far those probes have not produced any charges.
* * *
By the time Mueller filed his lengthy report last spring, Huber's work was largely done, these people said.
When Trump pushed Sessions out of the Justice Department in November 2018, Matthew G. Whitaker became acting attorney general. Whitaker, according to people familiar with the conversations, tried to push Huber to be more aggressive in his work, but Huber felt he had looked at everything he could and that there was not much more to do, these people said. Whitaker did not respond to messages seeking comment.
After Barr was confirmed as attorney general early last year, the department had still said nothing publicly about the result of Huber's work, focusing instead on releasing Mueller's findings.
Barr, who served as attorney general during the George H.W. Bush administration as well, was among the conservative voices in Washington who had previously suggested there was possible criminal wrongdoing in the Uranium One matter, though he tempered those comments during his confirmation.
The New York Times and Washington Post need to come clean about their "exclusive agreement" with Peter Schweitzer, a known conspiracy theorist who was editor-at-large for the right-wing Breitbart News, the same organization cofounded by Steve Bannon, who was chief executive officer of Trump's 2016 presidential campaign, and later was appointed Chief Strategist in the Trump administration.
For all the incessant whining the conservative media entertainment complex does about the "oppo research" of the Steele Dossier on Donald Trump, the use of Schweitzer's "oppo research" in "Clinton Cash: The Untold Story of How and Why Foreign Governments and Businesses Helped Make Bill and Hillary Rich" by the mainstream media in its reporting had actual consequences on the outcome of the 2016 election.
Brent Budowsky wrote back in 2015 that 'Clinton Cash' author owes Hillary Clinton an apology. This partisan attack dog is never going to apologize.
But the so-called gatekeepers of the mainstream media, the New York Times and Washington Post need to come clean and apologize to Hillary Clinton and to the American people for their "exclusive agreement" to promote the lies of Peter Schweitzer to smear Hillary Clinton. They, more than anyone else, are responsible for the nightmare of the presidency of Donald Trump.
Has the media learned anything from this? Will the media repeat its gross lack of professionalism again in 2020? And will anyone ever be held accountable?