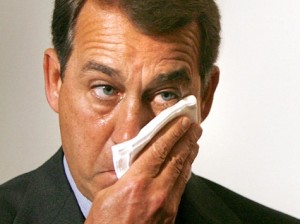 The mutineers of the GOP House Freedom Caucus have forced their captain to walk the plank — the TanMan, Weeper of the House John Boehner, announced this morning that he will resign his speakership and his House seat effective October 30. "The hell with this, I'm going golfing." Every golf retirement resort in Florida and Alabama have already mailed him a brochure by now.
We won't have the "Worst. Speaker. Ever." to kick around any more.
The Hill reports, Boehner to resign in October:
Speaker John Boehner told GOP lawmakers on Friday he will resign at the end of October.
The embattled Boehner (R-Ohio) said he would resign from both his speakership and his House seat, he told GOP lawmakers at a closed-door conference.
"Speaker Boehner believes that the first job of any Speaker is to protect this institution and, as we saw yesterday with the Holy Father, it is the one thing that unites and inspires us all," a Boehner aide said.
The aide said Boehner had only been planning to serve through the end of last year, but decided to stay on after then-House Majority Leader Eric Cantor (R-Va.) suffered a stunning primary loss.
"The Speaker believes putting members through prolonged leadership turmoil would do irreparable damage to the institution," the aide said.
* * *
Boehner's decision comes as Congress struggles to find a way to fund the government.
Boehner's leadership has become a part of that struggle. Conservatives unhappy with his rule have repeatedly threatened to seek to unseat him.
They've specifically suggested that they will be watching his steps on a government-funding plan, and they've demanded that he take action to halt federal funds for Planned Parenthood as part of a measure to keep the government open.
GOP leaders in both the House and the Senate have criticized that strategy, saying it could lead to a shutdown that would hurt Republicans in the 2016 elections.
* * *
Rep. John Mica (R-Fla.) emerged from the private House meeting to say that members were "stunned" when Boehner announced his decision.
"Everybody's still in sort of a state of shock," he said.
According to Mica, Boehner told members that he thought opposition to his role as Speaker was becoming a distraction from broader policy debates.
"He just does not want to become the issue," said Mica. "Some people have tried to make him the issue, both in Congress and outside.
This is going to set off a clusterfuck of Tea-Publicans jockeying to become the Speaker in the next month, and possibly seeking to replace other House GOP leadership as well.