The lapdogs for the Plutocracy over at FAUX News, in particular Bill O'Rielly, will have their heads explode over these news items.
CNBC, the fluffers for the banksters of Wall Street, conducted a "millionaire's survey" which produced a somewhat surprising result (there are millionaires with a moral conscience out there, they are just not the billionaire bastard Koch brothers and their ilk).  CNBC survey shows millionaires want higher taxes to fix inequality:
CNBC's first-ever Millionaire Survey reveals that 51 percent of American millionaires believe inequality is a "major problem" for the U.S., and of those, nearly two-thirds support higher taxes on the wealthy and a higher minimum wage as ways to narrow the wealth gap.
The findings show that—far from being a purely self-interested voting bloc—American millionaires have complicated views when it comes to the wealth gap and opportunity in America.
* * *
The CNBC Millionaire Survey polled 514 people with investable assets of $1 million or more, which represents the top 8 percent of American households. The respondents came from around the country and were split between Democrats, Republicans and Independents.
The online survey was conducted in March by Spectrem Group on behalf of CNBC. The overall margin of error was 4.3 percentage points.
* * *
Despite being winners in the new economy, U.S. millionaires view inequality as a problem. More than half of millionaires and multimillionaires agreed that "inequality of wealth in our nation is a major problem."
When asked about the reasons for inequality, most (78 percent) said the wealthy have greater access to education. Two-thirds cited that the "lack of financial literacy" prevents poor households from making better financial decisions.
* * *
The best way to reduce inequality, millionaires say, is through improved education. Fully 83 percent supported an increase in educational opportunities for the less wealthy. An equal number (64 percent) supported better savings incentives for the less wealthy and higher taxes for the wealthy.
Perhaps surprisingly, a majority (63 percent) also support a minimum wage. Only 13 percent supported reducing unemployment benefits to encourage more work as a solution to inequality. [They all work for FAUX News and CNBC]
A millionaire's view on inequality and taxes, however, seems to depend more on their politics than their wealth. Eighty-six percent of Democratic millionaires said inequality is a problem, compared with only 20 percent of Republicans.
* * *
Democratic millionaires are far more supportive of taxing the rich and raising the minimum wage. Among those who say inequality is a problem, 78 percent of Democrats support higher taxes on the wealthy, and 77 percent back a higher minimum wage. That compares with 31 percent and 38 percent, respectively, for Republicans.
* * *
The bottom line: American millionaires, in general, agree that inequality is a problem. But when it comes to solutions, millionaires are just as split along political lines as the rest of the country.
 And then there is this from the Pope in Rome — Francis takes seriously the teachings of Jesus Christ to minister to the poor. Rush Limbaugh will be turning purple and bloviating about how the Pope is a Marxist Communist again. Pope: The Bible Demands The Redistribution Of Wealth: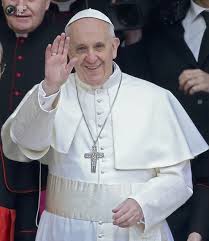 Pope Francis called for "the legitimate redistribution of economic benefits" on Friday, arguing that the Bible demands an economic system that cares for the "poorest and those most excluded."
Francis made the comments while speaking before a gathering of several United Nations agency leaders, including U.N. Secretary-General Ban Ki-moon. As he reflected on the U.N.'s target for Future Sustainable Development Goals, the first Latin American pope asked those present to resist participating in an "economy of exclusion" and to strive to have "a real impact on the structural causes of poverty and hunger."
"In the case of global political and economic organization, much more needs to be achieved, since an important part of humanity does not share in the benefits of progress and is in fact relegated to the status of second-class citizens," Francis said.
Francis grounded his argument in biblical the story of Zacchaeus, a rich (and likely corrupt) tax collector who dramatically altered his economic behavior after encountering Jesus Christ. According to Luke 19:1-10, Zacchaeus was overcome by Jesus' kindness, prompting the wealthy man to publicly proclaim that he would give half his possessions to the poor and pay back anyone he defrauded four times over.
"…Zacchaeus made a radical decision of sharing and justice, because his conscience had been awakened by the gaze of Jesus," Francis said of the story. "This same spirit should be at the beginning and end of all political and economic activity."
The Zacchaeus story is but one of many instances where the Bible demands for the redistribution of resources to those in need. In Matthew 19:21, Jesus tells a young man "If you wish to be perfect, go, sell your possessions, and give the money to the poor, and you will have treasure in heaven," and in Luke 3:10-11, he proclaims to an assembled crowd "Whoever has two coats must share with anyone who has none; and whoever has food must do likewise." In addition, one of Jesus' most famous miracles is a the "feeding of the multitude," or where he and his disciples manage to feed five thousand hungry people with five loaves of bread and two fish.
Francis' words speak directly to growing concern over economic inequality. In the United States alone, the richest 1 percent of the population—a group which controls about 40 percent of the country's wealth and owns about half of all stocks, bonds, and mutual funds—saw their income grow by 86.1 percent between 1993 and 2012. In that same time period, the incomes of the rest of the country—the bottom 50 percent of which own only .5 percent of investments—grew just 6.6 percent. This sort of wealth disparity is also a global problem: according to a recent study by Oxfam, 85 richest people on the planet are worth nearly as much as the poorest 50 percent of the world's population.
Pope Francis has made moral economics and concern for the poor the chief focus of his ministry since he ascended to the papacy in March 2013.