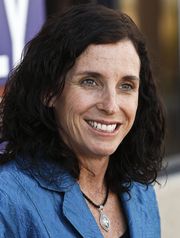 The 2014 midterm election for Congress in Arizona's CD 2 was one of the closest contested races in the country, won by challenger Martha McSally (R) over incumbent Ron Barber (D) after an automatic recount by just 167 votes.
McSally was aided by a midterm election turnout that was the lowest voter turnout in Arizona since 1998, and 1942 previously.
Larry Sabato's Crystal Ball recently rated Arizona's CD 2 a "tossup" again in 2016. House 2016: Is It Possible for Republicans to Kick Away Their Majority?
Campaigns are increasingly about who can raise the most money, i.e., the "money primary." The media villagers love the money primary, it gives them the chance to equate a candidate's ability to raise money with popular support and likely voters. (There are numerous examples where this rational has not held true).
The 2014 midterm election for Congress in Arizona's CD 2 was an expensive race. According to OpenSecrets.org, here is what was raised and spent in CD 2 in 2014:
Two Democratic challengers have announced that they are running for Congress in CD 2: current state Rep. Victoria Steele (LD 9), and former state Rep. Doctor Matt Heinz. The Democratic challengers have only one quarter of fundraising to report, and their third quarter report was posted at FEC.gov on Thursday.
Doctor Matt Heinz has $174, 967 cash on hand, and Rep. Victoria Steele has a paltry $32,450 cash on hand. This pales by comparison to Rep. McSally, who never stopped raising money after last November's election. She has $1,668,531 cash on hand.  Of course, The FEC has some questions for Martha McSally about her actual fundraising totals. Her campaign engages in GOP "fuzzy math."
There are only four quarters of fundraising remaining between October 1, 2015 and October 1, 2016, just weeks before the early ballots will drop. Every election is more expensive than the last, but using the 2014 election as a baseline metric, the Democratic challengers would have to raise $1.1 million in each of the next four quarters to match Martha McSally's spending in 2014 to be competitive. To describe the anemic fundraising numbers for the Democratic challengers in their third quarter reports as a disappointment is really an understatement.
Martha McSally will have more money available to her in 2016 as part of the RNC's incumbent protection program (supplemented by an unlimited amount of Super PAC and independent "dark money"). If a Democrat wants to be competitive, they are going to have to do way better than what Democrats have done so far.
I previously posted about a joint meeting of LD 9 and LD 10 Democrats at which Assistant House Minority Leader Rep. Bruce Wheeler (D-LD 10) announced, with Rep. Victoria Steele seated in the back of the room, that "If I do not like the way I see things going by December, I might jump back in this race" for Congress. I cannot imagine that Rep. Wheeler likes what he sees in these third quarter reporting numbers.
December would mean one less quarter of fundraising for Rep. Wheeler. He is going to need one helluva donor list to raise the big bucks he would need to raise in a short period of time to be competitive. That must be one magic donor list he has if he thinks he can raise $4.5 million plus in just three quarters.