The Manhattan district attorney's office is considering pursuing criminal charges against the Trump Organization and two senior company officials in connection with Michael D. Cohen's hush money payment to an adult film actress, according to two officials with knowledge of the matter. Trump Organization Could Face Criminal Charges From Manhattan D.A.: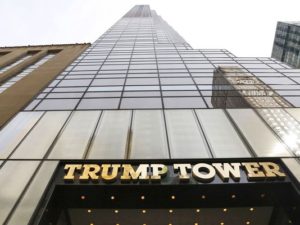 A state investigation would center on how the company accounted for its reimbursement to Mr. Cohen for the $130,000 he paid to the actress, Stephanie Clifford, who has said she had an affair with President Trump, the officials said.
Both officials stressed that the office's review of the matter is in its earliest stages and prosecutors have not yet made a decision on whether to proceed.
* * *
As the district attorney, Cyrus R. Vance Jr., considers opening an investigation, the New York State attorney general's office has moved to open a criminal investigation into whether Mr. Cohen has violated state tax law, an inquiry that would be unrelated to the federal tax evasion charges that he pleaded guilty to on Tuesday, according to a person with knowledge of the state matter.
If Mr. Vance decides to proceed, it would not be the first time he investigated members of the Trump family. He was faulted for not pursuing charges against Ivanka Trump and Donald Trump Jr., who were under criminal investigation in 2012 over allegations that they misled buyers interested in the Trump SoHo condominium project.
The attorney general, Barbara D. Underwood, in recent days sought a referral from the state Department of Taxation and Finance, which is needed to conduct such an inquiry and to prosecute any violations of state tax law it might uncover, the person said. Such requests are seldom denied. The state's double jeopardy laws do not apply to tax crimes.
One of the officials stressed that a state investigation into possible violations of state law could be complicated or delayed by three other open inquiries relating to Mr. Trump: The federal investigation into Mr. Cohen; the inquiry by the special counsel, Robert S. Mueller III, into Russia's interference in the 2016 election; and a lawsuit that the state attorney general has brought against the Trump Foundation, a charity. Attorney General Underwood Announces Lawsuit Against Donald J. Trump Foundation And Its Board Of Directors For Extensive And Persistent Violations Of State And Federal Law.
The presidential pardon power is only for federal crimes. So Donald Trump cannot obstruct these state court proceedings.
Kerry Eleveld at Daily Kos sums up, It's not just Trump who's implicated, it's his kids too:
Here's two developments to keep your eye on—one stemming from Michael Cohen's guilty plea and the other from a new subpoena of Cohen related to a civil lawsuit already filed by New York Attorney General Barbara Underwood.
First, Trump Organization and the people charged with running it in Trump's absence—Don Jr. and Eric Trump—are now tied to making faulty payments to reimburse Cohen for the hush-money deal he made with Stormy Daniels and some mystery payment of $50,000 for "tech services." Trump Org paid Cohen $420,000 in total. But here's where it gets interesting: the court documents filed by prosecutors Tuesday in the Southern District of New York refer to how "Executive-1" and "Executive-2" handled the first invoice received by Cohen around mid-February 2017.
Executive-1 forwarded the invoice to another executive of the Company ("Executive-2") the same day by email, and it was approved. Executive-1 forwarded that email to another employee at the Company, stating: 'Please pay from the Trust. Post to legal expenses. Put 'retainer for the months of January and February 2017' in the description.'
Note: We now know "Executive-1" is Allen Weisselberg, Trump Organization CFO. "Executive -2" is more than likely one of the Trump boys.
"In truth and fact, there was no such retainer agreement, and the monthly invoices COHEN submitted were not in connection with any legal services he had provided in 2017," prosecutors wrote in the charging documents. So these sham payments made through the Trump Org. and approved by two top executives (think potentially Don Jr. and/or Eric) were actually reimbursements to Cohen for hush-money payments during the 2016 election to defraud the American people.
In addition to following how that ongoing investigation unfolds, keep an eye on the New York State Attorney General's civil suit against the Trump Foundation, the family non-profit headed by then-board members Ivanka, Eric, and Don Jr. (all of whom are named defendants along with Trump).
According to the lawsuit, the Trump foundation's board "knowingly permitted" it to be "co-opted by Mr. Trump's presidential campaign."
Though the lawsuit was filed in June, a new subpoena issued to Cohen Wednesday by the New York State Department of Taxation and Finance could turn a civil inquiry into a criminal one depending on what it turns up. A Tax Department spokesperson told CNN they were working with the offices of the attorney general and the Manhattan district attorney "as appropriate" to determine if the Trump Foundation violated New York State tax laws. And this what the AG's office said:
"As our lawsuit against the Trump Foundation illustrates, we will hold Donald Trump and his associates accountable for violations of state law, and will seek a criminal referral from the appropriate state agency as necessary," said Amy Spitalnick, a spokeswoman for the attorney general's office.
In other words, criminal referrals could be made pursuant to evidence uncovered in relation to Cohen's plea deal.
In this case, Trump's "associates" likely consist chiefly of his three children.
Kerry Eleveld continues, New York prosecutors know exactly how to bring down a New York mob boss: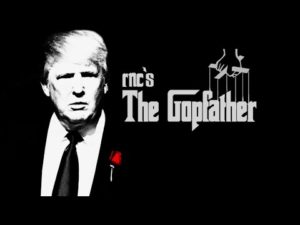 Nothing has come more clearly into focus this week than the fact that Donald Trump has been running a criminal enterprise, likely for decades, in which he surrounded himself with criminals willing to commit criminal acts.
Now, it's also becoming clear that federal prosecutors in the Southern District of New York have applied their mob boss playbook to taking down Trump. In just one week, they secured the guilty plea of Trump's top lawyer, and we also discovered they granted immunity to both his chief media ally and lead finance guy. Of course, that would be Michael Cohen, David Pecker, and Allen Weisselberg.
In essence, they found people's legal liabilities and turned them against each other, ultimately isolating their boss by choking off all exit strategies around him. Weisselberg, by almost all accounts, is the biggest fish when it comes to Trump world and the Trump Organization, the family business where he has worked for decades.
He has overseen the Trump Organization's finances, been involved in the Trump Foundation, the president's charity, and has managed Trump's private trust alongside his eldest sons, Eric Trump and Donald Trump Jr.
Anyone who has listened to former federal prosecutors from the Southern District or from the FBI's criminal division has certainly heard them talk about how the Trump case has so classically tracked with that of the mafia cases they have prosecuted in the past.
And Trump himself has sounded more and more like the mob bosses those prosecutors have taken down. "I know all about flipping," he told Fox News this week, adding that he had been watching "flippers … for 30, 40 years." Flipping, i.e. disloyalty, "almost ought to be illegal," he concluded.
He's also referred to "rats" in recent texts, co-opting the language of none other than famous fictional mob boss Tony Soprano. And he began his tenure in the White House by demanding a loyalty pledge from then-FBI director James Comey, asking him to see his way clear to just "let this go" with embattled aide Michael Flynn, and finally axing Comey when he wouldn't do exactly as Trump wanted.
"It's the kind of subculture that most people avoid," said Michael D'Antonio, one of Mr. Trump's biographers, told the New York Times. "You cross the street to get away from people like that. Donald brings them close. He's most comfortable with them."
Fortunately for the nation, flipping isn't illegal, because you're never gonna stop the activity of a crime boss by merely taking out his underlings. There are always more conspirators to be found, as long as the head is intact. New York prosecutors know that and they've clearly got their eyes on the top prize: Trump.
Natasha Bertrand of The Atlantic makes a similar argument, "The offer of immunity to the Trump Organization's chief financial officer is reminiscent of moves prosecutors made in the Southern District of New York as they were taking down the Mafia." New York Prosecutors May Pose a Bigger Threat to Trump Than Mueller:
Taken together, SDNY seems to be homing in on Trump—and former prosecutors told me its latest steps are reminiscent of processes in organized-crime cases.
"This is a classic move in investigations of a criminal organization," said Patrick Cotter, a former federal prosecutor who was part of the team that convicted the Gambino family boss John Gotti. "They're moving up the ladder. Peripheral characters are given immunity, witnesses testify, but they're ultimately keeping their eye on the prize."
* * *
The SDNY investigation has prompted comparisons to a mob roll-up—of the kind, ironically, that Trump's personal lawyer Rudy Giuliani oversaw in the 1980s while he was a prosecutor in New York. "It resembles a mob case in so many ways," said Elie Honig, a former assistant U.S. attorney who successfully prosecuted more than 100 members and associates of La Cosa Nostra.
"If you were to just strip the violence out of a mob case, you wouldn't be able to tell the difference," Honig said. "From the structure," with one person at the head of the organization, "to the notion of loyalty, even the president's own language is distressingly moblike." My colleague Jeffrey Goldberg wrote Thursday that in Trump's comments this week about Manafort and Cohen, he heard "echoes of many conversations I had while trying to understand the culture of organized crime."
This is how the Trump crime family syndicate comes undone. The rule of law and justice will prevail.
---
Support volunteer citizen journalism at the Blog for Arizona with a donation today. Your PayPal contribution keeps the Blog online and sustains a free press in Arizona.
---