The Coronavirus Aid, Relief, and Economic Security (CARES) Act was passed by Congress with overwhelming, bipartisan support and signed into law by President Trump on March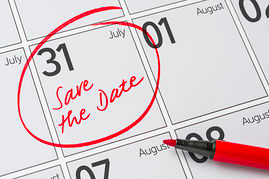 27th, 2020. The expiration date set by Congress was July 31, 2020.
This expiration date deadline should have been circled in red on everyone's legislative calendar. It's not like it snuck up on anyone. Mitch McConnell Has Had Months To Act. Now Unemployment Benefits Are Expiring today.
The House passed the Heroes Act preserving the expanded benefits back in May, but McConnell waited until this Monday to unveil the Republican proposal, which does not even have the support of his Republican caucus. Sen. Lindsey "Stonewall" Graham has said that up to half of Republican senators will vote no for any extension of benefits, regardless of what the bill contains. Let's just call them the "Burn, baby, burn!" hates America caucus.
What this means in practical terms is that only a Democratic bill with the support of enough Republican senators to form a majority vote can be enacted into law. This was always the case. I don't understand why the media insists on maintaining the fiction that the "Grim Reaper" of the Senate, Mitch McConnell, has any leverage at all to pass a Republican bill. His only leverage is obstruction and failure to bring a House bill up for a vote in the Senate.
Nevertheless, we were all subjected to Mitch McConnell's partisan Kabuki theater in the Senate on Thursday in a lame attempt at GOP messaging to try to shift blame for his abject failure to timely craft a Senate bill onto Democrats. Our appointed, not elected, Senator Martha McSally had a bit role in McConnell's Kabuki play.
Jake Johnson reports, 'Indefensible and disgusting': Senate departs for 3-day weekend as unemployment benefits expire for 30 million:
"Tens of millions of Americans on the brink of eviction and food insecurity and the Senate just left for yet another 3-day weekend."
The Republican-controlled U.S. Senate has adjourned for a three-day weekend as enhanced unemployment payments are officially set to lapse on Friday, guaranteeing that tens of millions of Americans will see their incomes drop by 50-75% with another rent payment due in 24 hours.
The Senate's departure followed a long day of jockeying and blame-hurling on the floor Thursday that ultimately failed to produce a solution for the nearly 30 million Americans who for months have relied on the $600-per-week unemployment insurance (UI) boost to meet basic needs as the economy remains in deep recession.
The chamber is not set to reconvene until 3 pm Monday.
"Just so we're all clear," tweeted economist Robert Reich, "more than 25,000,000 unemployed Americans are about to lose their extra unemployment benefits, and the Senate just left for a three-day weekend. Republicans have lost the right to govern."
Truer words have never been spoken.
On Thursday afternoon, Sen. Ron Johnson (R-Wis.) attempted to pass by unanimous consent legislation that would give states an option to either pay out a federally funded $200-per-week UI boost or implement a formula that would replace two-thirds of a laid-off worker's previous wages. Sen. Ron Wyden (D-Ore.) called Johnson's proposal "so heartless even Cruella de Vil wouldn't endorse it."
Senate Minority Leader Chuck Schumer (D-N.Y.) blocked passage of Johnson's legislation—which would have amounted to a $1,600-per-month drop in benefits for millions of Americans—and subsequently attempted to pass the HEROES Act, a sprawling legislative package approved by the Democrat-controlled House in May that would extend the weekly $600 UI boost through January of next year. Johnson blocked the Democrats bill.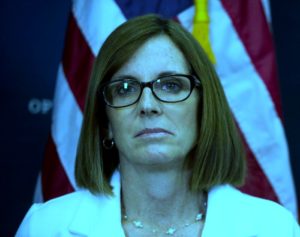 It was at this point that the Grim Reaper looked around to see who he had sitting on his bench to send in as a relief pitcher, and lo and behold he found Martha McSally.
After a brief pep talk Mitch sent her in with Martha letting out a confident yell,"Yeah! Let's get this fucking thing done!"
[So] Sen. Martha McSally (R-Ariz.) tried to pass a one-week extension of the $600 boost but Schumer objected, dismissing the effort as "clearly a stunt." The New York Democrat then proceeded to try again to pass the Heroes Act, which Republicans blocked.
The Washington Post's Jeff Stein noted on Twitter that it likely would have taken around two weeks for the one-week extension payment to actually reach people.
What I've heard is probably around ~2 weeks with wide variation between states as their adeptness at getting the $ out is very different

— Jeff Stein (@JStein_WaPo) July 31, 2020
The Huffington Post confirms this:
Even if Congress somehow passes a bill reauthorizing the $600 payments for a short period to allow time for lawmakers to reach a broader deal, it still could take weeks for the benefits to actually resume ― and such an interruption could have dire consequences.
And as Politico reported Thursday, "tens of millions of laid-off American workers will go weeks without federal jobless aid—because Congress hasn't renewed the benefits in time for overwhelmed state unemployment systems to adjust their computers."
"State offices will need weeks to reprogram their systems to account for an extension of the $600 weekly federal payments that expire on Saturday—or any changes that Congress makes to the benefit amount or eligibility rules," Politico reported. "That comes on top of hardships faced by workers in states like Washington and Nevada, who are already waiting months to get their first payments in the middle of the coronavirus pandemic because their unemployment offices can't handle the historic flood of claims."
I assure you that our appointed senator is so clueless that she does not know this fact (nor does she care). But she was more than willing to play a part in Mitch McConnell's partisan Kabuki theater because, honestly, that is all she is really good for.
Rep. Don Beyer (D-Va.) tweeted late Thursday that Democratic lawmakers have been warning for weeks about the coming lapse in benefits—but Senate Republicans, led by Majority Leader Mitch McConnell (R-Ky.), refused to budge.
"Mitch McConnell's failure to act already sealed this lapse," said Beyer, and half-measures and gimmicks from the White House cannot undo it."
Ryan Thomas, national press secretary for advocacy group Stand Up America, tweeted that "Mitch McConnell is holding our economy and our democracy hostage" by skipping town without passage of Covid-19 relief.
"He's threatening our lives and livelihoods," Thomas wrote. "Indefensible and disgusting."
Tens of millions of Americans on the brink of eviction and food insecurity and the Senate just left for yet another 3-day weekend.

Call your Senators' offices. Let them know inaction is unacceptable. (202) 224-3121 https://t.co/FXFm6u1PkL

— Town Hall Project (@townhallproject) July 30, 2020
Note: If you see Martha McSally out and about this weekend in Arizona, be sure to give her a piece of your mind and rip her a new one.
Schumer and House Speaker Nancy Pelosi (D-Calif.) met once more Thursday night with White House Chief of Staff Mark Meadows and Treasury Secretary Steve Mnuchin, but the two sides emerged apparently without making any progress toward a deal.
"We had a long discussion and we just don't think they understand the gravity of the problem," Schumer said at a press briefing following the meeting. "The bottom line is this is the most serious health problem and economic problem we've had in a very—in a century and in 75 years. And it takes really good, strong, bold action. And they don't quite get that."
The Senate's failure to secure an extension of the UI boost came on the same day the Commerce Department reported that the U.S. economy contracted at a record-shattering 32.9% rate last quarter. The Labor Department also reported Thursday that 1.43 million people filed jobless claims last week.
Heidi Shierholz, senior economist and director of policy at the Economic Policy Institute, noted in a blog post that "last week was the 19th week in a row that unemployment claims have been more than twice the worst week of the Great Recession."
"Republicans in the Senate just allowed the across-the-board $600 increase in weekly UI benefits to expire," Shierholz wrote. "They are proposing to (essentially) replace it with a $200 weekly payment. That $400 cut in benefits is not just cruel, it's terrible economics. These benefits are supporting a huge amount of spending by people who would otherwise have to cut back dramatically. The spending made possible by the $400 that the Senate wants to cut is supporting 3.4 million jobs."
To make matters worse, the benefit lapse is happening just after the expiration of the moratorium on evictions from federally subsidized properties, and right before the rent is due. (Arizona's eviction moratorium has been extended to October 31, but there are reports of landlords violating the moratorium).
The Huffington Post adds:
Senate Republicans are starkly divided over what to do about the expanded unemployment benefits. It's one of the biggest reasons why Congress hasn't acted yet. Some don't think they should pass any additional relief, including an extension of the federal unemployment benefits, because it would add too much to the budget deficit.
The proposal unveiled by McConnell earlier this week would reduce the extra benefits from $600 per week to $200 per week until October, and then switch to a new formula so that total benefits don't exceed 70% of what unemployed workers earned from their prior jobs. But even some Republicans have little confidence in that plan given the antiquated technology that states rely on to dispense unemployment benefits.
"Many of our state departments of labor ― they just got microwaves last week," Sen. John Kennedy (R-La.) quipped on Tuesday.
The National Association of State Workforce Agencies has practically begged Congress not to pass something complicated. Georgia's Republican labor commissioner told Bloomberg Law this week that reducing the $600 payment for several weeks and then switching to a targeted wage replacement level is "the dumbest idea ever."
The White House, meanwhile, has continued to talk up just passing a short-term fix on unemployment insurance and a moratorium on evictions ahead of Friday's deadline ― even though Democrats have repeatedly rejected the idea of a bill that doesn't deal with other issues, such as aid to states and extra food assistance. But the idea also appears to be gaining steam among Senate Republicans given that negotiations between administration officials and top congressional Democrats don't seem to be going anywhere.
In other words, Republican senators up for election this year are hitting the panic button.
"The rest of it, we're so far apart, we don't care, we really don't care," Trump told reporters on Wednesday, referring to the congressional talks.
Whatever happens, state workforce agencies can't move fast on federal changes. The extra $600, formally known as federal pandemic unemployment compensation, has already been switched off, as most states made their final payments over the weekend.
"At this point it would take them 2-4 weeks to switch it back on," Michele Evermore of the National Employment Law Project said in an email.
If congressional negotiations over the next coronavirus bill collapse this week, Republicans could ultimately decide to move forward with a narrower package, whether the White House proposal or something a bit broader, that includes some kind of extension of unemployment benefits.
"The [Republican proposal] is full of provisions that I would frankly dare my Democratic colleagues to actually say they oppose," McConnell said on Tuesday.
Bold talk for a chinless turtle with no leverage. Creating partisan talking points for airplay on Fox News is not a legislative "win," Mitch, and does nothing to help Americans in desperate financial circumstances.
[N]ot even the most vulnerable Senate Democrat is sweating voter fallout from that scenario.
"It's a little late to start looking at that now," Sen. Doug Jones (D-Ala.), who faces a tough reelection fight in a red state, said Wednesday when asked if he supported a short-term fix. "They should have started looking at that two months ago when we were asking them to."
Did you hear that Martha? Two months ago when a responsible senator who takes her oath of office seriously would have been working on the next rescue plan for when the CARES Act expired.
You are a failure, Martha, and you are gone in November.