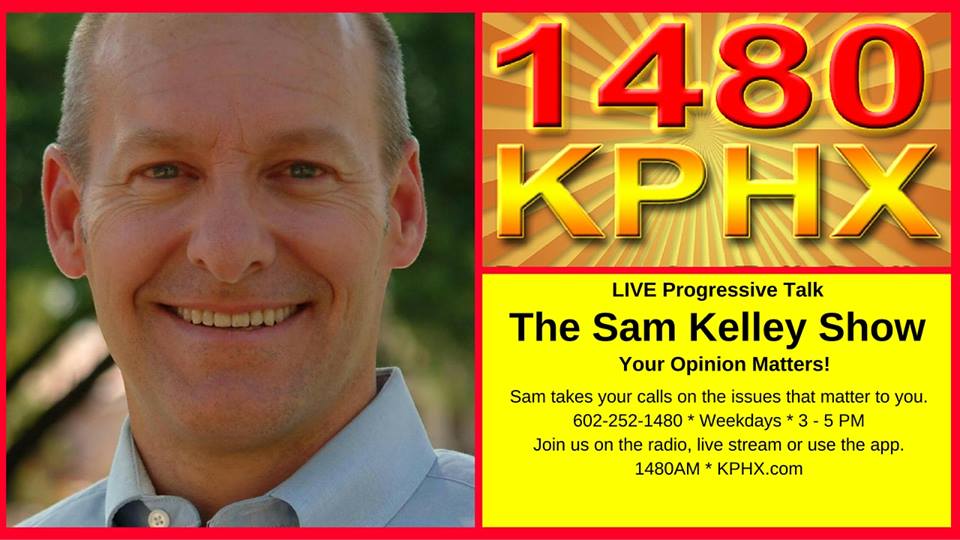 For those who don't know already, I do the Sam Kelley Show every Friday from 3 to 5pm on 1480am KPHX Phoenix (shameless plug). But Sam does the show five days a week and on Monday encouraged me to call in because Patrick McWhorter, the communications guy for the so-called Open and Honest Coalition would be interviewed in the second hour. These are the people bringing us the ill-advised Top Two Primary initiative, which would limit voters' choice in November general elections to two, and only two, candidates for each office, both of whom could be from the same party or otherwise ideologically similar. In other words, it will "work" by effectively disenfranchising a large percentage of voters in practically every election.
And that's ironic since the main argument of the Top Two people is that all these poor "independent" voters are being disenfranchised in the primary elections because they can't vote in them. Oh wait…they can vote in them by simply requesting a ballot for the primary they want to vote in or, if it's the quadrennial Presidential Preference Primary, briefly re-registering as a member of a party*.
But anyway, Sam took my call right away and while there are a whole bunch of things I think Top Two people should be confronted with, I decided on this one (I typed it out):
In 2014 there was a statewide midterm election and the Democrats nominated Fred DuVal, who touted his experience working across the aisle to accomplish things.

Terry Goddard, whom we all know to be an equally pragmatic and non-divisive leader when he's been in various offices, and who is working on this Open and Honest campaign, so I assume you guys like him.

Felecia Rotellini, who ran for AG with a solid record as an attorney and who could be called a fire breathing radical liberal

Same with David Garcia, who ran for superintendent of the schools. Not a radical guy at all!

So voters were given moderates to vote for in that state election, as well as numerous legislative races where the Democrats ran on moderate, even bipartisan platforms in competitive and Republican heavy districts.

But what happened??? Where were all those disenchanted independents you keep telling us who long for moderate candidates to vote for?? They were given them and refused.

Was it the "D" by their names?
I didn't expect a direct answer to that question and, sure enough, McWhorter responded with a barrage of canned Top Two talking points and absolutely nothing resembling an explanation of why all those frustrated "independent" voters yearning for sensible moderates didn't find Terry Flipping Goddard to be acceptable enough to vote for in 2014. But, of course, I have seen Top Two people give another answer to this elsewhere, in which they admit to wanting to decimate the Democrats. Recall what their Latino outreach guy told KJZZ last month:
Danny Ortega is a co-chair of the Open and Honest Elections Coalition.

He said Latinos, who were once loyal to democrats, are increasingly disillusioned with the party's inability to make meaningful progress on immigration, education and other issues.

"They don't see the party as effective, number one," Ortega said. "Number two, every state office is controlled by Republicans. The legislature is controlled by Republicans, and so Latinos don't feel like they are part of the end game."
Others called in to Sam Kelley on the KPHX show after I did and one was Sarah Michelsen of America Votes, who asked McWhorter about disenfranchising third party voters and about John Arnold, the Texas billionaire hedge fund manager with an Enron past and a current penchant for raiding public pensions, who has contributed a large sum to the Top Two effort. McWhorter had glib talking points at the ready for both questions, insisting that Top Two is great for third parties to get their message out and that John Arnold was just a super nice guy with a passion for democracy.
Another caller whose name I didn't catch described Top Two as a corporate scam designed to fool low information voters and that the intention was to stymie the ability of young progressive Hispanic leaders in the mold of Raul Grijalva to ascend in Arizona politics. That's probably true.
Longtime activist Randall Holmes called in and cited HL Mencken's aphorism that "for every complex problem there is an answer that is clear, simple, and wrong". Holmes pointed out, as I have, that Top Two is attempting to bypass the party system that affords ordinary citizens the ability to participate in choosing their leaders and have elections go straight into the hands of wealthy interests. Which I also believe to be true.
I will say that McWhorter did his job well, repeating all the talking points without getting flustered, but between Sam Kelley (who had tough questions of his own) and those of us who called in, listeners to one of the hottest new progressive radio shows in the Phoenix market (shameless plug) got a better idea of what Top Two Primary is really about.
*On its Facebook page the Open Primaries AZ campaign is currently misleading Arizona voters into believing it will open the Presidential primaries to non-affiliated voters when it will not.