The Treasury Department failed to produce an economic analysis of the GOP tax bill before the House and Senate votes, despite the year-long promises from Treasury Secretary Steven Mnuchin. This resulted in the Inspector general launches inquiry into whether Treasury hid Republican tax bill analysis: 
The Treasury Department's inspector general has launched an inquiry into whether the department hid an analysis of the Republican tax bill — or even did one at all.
* * *
Sen. Elizabeth Warren (D-Mass.) wrote to Treasury Inspector General Eric M. Thorson on Thursday asking for an inquiry after a New York Times article said members of the Treasury's Office of Tax Policy, which would do such an analysis, said they were not working on one.
"Either the Treasury Department has used extensive taxpayer funds to conduct economic analyses that it refuses to release because those analyses would contradict the Treasury secretary's claims, or Secretary Mnuchin has grossly misled the public about the extent of the Treasury Department's analysis," Warren wrote. "I am deeply concerned about either possibility."
Rich Delmar, counsel to the inspector general, said Thursday the office had launched an inquiry and that it was a "top priority."
Yesterday, Treasury released a one-page "analysis" that is a sick joke. Treasury Defends Tax Plan Cost With One-Page Analysis:
The Treasury Department released a one-page analysis of the nearly 500-page Senate tax bill on Monday that suggested the $1.5 trillion plan would more than pay for itself, assuming the economy grows much faster than any independent analysis of the bill has projected.
The Treasury acknowledged that its analysis was based on optimistic economic forecasts that assumed a host of policy changes yet to be enacted, including increased infrastructure spending, further loosening of business regulations and changes to welfare programs.
The analysis left many tax experts scratching their heads and prompted criticism that the Treasury was offering misleading data.
"The report does not appear to be a projection of the economic effects of a tax bill," said Scott Greenberg, a tax analyst at the conservative Tax Foundation. "It appears, on the other hand, to be a thought experiment on how federal revenues would vary under different economic effects of overall government policies. Which is, needless to say, an odd way to analyze a tax bill."
The Washington Post's Catherine Rampell is correct: The Trump administration's tax 'report' reads like fan fiction:
Unable to produce an actual analysis of its tax plan, the Trump administration has resorted to cooking the books.
Again.
White House officials and Republican lawmakers have repeatedly claimed that their tax plan will unleash such tremendous growth that the bill will pay for itself.
Of course, no one remotely credible backs this up. Not the Tax Policy Center, not the Tax Foundation (which uses relatively rosy assumptions about growth), not the Penn-Wharton Budget Model, not Goldman Sachs, not the usualgang of Republican economists.
Not even the Joint Committee on Taxation, Congress's nonpartisan internal scorekeepers on such matters, has found that the bill would be self-financing. Its most recently available analyses determined that even after accounting for economic effects, both the Senate and House bills would still cost about $1 trillion over the coming decade.
* * *
In November, Treasury Secretary Steven Mnuchin claimed that the administration had already published a study proving that the bill paid for itself, though Treasury could not actually point to any such study. If anything, the department had removed research from its website that proved inconvenient for its claims about trickle-down economics.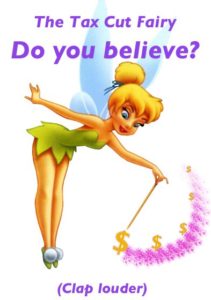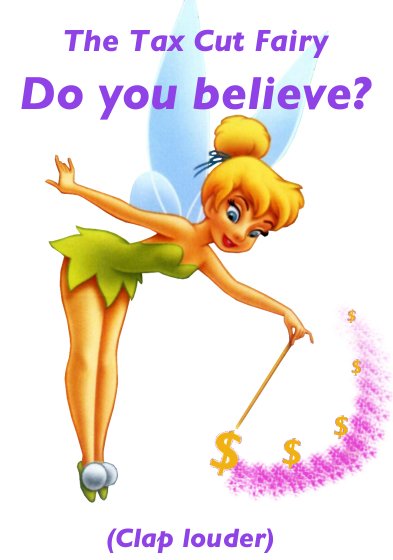 But finally, on Monday, Treasury produced a report that purported to support the administration's conclusions.
Well, "report" is a strong word. It was, in fact, a one-page news release containing no actual analysis or data, just fairy dust.
Magic asterisks, unicorns, and "trickle down" fairy dust, not economic analysis. Or as economist Paul Krugman of the New York Times puts it, Steve Mnuchin Pulls a Paul Ryan:
On Monday the Treasury Department released a one-page report claiming that tax cuts would pay for themselves. The document was a shameless attempt to fool the public — carefully worded to imply that economic experts at Treasury (they're still in there somewhere, maybe locked in a closet) had actually done an analysis to that effect, without explicitly saying so. In fact, there was no economic analysis; Trump officials just made up numbers that would give them the result they wanted.
Even reporters hardened to Trump administration lies seemed shocked by the brazenness of this bait-and-switch. What made Steve Mnuchin, the Treasury secretary, think he could get away with it?
Well, one answer is that similar scams on the part of congressional Republicans, Paul Ryan in particular, have generally received highly respectful treatment from the news media. Why shouldn't Mnuchin imagine he can pull off the same trick?
Actually, he probably can't. But the truth is that on economic policy, as in other areas, the Trump administration isn't much of a departure from recent Republican norms. There's a fundamental continuity in the con jobs: Mnuchin is basically trying to do a Paul Ryan; he just lacks the acting skills to pull it off.
About that Treasury report: The department has an Office of Tax Policy, or O.T.P., which provides "economic and legal policy analysis" for tax policy decisions. Normally we'd expect this office to carry out a full analysis of the effects of Republican tax bills, similar to those conducted by Congress's Joint Committee on Taxation and by independent, nonpartisan organizations like the Tax Policy Center.
But either O.T.P. didn't do that, or it did an analysis that Mnuchin is suppressing. (The department's inspector general is investigating what actually happened, because Mnuchin repeatedly claimed to have such an analysis in hand.) If the experts actually did do an analysis, they probably found what everyone else has found — namely, that tax cuts come nowhere near to paying for themselves.
In that case, however, how does Mnuchin manage to claim otherwise? Here's how the report describes the process: "O.T.P. has modeled the revenue impact of higher growth effects, using the administration projections of approximately a 2.9 percent real G.D.P. growth rate over 10 years." Notice the carefully deceptive wording. A casual reader might think that O.T.P. is predicting 2.9 percent growth — but what this actually says is that Trump officials simply told the office to assume high growth.
And the assumed acceleration in growth, which comes out of nowhere, is extremely high. It's many times higher than the Joint Committee on Taxation's estimate, which is itself more optimistic than other estimates. No model I know of, not even those of conservative tax-cut advocates, would predict this much payoff.
In other words, this "analysis" is a sick joke. Why would Mnuchin think he can pull off this scam?
As I said, he probably can't. But he may be inspired by the example of Paul Ryan, who pulled off similar scams a few years back, fooling much of the news media and even receiving an award for fiscal responsibility from several deficit-scold organizations.
The details of Ryan's scam were a bit different, but the basic principle was the same. First, tell budget experts to make obviously unrealistic assumptions and estimate what those assumptions would mean for future budget deficits. Then tout the resulting estimates as validation of your plan.
In Ryan's case the unrealistic assumptions involved revenues and spending, not growth: He simply told experts to assume that he could cut taxes without losing revenue by closing unspecified loopholes, and that he could achieve drastic cost savings without specifying which programs would be cut. And the budget experts were the staff at the Congressional Budget Office, not the staff at Treasury. But the result was the same: Potemkin budget projections that looked great to the casual observer, but had nothing real behind them.
Oh, and the howling mess that is the current G.O.P. tax plan shows what happens when Ryanesque pretense meets reality.
Yet Ryan's scam worked. He received years of media adulation; that adulation is the main reason he's now speaker of the House. Even now, news analyses tend to depict the irresponsibility and incompetence of Republican tax plans as some kind of deviation from Ryan's past behavior, not its natural continuation.
In fact, you almost have to feel sorry for Mnuchin: Yes, he's an obvious buffoon, but his scam isn't really any worse than Ryan's. Why can't he pull it off?
The larger point is that the dishonesty and dysfunctionality of current Republican efforts at tax "reform," the party's evident inability to govern in a serious way, didn't come out of nowhere. Republicans have been heading in this direction for years. Anyone who didn't see this coming either wasn't paying attention or was engaged in willful self-delusion, pretending that the G.O.P. was a normal party long after it should have been obvious that it had gone off the deep end.
The New York Times adds in an editorial opinion, Mr. Mnuchin's Magical Math on Taxes: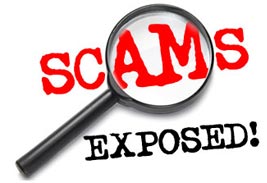 Pressed by Congress and tax policy experts to prove the Trump administration's claims that its $1.5 trillion tax cut would pay for itself by stimulating economic growth, the Treasury Department's Office of Tax Policy released a one-page memo that shows it can't do it.
It projects a budget surplus created by 2.9 percent annual growth in gross domestic product over 10 years — that's more than 50 percent faster than the most recent forecast by the nonpartisan Congressional Budget Office. Half of that growth would come from corporate tax cuts, the other half from other tax cuts and regulatory reform and from "infrastructure development and welfare reform," neither of which has advanced past the talking stage.
* * *
No other analysis — not from Congress, bipartisan tax policy groups, economists, past Republican Treasury secretaries — supports these claims. Instead, most experts say the bill would add at least $1 trillion to the debt.
In past administrations, the Tax Policy Office performed detailed work in analyzing proposed tax legislation . . . While Treasury Secretary Steven Mnuchin was publicly claiming that more than 100 people in the office were "working around the clock on running scenarios for us" on the economic impact of the tax cuts, career tax experts inside the office said that they had been largely shut out of the process and that such an analysis didn't exist.
* * *
Treasury's inspector general office has begun an inquiry into the tax plan analysis, or lack thereof. Senator Elizabeth Warren, Democrat of Massachusetts, has asked the inspector general to investigate political meddling in the office.
After months of promises we now see that the analytical support for a $1.5 trillion, nearly 500-page piece of legislation is a 400-word note that boils down to "trust us." No wonder the letter isn't signed. What career analysts would put their names to these worthless claims?