When he is not demonizing transgender students for the American Taliban at the Center for Arizona Policy, he is trying to criminalize being homeless in Arizona, a campaign promise of sore loser MAGAt gubernatorial candidate "Krazy Kari" Lake. In his free time, he trolls this blog.
State senator David Farnsworth's (R-Mesa) personal experience of mental illness and homelessness has blocked a bid by Troll Boy, Sen. John Kavanagh (R-Fountain Hill), a former police officer who no doubt enjoyed rousting many homeless back in his day, to make sleeping on a sidewalk a state crime.
Bob Christie reports, Arizona lawmakers cite his own time as a homeless person when speaking out against the law:
Senator David Farnsworth's lengthy comments on his struggles prompted the chairman of a Senate committee to withdraw Senator John Kavanagh's proposal from consideration during a hearing last week. Farnsworth described how a breakdown prompted him to leave his family home and travel to Seattle, where he lived on the streets and spent time in a homeless shelter.
"And it was a very educational experience for me because I came to the conclusion that mental illness, like physical illness, can affect any one of us and we can heal from it," Farnsworth said, saying he's had panic attacks and isn't able to live at home.
"As an adult with kids, I sort of ran away from home, went to Seattle, sat up there next to a park for weeks," he said. "During that time, I was homeless even though I owned a home in Mesa."
Farnsworth spoke during the discussions about Kavanagh's plan to make it a high-level offense for someone to sleep, lie down or sit on a street, sidewalk or other public pathway. Kavanagh's proposal reflects a Phoenix ordinance that is currently on hold because a federal judge blocked enforcement.
Federal courts have ruled that bans on sleeping in public cannot be enforced if there are not enough public shelters for the homeless. Marilyn Rodriguez, a lobbyist for the American Civil Liberties Union of Arizona, told the committee that the ACLU sued over the Phoenix ordinance and would likely meet a similar fate if the proposal were to become law.
The number of homeless people in the state's two largest metro areas, Phoenix and Tucson, has increased significantly over the past five years. In Pima County, the annual number of homeless people estimated last year that more than 2,200 people were homeless, compared to just under 1,400 in 2018. In Maricopa County, the number of homeless people rose from about 6,300 to more than 9,000 during the same period.
Rodriguez noted that Phoenix only has 1,800 shelters.
But Kavanagh said in an interview with Capitol Media Services that shelters are often available and homeless people may go to parks or other public areas instead of camping on the streets if there are no vacant beds. He noted that last year the Legislature earmarked $5 million for cities to build shelters, and Phoenix is ​​not using that money.
"I think it's because they don't want to trigger that they have to clear their streets and parks," he said.
Wait, something about this lack of empathy and compassion for the poor sounds familiar. Ah yes, Ebeneezer Scrooge in "A Christmas Carol."  Ebenezer Scrooge is visited by two portly men raising money for the poor:
"At this festive season of the year, Mr. Scrooge," said the [one of the gentlemen], taking up a pen, "it is more than usually desirable that we should make some slight provision for the Poor and destitute, who suffer greatly at the present time. Many thousands are in want of common necessaries; hundreds of thousands are in want of common comforts, sir."

"Are there no prisons?" asked Scrooge.

"Plenty of prisons," said the gentleman, laying down the pen again.

"And the Union workhouses?" demanded Scrooge. "Are they still in operation?"

"They are. Still," returned the gentleman, "I wish I could say they were not."

"The Treadmill and the Poor Law are in full vigour, then?" said Scrooge.

"Both very busy, sir."

"Oh! I was afraid, from what you said at first, that something had occurred to stop them in their useful course," said Scrooge. "I'm very glad to hear it."

"Under the impression that they scarcely furnish Christian cheer of mind or body to the multitude," returned the gentleman, "a few of us are endeavouring to raise a fund to buy the Poor some meat and drink, and means of warmth. We choose this time, because it is a time, of all others, when Want is keenly felt, and Abundance rejoices. What shall I put you down for?"

"Nothing!" Scrooge replied.

"You wish to be anonymous?"

"I wish to be left alone," said Scrooge. "Since you ask me what I wish, gentlemen, that is my answer. I don't make merry myself at Christmas and I can't afford to make idle people merry. I help to support the establishments I have mentioned: they cost enough: and those who are badly off must go there."

"Many can't go there; and many would rather die."

"If they would rather die," said Scrooge, "they had better do it, and decrease the surplus population."
The loss of a Republican's support in either house spells doom for any legislation lacking Democratic support, as the GOP only has a majority of one vote in both the House and Senate. And even if bills make it out of the legislature, Democratic Gov. Katie Hobbs can hit them with her veto stamp, which she says she's willing to use as often as necessary.
The Legislature has a number of proposals to deal with homelessness, including an effort by Rep. David Livingston, R-Peoria, that would force homeless people to live in certain locations, sleep elsewhere and require the state housing department to pay money for the creation provide campsites.
Livingston could not be reached for comment on Friday. His bill, which has not made any progress in the last two years, is scheduled for a hearing on Monday, January 23.
The Hobbs Executive Budget is also tackling the homelessness crisis by paying $150 million into the state housing trust fund, money that can be used for homeless shelters, rent and utility support, and federal funds to build new affordable ones to use apartments.
The trust fund has been mostly neglected since its funding halted during the Great Recession, though it received a $60 million infusion last year when lawmakers distributed hundreds of millions in excess cash.
Cities struggle to deal with the homeless.
Phoenix is ​​facing a lawsuit from business owners near a sanctioned homeless encampment called "The Zone," a half-mile from the state capitol, who are trying to have the area declared a public nuisance.
In Tucson, advocates for the homeless filed a lawsuit last week to ban police from conducting camp cleanups ahead of the annual Gems and Minerals Fair, a major tourist attraction. The city is also facing pressure to address the issue from business and civic groups who say it poses a threat to public safety and business.
Abolishing the ban on sleeping on sidewalks was the second Kavanagh bill to encounter a roadblock last week in the Senate Committee on Military Affairs, Public Safety and Border Protection, chaired by R-Sierra Vista Sen. David Gowan.
His other measure would have made it a crime to solicit money in an elevated or marked median, something the longtime lawmaker says is dangerous. Kavanagh has tried for years to pass legislation that would ban asking for cash at freeway exits or intersections, only to see those efforts fail.
The recent median ban on begging was disregarded after Gowan changed it to allow people to sell items from the middle of the street, a change Kavanagh did not support.
Kavanagh's sleeping-on-sidewalk bill for the homeless is unlikely to be revived, at least in its current form, unless Kavanagh can change Farnsworth's mind. But that possibility remains removed at this point.
"The homelessness problem is a big problem that we need to address," Farnsworth said. "I'm not sure if this is the right way. In fact, I don't feel comfortable bringing it up that way."
A reminder to the American Taliban White Christian Nationalists, who do not share the true Christian values of empathy and compassion, because they consider this being "woke." What does the Bible say about being homeless / homelessness?
The Bible acknowledges the fact of homelessness and instructs us to help those who are poor and needy, including those in homeless situations.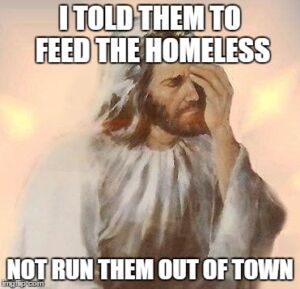 Jesus could identify with the homeless in His itinerant ministry. In Matthew 8:20, Jesus states that even animals have a place to call home, but He had nowhere to lay His head. He stayed in the homes of whoever would welcome Him and sometimes outside. He was born in a stable and even spent His last night before His crucifixion outside in a garden. The apostle Paul was also at times in a homeless situation (1 Corinthians 4:11).
God expects His people to help those who are homeless. The Law directly addressed care for those in need. In Leviticus 25:35 God commands His people to help support those who have no home and cannot support themselves: "If any of your fellow Israelites become poor and are unable to support themselves among you, help them as you would a foreigner and stranger, so they can continue to live among you" (see also Deuteronomy 15:7–11). The Lord rebuked those who kept the outward form of religion yet did not care for the poor: "Is not this the kind of fasting I have chosen: . . . to share your food with the hungry and to provide the poor wanderer with shelter—when you see the naked, to clothe them, and not to turn away from your own flesh and blood?" (Isaiah 58:6–7).
The book of wisdom, Proverbs, lays down the principle of giving to the poor and attaches it to a blessing: "Whoever is kind to the poor lends to the LORD, and he will reward them for what they have done" (Proverbs 19:17). Those who refuse to help the poor will find themselves on the losing end: "Those who give to the poor will lack nothing, but those who close their eyes to them receive many curses" (Proverbs 28:27).
In the New Testament, Jesus and His disciples regularly gave to the poor (see John 13:29), and Jesus commands that we follow His example and also care for the poor: "Give to the one who asks you, and do not turn away from the one who wants to borrow from you" (Matthew 5:42). As James points out, talk is cheap; our talk (and our faith) must be accompanied by action: "Suppose a brother or a sister is without clothes and daily food. If one of you says to them, 'Go in peace; keep warm and well fed,' but does nothing about their physical needs, what good is it?" (James 2:15–16).
The Bible does not shy away from the difficult and unpleasant reality that some people have experienced terrible setbacks and hardships in their lives, even to the point of becoming destitute. The Bible recognizes that poverty, social injustice, and homelessness are real problems that constantly plague society (Mark 14:7). The Bible teaches that we are to be radically different from the world in how we view and treat our neighbors. In fact, we should go out of our way to provide for the homeless and others in need, trusting God to reward us in His time. Our Lord said, "When you give a banquet, invite the poor, the crippled, the lame, the blind, and you will be blessed. Although they cannot repay you, you will be repaid at the resurrection of the righteous" (Luke 14:13–14).
Because God created all people in His image (Genesis 1:27), everyone, regardless of social status or economic limitations, has intrinsic worth. Oppressing or exploiting those who are weaker or poorer than we are is wickedness. From cover to cover, Scripture says that we should show generosity, compassion, kindness, and mercy in practical, tangible ways. Even our Lord Jesus "did not come to be served but to serve" (Mark 10:45).
I propose that Troll Boy "walk a mile" in the shoes of the homeless and hungry, let him live on the streets for 30 days without shelter and having to panhandle for food, or to go hungry. Maybe then he will develop a sense of empathy and compassion for the poor, and maybe even redeem his lost soul. Maybe then the MAGAt controlled legislature will address homelessness with true Christian values, and not seek to criminalize the homeless or to make the homeless disappear so that they no longer have to gaze upon them and be reminded that they do exist.