Remember back just a few short weeks ago when Congress passed the CARES Act and we were told that the Paycheck Protection Program (PPP) – "the largest distribution of taxpayer money in human history" – would be transparent and accountable to the public? It was even written into the law, and is clearly disclosed on the PPP application form.
It turns out that Bond villain, Treasury Secretary Steve Mnuchin, is treating the $3 trillion fund like a secret slush fund, and is refusing to comply with any of the transparency and public disclosure requirements in the CARES Act. Trillions in Stimulus Go Unchecked With Watchdogs Kept Toothless:
The U.S. has spent more than half of $3 trillion in economic rescue funds passed by Congress — with little of the oversight intended to ensure the money goes to the right places.
Three new oversight bodies are barely functional: A special inspector general [Trump toady] was only recently sworn in, a congressional panel still lacks a chairman and staff, and President Donald Trump quickly removed the official who was going to lead a separate accountability committee.
At the same time, about $2 trillion in stimulus money has already been distributed, according to an estimate from the Committee for a Responsible Federal Budget, a nonpartisan group focused on fiscal policy.
The sheer size of the pandemic response means there's a wide swath of issues to investigate. But mistrust in Washington is so deep that the oversight groups' investigations are already mired in politics. Leaders of both parties have failed to agree on a chairman to lead the congressional oversight panel. And Democrats are already voicing concerns on whether Trump's hand-picked special inspector general for the stimulus can be independent from his former boss.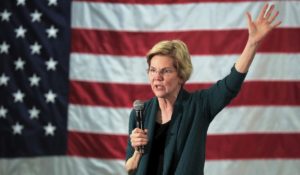 Senator Elizabeth Warren of Massachusetts, an advocate of the watchdogs' role, say the cash is already flowing to undeserving recipients.
"We've seen giant public companies scoop up relief meant for small businesses, an inspector general fired, promises made to muzzle independent oversight," Warren said in a statement.
Sen. Warren is correct. Axios reports today, PPP failed to get money where it was most needed (excerpt):
With the deadline for businesses to secure funding from the Small Business Administration's Paycheck Protection Program (PPP) less than two weeks away, the most high profile portion of the $2 trillion CARES Act looks to have left out the people who needed it most.
Research shows 41% of black business owners have shut their doors since the pandemic started, perhaps in part because, according to a recent analysis, 95% of black-owned businesses were shut out of the PPP.
Black-owned small businesses also are highly concentrated in retail, restaurants and other service industries most affected by the shutdowns, Reuters noted.
The ACLU and other civil rights organizations filed a lawsuit Tuesday, claiming PPP unfairly denied black and Latino business owners PPP loans.
The big picture: PPP money generally missed the industries and areas most heavily impacted by COVID-19.
A second analysis of the program from S&P Global U.S. chief economist Beth Ann Bovino finds just 42.4% of total PPP loans approved went to service industries significantly affected by social distancing — even though the sector accounted for 66.8% of job losses.
Similarly, seven of the 10 states that received the smallest dollar amount of loans were among the 10 states with the highest number of people approved for unemployment claims as of May 23.
One of the key oversight figures is Brian Miller, the former White House lawyer chosen by Trump and sworn in June 5 as special inspector general for pandemic recovery. Democrats are deeply skeptical about how he'll perform.
Democrats are not alone in theses concerns. The "cops" that Donald hates and regularly disparages, the federal Inspectors General – four of whom he has fired under suspect circumstances over the past month – are also sounding the alarm. Inspectors general warn that Trump administration is blocking scrutiny of coronavirus rescue programs:
The Trump administration's intensifying efforts to block oversight of its coronavirus-related rescue programs are raising new alarms with government watchdogs and lawmakers from both parties amid concerns about the anonymity of companies receiving unprecedented levels of taxpayer funds.
Government watchdogs warned members of Congress last week that previously unknown Trump administration legal decisions could substantially block their ability to oversee more than $1 trillion in spending related to the coronavirus pandemic.
In a letter to four congressional committee chairs Thursday, two officials in charge of a new government watchdog entity revealed that the Trump administration had issued legal rulings curtailing independent oversight of Cares Act funding.
The letter surfaced amid growing bipartisan frustration over the administration's decision not to disclose how it is spending hundreds of billions in aid for businesses.
On Monday, Treasury Secretary Steven Mnuchin appeared to bow to that pressure, saying he would work with Congress on new oversight measures. But some Democrats have said the White House is not taking disclosure requests seriously enough.
"They seem to be saying one thing while doing exactly the opposite," said Rep. Carolyn B. Maloney (D-N.Y.), chairwoman of the House Oversight Committee. "If the Trump administration is committed to full cooperation and transparency with taxpayer dollars, it is unclear why it is manufacturing legal loopholes to avoid responding to legitimate oversight requests."
According to the previously undisclosed letter, Treasury Department attorneys concluded that the administration is not required to provide the watchdogs with information about the beneficiaries of programs created by the Cares Act's "Division A." That section includes some of the most controversial and expensive programs in the coronavirus response efforts, including the administration's massive bailout for small businesses and nearly $500 billion in loans for corporations.
Mnuchin surprised many lawmakers last week when he announced he would not allow the names of Paycheck Protection Program recipients to become public after the Trump administration had said for months that the data would eventually be disclosed.
The letter from the inspectors general and Mnuchin's insistence that the PPP data will not be released come after the White House has repeatedly rebuffed efforts to scrutinize where the taxpayer funding is going.
In their letter, the inspectors general leading the Pandemic Response Accountability Committee (PRAC), an independent panel created to oversee implementation of the Cares Act, expressed concern about the administration's legal opinions and their impact on oversight.
"If this interpretation of the CARES Act were correct, it would raise questions about PRAC's authority to conduct oversight of Division A funds," Michael E. Horowitz and Robert Westbrooks, the acting chair and executive director of the PRAC, said in a letter obtained by The Washington Post. "This would present potentially significant transparency and oversight issues because Division A of the CARES Act includes over $1 trillion in funding."
* * *
The new obstacles to the watchdogs' efforts surface as the administration faces a bipartisan backlash on Capitol Hill over its decision not to disclose which businesses are receiving funding under the PPP, the bailout program for small businesses.
The rulings could limit the watchdogs' ability to review massive new federal programs, government transparency experts say. If not addressed in new legislation by Congress, the opinions could curtail the watchdogs' ability to collect information about who is receiving the funding, they say.
It is unclear whether the law gives the administration the ability to withhold the information.
"This is a devastating blow to oversight," said Danielle Brian, executive director of the nonprofit Project on Government Oversight, which tracks government transparency. "It is a contorted analysis of the law and clearly counter to what Congress intended."
Actually, it is pretty clear, as explained by Congresswoman Katie Porter (D-CA), one of the best government watchdogs of the public's money in quite some time. (I believe she should chair an oversight committee for coronavirus rescue funds similar to the Truman Committee during World War II to find and correct problems in US war production with waste, inefficiency, and war profiteering).
There is every reason to believe that Donald Trump's companies, and those of his family members, friends and associates are helping themselves to this PPP fund. And now we learn from Politico that members of Congress are also helping themselves to this PPP fund. Members of Congress took small-business loans — and the full extent is unknown (excerpts):
At least four members of Congress have reaped benefits in some way from the half-trillion-dollar small-business loan program they helped create.
And no one knows how many more there could be.
It's a bipartisan group of lawmakers who have acknowledged close ties to companies that have received loans from the program — businesses that are either run by their families or employ their spouse as a senior executive.
Republicans on the list include Rep. Roger Williams of Texas, a wealthy businessman who owns auto dealerships, body shops and car washes, and Rep. Vicky Hartzler of Missouri, whose family owns multiple farms and equipment suppliers across the Midwest. The Democrats count Rep. Susie Lee of Nevada, whose husband is CEO of a regional casino developer, and Rep. Debbie Mucarsel Powell of Florida, whose husband is an executive at a restaurant chain that has since returned the loan.
And there are almost certainly more, according to aides and lawmakers. But only the Small Business Administration and Treasury Department have that information, and the Trump administration is refusing to provide any details.
Democrats have tried to pry free the list of recipients. But their push in the House to require disclosure of at least some companies was blocked on the floor late last month by Republicans — including Williams and Hartzler, who voted against the bill.
Spokespeople for Williams and Hartzler declined to say how much money was provided under the loans to the privately held companies lawmakers own.
While it is not illegal for lawmakers to apply for or accept the money, it has raised new questions about lawmakers' potential conflicts of interest as they craft the next coronavirus rescue package as well as the administration's fierce secrecy of the $670 billion program. The program already faced intense scrutiny over charges it was helping the well-connected after reports revealed that large corporations were among the first to be awarded loans, while the smallest businesses were stuck in line.
Now it's being dogged by growing transparency complaints, with Treasury and SBA refusing to disclose recipients after officials initially said data would become public through Freedom of Information Act requests. POLITICO has sought the information under FOIA.
Both Democrats and Republicans have vowed there will be robust oversight of Congress' spending on coronavirus relief, including its signature loan program. But Treasury Secretary Steven Mnuchin has so far refused to disclose the recipients of those loans[.]
"Among other steps, the Administration should release the names of all PPP borrowers," a group of senior Democrats wrote in a letter to Mnuchin on Monday.
Much of the scrutiny surrounding lawmakers taking PPP loans has centered on Williams, one of the wealthiest members of Congress with a net worth of over $27 million in 2018. He received a PPP loan for an undisclosed amount for his Roger Williams Chrysler Dodge Jeep dealership in Weatherford, Texas. The same dealership employs his wife, according to his most recent financial disclosure form.
"If you're a multimillionaire taking taxpayer money in the middle of the biggest unemployment since the Great Depression, get ready to explain that decision to the American people," said Rep. Katie Porter (D-Calif.) as she introduced new transparency legislation last month and called out Williams by name in a news release.
Williams was one of 146 Republicans to oppose Phillips' bill to require the SBA to disclose loans over $2 million. Another one of those Republicans was Hartzler, whose family also received PPP loans for multiple businesses.
* * *
Phillips' transparency legislation initially would have published the names of all businesses that received a loan, though he agreed to create a $2 million threshold for disclosure as part of an agreement with some of his GOP colleagues. But the bill, which won the support of 38 Republicans, fell just a handful of votes short on the floor, stunning Phillips and other Democrats who had expected it to pass under a fast-track procedure [super majority] reserved for popular bills.
"To this very day, I do not quite understand what happened," Phillips said.
Conservative opposition to the bill had been mounting in the week leading up to the floor vote, with Republicans increasingly worried that the measure would essentially "name and shame" businesses who receive PPP loans.
Rep. French Hill (R-Ark.) — who serves on the Congressional Oversight Commission established by the coronavirus relief law and says PPP loans should be disclosed under existing SBA policy — said in an interview that he believed the bill was "redundant" and that "this whole PPP program is already burdened with tremendous paperwork" requirements.
Meanwhile, Mnuchin and some businesses have expressed concern that disclosing the borrowers could reveal confidential information about their payroll. [This is total bullshit: SBA loans are fully disclosed under existing rules as Reps. Hill and Porter explained].
Phillips said he has begun talks with top Democrats to bring the bill to the floor again — this time, under a simple majority where it would easily pass. The freshman Democrat said he is also open to changes to safeguard payroll data in order to win over more Republicans, as long as it still requires disclosure.
"My simple, but very strong belief is that taxpayer dollars — when distributed by Congress and the executive branch of our government — should be transparent and subject to accountability," Phillips said. "Plain and simple."
It's not illegal, or even uncommon, for members of Congress to be involved in policy decisions that sometimes overlap with their own financial interests. But it becomes a conflict of interest if members use their position of influence to enhance their own standing.
Some transparency groups, as well as some lawmakers, have pointed out that Congress created no disclosure rules for its own members when it comes to the sprawling PPP program, unlike some other sections of the $2 trillion relief bill.
For example, the House's Office of General Counsel sent a letter to all members in May asking them to self-identify if they or close family members have financial ties to companies that might benefit from a separate Federal Reserve liquidity program.
The same does not exist for PPP.
The push for greater disclosures has been bipartisan in the Senate: Small Business Chairman Marco Rubio (R-Fla.), the lead architect of the PPP, earlier this month asked the administration in a joint letter with Sen. Ben Cardin (D-Md.) to adhere to SBA disclosure practices and release the names and other details of PPP borrowers. In April, Rubio said Congress was prepared to force the administration to disclose loan recipients and "the bottom line is we're going to know one way or the other who got this money."
I suggest that you get on with it, this obstruction of Congress and violation of the CARES Act by Secretary Mnuchin has gone on long enough.