As one scandal ends, another begins. See, this is what all that unhinged hateful rhetoric at the RNC Convention leads to. Secret Service Investigating Trump Adviser Al Baldasaro Who Said Hillary Clinton Should Be 'Shot for Treason':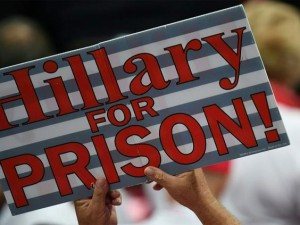 The Secret Service is investigating a Donald Trump adviser who said in a radio interview that presumptive Democratic presidential nominee Hillary Clinton should be "shot for treason" on a "firing line."
Al Baldasaro, a New Hampshire representative who serves on Trump's veterans' coalition and as a Trump delegate at the Republican National Convention in Cleveland, said in an interview with a Boston talk radio host that Clinton should pay for the 2012 Benghazi attack.
"She is a disgrace for any, the lies she told those mothers about their children that got killed over there in Benghazi," he said on the Jeff Kuhner Show Tuesday. "She dropped the ball on over 400 emails requesting back up security. Something's wrong there."
"Hillary Clinton should be put in the firing line and shot for treason," he continued.
His comments about Clinton were first reported by Buzzfeed.
* * *
Asked about Baldasaro's comments, Secret Service spokesman Robert Hoback said the agency is "aware of this matter and will conduct the appropriate investigation."
I'm guessing the Secret Service will have to investigate damn near every delegate at the RNC Convention for saying the same thing after this week.