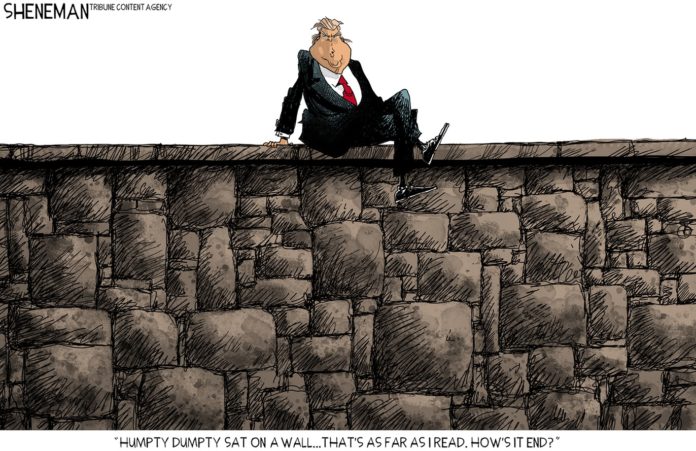 President Trump caved on Friday saying he will back a short-term funding bill to reopen the government that does not include funds to construct a wall along the southern border, bowing to mounting pressure fueled by growing disruption due to the lengthy shutdown. Trump agrees to end shutdown without getting wall funding:
"I am very proud to announce today that we have reached a deal to end the shutdown and reopen the federal government," Trump said.
The deal, announced by Trump from the Rose Garden of the White House, amounts to a victory for Democrats who have refused the president's demand for $5.7 billion in wall funding. Trump had said for weeks he would not reopen the government without that money.
Racist polemicist Ann Coulter, who along with Rush Limbaugh was largely responsible for egging Trump into reneging on the spending deal that he had agreed to back in December and launching his Trump Shutdown was her usual hateful self.
This woman needs to be shoved back into the muck under the rock from which she crawled out from under — and then pile on some more rocks. Enough!
The measure Trump will sign funds the government through Feb. 15. A bipartisan committee of House and Senate lawmakers will meet to develop a funding proposal for border security, including physical barriers separating the U.S. from Mexico, according to the president.
"After 36 days of spirited debate and dialogue, I have seen and heard from enough Democrats and Republicans that they are willing to put partisanship aside, I think, and put the security of the American people first," Trump said in his Rose Garden remarks.
If he cannot get a "fair deal," Trump warned the government will shut down again or he may declare a national emergency to circumvent Congress and build the wall. Such a move would almost certainly draw a swift legal challenge.
"We'll work with the Democrats and negotiate, and if we can't do that, then we'll do a – obviously we'll do the emergency because that's what it is. It's a national emergency," Trump told reporters later in the Roosevelt Room of the White House.
During his Rose Garden remarks, Trump said "no border security plan can never work without a physical barrier. It just doesn't happen."
Trump said federal workers will receive back pay "as soon as possible" as part of the deal.
Let's be clear: there is no way that a joint House-Senate conference committee is ever going to give Trump $5.7 billion for a physical wall. Period.
And if our authoritarian "Dear Leader" plays his declaring a national emergency card to get his temperamental way, it will immediately be challenged in court and the odds are very good that a federal court will stay his  emergency order pending litigation of the matter. So he still will not have funding for his wall.
If funding for Trump's wall was really all that damn important, the unified Republican government of the past two years could have approved the wall funding at any time. They did not, because even Republicans were opposed to pissing away tax dollars on Trump's medieval monument to himself. That's the reality.
The Senate on Friday afternoon easily advanced a three-week funding bill to fully reopen the federal government on a voice vote hours after President Trump agreed to end the shutdown without securing money for a border wall. Senate votes to reopen government after Trump agrees to end shutdown.
The CR passed by the Senate on Friday also includes an extension of the Violence Against Women Act, according to a spokesman for McConnell.
The House is expected to pass the funding bill later Friday and send it to Trump's desk for a signature.
It was Senate Minority Leader Charles Schumer (D-N.Y.) who pitched McConnell on passing a three-week CR with an agreement that Congress would go to conference on the DHS bill, according to a senior Senate Democratic aide.
Schumer and McConnell "then spoke on the phone several times on Friday to discuss plans for how to pass the CR through the Senate and get to conference. Schumer read in Speaker [Nancy] Pelosi, who was on the same page," the source added.
So once again it is the competence of Democrats who came to the rescue of the country from the utter incompetence of the GOP Gang That Couldn't Straight.
Unfortunately, there will be another three weeks of bullshit from Trump and his white nationalist enablers in the GOP about his wall.
This will end with: (a) another Trump Shutdown, or (b) a true national emergency if "Dear Leader" tries to misappropriate funds from the U.S. Armed Forces to build his wall, or (c) Trump agrees to the Homeland Security appropriations bill being crafted by House Majority Whip Jim Clyburn (D-SC) and House Homeland Security Committee Chairman Bennie Thompson (D-MS). Top House Dem says new offer will focus on funding 'smart wall':
The offer may represent an attempt to compromise by offering the president the same amount he has requested for border security, but Democrats are still unwilling to compromise on the wall itself.
House Majority Whip Jim Clyburn, D-S.C., said Wednesday the $5.7 billion in border security technology funding in the offer would be a superior option to the physical wall the president has demanded.
"Walls are primitive — what we need to do is have border security," Clyburn told reporters. "Use technology, use scanners, use x-ray equipment."
Clyburn said that the U.S. government can now x-ray automobiles to determine whether they're a threat to national security, it should use drones to help secure the border and should make coming through legal ports of entry an attractive option for asylum seekers.
"If you look at all the things that we are proposing, more judges, more border patrol, additional technology, these are the kinds of things that we are going to be putting forth," Clyburn said. "And I think that they can be done using the figure that the president has put on the table, if his $5.7 billion is about border security, then we see ourselves fulfilling that request only doing it with what I like to call using a 'smart wall.'"
Trump should agree to this offer and then declare victory to save face.
And then he should tell Rush Limbaugh and Ann Coulter to fuck off, for the good of the nation. Their time is done.
---
Support volunteer citizen journalism at the Blog for Arizona with a donation today. Your secure contribution keeps the Blog online and sustains a free press in Arizona.
---