Donald Trump is quickly being isolated for his comments on race, left only with his sycophant personality cult supporters.  Wednesday was a "critical mass" day for loss of support.
The New York Times reports, Trump Comments on Race Open Breach With C.E.O.s, Military and G.O.P.: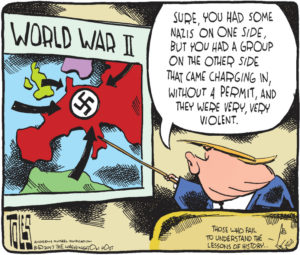 President Trump found himself increasingly isolated in a racial crisis of his own making on Wednesday, abandoned by the nation's top business executives, contradicted by military leaders and shunned by Republicans outraged by his defense of white nationalist protesters in Charlottesville, Va.
The breach with the business community was the most striking. Titans of American industry and finance revolted against a man they had seen as one of their own, concluding Wednesday morning they could no longer serve on two of Mr. Trump's advisory panels.
But before Stephen A. Schwarzman, the chief executive of the Blackstone Group and one of Mr. Trump's closest business confidants, could announce a decision to disband Mr. Trump's Strategic and Policy Forum — in a prepared statement calling "intolerance, racism and violence" an "affront to core American values" — the president undercut him and did it himself, in a tweet.
"Rather than putting pressure on the businesspeople of the Manufacturing Council & Strategy & Policy Forum, I am ending both," Mr. Trump wrote. "Thank you all!"
The condemnation descended on the president a day after he told reporters in a defiant news conference at Trump Tower in Manhattan that "alt-left" demonstrators were just as responsible for the violence in Charlottesville last weekend as the neo-Nazis and white supremacists who instigated protests that led to the death of a 32-year-old woman, struck down by a car driven by a right-wing activist.
UPDATE: Lawrence Summers: Trump's CEOs resigned. His Cabinet should do the same.

Five armed services chiefs — of the Army, the Air Force, the Navy, the Marines and the National Guard Bureau — posted statements on social media condemning neo-Nazis and racism in uncompromising terms. They did not mention Mr. Trump by name, but their messages were a highly unusual counter to the commander in chief. Inspired by Charlottesville, Military Chiefs Condemn Racism.
Republicans, too, issued new denunciations of the hatred on display in Charlottesville, although some remained vague about Mr. Trump's remarks.
Senator Mitch McConnell of Kentucky, the majority leader, denounced "hate and bigotry" in a statement on Wednesday but made no mention of Mr. Trump or his comments — an example of the careful line that some Republican officials are treading as they hope to work with the president on a conservative agenda in the months to come.
Silence is consent, and these GOP cowards are complicit enablers.
The president's top advisers described themselves as stunned, despondent and numb. Several said they were unable to see how Mr. Trump's presidency would recover, and others expressed doubts about his capacity to do the job.
* * *
No one from the president's team has resigned as of yet, but some spoke candidly on Wednesday about whether they could continue to work much longer for a man who has expressed such sentiments. Most incensed among Mr. Trump's top advisers, according to three people familiar with the situation, was Gary D. Cohn, the director of the National Economic Council, who told people around him that he was offended, as a Jew and as an American, by the president's reaction to the violence in Charlottesville.
The relationship between the president and Mr. Cohn, who stood next to Mr. Trump during the news conference, seems to have suffered a serious blow. Although White House aides denied that he was planning to quit, they acknowledged that Mr. Cohn, a former Goldman Sachs executive, was upset with the president's lack of discipline.
* * *
[T]he president told close aides that he felt liberated by his news conference. Aides said he seemed to bask afterward in his remarks, and viewed them as the latest retort to the political establishment that he sees as trying to tame his impulses.
* * *
One aide who felt energized by the president's actions was the embattled White House chief strategist, Stephen K. Bannon, who shares Mr. Trump's anger at the efforts of local governments to remove monuments honoring prominent Confederate figures like Robert E. Lee. The proposed removal of a Lee statue from a public park in Charlottesville spurred the demonstrations last weekend.
Mr. Bannon, whose future in the White House remains uncertain, has been encouraging Mr. Trump to remain defiant. Two White House officials who have been trying to moderate the president's position suggested that Mr. Bannon was using the crisis as a way to get back in the good graces of the president, who has soured on Mr. Bannon's internal machinations and reputation for leaking stories about West Wing rivals to conservative news media outlets.
* * *
Mr. Trump's venting on Tuesday came despite pleas from his staff, including his daughter Ivanka Trump and her husband, Jared Kushner. Instead of taking their advice to stop talking about the protest, the president eagerly unburdened himself of what he viewed as political correctness in favor of a take-no-prisoners attack on the "alt-left."
* * *
Leaders of the Republican Jewish Coalition were more direct, calling on Mr. Trump to "provide greater moral clarity in rejecting racism, bigotry, and anti-Semitism." They added: "There are no good Nazis and no good members of the Klan. Thankfully, in modern America, the K.K.K. and Nazis are small fringe groups that have never been welcome in the G.O.P."
Many other Jewish members of the Trump administration remained largely silent on Wednesday, even after the protesters in Charlottesville had chanted anti-Semitic slogans and demeaned the president's Jewish son-in-law, Mr. Kushner.
Steven Mnuchin, the secretary of the Treasury, who is also Jewish, stood silently behind Mr. Trump on Tuesday as the president said there were "very fine people on both sides" in Charlottesville. Mr. Mnuchin has not said anything publicly about the president's remarks.
Mr. Kushner has been silent about Mr. Trump's comments. Ivanka Trump, who converted to Judaism, said in a tweet on Sunday, "There should be no place in society for racism, white supremacy and neo-nazis."
Michael D. Cohen, the president's longtime personal lawyer, who is Jewish, denounced hate groups but defended Mr. Trump in response to a reporter's question on Wednesday.
"I know President Trump and his heart," Mr. Cohen wrote. "He is a good man and doesn't have a racist bone in his body."
Seriously Dude? Central Park Five; Obama "birtherism;" anti-immigrant and anti-Muslim scapegoating. Take off your blinders, man!
Many in the White House said they still held on to the hope, however slim, that the new White House chief of staff, John F. Kelly, could impose order on the disarray even as Mr. Trump hopscotches from one self-destructive episode to the next.
Mr. Kelly, who watched the president's performance on Tuesday with his head hung low, grimacing at some of Mr. Trump's remarks, is frustrated, according to people inside the White House.
If Gen. Kelly wants to preserve what is left of his honor, dignity and self-respect, he should resign.
On Wednesday, even Fox News, a favorite of the president's, repeatedly carried criticism of Mr. Trump. One Fox host, Shepard Smith, said that he had been unable to find a single Republican to come on-air to defend Mr. Trump's remarks.
Shep needs to give Jan Brewer or John Kavanagh a call, or are they too small a fish to appear on FOX News?
Finally, there is this: Trump Lawyer Forwards Email Echoing Secessionist Rhetoric:
President Trump's personal lawyer on Wednesday forwarded an email to conservative journalists, government officials and friends that echoed secessionist Civil War propaganda and declared that the group Black Lives Matter "has been totally infiltrated by terrorist groups."
The email forwarded by John Dowd, who is leading the president's legal team, painted the Confederate general Robert E. Lee in glowing terms and equated the South's rebellion to that of the American Revolution against England. Its subject line — "The Information that Validates President Trump on Charlottesville" — was a reference to comments Mr. Trump made earlier this week in the aftermath of protests in the Virginia college town.
"You cannot be against General Lee and be for General Washington," the email reads, "there literally is no difference between the two men."
History begs to differ.
Mr. Dowd received the email on Tuesday night and forwarded it on Wednesday morning to more than two dozen recipients, including a senior official at the Department of Homeland Security, The Wall Street Journal editorial page and journalists at Fox News and The Washington Times. There is no evidence that any of the journalists used the contents of the email in their coverage. One of the recipients provided a copy to The New York Times.
"You're sticking your nose in my personal email?" Mr. Dowd told The Times in a brief telephone interview. "People send me things. I forward them." He then hung up.
Dowd forwarded this email to reporters hoping they would publish it, and they did. Spare me the feigned outrage. This was intentionally sent to the media. You have to ask yourself "why"?
The email's author, Jerome Almon, runs several websites alleging government conspiracies and arguing that the F.B.I. has been infiltrated by Islamic terrorists. He once unsuccessfully sued the State Department for $900 million over claims of discrimination.
Mr. Almon's email said that Black Lives Matter, a group that formed to protest the use of force by police against African-Americans, is being directed by terrorists. Mr. Almon blamed the group for deadly violence against police last year in Texas and Louisiana.
The email's comparison of secessionists to the nation's Founding Fathers echoes an early Confederate rallying cry, said Judith Giesberg, a Villanova University historian and editor of The Journal of the Civil War Era. Washington's face appeared on Confederate money, she said, and secessionists were eager to place their rebellion in the context of the American Revolution.
"The first states to secede drew a straight line back to the Revolution," she said in a telephone interview. "They said they were the inheritors of this revolutionary tradition that traces back to Washington."
Mr. Almon listed several reasons Lee is no different from Washington. "Both rebelled against the ruling government," the email reads, adding, "Both saved America."
Mr. Almon, who is black, said in his email to Mr. Dowd that the protesters should "go back to the ghettos and do raise their children and rebuild places like Detroit."
In a telephone interview, Mr. Almon said he sent the email to follow up on a phone call he had last week with Mr. Dowd. He said he had called to offer damaging information about James B. Comey, the former F.B.I. director, and to provide other information about the Justice Department's ongoing investigation into the Trump campaign.
Mr. Almon said he hoped Mr. Dowd would circulate his email.
"I was hoping it would get in the hands of President Trump — I quite frankly hope he would review it right now because his presidency is on the line," Mr. Almon said in the interview. "I don't believe the president is getting the correct advice or proper information. Someone reading what I sent to Dowd will view Robert E. Lee differently."
There is no evidence that Mr. Dowd sent the email to Mr. Trump. Other recipients include Washington lawyers and members of Mr. Dowd's family.
Mr. Dowd circulated the email hours after the White House issued its own talking points to Republicans defending the president.
"The president was entirely correct — both sides of the violence in Charlottesville acted inappropriately, and bear some responsibility," the White House said. Those talking points, circulated on Tuesday night, did not address Mr. Trump's comments about Lee and Washington.
* * *
In an interview, Mr. Almon said he is not a Republican and that he does not reflexively support Mr. Trump.
"I'm against racism," he said.
Mr. Almon said that he had also provided information about the F.B.I. to the office of Representative Devin Nunes of California, the Republican chairman of the House Intelligence Committee.
An email Mr. Almon provided to The Times showed that he had been in communication in March with Mr. Nunes's office. There is no evidence that Mr. Nunes circulated that email.
The crazy just keeps a comin'.
UPDATE: In three tweets Thursday morning, Trump calls efforts to remove statues of Civil War generals 'foolish'. Paul Waldman writes, Trump's loathsome embrace of the Confederacy: "So it is that the president of the United States is turning himself into a full-blown neo-Confederate."