Donald Trump and his allies have repeatedly, and falsely, accused Georgia Secretary of State Brad Raffensperger and Gov. Brian Kemp, both Republicans, of presiding over a fraudulent election.
This is having some interesting consequences in Georgia's two Senate runoff elections in January.
The Daily Beast reports: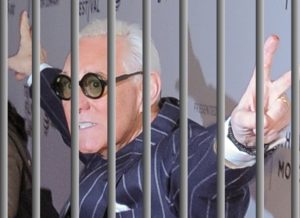 Conservative operatives and a super PAC with ties to infamous GOP dirty trickster Roger Stone appear to be calling for Trump supporters to punish Republicans by sitting out Georgia's crucial Senate runoffs or writing in Trump's name instead. And though their efforts remain on the party's fringes, the trajectory of the movement has Republicans fearful that it could cost the GOP control of the Senate.
The most aggressive call to boycott or cast protest ballots in the two runoff races has, so far, come from a dormant pro-Trump super PAC with ties to Stone, which unveiled a new initiative to retaliate against the Republican Party's supposed turncoats by handing Democrats control of the U.S. Senate.
A new website that says it was paid for by a group called the Committee for American Sovereignty is encouraging Georgia Republicans to write in Trump's name in both of the upcoming Senate runoff elections, which could determine the party that controls the majority in the upper chamber during President-elect Joe Biden's first two years in office. The PAC argued that doing so will show support for the president in addition to forcing Republicans to address the wild election-fraud conspiracy theories floated by Trump supporters and members of his own legal team.
"If we can do this, we have a real chance at getting these RINO senators to act on the illegitimate and corrupt election presided over by a Democrat party that is invested in the Communist takeover of Our Great Nation," the group wrote on its new website, writeintrumpforgeorgiasenate.com.
[T]o date, there has been a broader push among some of President Trump's most devoted supporters to withhold support for Georgia Republican senators Kelly Loeffler and David Perdue, who are facing competitive runoff challenges, in the hope of leveraging the party's fear of losing the U.S. Senate to get more establishment backing for their election-fraud conspiracy theories. The goal, those operatives say, is to expose a supposed vast election-fraud conspiracy abetted by high-level Republicans in Georgia's state government, including Gov. Brian Kemp and secretary of state Brad Raffensperger.
Just one problem: "The idea of writing in Trump's name for Senate faces some significant obstacles—chiefly, that there is no space for write-in candidates on Georgia's runoff ballots, which simply ask voters to select one of two candidates."
But the underlying effort to kneecap Georgia Republicans nonetheless gained major traction over the past week thanks largely to the public utterances of Sidney Powell, who claimed in a Saturday interview on Newsmax that her imagined voter-fraud conspiracy involving Dominion voting machines and Venezuelan bribes extended all the way to Kemp and Raffensperger. Powell even suggested that Loeffler would have lost this month to Rep. Doug Collins, her top Republican challenger, had it not been for the supposed voter fraud that tainted Georgia elections.
"Mr. Kemp and the secretary of state need to go with it because they're in on the Dominion scam with their last-minute purchase or reward of a contract to Dominion of $100 million," Powell said.
And there it is! Sidney Powell Releases the Kraken — Drops Typo-Riddled, Befuddling Election Fraud Lawsuits in Georgia:
The Kraken has been released. If — that is — the Kraken is a pair of befuddling, typo-addled lawsuits.
Sidney Powell, the attorney who was unceremoniously thrown under the bus and cut loose by other members of President Donald Trump's legal team, has released lawsuit filings in Georgia and Michigan alleging election fraud. The Georgia lawsuit is being filed in United States Districct court.
Wait, that doesn't look right. Let's try that again.
Powell is filing suit in the Northern Distrcoict of Georgia.
Yes, Powell badly whiffed on the spelling of "district" twice in the first nine words of her legal filing — a most auspicious beginning.
Those typos were just a harbinger of things to come. The word ballots appears as "abllots," Washington D.C. is referred to as the "District of Colombia," and the name of one of their witnesses is misspelled in two different ways. There are also sentence fragments, and format errors galore.
As to the substance of the documents, there isn't any. Much of the complaint centers on already debunked claims involving Dominion Voting Systems. Other bizarre conspiracies are alleged — much of it a rehash of what Powell has said elsewhere.
These are the first lines of Sidney Powell's "kraken" lawsuit that Trump supporters have been claiming would save his presidency, not looking great. The rest is just rehashed witness affidavits, including one that claims the ballot paper was suspiciously clean. pic.twitter.com/oihuMeZeig

— Will Sommer (@willsommer) November 26, 2020
"The Kraken is typos!" joked federal appellate attorney Raffi Melkonian via Twitter.
The Daily Beast continues:
On conservative social-media site Parler, grieving Trump fans said they'll express their displeasure with the GOP by skipping the runoffs or by writing in Trump's name.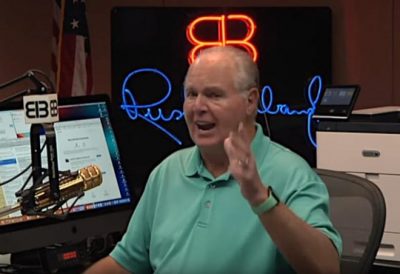 Last week, talk-radio host Rush Limbaugh told his audience that "Never Trump" Republicans were desperate for their votes in the runoffs, suggesting that Trump supporters' votes could be up for grabs.
The Never Trumpers want these Trump voters to show up, and if you do and if you elect these two people… By the way, don't make up your mind on this on whether or not you're helping Never Trumpers or not. I'm just talking about, I think, it's the hypocrisy galore of these people. We want to win these two seats. We want to keep the Senate. I do. Don't misunderstand. But I tell you, these people made a mess. The Never Trumpers made a mess, they contributed to the mess, and now look who they come to in order to bail 'em out of it: The very people they've been disrespecting for all of these years.
"It's funny how these Never Trump people want us to save their bacon right now while they sat on their butts and ridiculed Trump and us for voting for him," Limbaugh said.
Limbaugh eventually urged his audience to vote for Loeffler and Perdue anyway.
But pro-Trump Georgia lawyer Lin Wood, who sued Georgia in an attempt to stop the state's vote certification, tweeted Saturday that he wouldn't vote in the runoff unless Loeffler and Perdue took more actions against his claims of Election Day voter fraud.
Let's speak truth about @SenLoeffler & @sendavidperdue.

Why are they doing little or nothing to support efforts by GA citizens to address unlawful election & need for @BrianKempGA to order special session of legislature?

If not fixed, I will NOT vote in GA runoff.

Will you?

— Lin Wood (@LLinWood) November 21, 2020
"Threaten to withhold your votes & money," Wood tweeted. "Demand that they represent you."
Media Matters adds:
During a lengthy interview on November 20, Wood accused Kemp and Raffensperger of corruption and suggested that unless Republicans stood by Trump's efforts to overturn the election, Trump voters would not turn out to support Loeffler and Perdue.
"I don't believe the people that went out and voted and believe in Donald Trump are going to show up for the runoffs. You are not going to fool Georgia voters but one time. So these people that think they're going to try to, on the Republican side, get a win in the runoff, they are not going to get it unless they undo the fraud in the general election regarding President Trump."
Steve Bannon echoed the sentiment on November 23 during an appearance on The John Fredericks Show.
"Quite frankly, if Kemp and the secretary of state and the lieutenant governor don't turn this around, … if they don't put their shoulder to the wheel, they should all be recalled. You should start a recall petition and recall them. And hey, if Democrats win it, who cares? It's better than having the hypocrisy of these Republicans who just feed at the trough."
Conservative operative Ali Alexander, who has organized "Stop the Steal" protests around the country, demanded that Perdue and Loeffler call on Kemp to order a special session of the Georgia legislature to investigate claims of voter fraud. If they didn't, Alexander said, Trump supporters would boycott the runoff.
"Kelly Loeffler and David Perdue can either do what we said, because we are their voters, we are their donors, we are their volunteers, or we literally won't vote," Alexander said, before mimicking his critics' concerns about Senate control. "'Oh, but Ali, then Democrats will take the Senate?' I would rather an enemy in my face than a traitor behind."
Politico reports, Trump's conspiracies have MAGA world talking Georgia boycott:
Driven by Trump's insistence that Georgia's elections are indelibly rife with fraud, conspiratorial MAGA figures are calling for a boycott of the two Senate runoff races, slated for Jan. 5, that will determine which party controls the upper chamber.
Their reason: The two GOP candidates, Sens. Kelly Loeffler and David Perdue, are not only insufficiently pro-Trump, they may be complicit in Georgia's electoral fraud.
It doesn't matter that both candidates are essentially lock-step with Trump, or that there is no evidence of links to electoral malfeasance. On Twitter and its less-restrictive alternative Parler, Trump's more hardline followers have linked the duo to the president's favorite — and untrue — voter-fraud theories. Hashtags like #CrookedPerdue and #CrookedKelly are flying around. The two lawmakers' Parler accounts are brimming with posts accusing them of being secret "liberal DemoRats."
PoliticusUSA reports:
Donald Trump told reporters that the election system in Georgia is fraudulent and actively discouraged his supporters from voting in the state's Senate runoff by alleging rampant fraud.
Trump tells Republicans that the Georgia election process is rigged, so they shouldn't bother to show up and vote in the Senate runoff elections. pic.twitter.com/CvhGQjErGr

— Sarah Reese Jones (@PoliticusSarah) November 26, 2020
Trump tweeted in response to an article from conservative website Newsmax, which cited the report from Politico (above) about Georgia Trump supporters who are considering boycotting the runoffs altogether. Trump claimed the 2020 election was a "total scam" but still urged Republicans to vote in Georgia's Senate runoffs.
Trump's claim that the election was fraudulent was immediately flagged by Twitter under its civic integrity policy, which forbids individuals from disseminating disinformation about elections on its platform.
No, the 2020 Election was a total scam, we won by a lot (and will hopefully turn over the fraudulent result), but we must get out and help David and Kelly, two GREAT people. Otherwise we are playing right into the hands of some very sick people. I will be in Georgia on Saturday! https://t.co/1ziqFq9S6O

— Donald J. Trump (@realDonaldTrump) November 27, 2020
The Washington Post analyzes, Trump's baseless election fraud claims in Georgia turn Senate runoffs into a 'high-wire act' for Republicans:
The Republican candidates in Georgia's dual Senate runoff campaign are navigating a highly unusual political labyrinth — caught in the middle of an intraparty war that has erupted since President Trump narrowly lost the state to President-elect Joe Biden and has turned his fire on the Republican leadership there.
The infighting now threatens to turn off the very Republican voters Perdue and Loeffler need to stave off challenges from their Democratic rivals, Jon Ossoff and the Rev. Raphael Warnock.
Trump and his allies have repeatedly, and falsely, accused Georgia Secretary of State Brad Raffensperger and Gov. Brian Kemp, both Republicans, of presiding over a fraudulent election. Trump has pushed the baseless claim that the Dominion Voting Systems machines used in Georgia were rigged as part of a global conspiracy, and Perdue and Loeffler have called for Raffensperger's resignation.
But therein lies the conundrum: Perdue and Loeffler are traveling the state pleading with Republican voters to turn out on Jan. 5 — effectively asking Trump supporters to put their faith in the same voting system their president claims was manipulated to engineer his defeat.
Loeffler and Perdue are walking what one Republican strategist called "a high-wire act right now, to figure out exactly where the candidates should be relative to the president."
* * *
Complicating the senators' pitch is the call by some Trump advocates for voters to protest the balloting system in ways that some GOP strategists fear will effectively result in support for the Democrats.
[M]any Republicans remain concerned that the public hostility within the party — as well as efforts to foment distrust of voting — pose serious threats to Loeffler and Perdue.
And those tensions do not appear to be going away. Trump, for his part, has continued to push as recently as Wednesday the unfounded claims about Georgia's voting machines.
Raffensperger hasn't shied away from the divisions, either. His tenor hardened after Loeffler and
Perdue called for his resignation — and after death threats began filtering in through social media to him and his wife.
* * *
Now, he makes no secret of his disdain for the unfounded attacks on him.
"If Republicans don't start condemning this stuff, then I think they're really complicit in it," Raffensperger said in the interview. "It's time to stand up and be counted. Are you going to stand for righteousness? Are you going to stand for integrity? Or are you going to stand for the wild mob? You wanted to condemn the wild mob when it was on the left side. What are you going to do when it's on our side?"
In an op-ed at USA Today, Georgia Secretary of State Brad Raffensperger complained, Georgia secretary of state: My family voted for Trump. He threw us under the bus anyway.
The GOP's intraparty civil war in Georgia may be the Democrats last best chance to pick up a Senate seat or two.
UPDATE: Things didn't go well for Republican National Committee Chair Ronna McDaniel in Marietta, Georgia on Saturday. CNN reporter DJ Judd tweeted about this exchange with a Republican voter:
An exasperated voter in Marietta asks RNC Chair Ronna McDaniel, "Why should we trust this election when it's already been decided?" McDaniel says, "It hasn't been decided!" Another voter shouts out that Republican Governor Brian Kemp is corrupt.

— DJ Judd (@DJJudd) November 28, 2020
Just stay home Republicans – Donald Trump says the election is rigged.