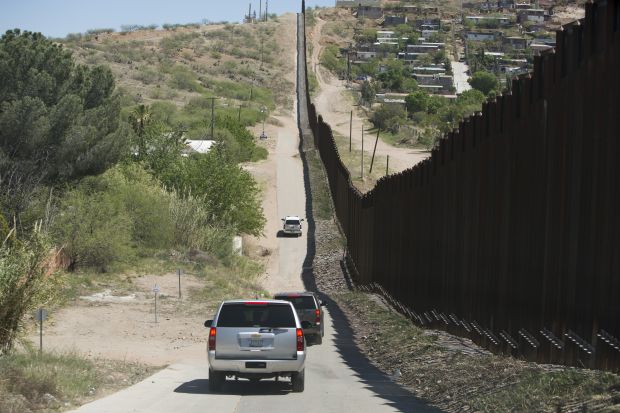 With a federal government shutdown looming on Friday at midnight unless a continuing resolution (CR) spending bill is passed before then, last week Donald Trump resorted to hostage taking to try to get his way for funds for his border wall and undermining "Obamacare" for millions of Americans. Trump to Democrats: Pay for My Wall, or Obamacare Gets It! This was followed by this ridiculous hostage demand:
[B]udget chief Mick Mulvaney explained in an interview with Bloomberg Friday, the administration is offering $1 of funding for Obamacare's crucial cost-sharing reduction subsidies for every $1 of money Democrats pony up for the wall. Here's the full quote:
We've finally boiled this negotiation down to something that we want very badly, that the Democrats really don't like, and that's the border wall. At the same time there's something they want very badly that we don't like very much, which are these cost sharing reductions, the Obamacare payments. Ordinarily, in a properly functioning Washington, D.C., as in any business, this would be the basis upon which a negotiated resolution could be achieved. The question is how much of our stuff do we have to get, how much of their stuff are they willing to take, and that's the way it should work. That's the way that we hope that it works. We offer them $1 of CSR payments for $1 of wall payments. Right now, that's the offer that we've given to our Democratic colleagues. That should form the fundamental understading that gets us to a bipartisan agreement.
The implicit threat here is that, if Democrats reject this deal, the White House will cease making the subsidy payments, and likely bring Obamacare crashing down. It is not especially credible. Democratic leaders are already responding with snark: Before, Mexico was supposed to pay for the border wall. Now, Trump's threatening the health care of millions to get taxpayers to cover it.
While this would no doubt be satisfying to some Republicans, it would almost certainly be a disaster for Trump's approval rating. Voters tend to blame the party in power for their personal misery—and in this case, they'd have every right to do so, since the administration would be taking active steps to burn down the health insurance market.
* * *
Trump has made the Democratic party an offer it will most certainly refuse. Maybe one day he'll figure out this whole negotiation thing.
At this point you should be asking yourself, "Wait, doesn't the GOP have majorities in both the House and Senate to pass whatever Trump wants? Why is he dicking around with Democrats?"
It turns out that not even Tea-Publicans want to pay for Trump's ridiculous border wall. The Wall Street Journal reported last week, Border Lawmakers Balk at Donald Trump's Wall Request:
Not a single member of Congress who represents the territory on the southwest border said they support President Donald Trump's request for $1.4 billion to begin construction of his promised wall, according to a Wall Street Journal survey, testing the administration's ability to reach a deal on government funding next week.
Most lawmakers representing the region—both Democrats and Republicans—said they are opposed and many said they have unanswered questions. A few were noncommittal, but not a single member of the House or Senate representing the region said they supported the funding request. That includes nine members of the House and eight senators across four states: Texas, New Mexico, Arizona and California.
The question is increasingly urgent as Congress and the White House scramble to agree on a spending bill needed to keep the government open. Existing funding for the government expires on April 28, and the White House says it wants funding for the border wall as part of the package.
Senior congressional Republicans have long indicated that they prefer to leave it out. That is partly because Senate Democrats are opposed, and their votes will be needed because most legislation requires 60 votes to clear the chamber, where Republicans hold 52 seats. Congressional Republicans have said they don't want to risk the partial government shutdown that such a showdown could trigger.
* * *
Many Republicans responded that the Trump approach is overly focused on a physical barrier rather than other approaches to border security, such as technology, that experts say can be more effective and less expensive.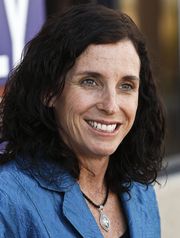 "As representatives of the communities that make up our southern border, we recognize the need for robust border security and infrastructure to ensure public safety and increase cross border commerce," Reps. Will Hurd (R., Texas) and Martha McSally (R., Ariz.) wrote in a letter last month to senior administration officials. "However, we also have an obligation to be good stewards of taxpayer dollars and as such have a number of questions."
Some who back immigration restrictions dismiss these lawmakers' concerns as parochial and irrelevant to the national imperative to secure the border. But opposition from border-state members is significant in that many know the issue best. Ms. McSally, for example, chairs the Homeland Security border security subcommittee, and in an interview, she said walls do little to stop criminal organizations from getting across the border. "They will go over, through or under physical barriers, sometimes pretty quickly," she said.
Mr. Hurd, whose district includes 800 miles along the border, describes a wall as "the most expensive and least effective way to secure the border."
A third House Republican whose district touches the border, Rep. Steve Pearce of New Mexico, also opposes funding if it is focused on a wall, as opposed to a more comprehensive approach. "The solution must be a dynamic, multifaceted one," he said.
* * *
In the Senate, none of the four Republicans representing border states have expressed support for the project as conceived by Mr. Trump.
* * *
Sen. Jeff Flake (R., Ariz.) has said he also thinks border security should be focused elsewhere. "I will continue to review options as the current appropriations process moves forward," he said in a statement Friday.
Sens. Ted Cruz (R., Texas) and John McCain (R., Ariz.) have both voiced skepticism about the Trump plan as well. A Cruz spokesman didn't reply when asked directly whether he backs the supplemental spending request, and a McCain spokeswoman declined to comment.
Meanwhile, House and Senate Democrats are universally opposed—some forcefully so.
* * *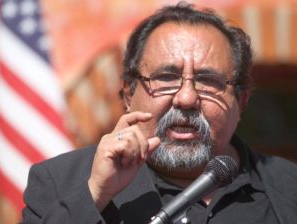 Rep. Raúl Grijalva (D., Ariz.) joined a lawsuit seeking to block the project based on environmental factors. The other House Democrats opposing the project include Reps. Juan Vargas, who represents the entire California section of the border; and Texas Reps. Beto O'Rourke, Henry Cuellar and Vicente Gonzalez.
Given this opposition from border state members of Congress and his own party to funding his border wall, Trump has now backed off his hostage demand because congressional leaders have vowed there will not be a government shutdown this weekend. (If there is a government shutdown, it will be the first time in history that it has occurred with one party in control of both houses of Congress and the White House). "Failure would put a bizarre exclamation point on the symbolic 100-day marker that the administration coincidentally will reach Saturday."
Today Trump softens border wall demands in bid to calm shutdown jitters:
The White House sought Monday to calm a jittery Washington ahead of a showdown with Congress over spending, and President Trump softened his demand that a deal to keep the federal government open include money to begin construction on his long-promised border wall.
Despite one-party control at both ends of Pennsylvania Avenue, the brinkmanship that came to define spending battles in the Obama years has tumbled into the Trump era, as have the factional divisions over strategy and priorities that have gripped the GOP for a decade.
But with a Friday deadline looming to pass a new spending bill, the Trump administration projected confidence that a shutdown would be avoided. In the face of fierce Democratic opposition to funding the wall's construction, White House officials signaled Monday that the president may be open to an agreement that includes money for border security if not specifically for a wall, with an emphasis on technology and border agents rather than a structure.
Trump showed even more flexibility Monday afternoon, telling conservative journalists in a private meeting that he was open to delaying funding for wall construction until September, a White House official confirmed.
"The president is working hard to keep the government open," Treasury Secretary Steven Mnuchin told reporters Monday. White House press secretary Sean Spicer said he was "very confident" that an agreement would be reached by Friday, but he pointedly said he could not "guarantee" that a government closure would be averted.
Democrats, meanwhile, gave the White House an opening, saying they would agree to some new money for border security — so long as it did not go toward the creation of a wall . . . In a speech on the Senate floor, Minority Leader Charles E. Schumer (D-N.Y.) blasted the idea of a wall while suggesting that a combination of smart technology and law enforcement, including the use of drones, would be "a much more effective way to secure the border" without hitting an impasse in Congress.
Republicans were working to define Trump's campaign promise down, arguing that any form of border security would fulfill it.
So how does decoupling border wall funding from continuing CSR payments affect "Obamacare"?
Sunday morning, congressional Democrats submitted to Republicans a compromise spending plan, which included some new money for border security but only if it did not go toward a wall. Democrats also asked for assurances that the health insurance subsidies would continue to be funded, and language that would shore up benefits for coal miners and a change that would expand Medicaid benefits to people in Puerto Rico, according to a senior Democratic congressional aide.
UPDATE: The Hill reports, Dems want ObamaCare subsidies funded in exchange for $15B to military: An emerging government funding deal would see Democrats agreeing to $15 billion in additional military funding in exchange for the GOP agreeing to fund healthcare subsidies, according to two congressional officials briefed on the talks.
There is no budget agreement as yet.
And what about those "white working class voters" in "coal country" who elected Trump? Retired Miners Lament Trump's Silence on Imperiled Health Plan:
Unless Congress intervenes by late April, government-funded health benefits will abruptly lapse for more than 20,000 retired miners, concentrated in Trump states that include Pennsylvania, Ohio and West Virginia. Many of the miners have serious health problems arising from their years in the mines.
In mining areas like Uniontown, Pa., and surrounding Fayette and Greene Counties, which Mr. Trump carried 2 to 1, it is an upsetting and potentially costly prospect. "It's just a terrible, terrible feeling," said one of the retirees, David VanSickle, who spent four decades at work in the mines. "I think about that 25 times a day."
The president has offered no public comment on the issue, even as he has rolled back regulations on mine operators, an omission that has not escaped the notice of Mr. VanSickle and other retired miners.
"To me, that was kind of a promise he did make to us," Mr. VanSickle said about Mr. Trump, whom he supported last fall. "He promised to help miners, not just mining companies."
* * *
Congress voted last fall to finance benefits for a large group of retirees for several months, but House and Senate Republican leaders have yet to agree on a longer-term solution.
If Congress doesn't act by the end of April, miners will lose their health-care benefits. They may soon lose their retirement benefits, too. Why Would Congress Bail Out Miners' Pensions?
Congress will be under intense pressure to fund health-care benefits and pension plans for coal miners that are otherwise set to expire at the end of April.
But Congress is in a tight spot. If it bails out the miners, why stop there? Why not bail out all of the other pension funds, private and public, that are on the brink of insolvency? Miners are not the only group that is in danger of losing health care and pensions as their employers go bankrupt.
* * *
According to the Congressional Budget Office, such defined-benefit multi-employer pension plans have $850 billion worth of benefit obligations, but have assets of only $400 billion. According to the Pension Research Council at the University of Pennsylvania, there are 1,300 such multi-employer pension plans, covering millions of workers.
Health insurance and retirement benefits are far more important to "white working class voters" than Trump's ridiculous border wall. Congress should continue CSR payments for "Obamacare" and deal with the employer health care and retirement plans that are in peril.