Donald Trump ordered U.S. troops away from the border between Syria and Turkey late Sunday, abandoning the Kurdish fighters who have been U.S. allies against ISIS, and agreeing to stand aside to their potential massacre by Turkish forces. Trump pulls troops from northern Syria as Turkey readies offensive: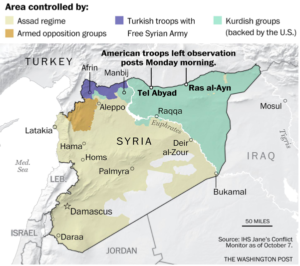 The United States began withdrawing American troops from Syria's border with Turkey early Monday, in the clearest sign yet that the Trump administration was washing its hands of an explosive situation between the Turkish military and U.S.-allied Kurdish fighters.
President Trump, in a series of Twitter messages Monday, suggested that the United States was shouldering too much of the burden — and the cost — of fighting the Islamic State. He rebuked European nations for not repatriating citizens who had joined the extremist group, claiming that the United States was being played for a "sucker." And he chided his own Kurdish allies, who he said were "paid massive amounts of money and equipment" to fight the militants.
"It is time for us to get out of these ridiculous Endless Wars, many of them tribal, and bring our soldiers home. WE WILL FIGHT WHERE IT IS TO OUR BENEFIT, AND ONLY FIGHT TO WIN," he tweeted.
Trump later added a warning to Turkey. "As I have stated strongly before, and just to reiterate, if Turkey does anything that I, in my great and unmatched wisdom, consider to be off limits, I will totally destroy and obliterate the Economy of Turkey (I've done before!)," he tweeted.
Holy shit! Trump has completely lost his mind, he's suffering from delusions of grandeur. For the love of God, Republicans, please do something!
"They must, with Europe and others, watch over the captured ISIS fighters and families," Trump continued. "The U.S. has done far more than anyone could have ever expected, including the capture of 100% of the ISIS Caliphate. [WRONG!] It is time now for others in the region, some of great wealth, to protect their own territory. THE USA IS GREAT!"
The withdrawal followed a late Sunday statement by the White House that the United States would not intervene in a long-threatened Turkish offensive into northern Syria. The announcement, which signaled an abrupt end to a months-long American effort to broker peace between two important allies, came after a call between Trump and Turkish President Recep Tayyip Erdogan.
Erdogan said in a speech Monday that the withdrawal began soon after their phone call.
I wonder what the quid pro quo was on this call? I'm sure it must have had something to do with unregistered foreign agent for Turkey, General Michael Flynn, currently awaiting sentencing. Trump agreed to stand aside and do nothing as Turkey massacres our Kurdish allies. What did Erdogan promise him in return? Closer relations with Russia?
CNBC reports, Trump handing northern Syria to Turkey is a 'gift to Russia, Iran, and ISIS,' former US envoy says:
The Trump administration is facing a torrent of criticism Monday after it unexpectedly announced a full U.S. troop withdrawal from northern Syria to effectively allow a long-planned military operation by Turkey against Kurdish ground forces, who had battled to uproot ISIS.
Security experts on the region and former U.S. officials are calling the decision harmful and a gift to America's adversaries, while some members of the Kurdish forces on the ground in Syria are calling it betrayal.
"The WH statement tonight on Syria after Trump spoke with Erdogan demonstrates a complete lack of understanding of anything happening on the ground," Brett McGurk, the former U.S. special envoy to the global anti-IS coalition, said Monday on Twitter.
"Trump tonight after one call with a foreign leader provided a gift to Russia, Iran, and ISIS."
McGurk resigned from his position in December after Trump's shock announcement that the U.S. would withdraw all its forces from Syria, a move that meant abandoning U.S.-allied Kurdish troops who proved vital in the defeat of the so-called Islamic State's caliphate. Trump later walked back the decision after widespread condemnation from Republicans and Democrats, giving the impression that several thousand U.S. troops would remain in the region to assist its local allies.
The administration says this change means Turkey will take over responsibility for all the IS fighters captured in the region, currently being held primarily by the U.S.-backed Syrian Democratic Forces, the anti-IS strike force composed mainly of Kurdish fighters.
But critics describe the Turkish operation as an invasion aimed at attacking the Kurdish forces. The SDF, created with U.S. backing in 2015, is militarily led by the Kurdish People's Protection Units, or YPG, a group Ankara views as terrorists and a security threat on its southern border. The Turks stress the YPG's ties to a separatist Kurdish group in Turkey, the PKK, which has carried out a decades-long violent insurgency against the Turkish state.
Turkey has made no secret of its planned targeting of Kurdish fighters in the past.
In January, Turkey said it would go ahead with its military offensive against Kurdish militias in northeastern Syria regardless of whether the U.S. withdraws its troops from the country. Ankara has already amassed thousands of Turkish troops along its border with Syria.
Days later, Trump warned Turkey, a NATO ally, it could face devastating sanctions if it attacked Kurds after U.S. troops pull out of Syria.
The latest statement from the White House made no mention of the sanctions, and only said: "Turkey will now be responsible for all ISIS fighters in the area captured over the past two years in the wake of the defeat of the territorial 'Caliphate' by the United States.
A dramatic turnaround — and a 'betrayal'
The apparent hands-off approach from Washington signifies a sharp turnaround in Trump's position, which earlier this year seemed to hold to the conventional U.S. policy of supporting the Kurdish-led Syrian Democratic Forces, who suffered heavy losses in the fight against IS.
For many Kurdish fighters on the ground, the move feels like a betrayal.
One Syrian Kurdish official told NBC News, reacting to Trump's overnight decision: "The Americans are traitors. They have abandoned us to a Turkish massacre. We can no longer fight against ISIS and have to defend ourselves. This could allow ISIS to return to the region."
SDF spokesman Mustafa Bali called the decision "shocking and unexpected, accusing Washington of letting the area "turn into a war zone," adding that the SDF would "defend north-east Syria at all costs."
"We at the SDF believe that everything we achieved in the last five years, and all the sacrifices we made to defeat ISIS will all be destroyed with the latest American decision," he said. "It seems that the policy of the United States is to betray their friends and allies."
McGurk, in a scathing Twitter thread, called Trump's decision "impulsive" and "reckless," pointing out the risks tied to entrusting Ankara with containing tens of thousands of detained IS fighters.
"Turkey has neither the intent, desire, nor capacity to manage 60k detainees in al Hol camp, which State and DoD IGs warn is the nucleus for a resurgent ISIS. Believing otherwise is a reckless gamble with our national security," he said.
"The 'United States' is not holding any ISIS detainees," McGurk continued, referencing the White House statement. "They are all being held by the SDF, which Trump just served up to Turkey."
Charles Lister, director of the Countering Terrorism and Extremism Program at the Middle East Institute with years of experience negotiating with Syrian opposition groups, said on Twitter:
"For U.S foreign policy, Donald Trump has been the worst negotiator out there. He cedes tactical & strategic leverage at critical negotiation points, thereby crippling the value of his broader investments."
"The damage to long-term U.S interests could be approaching irreversible."
Trump's order also sent a chilling message to U.S. allies around the world, national security experts said.
"Well, at least the Trump Administration is consistent. We are about screwing our allies, partners and friends. Don't trust America, even if you shed blood on their behalf," tweeted John Sipher, a former CIA official.
The Post adds:
In an initial reaction to the pullout, Sen. Lindsey O. Graham (R-S.C.), a strong Trump supporter, indicated on Twitter that he was seeking more information on the president's decision. But he added, "If press reports are accurate this is a disaster in the making."
* * *
The SDF, in a statement critical of the United States, said the American troops have begun pulling out.
"The United States forces have not fulfilled their obligations and withdrew their forces from the border area with Turkey," the statement said. "This Turkish military operation in north and east Syria will have a big negative impact on our war against Daesh and will destroy all stability that was reached in the last few years." Daesh is an Arabic acronym for the Islamic State.
It added that the group reserves the right to defend itself against Turkish aggression.
Erdogan, who has portrayed a Turkish incursion as necessary to protect his country's borders, has spoken in recent weeks of resettling millions of Syrian refugees in Turkey in a "safe zone" in northern Syria, a plan that has been criticized by refugee advocates as well as local Syrian Kurds who could be displaced by such a proposal.
On Saturday, Erdogan said the invasion, dubbed Operation Peace Fountain, could begin "as soon as today or maybe tomorrow."
This is the Turkish version of "replacement" theory – Turkey will massacre the Kurds, seize their land and property, and resettle the region with Syrians. Syrian strongman Bashar Hafez al-Assad and his Russian protectors are likely OK with this also.
Erdogan's plan to send up to 3 million Syrian refugees into the 140-mile-long strip also runs counter to what the United States says was part of the agreement they had reached to allow only the 700,000 to 800,000 refugees who originally fled the area to resettle there. Turkey currently hosts more than 3.6 million Syrian refugees, but the government has recently begun deporting hundreds back to Syria as public sentiment turns against the migrants.
Ibrahim Kalin, a spokesman for Erdogan, wrote on Twitter that Turkey has no interest in occupying or changing the demographics in northeastern Syria [bullshit!] and that the "safe zone" would serve two purposes: secure Turkey's borders and allow refugees to return home.
* * *
U.S. officials depicted the impending offensive, and the U.S. troop withdrawal, as a dramatic turn after their prolonged attempt to hammer out an arrangement that would allay the Turks' concerns about Syrian Kurdish forces close to their border, while also averting a battle they fear will be bloody for Kurdish fighters whom the Pentagon sees as stalwart allies.
Military officials point out that Kurdish assistance is still required to avoid a return of the Islamic State in Syria and to guard facilities where Islamic State militants and their families are being held.
The SDF manages the al-Hol camp in northern Syria. The camp holds up to 70,000 people displaced by the war against the Islamic State. About 30,000 of them remain loyal to the militant group.
A senior U.S. official, who spoke on the condition of anonymity to discuss an evolving situation, said the U.S. government "has no idea" what the Turkish operation would look like, whether it would be a small, symbolic incursion or a major offensive intended to push as far as 25 miles into Syria.
U.S. officials said an operation deep into Syria could further jeopardize the security of prisons holding Islamic State fighters. "There are many potential disastrous outcomes to this," the official said.
* * *
After months of warning about the turmoil such a move could create, U.S. officials said they are now watching Turkey's actions closely to inform their own decisions about how quickly they must move the hundreds of troops expected to be affected.
"We're going to get out of the way," another U.S. official said.
There are about 1,000 U.S. troops in northeastern Syria.
The SDF also predicted that Islamic State fighters would break out of prison camps the SDF manages in different areas of Syria.
The potential for greater risk to Islamic State prisons and camps comes after months of unsuccessful efforts by the Trump administration to persuade countries in Europe and elsewhere to repatriate their citizens.
* * *
Erdogan said Monday that Turkey has "an approach to this issue" of ISIS, without specifying what it was. [Kill them all, let God sort it out.]
The United Nations is also concerned about the impact that any Turkish operation would have on the protection of civilians in northeastern Syria, Panos Moumtzis, U.N. regional humanitarian coordinator for Syria, said in a telephone interview.
"We want our message to all governments and actors on the ground to be to make sure that this latest development does not have an impact first of all on a new displacement of people," he said.
The United Nations already provides services to approximately 700,000 people every month in the northeast. Moumtzis emphasized the importance of freedom of movement of civilians and ensuring the continuation of access to humanitarian groups. He stressed that any movement of Syrians must be done voluntarily and with safety and dignity.
"We have not had any specific instructions on" the safe zone, he said, adding that the United Nations has a contingency plan depending on how wide and deep the safe zone would be.
Turkey's latest possible incursion comes nearly two years after Ankara launched a military offensive on Afrin, in northern Syria, in an operation that was also criticized as a distraction from the fight against the Islamic State.
The contested legacy of Turkey's Afrin offensive has hovered over Erdogan's latest military plans. Ankara has argued that its past foray into Syria brought stability to parts of the north and provided a safe haven for hundreds of thousands of Syrian refugees. But over the last year, human rights groups have documented abuses by Turkish-backed militias in Afrin — mistreatment that they say has included kidnappings and arbitrary detentions.
And many of the refugees who returned to Afrin — which has suffered from mysterious militant attacks, including car bombs — ended up fleeing back across the border into Turkey, according to advocates for the refugees.
UPDATE: "Moscow Mitch" McConnell has tentatively stood up to his impulsive and erratic "Dear Leader." McConnell joins other Republicans in rebuking Trump's Syria withdrawal:
President Trump faced a swift torrent of Republican criticism Monday as lawmakers rebuked his plan to withdraw troops from northeast Syria, a move Senate Majority Leader Mitch McConnell said would undermine America's national security and potentially bolster Islamic State terrorists.
McConnell (R-Ky.), in a rare public split with Trump, said that a supermajority in the Senate disagreed with the president's abrupt withdrawal announcement, raising the specter of veto-proof action to oppose the decision.
"A precipitous withdrawal of U.S. forces from Syria would only benefit Russia, Iran, and the Assad regime," McConnell said in a statement Monday. "And it would increase the risk that ISIS and other terrorist groups regroup."
McConnell's statement, in which he called on Trump to "exercise American leadership" and reconsider his plan to withdraw troops from Syria's border with Turkey, echoes the comments of other Republicans who have condemned the president's decision Monday.
Several senators said Monday that Trump's move would abandon U.S.-allied Kurdish fighters ahead of a long-threatened Turkish offensive into northern Syria.
"This betrayal of the Kurds will also severely harm our credibility as an ally the world over," Sen. Patrick J. Toomey (R-Pa.) said in a statement. "President Trump should rethink this decision immediately."
While Democrats also roundly criticized Trump's decision, the outpouring of opposition from the president's own party was particularly striking.
Sen. Lindsey O. Graham (R-S.C.), who has called impeachment attempts "ridiculous," blasted Trump's Syria decision Monday.
"So sad. So dangerous," he said on Twitter. "President Trump may be tired of fighting radical Islam. They are NOT tired of fighting us."
Graham said he spoke with Sen. Chris Van Hollen (D-Md.) and would introduce new sanctions targeting Turkey if Turkish forces invade Syria.
"Hope and expect sanctions against Turkey — if necessary — would be veto-proof," he tweeted.
In a joint statement with Sen. Chris Murphy (D-Conn.), Sen. Mitt Romney (R-Utah) said Monday that he would seek to hold congressional hearings "as soon as possible" on Trump's decision.
"Barring a reversal of this decision, the Administration must come before Congress and explain how betraying an ally and ceding influence to terrorists and adversaries is not disastrous for our national security interests," the two senators said.