Donald Trump repeated baseless claims at the final presidential debate that the coronavirus "will go away" and that the U.S. is "rounding the turn."
At his MAGA cult rallies where his cult followers don't wear masks or social distance in defiance of local or state guidelines, they serve as an incubator for COVID-19 outbreaks. Trump's campaign made stops nationwide. Coronavirus cases surged in his wake in at least five places.
As President Donald Trump jetted across the country holding campaign rallies during the past two months, he didn't just defy state orders and federal health guidelines. He left a trail of coronavirus outbreaks in his wake.
The president has participated in nearly three dozen rallies since mid-August, all but two at airport hangars. A USA TODAY analysis shows COVID-19 cases grew at a faster rate than before after at least five of those rallies in the following counties: Blue Earth, Minnesota; Lackawanna, Pennsylvania; Marathon, Wisconsin; Dauphin, Pennsylvania; and Beltrami, Minnesota.
Together, those counties saw 1,500 more new cases in the two weeks following Trump's rallies than the two weeks before – 9,647 cases, up from 8,069.
Public health officials additionally have linked 16 cases, including two hospitalizations, with the rally in Beltrami County, Minnesota, and one case with the rally in Marathon County, Wisconsin. Outside of the counties identified by USA TODAY with a greater case increase after rallies, officials identified four cases linked to Trump rallies.
Although there's no way to determine definitively if cases originated at Trump's rallies, public health experts say the gatherings fly in the face of all recommendations to curb the spread of the coronavirus.
Social distancing and masking was not happening among Trump cult followers who attended political rallies for President Donald Trump held in Prescott and Tucson earlier this week.
What Trump is doing is criminal negligence. A case can be made for negligent homicide.
The U.S.most decidedly is NOT "rounding the turn" on the coronavirus pandemic as this pathological liar misleads his cult followers. On Friday America hits highest daily number of coronavirus cases since pandemic began:
America on Friday hit its highest daily number of coronavirus cases since the pandemic began, recording at least 82,600 new infections and surpassing the previous record set during the summertime surge of cases across the Sun Belt.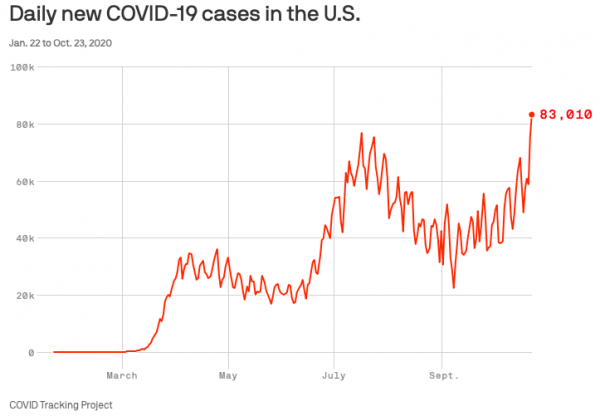 The rising numbers put the nation on the precipice of what could be its worst stretch to date in the pandemic with some hospitals in the West and Midwest already overwhelmed and death counts beginning to rise.
The current surge is considerably more widespread than the waves from last summer and spring. The unprecedented geographic spread of the current surge makes it more dangerous, with experts warning it could lead to dire shortages of medical staff and supplies. Already, hospitals are reporting shortfalls of basic drugs needed to treat covid-19, the disease caused by the novel coronavirus.
And it's not simply a matter of increased testing identifying more cases. Covid-19 hospitalizations increased in 38 states over the past week. The number of deaths nationally has crested above 1,000 in recent days.
The last time the country hit a new daily record for coronavirus cases — 76,533 on July 17 — just four states accounted for more than 40,000 of those cases: Arizona, California, Florida and Texas, according to a Washington Post analysis.
On Friday, 11 states accounted for that same lion's share of cases. And in the past two weeks, 24 states have broken their records for single-day highs of cases.
More than 170 counties across 36 states were designated rapidly rising hotspots, according to an internal federal report produced Thursday for officials at the Department of Health and Human Services and obtained by The Post.
"One key way we got through previous waves was by moving health-care workers around. That's just not possible when the virus is surging everywhere," said Eleanor J. Murray, an epidemiologist at Boston University.
Equally alarming, Murray said, is that no one knows how high this wave will grow before peaking.
"We are starting this wave much higher than either of the previous waves," she said. "And it will simply keep going up until people and officials decide to do something about it."
* * *
The nation's growing fatigue with the pandemic will likely make it even harder to contain a wintertime wave, specialists fear.
Even as hundreds of people are dying each day, "there's this false sense of calm right now," said Tom Inglesby, director of the Johns Hopkins Center for Health Security. "We have the president saying, 'We're rounding the corner.' We have state leaders openly defying public health guidances."
Inglesby pointed to plans and metrics many states laid out last spring for reopening. "That's been completely disregarded in many places," he said.
Which brings us to Arizona, where our Trump mini-me Governor Ducey is also downplaying the seriousness of the coronavirus pandemic. Coronavirus in Arizona is spreading at its fastest rate since June. Here's what we know:
Arizona's COVID-19 metrics are worsening.
Dr. Cara Christ, Arizona Department of Health Services director,said Arizona is at a "pivotal" moment for COVID-19. She does not want to see another scenario like summer, when coronavirus cases exploded in the state. [Like Governor Ducey, Christ has consistently downplayed the seriousness of the pandemic].
"A lot of it is going to depend on the upcoming weeks," Christ told The Arizona Republic on Wednesday. "This pandemic has been so hard to predict and watching what the other states are going through, it's certainly a possibility, which is why I think right now I think is a pivotal point to remind everybody to keep doing those mitigation strategies."
Arizona is not seeing the rapid surges spreading across many other states, including Wisconsin and other parts of the Midwest.
Comparatively, Arizona is doing much better than many.
But it doesn't take much for case counts to escalate, which in turn leads to increased hospitalizations and deaths.
"Our sister states New Mexico and Utah are having very bad rounds of it right now, where their hospital capacity is getting stretched," said Dr. Marjorie Bessel, chief clinical officer for Banner Health, which is Arizona's largest health delivery system. "It's not really practical to think some of that isn't going to come into Arizona and we're not going to have increased activity."
Daily case counts, hospitalizations, ICU beds in use and ventilators in use have seen gradual increases. Arizona's reproduction rate for the SARS-CoV-2 virus is at 1.16, around the same level as early June, according to rt.live, a tracking website created by Instagram co-founders Kevin Systrom and Mike Krieger, using data from the COVID Tracking Project.
The reproduction rate means the virus is spreading at about the same rate it was in early June, and at a faster rate than desired. The metric was below one, meaning infections slowed, from late June to early September, after which it's gradually increased.
"It's one of many metrics that we are watching. It's an easy metric to direct Arizonans to," Christ said. "Hopefully they can make changes in what they are doing to help bring that reproduction number down.
NIAID director Anthony Fauci told CNN on Friday evening that if "people are not wearing masks, then maybe we should be mandating it."
The New York Times reports, The Price for Not Wearing Masks: Perhaps 130,000 Lives:
Universal mask use could prevent nearly 130,000 deaths from Covid-19, the illness caused by the coronavirus, in the United States through next spring, scientists reported on Friday.
The new study, published in the journal Nature Medicine, also offered a rough estimate of the pandemic's toll in the United States: perhaps 500,000 deaths by March 2021, even with social distancing mandates reinstated in most states.
Dr. Murray and his colleagues analyzed the number of cases, testing rates, mask use and cellphone data to estimate people's movements from the first recorded case in each state through Sept. 21. They then estimated the death toll until March 2021 for each state, with or without mandates for social distancing and mask use.
If many states continue to roll back the mandates in place, the team found, the number of deaths by Feb. 28 could top one million, with one-third occurring in California, Florida and Pennsylvania.
More plausibly, states might reinstate distancing mandates when daily deaths reach a threshold of eight deaths per million. That would result in 511,373 deaths by the end of February 2021, according to the model.
* * *
Dr. Murray and his colleagues showed that mask use, in particular, has a considerable impact, cutting down the risk of infection at both an individual and population level by about half.
As of Sept. 20, just under half of Americans reported that they always wear a mask. But regular mask use by 95 percent of the population would save 129,574 lives, according to the new analysis. Regular mask use by just 85 percent of Americans could prevent 95,814 deaths by March 2021, possibly forestalling restrictive lockdowns, Dr. Murray said.
"Increasing mask use is one of the best strategies that we have right now to delay the imposition of social distancing mandates and all the economic effects of that, and save lives," he said.
Mask mandates and penalties for not wearing a mask can raise the numbers of people wearing the face coverings, he suggested.
Yet our Trump mini-me Governor Ducey continues to refuse to mandate wearing a mask in public. This was left to the mayors of Arizona's largest cities to mandate, which is the only reason Arizona's numbers went down after the massive surge in cases this summer. The mayors deserve all the credit for doing what Governor Ducey refused to do.
As noted above, Coronavirus in Arizona is spreading at its fastest rate since June. Here's what we know:
The White House's weekly coronavirus reports to Arizona leaders reflect the worsening trends, too.
On Oct. 4, the report placed Arizona in the "yellow zone" for new cases and said trends were stable. By the Oct. 18 report, Arizona had worsened to the "orange zone" because of increasing new cases. Test positivity and hospital admissions also increased. Arizona was 39th in the country for its new case rate over the previous week, and 29th in the country for test positivity rate, according to the most recent report.
On Oct. 4, 33% of Arizona counties had moderate or high levels of community transmission and 7% of counties had high levels of community transmission. By Oct. 18, 60% of counties had moderate or high levels of community transmission and 13% of counties had high levels of community transmission.
"Aggressive communication and mitigation is critical," the Oct. 18 report states. That should include mask wearing, physical distancing, hand washing, avoiding crowds and social gatherings, ensuring flu vaccinations and increasing testing.
Christ said state health officials are increasing their communications with Arizona businesses about the latest guidelines on safe practices, as well as the requirements that they comply.
Businesses are required to implement mitigation measures, such as reduced capacity and masking.
* * *
Banner officials are watching closely modeling from the University of Washington's Institute for Health Metrics and Evaluation, which predicts COVID-19 deaths in Arizona will rise by 48% percent to 8,678 by Feb. 1, with current conditions in place.
If the state had a universal mask mandate, the IHME estimates the death toll by Feb. 1 would be lower — about 7,405 deaths. Arizona allows cities and towns to make their own mask laws, and while most do, some communities do not.
As of Wednesday, Arizona was reporting 233,912 confirmed COVID-19 cases and 5,854 known deaths.
* * *
Weekly case counts in Arizona increased by about 40% from the week ending Oct. 3 to the week ending Oct. 17, outpacing a much smaller increase in testing during that period, according to data on COVID-19 cases and tests by test date from the health department's dashboard.
Daily case reports are about the same as seen in late May and early June, four weeks before the peak of the outbreak.
Given that Arizona is at that level now, it's possible rapid infection could take off, said Joe Gerald, an associate professor at University of Arizona's Mel and Enid Zuckerman College of Public Health.
"It's almost as if we have a loaded gun in our hand and if we're not careful, it can go off and hurt someone," he said of the case trends.
"Once this kind of exponential growth rate sets in, you can achieve extraordinary numbers very rapidly. … We only need to look back to what happened in June to recognize how close we are to much, much different and worse set of circumstances."
LaBaer of ASU characterizes what's happening in Arizona right now as a definite surge, but not an overwhelming one. The next two weeks to three weeks will be key in terms of whether the trend increases or slows down, he said.
On Friday, Joe Biden called out Arizona governor for not requiring masks statewide:
Democratic presidential hopeful Joe Biden called out Republican Gov. Doug Ducey over his failure to enact a statewide mask mandate.
At a news conference in Delaware Friday, Biden said it was Ducey's refusal to require masks —and even blocking a local option — that led to a spike in COVID-19 cases in Arizona in June.
"Just look at what happened in Arizona," the former vice president said. "The Republican governor initially tried to bar local governments from implementing mask mandates in their communities."
Ducey, responding through his Twitter account, defended his decision to keep local governments from acting on their own.
* * *
"When mayors later asked for the ability to enforce mask mandates, I responded swiftly —issuing an executive order allowing them to do so," Ducey said.
That's not exactly true.
Several mayors, including Tucson's Regina Romero, repeatedly asked Ducey for months for permission to impose their own mask mandates. Ducey balked, saying he did not want a patchwork of local regulations.
With no response, on June 17 Romero announced she would amend her own emergency declaration to make it mandatory to wear masks in public. That would have triggered a legal fight, forcing the issue into the courts and putting the question of Ducey's authority over cities in question.
Two hours later, Ducey backed down and agreed to the local option he had until then opposed.
In fact, that was the first of several steps that the governor had to take in backtracking on his efforts to reopen the Arizona economy.
In May, citing a reduction in infections, the governor eased some of the restrictions from his initial emergency declaration in March. That, however, resulted in a huge spike, hitting 5,460 new COVID-19 cases on June 29.
That day Ducey reimposed limits.
"We're fixing it" the governor said when asked if he screwed up in letting bars reopen six weeks earlier.
That trend did not go unnoticed by Biden.
"In June, Arizona got hit with a surge of cases," Biden said Friday. "Hospitals were flooded. The state health system was overwhelmed."
* * *
Ducey [continues to say] there is no need for a statewide mandate. He said that, even with masks only a local option, those rules cover 85% of the population.
But that trend may be reversing, with three Mohave County cities rescinding their mask mandates just this month.
The governor also has not been wearing any sort of face covering in the series of events he has had with President Trump in his Arizona campaign stops — modeling the president's bad behavior.
This is about to become critical heading into the holiday season. A Mutation in the AZ coronavirus strain may make it more infectious as Arizona official expects COVID increases after Thanksgiving:
Arizona reported nearly 1,000 additional COVID-19 cases Thursday as the state health director said she expects a "significance increase" a week or two after Thanksgiving because of family gatherings and students returning home.
"With the increase that's going on around the nation and people coming home, like from colleges, to Arizona, Thanksgiving has me highly concerned," Dr. Cara Christ, the director of the state Department of Health Services, said on radio station KTAR.
* * *
Arizonans should continue to wear masks, practice social distancing and stay home when sick, Christ said. "Now is not the time to stop wearing masks and resuming normal activity," she said.
That particularly applies to younger adults who are at less risk of dying and who might relax their guard during family gatherings, Christ said.
"We're finding that is causing increased transmission," she said. "Even if you aren't at high risk, you probably have somebody you love who is."
Wear a damn mask! It's the most effective defense against the spread of the virus until there is a proven safe medical treatment available. Let's not be killing your family members and friends by spreading the virus at holiday gatherings.