I'm not quite sure what to make of this report in the New York Times because I have never seen the Justice Department issue a statement such as this before. Don't Believe Anonymously Sourced Reports, Justice Official Says (this woud put political publications like POLITICO out of business):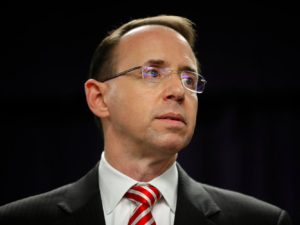 Rod J. Rosenstein, the deputy attorney general, encouraged Americans in a statement issued late Thursday to be "skeptical about anonymous allegations" after a string of recent news reports about the evolving focus of the special counsel's investigation into Russia's election interference and possible collusion with President Trump's associates.
"Americans should exercise caution before accepting as true any stories attributed to anonymous 'officials,' particularly when they do not identify the country — let alone the branch or agency of government — with which the alleged sources supposedly are affiliated," Mr. Rosenstein said in the statement.
He added: "Americans should be skeptical about anonymous allegations. The Department of Justice has a long-established policy to neither confirm nor deny such allegations."
He did not cite specific reports. The Justice Department released Mr. Rosenstein's statement after 9 p.m., a few hours after The Washington Post reported that the special counsel was investigating the business dealings of Jared Kushner, Mr. Trump's son-in-law and adviser. That report was attributed to unnamed American officials.
Asked about the impetus for the statement, a Justice Department spokesman declined to comment. Mr. Rosenstein did not respond to an email seeking comment on Thursday night.
This statement appears directed at reporters covering this scandal. The Times and the Post are not going to disclose their confidential sources, but if reporters are talking to FBI agents or Treasury Department officials in FinCEN about money laundering investigations overseas, or to intelligence officers or their foreign intelligence counterparts in Europe, I would take this as a veiled threat that the FBI may be monitoring reporters communications with their sources overseas. If that is what Rosenstein meant to imply, that is a big effin' deal.
There was some speculation last night that Rosenstein may have issued this statement at the direction of the White House because his "statement aligned with the president's open frustration with unflattering leaks. Mr. Trump has called stories about the investigation "fake news" and complained on Twitter about a Washington Post report on Wednesday night that the special counsel, Robert S. Mueller III, was investigating the president himself for possible obstruction of justice. That story was also attributed to unnamed sources, as was a New York Times article that same evening about Mr. Mueller's request for interviews with three top intelligence officials."
But then this morning, our Twitter-troll-in-chief turned on Rosenstein while confirming that he is under investigation for obstruction of justice. Trump Acknowledges He Is Under Investigation in Russia Inquiry:
President Trump acknowledged publicly for the first time on Friday that he was under investigation in the expanding inquiry into Russian influence in the election, and he appeared to attack the integrity of the Justice Department official in charge of leading it.
In an early-morning tweet, the president declared that he was "being investigated" for his decision to fire James B. Comey, the former F.B.I. director. And he seemed to accuse Rod J. Rosenstein, the deputy attorney general, of leading a "witch hunt."
The tweet was the first explicit concession by the president that Robert S. Mueller III, the special counsel for the Russia inquiry, had begun examining whether Mr. Trump's firing of Mr. Comey last month was an attempt to obstruct the investigation.
And Mr. Trump's apparent reference to Mr. Rosenstein, who oversees the Russia investigation because Attorney General Jeff Sessions recused himself from it, came just hours after an oddly worded statement from Mr. Rosenstein complaining about leaks in the case.
* * *
The highly unusual statement by the deputy attorney general raised the question of whether Mr. Trump or some other White House official had asked him to publicly discredit the reports. Part of the revelations surrounding the Russia investigation and the firing of Mr. Comey has been that Mr. Trump repeatedly pushed top intelligence officials to say in public that Mr. Trump was not personally under investigation and that there was no evidence of collusion between his campaign and Russia in its interference in the 2016 election.
But there was some evidence that Mr. Rosenstein's motivation may instead have been his own mounting frustration at seeing details of the law enforcement investigation appear nearly daily in the news media.
A Justice Department official, speaking on the condition of anonymity to discuss internal matters [oh, so it's OK for Justice to anonymously leak?], said that no one had asked Mr. Rosenstein to make the statement and that he acted on his own.
Still, the statement, followed by Mr. Trump's tweet, demonstrated the pressure on the deputy attorney general.
Well, if Rosenstein can't handle the pressure, he has an easy out: "Mr. Mueller's investigation into whether Mr. Trump obstructed justice, including by firing Mr. Comey, has raised the question of whether Mr. Rosenstein, as a witness to and participant in the events in 2017 that culminated in that ouster, may have to also recuse himself."
If Mr. Rosenstein recuses himself from overseeing the special counsel investigation or were to resign or be fired by Mr. Trump — acting attorney general duties for the inquiry would fall to the department's No. 3 official, Associate Attorney General Rachel Brand.
Ms. Brand has never served as a prosecutor. She advised the Bush Justice Department on selecting judicial nominees, and she served as a Republican appointee on the Privacy and Civil Liberties Oversight Board.
"As the deputy attorney general has said numerous times, if there comes a point when he needs to recuse, he will," said Ian Prior, a Justice Department spokesman. "However, nothing has changed."
* * *
In testimony on Tuesday, Mr. Rosenstein said that he had seen no reason to remove Mr. Mueller, whom he appointed last month, and vowed to "defend the integrity" of the special counsel investigation.
Mr. Rosenstein assured lawmakers that he would not fire Mr. Mueller without "good cause" and that he would not allow political interference in the inquiry, which he promised would remain independent.
"I'm not going to follow any order unless I believe those are lawful and appropriate orders," Mr. Rosenstein said Wednesday, responding to comments from a longtime friend of Mr. Trump that the president was considering firing Mr. Mueller. "Special counsel Mueller may be fired only for good cause, and I am required to put that cause in writing. That's what I would do. If there were good cause, I would consider it."
Well Ron, you wrote the memo that served as mere pretext for the real reason FBI Director James Comey was fired, while participating in his firing. Then you issued this press release that reads as if it came from the White House. So why should I believe that you will not assert a pretextual "good cause" reason to fire Special Counsel Robert Mueller when Trump demands that you do it?
You took an oath to defend the Constitution and to uphold the laws of the United States, not to protect some moral reprobate who demonstrates no concern for either while attacking American institutions like the Department of Justice.