In one of the most outrageous moments of last night's debate, Donald Trump tried to defend his zero tolerance child separation policy for migrant children from their parents at the border by falsely claiming they were being trafficked by "coyotes," and that the children were "well taken care of" in government detention.
This was state-sponsored kidnapping by the Trump administration which has left some children orphans.
The moderator's question was prompted by the Washington Post's report that The parents of 545 children separated at the border still haven't been found. The pandemic isn't helping.
Advocates for immigrants say they still have not found the parents of 545 minors who were separated from their families starting three years ago during President Trump's immigration crackdown at the U.S.-Mexico border.
The 545 children are among more than 1,500 who were separated from their parents as far back as July 1, 2017, and whose cases were not immediately disclosed to the U.S. district judge who ordered the families reunited in June 2018, said American Civil Liberties Union lawyer Lee Gelernt. Some of these cases were part of an earlier pilot immigration program.
More than two-thirds of the minors are from Central America, and the children are believed to be with sponsors or other family members in the United States.
"Unfortunately, there's an enormous amount of work yet to be done to find these families — work that will be difficult, but we are committed to doing," Gelernt said after filing information about the children with the federal court on Tuesday. "Not only are we still looking for hundreds of families, but we would have never even known about these families if the Trump administration had its way."
* * *
Health and Human Services officials confirmed Wednesday that all of the 545 minors were "appropriately discharged" from its shelters — to a legal guardian or a parent — before June 2018, when the judge ordered the reunifications.
The ACLU has demanded the names of all separated parents and children and wants to work to confirm all reunifications. The organization, which filed the lawsuit that led to the judge's order to reunite the families, estimates that as many as 5,400 children have been separated from their families since Trump took office.
More than half were split up from May to June in 2018, when DHS and the Justice Department rolled out the administration's official "zero tolerance" policy to deter a surge of asylum-seeking families at the southern border.
The ACLU and others say the effort to locate the still-separated families has been hindered by incomplete government reports as well as conditions on the ground in the children's native lands, including gang violence, remote villages, and now, the coronavirus pandemic.
The ACLU said the 1,500 children were taken from their parents and released from federal shelters sometime between July 1, 2017, and June 2018, when a federal judge ordered the administration to reunite the more than 2,700 children who were still in custody without their parents.
The judge did not know at that time that the 1,500 other children had been separated from their parents and released from HHS shelters months earlier, including when DHS secretly piloted the separations in the Border Patrol's El Paso sector. An HHS Inspector General report later revealed that the administration may have separated more families than it had disclosed to the public. By now, most of those still in custody when the judge issued the reunification order in June 2018 have been reunited, either in the United States or in their home countries. But lawyers still do not have a full accounting of the parents of the 1,500 children.
Of the 1,500 separations, approximately 500 are not considered to be part of the lawsuit. Gelernt said advocates have contacted the parents of 485 of the children. DHS says these parents have opted not to reunite with their children, but Gelernt said many parents still hope to come to the United States to be with them.
Of the 545 children whose parents have not yet been found, advocates have managed to reach 183 of the children, and they remain in the United States.
"At some point, we're going to hit a group of families that becomes very hard to find," Gelernt said. "It's not inconceivable that we'll still be looking for them a year from now."
U.S. District Judge Dana Sabraw on Thursday urged the Trump administration to do more to help court-appointed researchers find hundreds of parents who were separated from their children after they crossed the U.S.-Mexico border beginning in 2017. Judge urges US to help find parents deported without kids:
Judge Sabraw refrained from issuing an order during a hearing in San Diego and instead asked Justice Department attorneys to explore ways the administration can make it easier to find the parents.
Sabraw initially ordered the government to reunite more than 2,700 children with their families, believing that to be the total number who were separated. But it was later discovered an additional 1,556 children were taken from their parents going back to summer 2017, including the 545 kids who are still separated.
Attorney Lee Gelernt of the American Civil Liberties Union, which sued over the practice, said the government could provide funding for the search, which now is being conducted by a handful of human rights defenders in Central America.
When the issue was originally brought to their attention, U.S. officials were not interested in looking for the parents, he said, but that changed when outcry spread about the number of parents deported without their children.
"In light of the backlash, the government is now claiming it wants to assist us in finding these families," Gelernt said.
The administration's foot-dragging has made it even tougher to find the parents because of how much time has passed, he said.
Volunteers have searched for their parents by going door to door in Guatemala and Honduras and combing public records, the ACLU said in a court filing.
The judge called for an update on Dec. 2 and set another hearing for Dec. 4 to discuss the progress.
"This, of course, is the most significant piece remaining" in terms of the family separations, Sabraw said.
U.S. Rep. Joaquin Castro, a Texas Democrat who chairs the Congressional Hispanic Caucus, called for a special committee, perhaps in the form of a human rights commission, to investigate the harm done through the mass separation of families in 2017 and 2018.
"This was coordinated cruelty, coordinated abuse, at the highest and the lowest levels of the American government," Castro said.
NBC journalist Jacob Soboroff, who was among the group of reporters allowed to tour detention facilities in 2018, and who wrote the book "Separated: Inside An American Tragedy" about Trump's "zero tolerance" policy in which families coming across the border were separated, Exposes The 'Sick' Truth About Trump's Treatment Of Migrant Children:
[During the debate] Donald Trump insisted that hundreds of migrant children who were separated from their immigrant parents and held in detention centers were "so well taken care of."
But a reporter who saw how those kids are treated said that's not the case at all.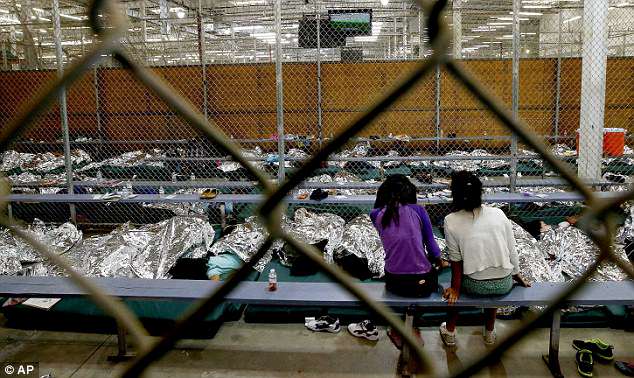 "What I saw there was little children sitting on concrete floors covered by Mylar blankets supervised by security contractors in a watchtower," journalist Jacob Soboroff said on MSNBC after Thursday night's debate. "It makes me sick every time I recall it."
Soboroff also shared audio of a child who hadn't seen his father in almost three years:
A federal court ordered an end to the separations and also ordered the U.S. government to reunite the children with their families. However, to date, at least 545 children are still living with foster families or distant relatives as the government has been unable to locate their parents, who were sent back to their home nations, often in Central America.
"The government literally cannot find them," Soboroff said. "They were warned they would not be able to find them. These families have been separated for over three years in some instances."
The Physicians for Human Rights said the children's mistreatment meets the United Nations definition of torture, Soboroff said. The American Academy of Pediatrics called it "government-sanctioned child abuse."
Because as Adam Serwer explained, The Cruelty Is the Point: "Trump's only real, authentic pleasure is in cruelty. It is that cruelty, and the delight it brings them, that binds his most ardent supporters to him[.]"
"[T]he president of the United States I guess interprets that as children being well taken care of," he said.
Trump also falsely claimed the Obama administration had a similar policy, but Soboroff fact-checked that as well.
"No one else ever did this," he said. "This was uniquely a Trump administration policy."
In response to Trump, former Vice President Joe Biden blasted Trump for the administration's family separation policy, which resulted in the government being unable to locate over 500 families of children they detained. Biden destroys Trump for claiming 545 kids forever separated from their parents were trafficked by 'coyotes':
Former Vice President Joe Biden slammed Trump, reminding the American people that the children were not brought into the country by "coyotes," but by their parents.
"These 500 plus kids came with parents. They separated 'em at the border to make it a disincentive to come to begin with," Biden told voters. "And guess what? It's not coyotes – didn't bring them over. Their parents were with them. They got separated from their parents. And it makes us a laughingstock, and violates every notion of who we are as a nation."
Biden continued, 'It's criminal': Biden accuses the Trump administration of crimes during debate:
"Parents were ripped — their kids were ripped from their arms and separated, Biden charged. "And now they cannot find over 500 sets of their parents and those kids are alone. Nowhere to go. Nowhere to go."
"It's criminal," he charged as Trump jerked his head. "It's criminal."
Trump would like to "disappear" this cruel policy down the memory hole, just as he disappeared these children and made them orphans. No decent human being with a soul would reward Donald Trump with another four years.